We encourage you to travel by the books, as we take a look at some of the most famous cities featured in literature. Take the train to these historic cities, learning their streets and stories before you arrive, from the pages of the books that made you want to visit. Train holidays to Europe are a wonderful way to experience some of Europe's hotspots for literary tourism. Indulge your imagination and visit the same streets your favorite literary characters travelled down.
London, England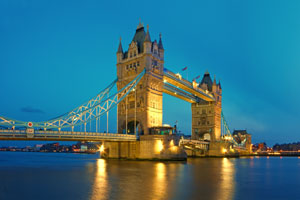 Visitors to London are presented with so many literary destinations it's almost a chore to decide which to visit first. Lovers of mystery should head to 221b Baker Street, home of the deductive Sherlock Holmes and Dr John H. Watson. Protected due to its 'special architectural and historical interest', visitors can take a tour of the 1st floor study which is still as it was in Victorian times.
Literature and London are synonymous with Charles Dickens, from his journalistic work to Oliver Twist, A Tale of Two Cities and Great Expectations, the city's streets echo his words. To truly immerse yourself in the world of this legendary writer, take a stroll to 49 Doughty Street referred to by Dickens as 'my house in town'. This is the location of the Charles Dickens Museum, and home to the most important Dickens collection in the world. Rail holidays to London offer a taste of what your favourite characters experienced when arriving in London for the first time.
Paris, France
Paris is said to be the best place to be a writer. The number of literary greats who have made the city their home, and their setting, echoes this sentiment. The first book ever printed in France was published in Paris in 1470, and since then the city's literary legacy has continued to grow. Legendary wordsmiths such as Voltaire, Baudelaire, Proust, Zola, Dumas, Flaubert and Victor Hugo, among many others, have called Paris home through the centuries.
As well as being la Ville Lumière, the city is also home to countless books and bookstores. The 5th arrondissement alone has around one hundred and fifty bookstores, and along the banks of the Seine roughly an additional two-hundred and fifty small book stalls can be found. Paris holidays by train offer you the chance to enjoy the city before you arrive, through the words of writers who loved la Ville Lumière.
Prague, Czech Republic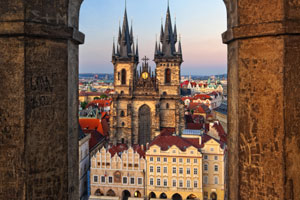 Literature in Prague has always taken a political slant due to the country's turbulent history. Events like the Prague Spring and the Velvet Revolution have shaped the psyche of the nation. Two of the city's most famous writers are Kafka and Kundera, and on the streets of Prague, political and literary history have become entwined. Czech writers often use gallows-humour when describing the trials of their country.
Kafka famously, almost compulsively, walked the streets of Prague; the same streets on which he set some of his most famous novels. Today, the Kafka Museum is open to the public, displaying Kafka's manuscripts and giving visitors an insight into the man, his characters and his city.
Dublin, Ireland
'When I die Dublin will be written on my heart', so said the city's most famous son, James Joyce. Joyce once wrote that if Dublin were ever destroyed, "it would be possible to rebuild the entire city, brick by brick, using Ulysses." If you've read Ulysses you no doubt have an impression of the city in your minds-eye. If you haven't read the book, your visit to Dublin will still no doubt be influenced in some way by the writings of Joyce. There are so many Joycean walking tours available and an entire festival, 'Bloomsday', occurs on the same day as the novel, Ulysses, is based.
Dublin is also synonymous with other literary greats such as Oscar Wilde, William Butler Yeats and more recently Flann O'Brien. Recently designated as a UNESCO City of Literature, Dublin is a wonderful city for those looking for well-read streets. On rail holidays to Ireland you'll have time to get to know the streets as Joyce saw them, before you arrive there yourself.
Budapest, Hungary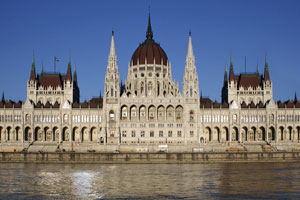 Home to the International Book Festival, Budapest is a city alive with literature. Probably it's most famous former resident is Vlad Dracolya, or Vlad the Impaler, the inspiration for Bram Stoker's Dracula. Dracolya was imprisoned in Budapest's imposing Viesgrad Castle. A visit to the city is a must for literary horror lovers, as Dracula undoubtedly still has a major influence on the genre today.
A tour of the city's Castle Hill cellars will bring the book alive for fans. This 15th century labyrinth was Vlad's prison, and today a number of tours are available. For the most dedicated horror lovers, the 'Labyrinth with Lanterns' tour will give you a true taste of its spooky past.
Great Rail Journeys offer a number of European railway holidays to feed your imagination.