Anyone visiting Germany's historic cities will find travelling by train to be the most convenient and enjoyable way as the journey itself becomes a major part of the experience. Great Rail Journeys can offer a wide range of tours across the whole of Germany and the 'Berlin, Dresden & Prague' tour is a good example.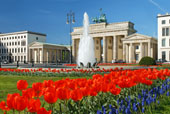 Like so many of Great Rail's European holidays, the journey starts at St. Pancras International aboard Eurostar for Brussels then, still by train, onto Berlin. Travelling by train means arriving refreshed and relaxed and ready to enjoy the many sights and pleasures of this truly diverse city, such as the Brandenburg Gate, the Reichstag and Unter den Linden avenue, which leads past the State Opera House to the soaring TV tower and World Clock. You may prefer to stroll past the shops, bars and restaurants of Kurfürstendamm in the west of the city or pay a visit to the Checkpoint Charlie Museum to recall the poignant history of the Berlin Wall.
On leaving Berlin, a short first-class train journey takes you to Dresden, one of Germany's most beautiful cities - known as the 'Florence of the Elbe'. On arrival, a guided walking tour introduces the city's famous sights including the Baroque Zwinger Palace, the grand Semper Opera House, Brühl Terrace and the rebuilt and reconsecrated Church of Our Lady. As a contrast to the mighty intercontinental trains, a vintage steam train ride will take you through the glorious Saxony countryside to visit the exquisite Palace of Moritzburg, a former hunting castle of the Saxon royal family, originally built in 1542. Next day, there is a coach trip to infamous Colditz Castle.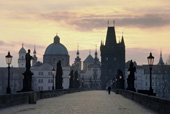 The final stage of the journey is a spectacular train ride through a region of dramatic crags, peaks and rocky gorges to beautiful Prague, 'City of 100 Spires', for three nights. Then, after a further night in historic Nuremberg, you travel by First Class train to Cologne and change for Brussels, from where Eurostar whisks you back to St. Pancras International.