Belgium is a favourite holiday destination for many reasons, but some of the main things that set Belgium apart from other destinations are food, drink and the rich history that the country's famed for.
Beer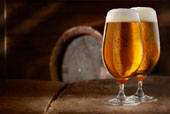 If you're into beer, then there's no better place to visit than Belgium. You can expect to see hundreds of different kinds of beers on the menu at most watering holes - and that's no exaggeration! Between amber ales, blonde ales, brown ales, Champagne beers, Flemish reds, pale ales, Lambic beers, scotch ales, stouts and table beer (to name but a few!), you'll be spoilt for choice in Belgium.
It's worth noting that in Belgium, beer is consumed in a different way than you might be used to in the UK. Firstly, don't expect your beer to be crystal clear. In Belgium, beer is either 'bottle conditioned' or 'non-bottle conditioned'. As opposed to the non-bottle conditioned beer that we're used to in the UK, the bottle conditioned beer allows the yeast to naturally carbonate the beer after the fermentation process. Bottle conditioned beer therefore often has sediment or 'sludge-like' substance in it. You can also expect to go through a lot of different types of glasses throughout your Belgium trip. This is because most beers are meant to taste better from in certain receptacles, so don't be surprised if you're not handed your standard pint glass!
Baking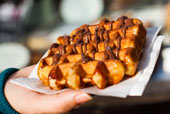 Belgium is also famous for its waffles. If you've been lucky enough to try a Belgian waffle before, then you'll know that they're the stuff of dreams, especially for those amongst you with a sweet tooth. These are most commonly sold by street vendors, along with a topping of your choice.
Liège waffles are the most popular waffles you'll find in Belgium, and it's little wonder - they're purported to be the place in which they were invented, in the 18th century, by the chef to the prince-bishop of Liège.
When compared to alternatives, such as the Brussels waffle, the Liège waffle is slightly denser and sweeter, so if you're after something light and crispy, then opt for the Brussels variety if it's available.
Battlefields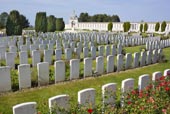 If you're looking for something a little more poignant to remember Belgium by, and you're open to soaking up some fascinating history in the process, then you need to go on the Belgium battlefield tours, where you'll discover the town of Ypres, which was once immersed in war between the Germans and the Allied forces in World War I. During your time here, you'll have the opportunity to visit the German trenches, The Tynecot Cemetery and Hill 60 - a battleground of particular significance, which still bears many of the scars from the fierce fighting that happened there. You'll also get the chance to visit the moving 'In Flanders Fields' Museum, before ending the tour at the Menin Gate, where you'll see The Last Post, which takes place every day at 8pm.
Of course, there are many other fantastic reasons to visit Belgium, that don't begin with the letter 'B', but it would have spoilt the alliteration, and we want to leave some things for you to discover by yourself!