Here at Great Rail Journeys we're all incredibly excited about this new venture - perhaps I should say adventure - a complete round the world trip by rail, very much in the spirit of the golden age of travel before the advent of the predictable and often banal package holiday. The phrase "holiday of a lifetime" is sometimes used rather glibly in the travel trade, but with this unique tour it really is appropriate.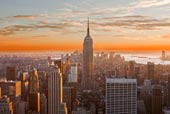 Just imagine setting off and knowing that, for the next 53 days, you will be taken 23,000 miles round the entire globe on famous international rail networks, by air and by coach, not only visiting, but actually getting to know, a vast diversity of countries and being able to experience, as you pass through or stop to explore them, all the astounding differences in landscape and culture of each one. This, I have to say, is not a journey for the mere holidaymaker, this is a journey for the traveller with a burning curiosity, a thirst for the exotic and unusual, and a hankering to experience, at first hand, all the wonderful sights, sounds, tastes, smells and hidden wonders that the world has to offer.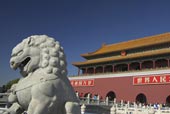 'Around the World in 53 Days', has just one departure date - 18th May 2015. On this tour you will travel on some of the most exciting and iconic trains in the world, including the magnificent steam-hauled British Orient Express Pullman, the Venice Simplon-Orient-Express, the Tsar's Gold Private Train and the iconic American steam-driven Durango & Silverton Railroad. Throughout your journey you will stay in prestigious hotels and enjoy the finest cuisine. From London you fly to New York, then journey by rail across the entire USA, visiting its most famous cities as well as some of the country's most iconic and awe-inspiring sights and landmarks. Leaving San Francisco, you then travel by plane to Shanghai and Xian by train to Beijing, before a momentous journey across the whole of Russia. Another amazing train journey from Moscow takes you right across Europe before you arrive, bursting with incredible memories, back at London Victoria station.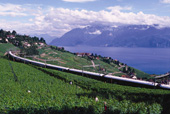 I can't possibly begin to list the plethora of wonderful sights, places, customs and people you will encounter along the way. The itinerary has been designed to ensure that each and every day brings something new and exciting, thought-provoking and truly memorable. But, just as a taster, let me tell you that you will fly over the Grand Canyon, visit the Great Wall of China and the Terracotta Warriors, take an excursion to the Mongolian Alps and visit nomadic tribesmen, cruise on stunning Lake Baikal - the world's largest freshwater lake, and journey on the luxurious Venice Simplon-Orient-Express through Italy, Austria and Switzerland to Paris. Everything on this tour has been created with your comfort and pleasure in mind. No journey you have ever taken will exceed your expectations as this one will.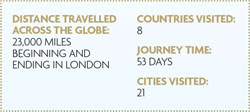 So, if you have a significant anniversary or event that you wish to celebrate, or simply believe that this is the perfect opportunity to give yourself an experience that you have longed for all your life and will probably never repeat, give our 'Around the World in 53 Days' adventure your serious consideration!