Autumn is arguably the best time to visit America, especially on USA train holidays. The trees in many towns and cities along the East Coast come alive with colour, virtually every landscape you pass looks at its most rich and beautiful, and you'll miss the bulk of the summer crowds crushing into places like Las Vegas.
But these aren't the only reasons to 'fall' for America this autumn - here is our pick of the very best the country has to offer during the season of lush abundance.
Stunning scenery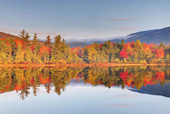 America comes alive with colour during the autumn months. New England in particular is synonymous with autumn thanks to the thousand fiery shades of yellow, orange, red and rust that transform its trees and forests.
Vermont is also breath-taking during autumn, while Yosemite National Park is undeniably at its most picturesque throughout October.
Spectacular wildlife
America's spectacular wildlife is particularly exciting to spot during autumn. Animals like elk will move down from the treeline to begin the rut, while other mammals like black bears will start foraging for food to help them see out the winter.
The Rocky Mountain National Park is a great place to see some of these animals in the flesh, and can be visited on one of our very own USA train holidays. So too can Boston Harbour, a fantastic place to spot humpback, finback and minke whales which become particularly active during the autumn months. If you're lucky, you may even see a superpod of white-sided dolphins!
The Napa Valley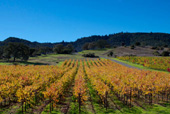 The Napa Valley is California's most popular wine region and, in autumn, it isn't hard to see why. The beautiful vineyards seem to glimmer under the sun, while the surrounding hillsides cast cool shadows and an autumn haze across the rolling expanses of grapes. The cooler autumn weather also means you can enjoy the delights of the Napa Valley in complete comfort.
Cooler Temperatures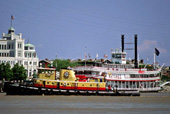 Cool autumn temperatures can make a journey through America even more exciting than summer, and not just because of the fiery trees! Cities like New York explode with open-air markets selling a variety of fresh produce, while street musicians and other entertainers abound in places like New Orleans.
Of course, cooler temperatures also mean added comfort, which in turn makes a day of sightseeing or something like a jazz cruise in the Deep South much more enjoyable.
Fewer Crowds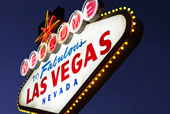 No matter how much you are enjoying your time in America, the crushing summer crowds can get a little frustrating. This is why heading out in autumn is such a great idea - fewer crowds mean less stress and more time to really look around and take in your beautiful surroundings.
In places like Las Vegas, autumn is also known as shoulder season - the period between high and low seasons where you won't have to fight for the slots or suffer in the Nevada heat.
The California Zephyr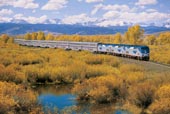 The California Zephyr was once known as 'the most talked about train in America', and to this day takes in some of the most breath-taking parts of America's scenery. From the cornfields and plains of Iowa to the stunning Rocky Mountain National Park, the California Zephyr is the perfect place from which to view the vivid autumn surroundings. The train even has a special sightseeing lounge where you can enjoy the passing views in complete tranquillity.
There are countless reasons to fall for America this autumn, just a few of which are mentioned here. Our advice would be to get researching and plan your journey as thoroughly and tactically as possible, featuring as many spectacular autumn sights as you can along the way. Luckily, if you need that little bit more help, our USA train holidays already feature some of America's best autumn experiences in a pre-planned itinerary. All you need to do is show up with your burgeoning sense of adventure.