When you're on a short holiday abroad, it can often be difficult to know exactly how to spend the precious time you have there. You either feel as though you're rushing around, trying to cram everything in, or you feel as though you're wasting precious time. Well, like with most things, the key to getting the most out of your holiday is to be well-informed. That's why we've created this go-to guide, which will outline the key excursions you should focus on during your time on the cobbled streets of Bruges.
Walk the film set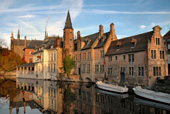 If you're a movie buff, or you've ever seen the comedy thriller, In Bruges, then you'll probably be interested to know when you're on the set of a Hollywood movie! You can pick up a leaflet that outlines the film's location from the tourist board.
If you don't get chance to pick up a leaflet, then Astrid Park, Jan van Eyck Square, and Market Square, in the centre of the Old Town, are just a few of the film's main locations.
Museums & Art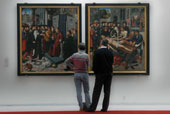 Bruges has some world-famous museums and art galleries that shouldn't be missed during your time away. A trip to the Historium Museum gives you the chance to go on a walk through history experience that really gives you an idea of what it was like to live in the Middle Ages in Bruges. This will give context to some of the history that Bruges is steeped in.
Be sure to make a visit to the Church of Our Lady, which took two centuries to build. This is one of the few places outside Italy that you can view one of Michelangelo's works - the Carrera marble Madonna and Child sculpture. The 119m (396-ft.) spire is the tallest structure in the city.
Secret Bruges
Getting away from the main tourist spots gives you a real insight into another side of Bruges that you don't get from the other areas. Towards the northern and eastern parts of the city, you'll find the sleepy, cobbled side-streets that the locals call home. A stroll through here can really give you a taste of the 'authentic' Bruges, that isn't on offer in other parts of the city.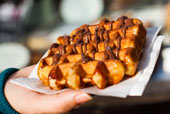 What visit to Bruges wouldn't be complete without sampling the two most famous Belgian exports? You guessed it - beer and chocolate! There is no shortage of places where you can grab a tipple - some of which have over 100 beers on the menu! When it comes to chocolate, there are several shops to choose from, but places like Sukerbuyc in Katelijnestraat are small, friendly family businesses that produce the delicious, handmade variety! And by all accounts, the hot chocolates are not to be missed!
Why not look into one of our escorted tour which visits Bruges? Then you can really ensure that you don't miss a thing.