Since becoming a Tour Manager in 2006, Sheila Boyes had the pleasure of escorting GRJ customers on journeys through Europe, North America, New Zealand and India.
In 2012, Sheila led a group on the "South African Adventure". Here is her account of her experience in Kruger National Park...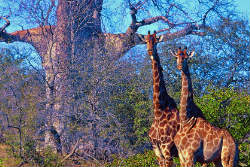 South Africa is blessed with outstanding natural beauty and perhaps one of the most amazing ways to discover the scenery is aboard one of the sumptuous private trains that traverse the country.
Rovos Rail, established in 1989 offer a variety of train journeys which last from 48 hours to a month. Great Rail Journeys' South African Adventure takes advantage of two nine-day African Golf Collage journeys - one departure in May and another in November, which offer a non-golfing programme on this luxurious train that travels from Pretoria to Malelane, Swaziland, Durban, Bloemfontein, Oudtshoorn and George to Cape Town. I was pleased to be selected as Tour Manager for the autumn 2012 departure.
Amongst the varied excursions organised for customers on this rail journey there are four game drives. These are at Kruger National Park, Mkhaya Reserve, Hluhluwe-Umfolozi Reserve and the Addo Elephant Park. Kruger National Park is world-renowned for a wildlife experience that ranks with the best in Africa.
Kruger National Park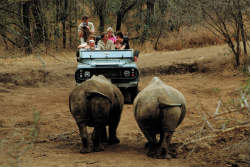 Our wake-up call to get ready for a three-hour game drive in South Africa's Kruger Park is at 5am. The park was named after Paul Kruger - who is usually credited with setting aside land for the future. In fact it was James Stevenson-Hamilton, the first warden of the National Park, who cunningly put forward Kruger's name in order to soften up Afrikaner opposition to the park's creation.
Kruger was no conservationist and was actually an in inveterate hunter who "never in his life thought of animals except as Biltong". The park covers nearly two million hectares and is probably the flagship of the South African national parks. Kruger National Park is home to an impressive number of species: 336 trees, 49 fish, 34 amphibians, 114 reptiles, 507 birds and 147 mammals. We will only have three hours...
After a self-service, fresh fruit and coffee breakfast we assemble in the Lounge Car to disembark the train and get into our tiered eight-seater covered wagons, picking up our water bottles and rain capes from the staff on the way out of the deserted rail platform.
There are 58 passengers on this Pride of Africa journey from Pretoria to Cape Town, 10 of whom are following a golf programme. Whilst they head off to play 13 holes at Leopard Creek Golf Estate, we drive off to Malelane Gate. This is the most southern entrance into Kruger.
The southern section has the greatest concentration of game and attracts the highest number of visitors. Maybe because of the cold, or the early start, our convoy of vehicles appear to have the road to ourselves. Having stopped at the entrance to sign our waiver form - lots of black humour about being eaten by lions - we head into the park and cross a river where all vehicles stop to gaze down upon a pair of hippos cavorting in the water below. On a nearby island, a crocodile is lazing with his mouth wide open and a pair of saddle-billed stork are elegantly walking in the shallows.
What a great start! We drive on some more then stop again to look at a group of Impala. Our guide tells us there are too many in Kruger - they escape their predators by being so very agile. This group has one male, with their distinctive horns, and his harem of about eight females. Next we run across two magnificent zebra, and are told the marking are not simply camouflage in the bush but help to confuse their predators about which end is which!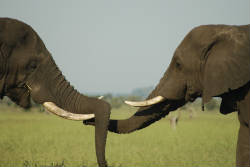 We are hoping to tick off some of the 'Big Five' this morning. Soon enough we round the corner and our African driver and guide, Simon, points across to a riverbank where a pair of black rhino and their one small offspring are relaxing on a red sand bank. Totally unconcerned by our presence, they will still be there when we pass by an hour later. This time we also catch sight of black buffalo laying near the water - another tick in the box!
Our next encounter is with traces of fresh dung, which are clearly from a large animal. We come across the rest of our Rovos Rail group parked up ahead and look into the near distance to spot a family of elephants - there must be at least 25 of them - from really big ones to youngsters who scuttle around under their elders' bellies. The larger members of the group turn towards us with ears outstretched as if to say 'come no nearer' whilst the rest of the family cross the road behind them.
Our drivers back the jeeps up - not wishing to antagonise - and we spend a delightful 15 minutes watching different individuals graze. Some move as close as ten feet away. We are quiet; pleased to be seeing these amazing animals so close up on our first outing. Simon asks if we are ready to move on - he knows he has to get us back to the train by quarter to 9 as the train has a schedule to make...
We then run into a group of black-faced vervet monkeys, both to our left and right, and spot in the distance a solitary vulture perched on a dead tree. A pair of magnificent black storks roam in the foreground. Will we see a cat?
We keep looking - but nothing so far... We have lost sight of the larger group - just two vehicles now on this dirt road - and we bounce around swishing through last night's rainfall as it begins to drizzle. We are under cover, but at speed the cool damp air streams in from the open front and sides.
The vehicle in front stops. Two - no, now three - majestic giraffe reach high into the canopy for the tastiest leaves. Just 20 feet from us, they are unconcerned. We muse over the fact that tourists are now just a common sight to them and represent no danger. We also reflect on how healthy all of these animals appear to be: good size with wonderful glossy coats. What a privilege it is to see them in their natural habitat!
Before we know it we are speeding out of the park, back to re-join the train. We have to head south now into Swaziland. After lunch we'll have our second game drive, in the Mkhaya Reserve, to look forward to on our African adventure.