Australia's Afghan Express, now affectionately referred to as The Ghan, offers Great Rail Journeys' guests an epic travel experience through this remarkable country. Named in tribute to the Afghan camel drivers who helped to make Australia's Red Centre accessible at the end of the nineteenth century, The Ghan's maiden journey in August 1929 travelled the 1,559 kilometres from Adelaide, South Australia to Alice Springs.
Since that first journey it was always intended that The Ghan's journey would continue from Alice Springs to Darwin, and this became a reality in 2004 following the opening of a 1,420-kilometre rail link between the two cities. Travelling in luxurious comfort aboard a train fully-equipped with modern amenities, our guests aboard The Ghan enjoy a journey that takes in some of Australia's most spectacular scenery.
Destinations
For most of our tours, Alice Springs is the starting point of our adventure. Surrounded by vineyard-clad hills and valleys, Adelaide is a pretty, modern and cosmopolitan city that is hailed as Australia's capital of arts and culture. Easy and pleasurable to explore on foot, Adelaide offers plenty of relaxing green spaces, excellent shopping and many attractions and entertainments to enjoy. The beach, at Glenelg, is just a vintage tram ride away.
Alice Springs began life as a remote telegraph station and pioneer town. Today, Alice Springs is recognised as the gateway to Uluru (formerly Ayer's Rock) but this desert town has a host of own cultural and historic attractions including the Museum of Central Australia, the Telegraph Station Historical Reserve and the Olive Pink Botanic Gardens. Alice Springs is also the base for Australia's famous Royal Flying Doctor service.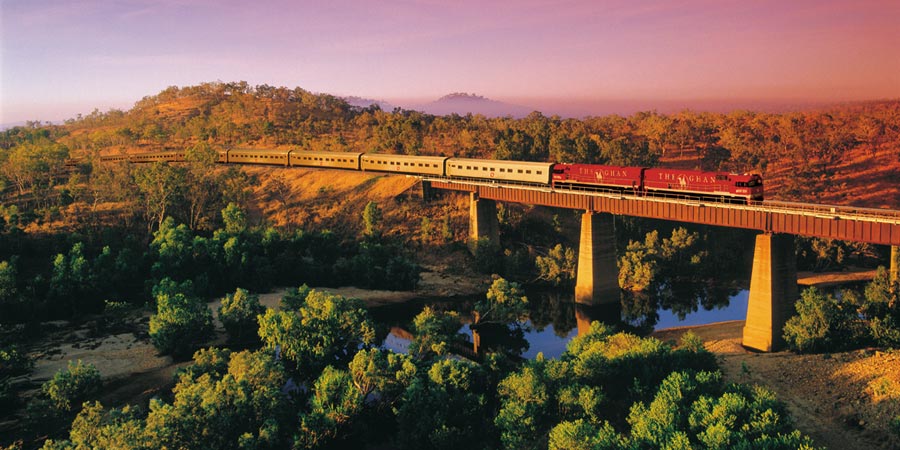 The Northern Territory riverside town of Katherine stands in a region of breath-taking natural beauty. The Katherine River winds its way through the thirteen gorges that comprise this unforgettable landscape, where exploration reveals caves, rapids, waterfalls, hot springs and other natural wonders at every turn. The town itself has a rich Aboriginal heritage and features a selection of museums, galleries and cultural attractions.
Multicultural Darwin, capital of the Northern Territory, enjoys a laid-back atmosphere, tropical climate and a beautiful waterfront lined with shops and inviting al fresco restaurants. Vibrant and rewarding to explore, Darwin offers walking trails which take in its many historic, cultural and artistic highlights whilst several colourful and atmospheric markets offer a wide variety of souvenirs and international street cuisines.
Travel in style
Passengers on The Ghan can choose from three classes of travel service to suit their individual needs. Great Rail Journeys' guests enjoy the luxurious 'Gold Service' as standard.
Gold Service passengers enjoy a compact yet comfortable en-suite sleeper cabin which functions as a three-seater lounge by day and twin sleeping berth at night. Complimentary tea, coffee, toiletries and a magazine are provided, and passengers may dine in The Ghan's elegant Queen Adelaide Restaurant Car which offers freshly-prepared meals and waiter service. Gold Service passengers can also enjoy all inclusive Australian wines, beers and base spirits.
Depending upon the season and passenger demand, The Ghan will typically comprise either sixteen or twenty-six carriages. An in-cabin sound system offers the choice of music or a commentary of the journey.