Opened in 1901, the Grand Canyon Railway carried passengers and supplies over the sixty-five mile journey from the Arizona town of Williams to Grand Canyon Village at the canyon's South Rim. A convenient means of visiting one of the USA's greatest natural phenomena, the Grand Canyon Railway remained popular with tourists until the irresistible rise of America's car industry. As the popularity of road travel boomed, the railway's passengers declined and the line became freight-only in 1968 before closing altogether in 1974.
Realising that such an iconic line could not be lost, entrepreneurs Max and Thelma Biegert bought the Grand Canyon Railway in 1989, just as its rusting assets were being salvaged for scrap. Its track and rolling stock lovingly restored to its original glory, the railway re-opened in 1990. Today, although the magnificent steam locomotives that once hauled carriages to and from the Grand Canyon only appear very rarely, the two-hours and fifteen-minute trip to and from Williams remains an unforgettable and nostalgic journey through one of the USA's most spectacular landscapes.
The Grand Canyon Railway experience
Over the course of its relatively short journey, the Grand Canyon Railway offers our guests many sights of interest along its route. The terrain varies from pine forest to open prairies, backed by the mountainous San Francisco Peaks and lucky passengers may glimpse native wildlife including several species of deer, elk, coyotes and a variety of birds including Californian condors. Before departing Williams, our guests are entertained by a 'Wild West' show whilst on-board the train's staff provide anecdotes and facts regarding the railway's history. The historic Grand Canyon Village features several landmark buildings designed by the architect Mary Elizabeth Jane Colter in the early 1900s. Besides offering awe-inspiring panoramic views of the Grand Canyon's southern rim, the village also has a number of attractions and restaurants and a visitor information centre.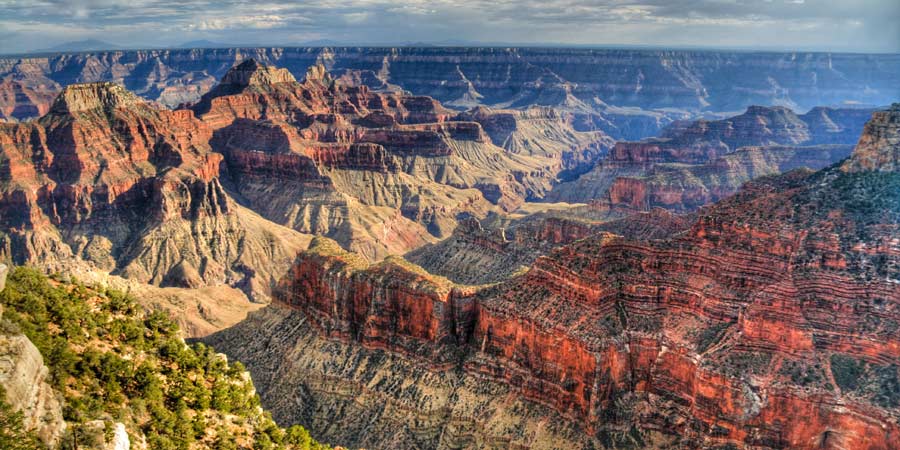 First Class passengers enjoy complimentary coffee, pastries, fruit and soft drinks, whilst alcoholic drinks can be bought at the bar. Dome Class passengers obtain fabulous views of the Grand Canyon's diverse scenery in a car which features panoramic viewing windows and a domed glass ceiling. Upholstered high-back chairs add to the luxurious feel, whilst complimentary fresh fruit, pastries, coffee and juice are offered and, on the return journey, a glass of sparkling white wine. The ultimate in Grand Canyon Railway luxury travel is reserved for passengers in the Parlour Car. Elegantly decorated and lavishly furnished, this special carriage offers lounge-style comfort, its own private bar and an open-air viewing platform. Passengers in the parlour car enjoy the same complimentary benefits as those in Dome Class.
CLASSES OF RAIL
The Grand Canyon Railway's fleet of lovingly restored vintage diesel locomotives haul several different types of car each offering its own distinctive style and class of travel. Pullman Class passengers travel in an authentic 1920s carriage with comfortable seats and windows - with blinds - that open to let in fresh air. A cabin attendant is on hand to answer questions and provide information about the railway and journey. Coach Class passengers ride in a classic 1950s carriage featuring two rows of comfortable double seats with a central aisle. These carriages are air-conditioned and have large picture-windows. Snacks and drinks are available. Each of the Grand Canyon Railway's First Class carriages is different, but all are sumptuously comfortable and authentically luxurious with reclining seats, ample legroom, large windows and air-conditioning.