01904 521 936
Open 7 Days a Week
Avignon, the Rhône & Provence
A French holiday including a cruise along the Rhône
Discover Avignon, the Rhône, and Provence. Inspiration for artists including Vincent Van Gogh, this region of France oozes history, charm, and atmosphere. Staying in the delightful city of Avignon, we explore Roman Provence and enjoy a lunch cruise along the Rhône.
The itinerary for your journey
Tour highlights
Enjoy a guided walking tour of Avignon
Relax on a tranquil cruise along the Rhône to Arles
Visit the Pont du Gard, a spectacular ancient Roman aqueduct
Explore the most beautiful villages of Provence with visits to L'Isle sur-la-Sorgue, Gordes and Roussillon
Experience one of France's most famous exports with a tasting of delicious local wines at Châteauneuf-du-Pape
Day 1 – London to Avignon by Eurostar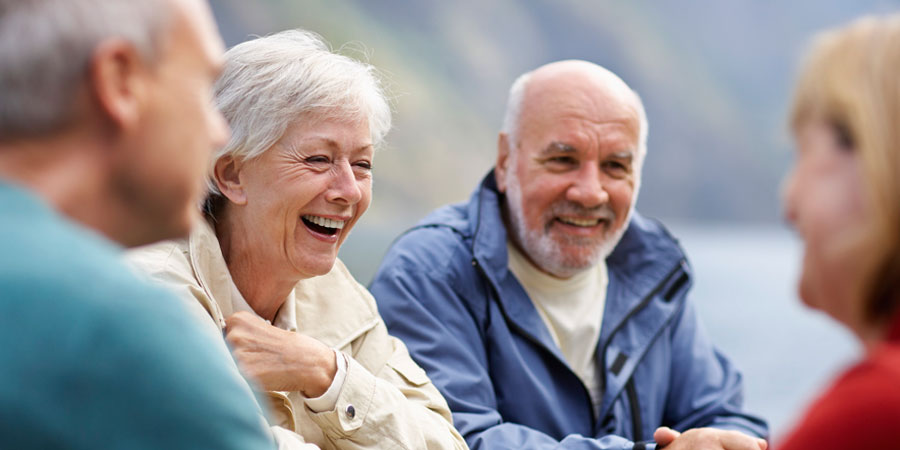 We meet early this morning at our Departure Office at London St Pancras. We travel by Eurostar across France to Avignon, enjoying breakfast on board, followed by a light meal and drinks later in the day. On arrival, we transfer to our base for the next 6 nights, the centrally located 4-Star Hotel de l'Horloge, 4-Star Novotel Avignon Centre or 4-Star Hotel Cloitre Saint Louis before dinner at a local restaurant.
*Some departures will travel via Lille
Please Note: For departures AVB2001 and AVB2002 you will travel via Paris.
Day 2 - A lunch cruise along the Rhône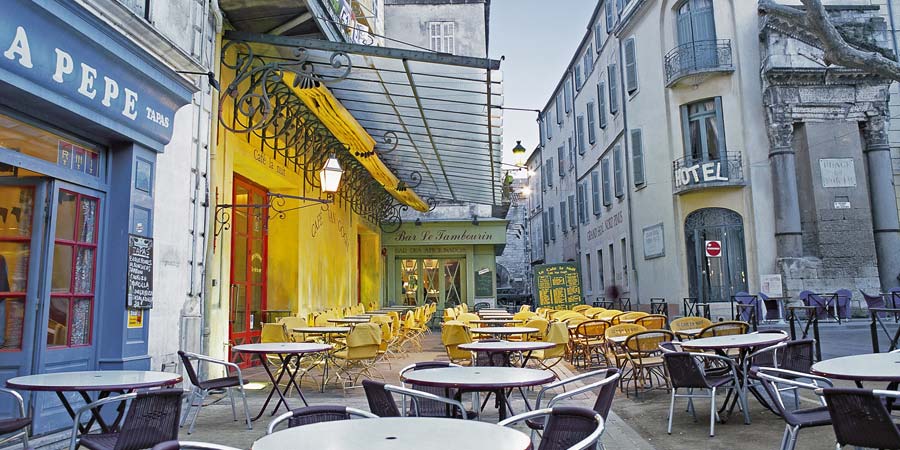 Today we take a relaxing cruise on the River Rhône, enjoying lunch as we sail through picturesque scenery to Arles, once home to Vincent van Gogh. Boasting a beautifully preserved historic centre, the city of Arles boasts one of Europe's best collections of Roman ruins - which are UNESCO listed. Initially a Celtic city, Arles became Roman after Julius Caesar distributed the land among some of his most faithful soldiers in 46 BC. This was the city's first golden age, and came to be known as 'Little Rome in Gaul'.
As we arrive in this delightful city, it is easy to see how Arles inspired van Gogh to produce over 300 paintings and drawings during his time here. Among the many highlights of Arles' rich history is the mighty Roman Arena, which would have seated about 20,000 people. It was partly converted into a castle in the Middle Ages, but is still remarkably intact. We return to Avignon by rail.
Day 3 - A guided walking tour of Avignon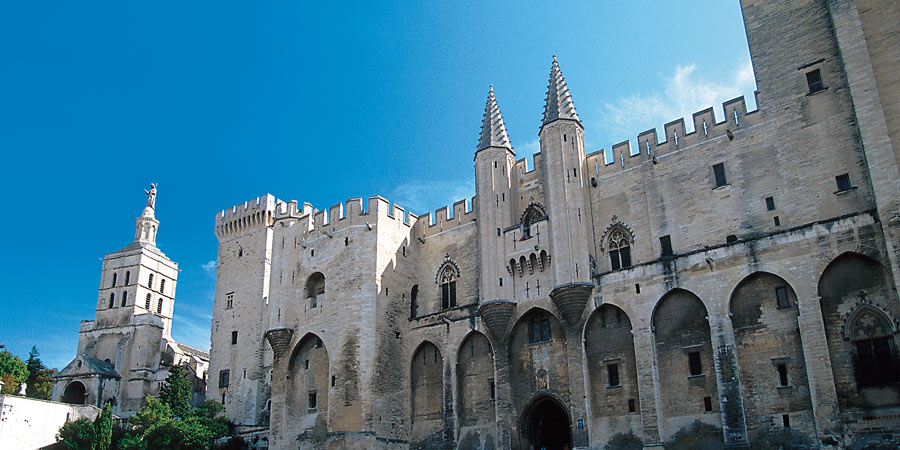 This morning we enjoy a guided walking tour of charming Avignon. The city is well known for the Pont St Bénezet, its famous broken bridge. All but four of its arches were washed away in a devastating flood in 1668 - and today the surviving arches have become an iconic symbol of the city, and the feature of a famous song. The city is also famous for the Palais des Papes - Palace of the Popes - which was the seat of the Papacy for six successive Popes during the 14th century after Pope Clement V escaped the violent chaos and corruption of Rome and moved to Avignon.
We admire both of these striking landmarks - which now form the heart of a UNESCO World Heritage site - as we pass them during our guided sightseeing tour. The afternoon is free for you to explore Avignon at leisure. Stoll through the city's broad,tree-lined avenues and explore the intriguing network of alleyways and passages that connect beautiful open squares and pretty churches.
Day 4 - At leisure in Avignon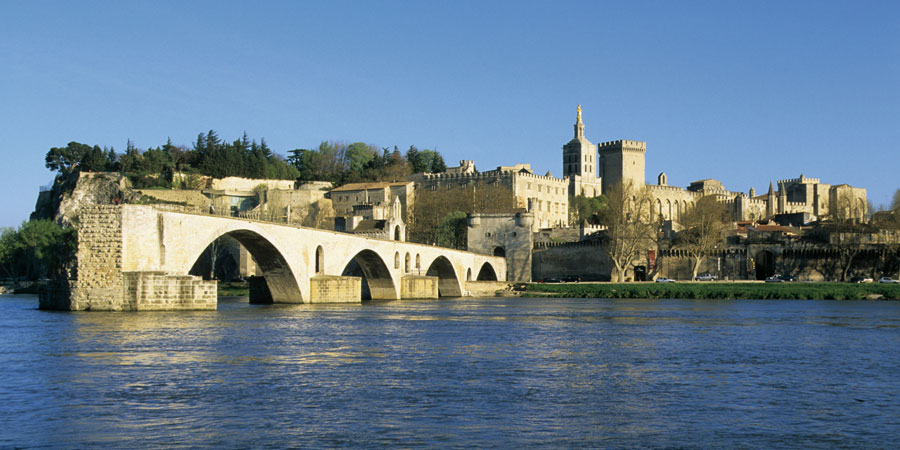 Today you are free to continue exploring Avignon at leisure. For wonderful views over the city's sights, including the Palais des Papes, the rooftops of Old Avignon and the Pont St-Bénézet, take a walk up to the Rock of Domes, where a beautiful hilltop garden is set on a bluff above the city. The gardens are also home to a collection of rocky grottoes which are referred to as 'the cradle of Avignon', where some of the first known inhabitants of the area settled and lived. You could travel further afield by rail, with exciting options available including the fascinating port city of Marseille, one of the jewels of France's Mediterranean coastline.
Day 5 - The Villages of Provence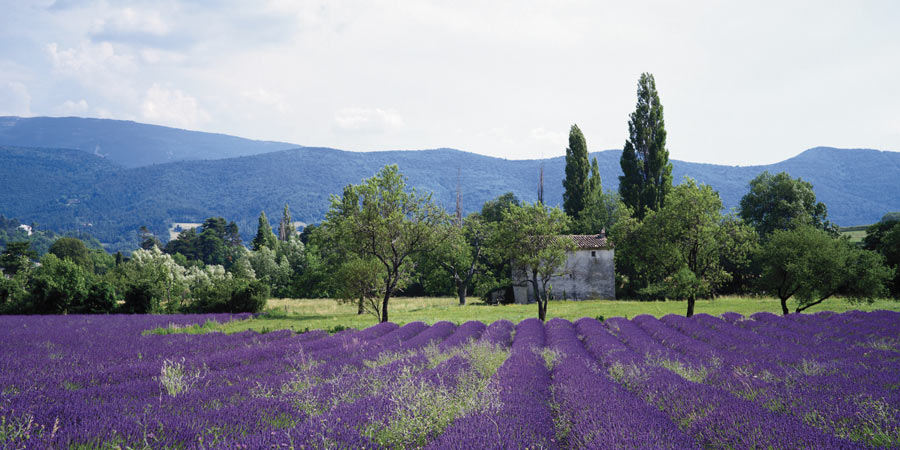 Today we enjoy a coach excursion into the Luberon, a picturesque region of Provence, known for its olive groves, vineyards and fascinating hilltop villages. We visit L'Isle sur-la-Sorgue, known as the 'Venice of Provence' for the canals which criss cross the town. Here you can relax in one of the delightful waterside cafés and see the attractive waterwheels located throughout the town, are all in working order. This afternoon, we visit Gordes, a beautiful old village built on and around an outcrop of rocky cliffs.
The buildings are packed tightly together, including the 12th century castle, with narrow alleyways and stone staircases acting as the village streets. The views of the surrounding fields and forests are spectacular from any vantage point in Gordes, which is listed as one of "Les Plus Beaux Villages de France" - "the Most Beautiful Villages in France". Another village in that prestigious list is Roussillon, located only a short distance away. Set on the ridge of a steep red cliff, the village is surrounded by a pine forest, its superb setting outdone only by the impeccable beauty of the village itself. The small centre is filled with colourful old buildings and a spiralling network of medieval streets. After enjoying time to explore both villages, we return to Avignon.
Day 6 - Pont du Gard & Châteauneuf-du-Pape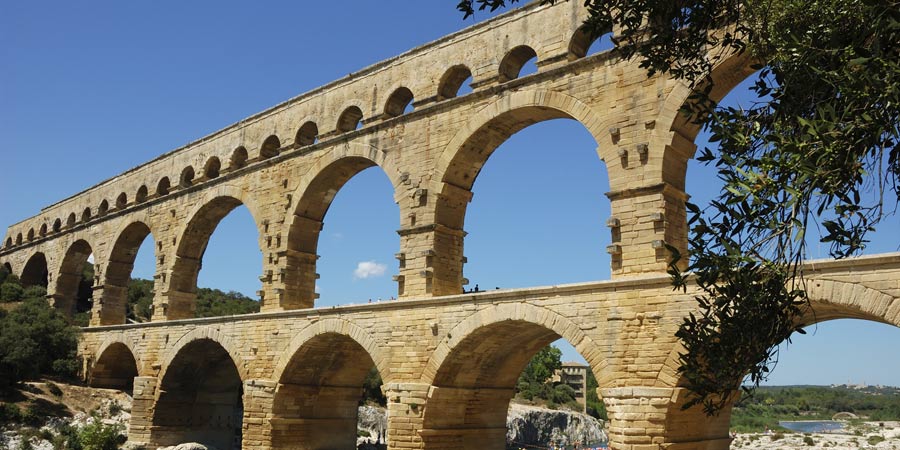 Today we travel by coach to the stunning Pont du Gard, the world famous threelevel stone aqueduct, which crosses the Gardon River Valley. Built by the Romans in 19BC, the incredible engineering feat was designed to bring water to the settlement at Nimes, for use in public baths, fountains and private residences. The gradient of the slope as it crosses the river is just 1 in 3,000 - a drop of just 2.5cm - which shows the incredible precision of the Roman engineers who designed and built the aqueduct with the simple technology available to them over 2,000 years ago.
The Pont du Gard enjoys UNESCO World Heritage status, as one of the greatest remaining iconic glories of the Roman Empire. Our excursion continues to Châteauneuf-du-Pape, a medieval village built on a hillside and overlooked by the ruins of an ancient château. The village is perhaps the most famous red wine producing village in the world and is surrounded almost completely by vineyards, with the River Rhône winding across the landscape.
You have time to enjoy lunch at a local restaurant, explore the village and indulge yourself with an included wine tasting, giving us the chance to sample some of the region's most celebrated drinks before we return to Avignon. Here a farewell dinner is served at a local restaurant.
Day 7 - Avignon to London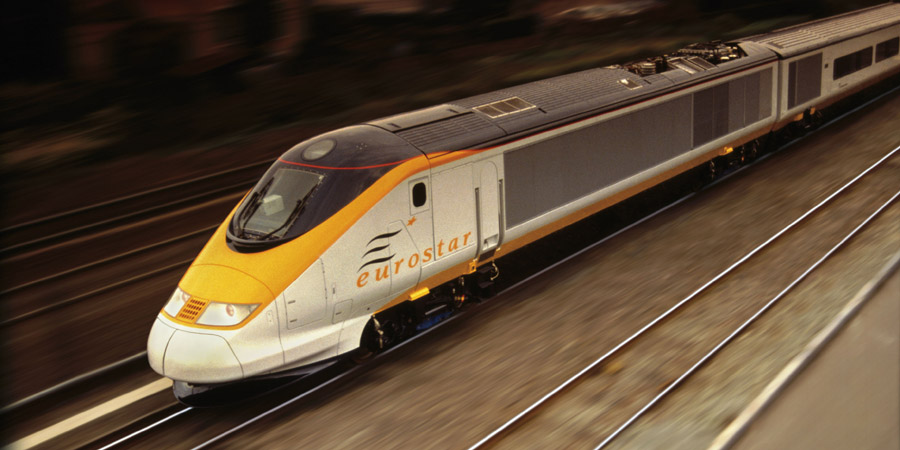 After a leisurely morning, we leave Avignon mid afternoon and join the direct Eurostar service to London*, with a light meal and drinks on board. We arrive late this evening, when your tour concludes.
*Some departures will travel via Lille
Recommended airports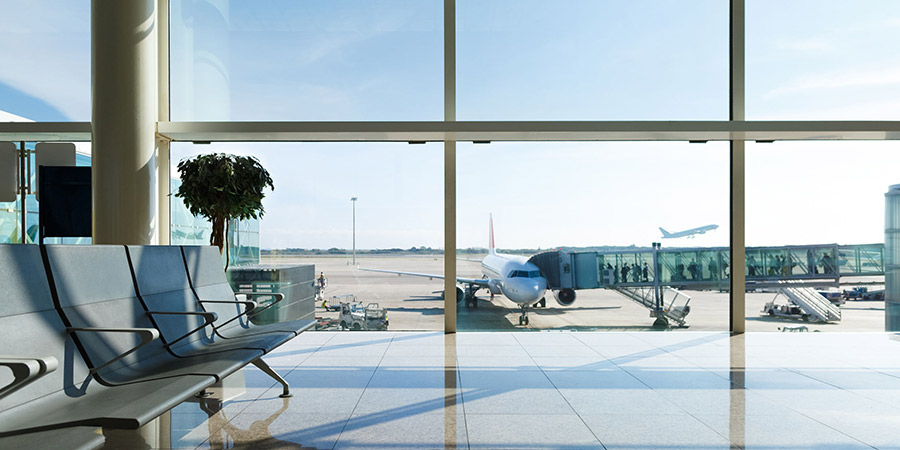 For this tour, we recommend arriving to, and departing from, London Gatwick or London Heathrow airport (LGW or LHR). London Gatwick is approximately 30 miles from your start and end point, and London Heathrow is approximately 19 miles from your start and end point.
Visa Requirements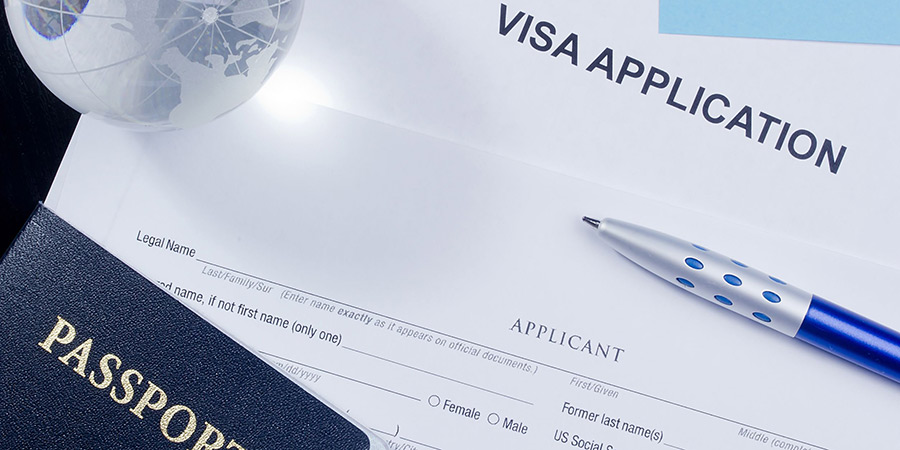 It is your responsibility to check and fulfil the passport, visa, health and immigration requirements applicable to your itinerary. We do not accept any responsibility if you cannot travel, or incur any other loss because you have not complied with any passport, visa, immigration requirements or health formalities. You agree to reimburse us in relation to any fines or other losses which we incur as a result of your failure to comply with any passport, visa, immigration requirements or health formalities.
Departure Dates
5 September 2020
From

$2,025

3 October 2020
From

$1,735
All prices are per person and assume full occupancy of the room.
Please always refer to the website for up-to-date prices and availability.
Trains
Eurostar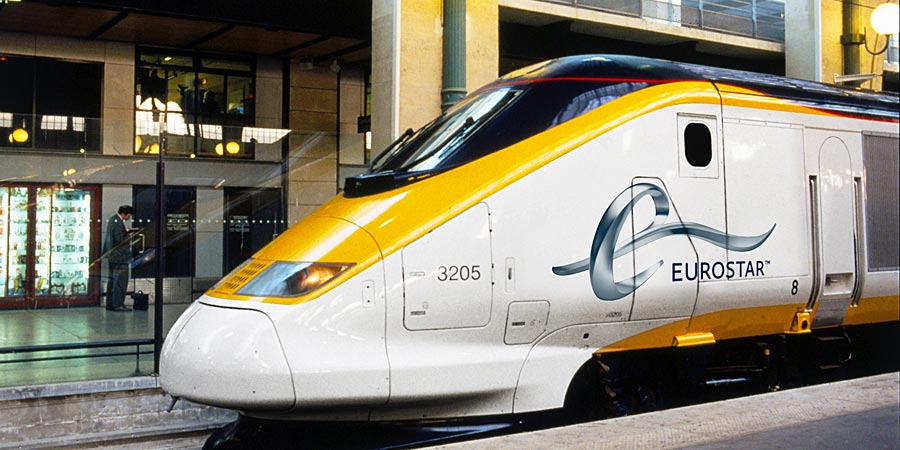 The high speed Eurostar trains link St Pancras International in London with Paris and Lille in France as well as Brussels in Belgium.
Eurostar's Standard Class coaches feature two seats on either side of the central aisle, most of which is arranged in an 'airline' seating configuration with drop down tray tables. There are two tables for four per carriage. Passengers travelling in Eurostar Standard Class coaches can take advantage of the Bar-Buffet which sells a range of snacks, meals, hot and cold drinks - including Champagne!
The highest class of Eurostar travel available for leisure customers is Standard Premier Class. In your dedicated Standard Premier carriage you'll find a less dense seat configuration, meaning the seats are larger and you have ample space to relax and stretch out. As part of the service you'll enjoy complimentary drinks and refreshments, served at your seat by friendly, helpful waiting staff.
For the class of travel used on your chosen tour, please refer to the 'What's Included' section of the tour page.
TGV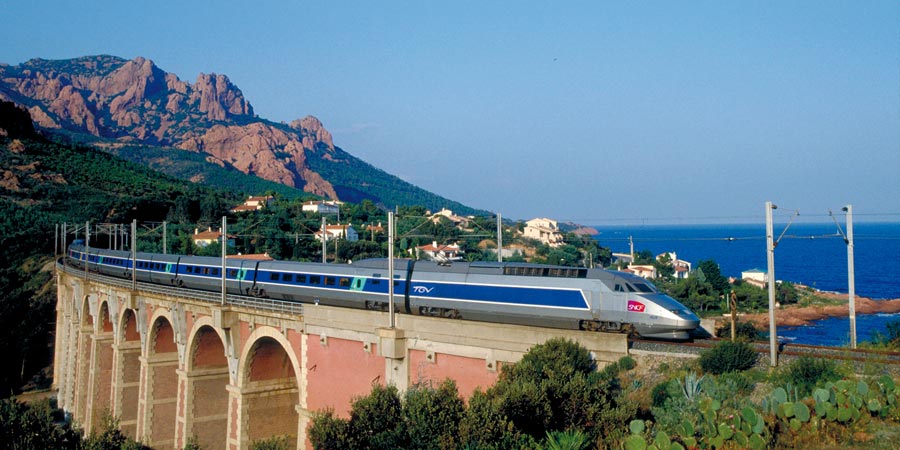 Introduced in 1981, France's TGV (Train à Grande Vitesse) was the original European high-speed train. Linking Paris with Lyon, the new service revolutionised train travel and meant that travelling by air over medium and short distances was no longer seen as the best option, even for business travel.
The network has expanded rapidly and today these sleek, stylish trains offer links to over 60 destinations throughout France. Operated by SNCF, the French national rail operator, TGV trains travel over specially-constructed high speed lines. The trains can achieve speeds of up to 186mph (300km/h) on most long distance routes and 200mph (320km/h) on the new TGV Est line, which links Paris with Strasbourg, Luxembourg and Basel. With the exception of shorter journeys, TGVs almost always have an on-board buffet car, serving a selection of drinks and light refreshments.
Hotels
Hotel Cloitre Saint Louis, Avignon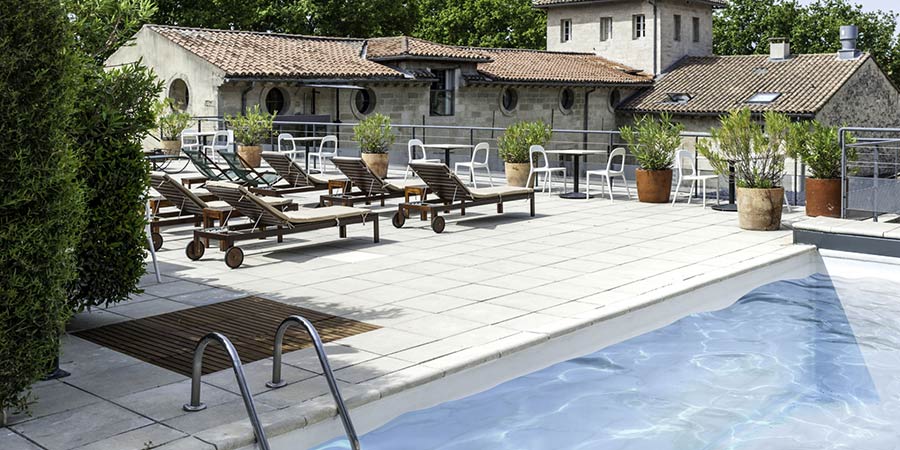 Housed in a former, 16th-century Jesuit seminary, this refined hotel is located in the heart of Avignon's medieval quarter. Filled with authentic features, experience history brought to life as you wander the original cloisters with their vaulted ceilings, and fountain-filled courtyards. In the evening, the hotel's terrace is a wonderfully relaxing place to be.
Hotel de l'Horloge, Avignon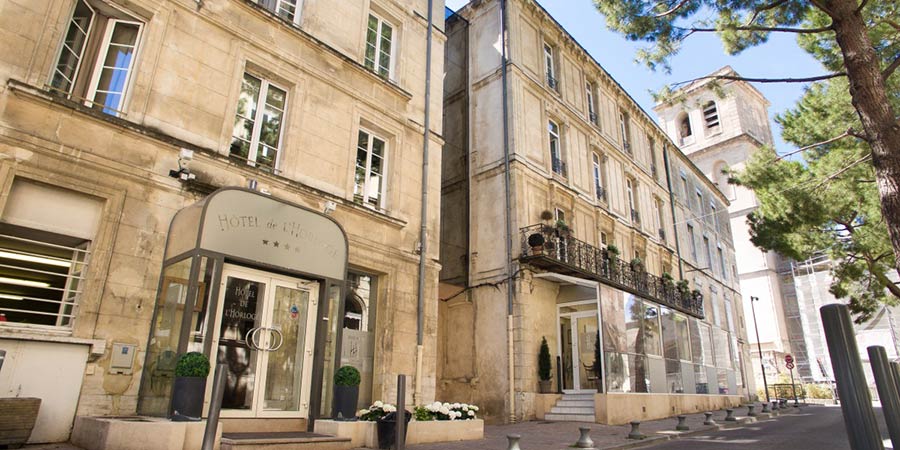 The charming 4-Star Hotel de l'Horloge is located in the historic centre of Avignon, close to the Palace of the Popes and the railway station; an ideal base for exploring the city and the surrounding region. The hotel is housed in an attractive building with a classic 19th century façade and has a breakfast room. The individually air conditioned rooms are equipped with a telephone, television, minibar, safe and complimentary Wi-Fi.
Novotel Avignon Centre, Avignon
The 4-Star Novotel Avignon Centre is our base in Avignon. Situated in the centre of the town, close to the train station, the hotel offers some fantastic amenities, including a bar and a restaurant, as well as a fitness centre, an outdoor pool, and a spa. The spa offers a sauna and a variety of beauty treatments on offer (payable locally). The comfortable rooms are air conditioned throughout, and also comes with complimentary Wi-Fi, a minibar, and tea & coffee-making facilities.

Upgrades

We offer a selection of upgrades and 'add-ons' designed to help you make the most of your holiday - and make it even easier!

This page was printed from

www.greatrail.com/us/tours/avignon-rhone-provence/#AVB20

on 5 August 2020.

Call

01904 521 936

to discuss your holiday

© Copyright 2020. Great Rail Journeys