01904 521 936
Open 7 Days a Week
Vienna, Salzburg & the Danube
An unforgettable Austrian holiday experience
Combining the magnificent cities of Salzburg and Vienna with some of Austria's most picturesque locales is the recipe for a truly wonderful tour. Add to this a scenic river cruise through the stunning Wachau Valley and a 'Sound of Music' tour, and you get an unforgettable Austrian holiday experience.
The itinerary for your journey
Tour highlights
Sit down to a classical music concert in Salzburg's Mirabell Palace
Discover Austria's Lake District, including Mondsee, St Gilgen and St Wolfgang
Embark on a guided tour of Vienna's famous Schönbrunn Palace and wander through its elegant, Baroque interiors and wonderful parkland
Cruise the blue Danube through the spectacular Wachau Valley
Day 1 - From London to Cologne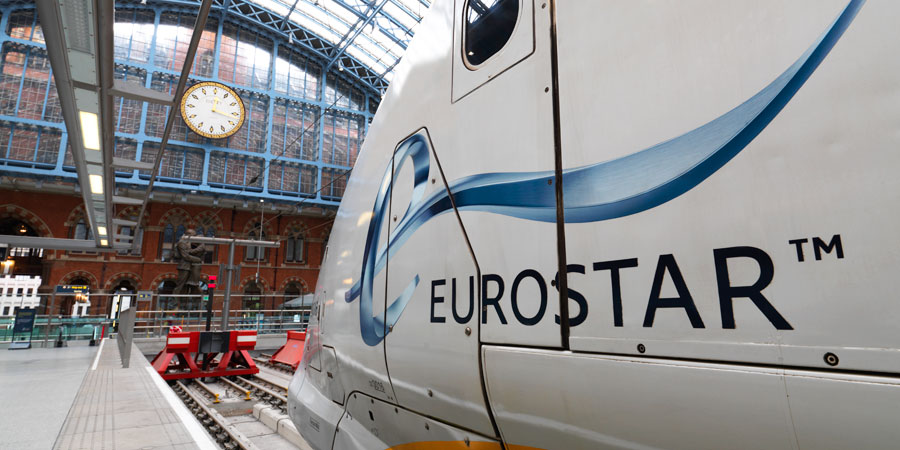 Meet your group and Tour Manager at our dedicated Departure Office at St Pancras International, and travel by Eurostar to Brussels on the first leg of our journey to Germany. We travel in Standard Premier Class, enjoying a light meal and drinks served at our seats during the journey. On arrival in the Belgian capital, our journey continues on the high-speed service to Cologne. Here we stay overnight at a centrally-located hotel, situated close to the city's railway station, Old Town and its beautiful Gothic Cathedral.
Day 2 - First Class rail to Vienna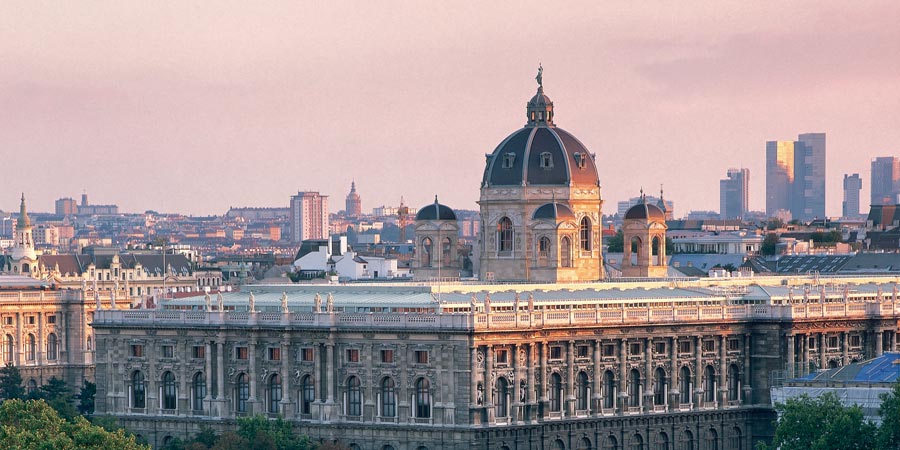 Leaving Cologne behind, today we continue by high-speed rail to Austria. Our route takes us southwards across Germany and into the state of Bavaria. We continue across the Austrian border and travel through to Vienna, its ineffably elegant Baroque capital city. Upon arrival, we check into our hotel, the 4-Star Marriott Imperial Riding School Renaissance, where we stay for the next four-nights.
Day 3 - Vienna sightseeing and Schönbrunn Palace
We begin our stay in Vienna with a tour of the city's main sights, taking in the magnificent Imperial architecture on the famous Ringstrasse - a wide avenue that encircles the Old City of Vienna. We see many of Vienna's finest buildings including the impressive Hofburg Palace, a vast complex of buildings built by the Habsburgs over six centuries.
Other highlights include the ornate Opera House, which houses the Vienna Philharmonic, the grand Parliament building, which overlooks the historical Ringstraße, and the lavish Town Hall. Also known as the 'Rathaus', this eye catching building is a perfectly symmetrical Neo-Gothic masterpiece, built in the 19th century after the original 14th century offices became insufficient for use in the flourishing city.
Later today we visit the spectacular Schönbrunn Palace, the former summer residence of the Imperial family, which is situated on the outskirts of Vienna in its own beautiful landscaped parkland. This marvellous honey-coloured building has a history dating back to the 16th century, when it was built by the Holy Roman Emperor of the time, Maximilian II.
One of the most beautiful rooms in the Palace is arguably the Great Gallery, a marvellous gilded space that is somewhat reminiscent of the 'Hall of Mirrors' at the equally beautiful Palace of Versailles in Paris. We enjoy a guided tour of the palace, followed by free time to stroll through its acres of formal gardens, which are filled with exquisitely designed landscapes, gardens, and myriads of beautifully blooming blossoms.
Day 4 - Danube cruise between Melk and Krems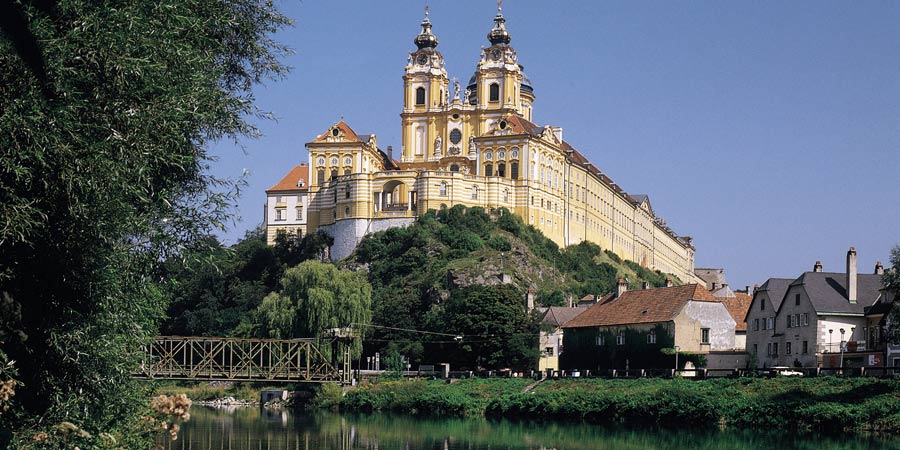 Today's full-day excursion takes us on a cruise along the picturesque Wachau Valley, famed for its vineyards and castles. We also enjoy some time at leisure in the medieval towns of Melk and Krems. Melk is situated in Austria's winegrowing region, and is the gateway to the scenic Wachau Valley. An 11-thcentury Benedictine Abbey stands on a rocky outcrop overlooking the Danube and the town, where we can enjoy entry on this excursion.
The abbey is also home to the prestigious Marble Room and the Abbey Church, generally considered one of the most beautiful Baroque churches north of the Alps. Krems is located at the eastern edge of the Wachau Valley, where the Krems and Danube Rivers meet. A beautiful medieval riverside destination known for its wine production, the town has a charming historic centre where a simple layout sees neat rows of pretty frescoed houses lining straight roads. There are plenty of wine tasting opportunities to be had in Krems, with celebrated local wines offered at reduced tariffs.
Day 5 - Scenic Route to Salzburg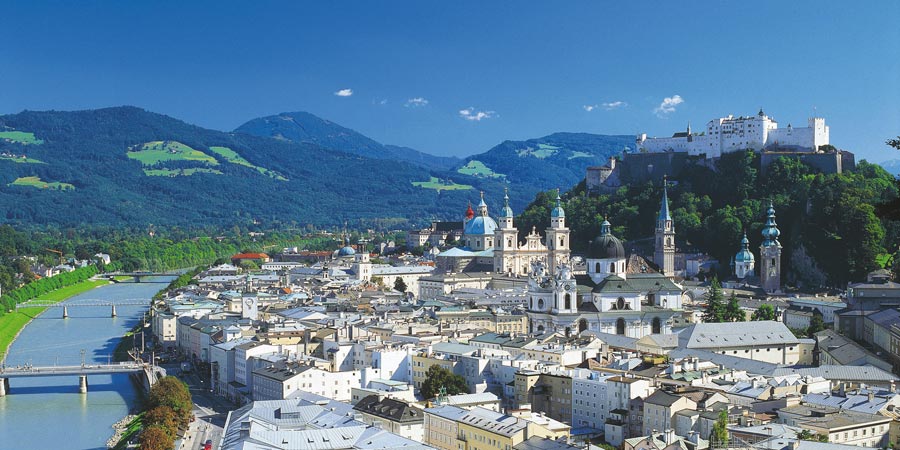 Departing Vienna in a southerly direction, we encounter the spectacular mountain landscape through which the Semmering Railway passes. Built across high mountain terrain by around 20,000 workers during the pioneering era of the railways, the Semmering Railway was the first standard gauge mountain railway and is a protected UNESCO World Heritage site due to it's incredible engineering.
We change at Leoben, travelling northwards (in Standard Class) through the wonderful mountain landscapes of the Tauern range en-route to Salzburg, a city surrounded by stunning mountains which only became an official part of Austria in the early 19th century.
Day 6 - 'The Sound of Music'
Today we enjoy a guided tour of the lakes and mountains around Salzburg. This stunning area is renowned for its beauty, and some of the locations we visit today were featured in the classic film 'The Sound of Music.' This morning we enjoy a tour taking in some of this beautiful region's most popular sights, including Hellbrunn Castle Gardens.
We also enjoy visits to St Gilgen, a small town on the shores of Lake Wolfgangsee, and Mondsee, another lakeside town that is home to the church used in the wedding scenes of the musical. You have some free time in St Gilgen, the birthplace of Mozart's mother, to explore its picturesque streets lined with lively cafes, shops and frescoed houses. From here we continue to St Wolfgang, a pretty little town on the north shores of the lake. After taking in the delights of the area, we head back to Salzburg.
Day 7 - A guided sightseeing tour of Salzburg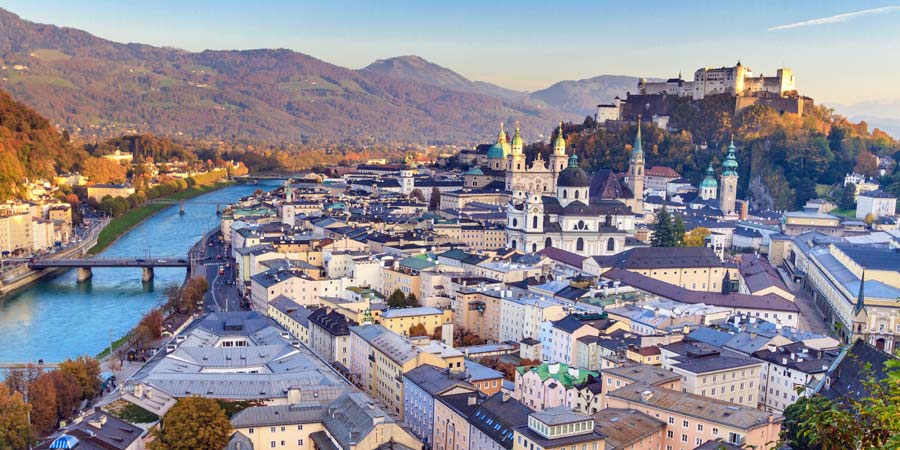 Known for being the birthplace of Mozart, Salzburg is one of Austria's most famous cities, whose centre is a UNESCO World Heritage site. Here we enjoy a guided sightseeing tour. The city's internationally renowned Baroque architecture sits in one of Europe's best preserved city centres, which combines with the lovely local scenery to create a unique charm.
On completion of the tour, the rest of your day is free to spend on sightseeing at leisure. Salzburg's squares are delightful; and another popular option is the Getreidegasse, which offers retail therapy in the most splendid setting. Otherwise, take a stroll through the beautiful Mirabell Gardens, or visit the Hohensalzburg Fortress, which offers superb views of the city - and the courtyard cafés are a great place to relax with a strudel and a coffee.
This evening we make our way to Mirabell Palace, where we enjoy a sublime music concert.
Days 8-9 - Salzburg to London by First Class rail
We leave Salzburg by high-speed rail to Cologne, where we overnight. After breakfast on Day 9, we continue to Brussels, boarding the Eurostar to London, where our tour ends upon arrival.
Recommended airports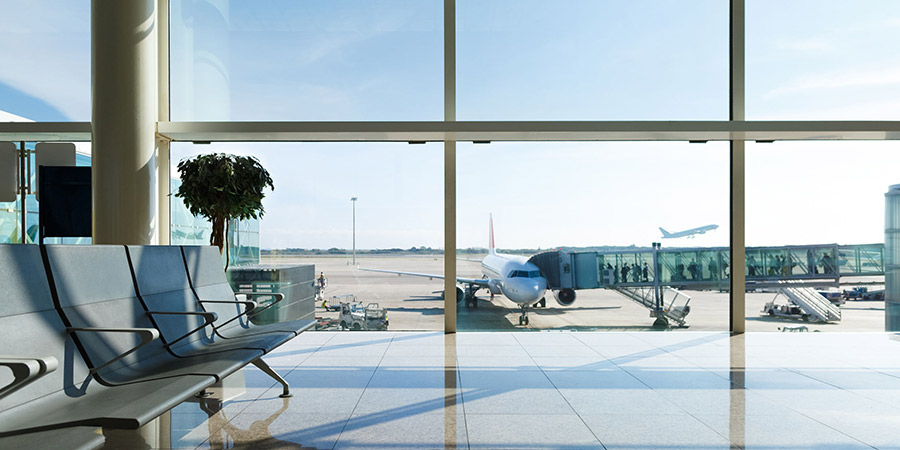 For this tour, we recommend arriving to, and departing from, London Gatwick or London Heathrow airport (LGW or LHR). London Gatwick is approximately 30 miles from your start and end point, and London Heathrow is approximately 19 miles from your start and end point.
Visa Requirements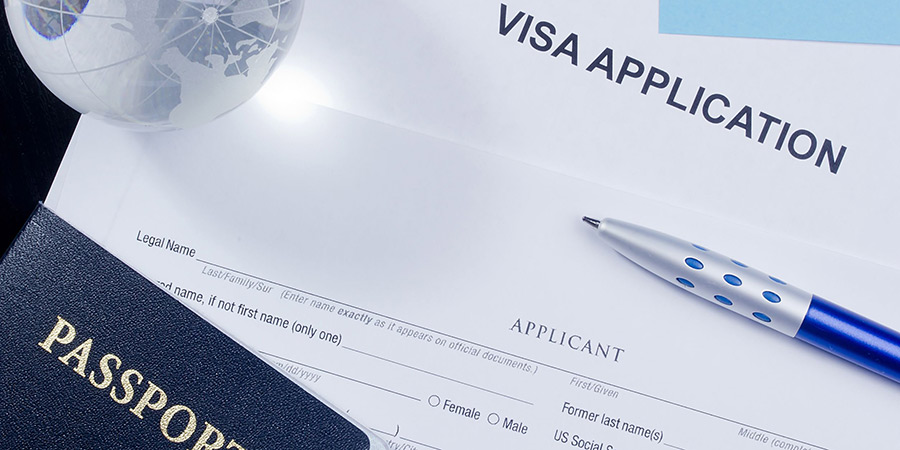 It is your responsibility to check and fulfil the passport, visa, health and immigration requirements applicable to your itinerary. We do not accept any responsibility if you cannot travel, or incur any other loss because you have not complied with any passport, visa, immigration requirements or health formalities. You agree to reimburse us in relation to any fines or other losses which we incur as a result of your failure to comply with any passport, visa, immigration requirements or health formalities.
Departure Dates
14 May 2020
From

$2,885

18 June 2020
From

$3,175

9 July 2020
From

$3,175

10 September 2020
From

$3,175
All prices are per person and assume full occupancy of the room.
Please always refer to the website for up-to-date prices and availability.
Trains
Eurostar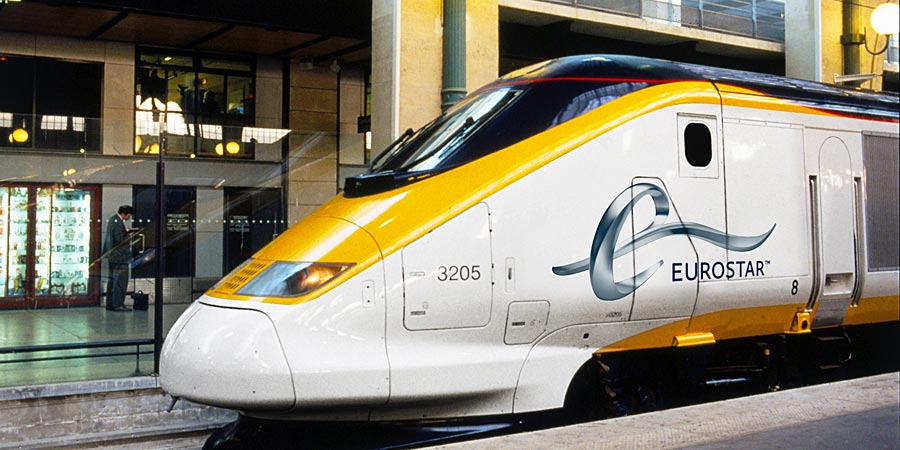 The high speed Eurostar trains link St Pancras International in London with Paris and Lille in France as well as Brussels in Belgium.
Eurostar's Standard Class coaches feature two seats on either side of the central aisle, most of which is arranged in an 'airline' seating configuration with drop down tray tables. There are two tables for four per carriage. Passengers travelling in Eurostar Standard Class coaches can take advantage of the Bar-Buffet which sells a range of snacks, meals, hot and cold drinks - including Champagne!
The highest class of Eurostar travel available for leisure customers is Standard Premier Class. In your dedicated Standard Premier carriage you'll find a less dense seat configuration, meaning the seats are larger and you have ample space to relax and stretch out. As part of the service you'll enjoy complimentary drinks and refreshments, served at your seat by friendly, helpful waiting staff.
For the class of travel used on your chosen tour, please refer to the 'What's Included' section of the tour page.
ICE Train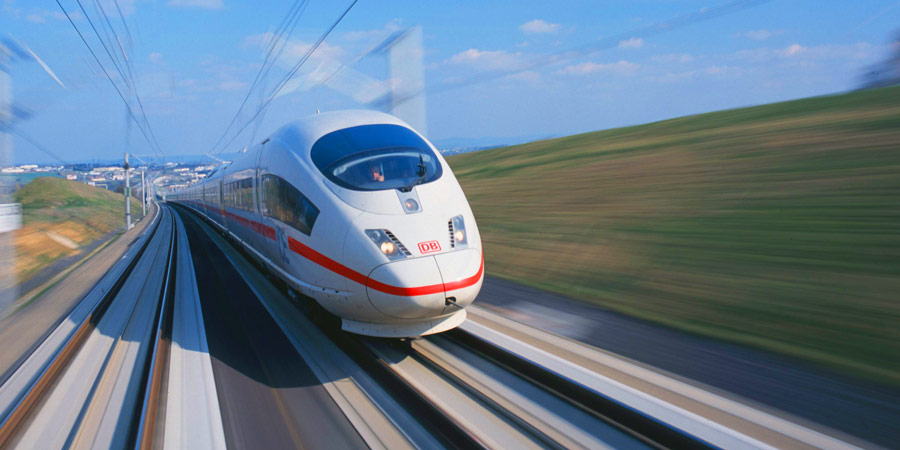 Probably one of Europe's finest high speed trains, the jewel in German Rail's crown is the InterCityExpress or ICE.
Linking all Germany's major cities and selected destinations outside Germany, the ICE trains offer some of the most comfortable and well-designed accommodation around, so you can really get the most out of your journey.
InterCity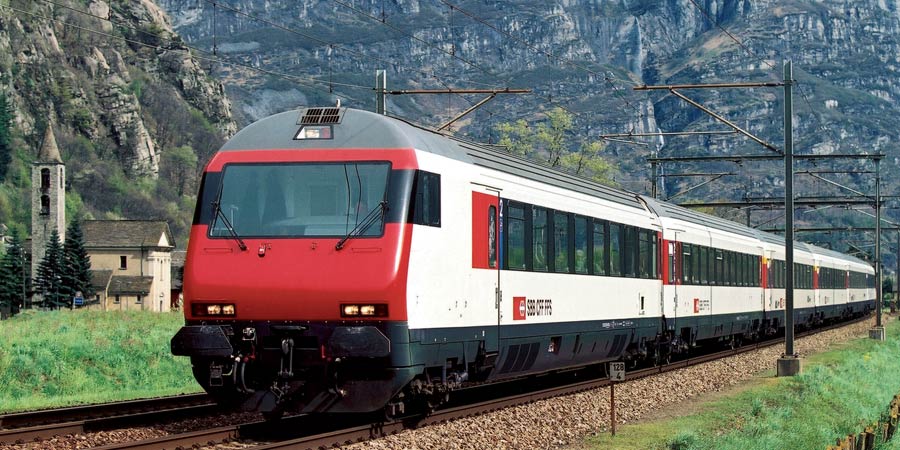 Named after the famous British express service, InterCity trains are long-distance services operating in a variety of different countries, such as Germany, Switzerland and Austria. InterCity trains are distinct from Inter City Express (ICE) and EuroCity services in that they operate on domestic routes within country borders.
Semmering Railway
Often said to be one of the first mountain railways in the world, this awe-inspiring line also boasts the heady title of being one of the few railways to hold a UNESCO World Heritage listing. This title is for good reason, because the line, which has been running since 1854, passes over and through some of the most incredible scenery on the planet. Running over 41 kilometers from Gloggnitz to Mürzzuschlag, the line winds through the verdant beauty of the Semmering Pass, and passs over 16 viaducts, 110 bridges, and through 14 tunnels. Rather than disrupt the natural beauty of the valley, the line was designed to work in harmony with its surroundings, and therefore the views from the trains that run along it are second to none. In 2012, a base tunnel through the valley began construction, and it is expected to open in 2026, over 170 years after the line first opened.
Thalys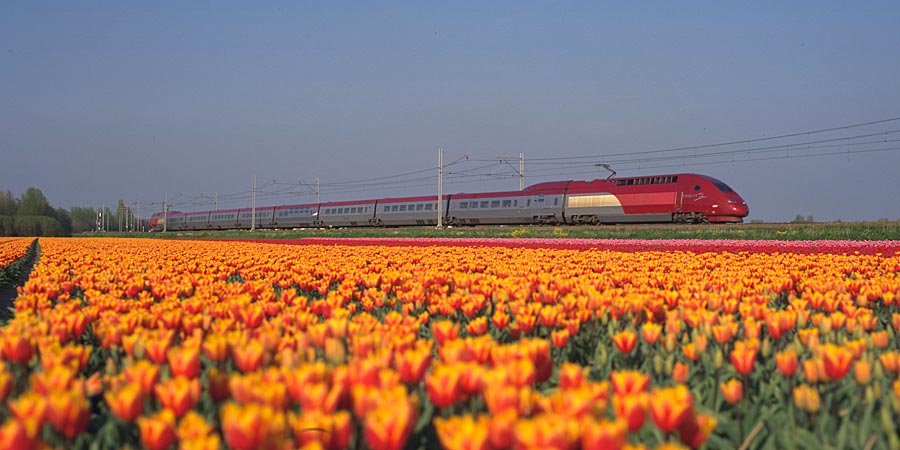 Thalys is a brand run by two companies, Thalys International, whose shareholders are French, Belgian and German rail companies, with Dutch Railways (NS) as a privileged partner, and also The Railway Company THI Factory, 60% of whose capital is held by SNCF, and 40% by SNCB.
It runs rail services linking Paris and Brussels with Amsterdam or Cologne. The trains are similar in design to French TGVs and can reach up to 190mph (305km/h) when travelling on dedicated high speed lines.
Comfort 1 (First Class) passengers benefit from spacious seating and are usually served complimentary light refreshments once underway. Both Comfort 1 and Comfort 2 (Standard Class) passengers have access to the Thalys Bar, which serves a selection of snacks, meals and hot and cold drinks during most journeys.
Hotels
Hotel NH Salzburg City, Salzburg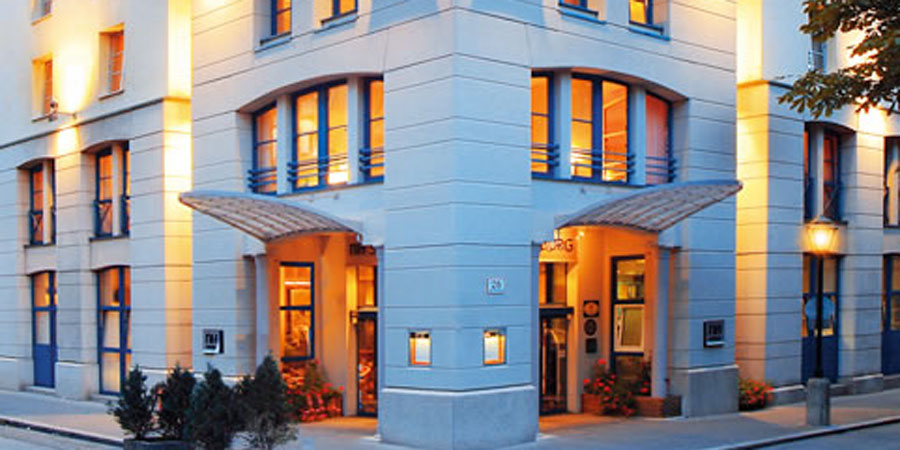 Situated just 15 minutes' walk away from Salzburg's Old Town and 9 minutes from the Mirabell Gardens, the 4-Star Hotel NH Salzburg City is ideally located for access to this wonderful city. The hotel offers great facilities in an elegant setting and the restaurant offers a blend of local and international favourites as well as a terrace eating area. The light and airy rooms are air-conditioned throughout, and also come with a hairdryer, a minibar, an in room safe, a television, and complimentary Wi-Fi.
Imperial Riding School Renaissance Hotel, Vienna
Situated a stone's throw away from beautiful Schloss Belvedere and close to many public transport links, the 4-Star Imperial Riding School Renaissance Vienna Hotel is our base whilst in Vienna. The hotel offers some excellent amenities, including a swimming pool, a sauna, a solarium, and a fitness centre. There are also a selection of fine restaurants and bars, serving anything a fine selection of traditional Austrian cuisine. There is also a seasonal restaurant, the City Garden, which offers delicious barbeque. The rooms are pleasantly decorated in neutral colours, and come well equipped with air-conditioning, an en-suite bathroom, an in-room safe, a hair dryer, a television, and complimentary Wi-Fi.

Upgrades

We offer a selection of upgrades and 'add-ons' designed to help you make the most of your holiday - and make it even easier!

This page was printed from

www.greatrail.com/us/tours/vienna-salzburg-danube-tour/#AEC20

on 26 February 2020.

Call

01904 521 936

to discuss your holiday

© Copyright 2020. Great Rail Journeys