01904 521 936
Open 7 Days a Week
Wengen & the Jungfrau Express
Switzerland's most stunning scenery by train
The spectacular mountain landscapes and lush meadows of the majestic Alps await on this unforgettable holiday in Switzerland's famous Bernese Oberland. Travel to the summit of the Schilthorn and experience the tremendous Trümmelbach waterfalls, all on some of the best heritage railways in Europe.
The itinerary for your journey
Tour highlights
Excursion on the Wengen-Männlichen Aerial Cableway to Männlichen and Grindelwald
Excursion to the summit of the Schilthorn
Journey on the Jungfrau Express
Visit to the Trummelbach Falls
Free time in the traffic-free village of Wengen
Free time in Strasbourg
Visit to the unique Trummelbach Falls
Day 1 - London to Strasbourg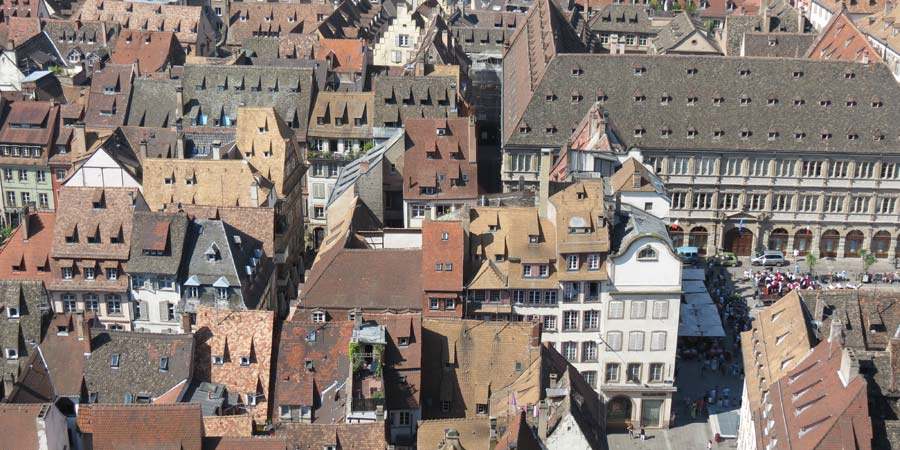 We meet in St Pancras International at our dedicated departure office before boarding the Eurostar to Paris. Here we transfer to the high-speed TGV service for Strasbourg where we spend one night.
Please Note: For departures WGJ2001, WGJ2002, WGJ2003 & WGJ2006 you will overnight in Mulhouse
Please Note: For departures WGJ2004, & WGJ2007 you will overnight in Colmar
Day 2 - Wengen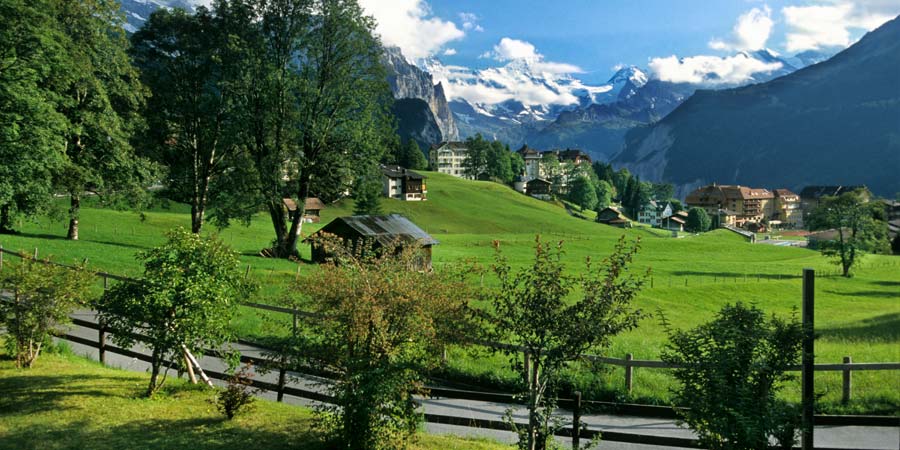 We have a relaxed morning on Day 2, giving you some free time to explore the delights of Strasbourg. You may like to visit the city's Old Town, dominated by the spectacular Notre Dame Cathedral with its famous astronomical clock, this church has remained unchanged since the Middle Ages. Petite France, located on the Grande Île, is the ancient heart of the city and well worth a visit. Here you can take a short boat ride through this World Heritage site, taking in the pretty medieval timbered houses and baroque sandstone buildings that line the river's banks. This afternoon we head back to the railway station and connect with our train into Switzerland.
We travel first to Basel then onwards to Interlaken where we briefly join the Bernese Oberland Railway and start to climb up into the majestic Swiss mountains. We arrive into peaceful Wengen this evening, a traffic-free mountain resort with breathtaking views of the Lauterbrunnen Valley. Here we enjoy dinner later in the evening.
Day 3 - At leisure in Wengen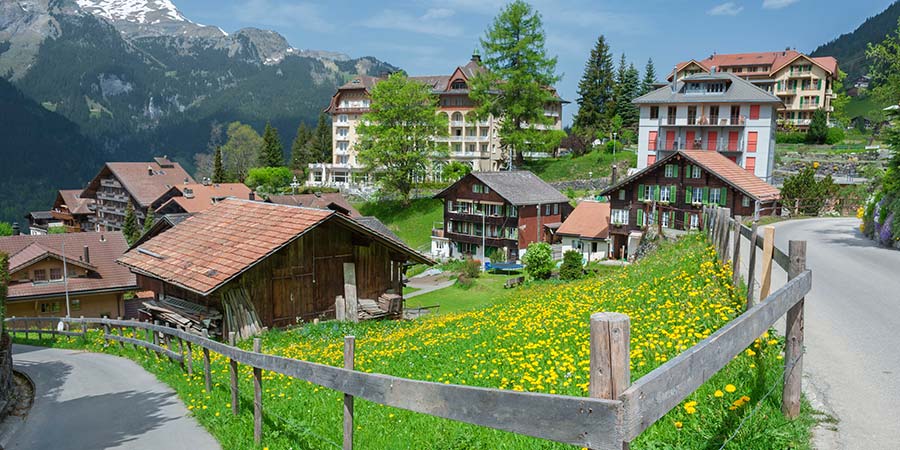 Today is free for you to explore Wengen and the surrounding areas at your own pace. A paradise for hikers, skiers and snowboarders as well as those seeking out the tranquil beauty of this region, Wengen is the perfect base from which to discover the Swiss Alps. The early 19th century saw an influx of wealthy tourists flocking to the timber chalets and Belle Epoque charm of this peaceful village, and ever since, visitors have come to enjoy Wengen's unique location amongst the ancient mountains.
Wengen is situated in the stunning Bernese Oberland, an area known for its outstanding natural beauty. Perhaps enjoy a stroll in the picturesque village, soaking in the Alpine tranquillity.
Day 4 - The Wengen-Männlichen Aerial Cableway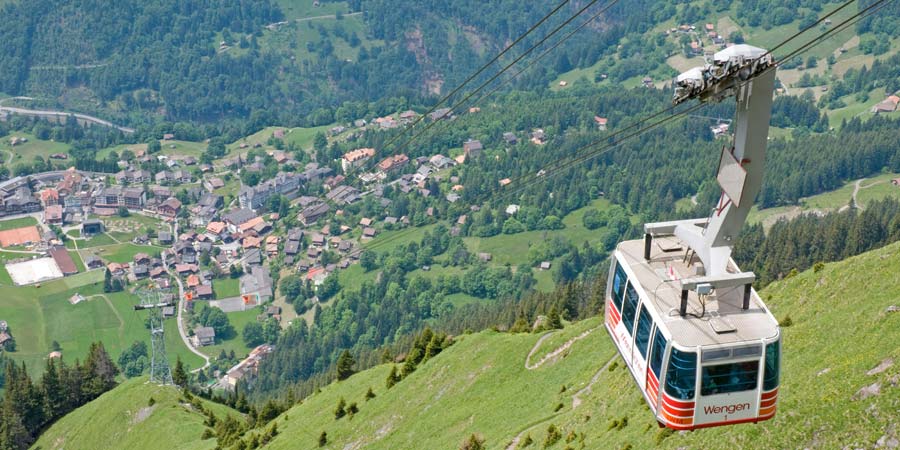 Our excursion today takes us on this innovative cableway, originally built in 1954 to connect Wengen resort with the mountains for the safety of skiers and walkers. Within five minutes, the difference in altitude reaches 2,970m and we are in Männlichen for more sensational views that can be enjoyed from the café here.
After some time to look around, we continue our journey to Grindelwald on Europe's longest gondola cableway. This pretty Alpine village is nestled at the foot of the imposing north face of the Eiger and as a popular tourist destination, there is plenty to enjoy.
Surrounded by lush meadows and grazing cattle, there are many popular walking paths in the area or you may just like to explore the town, visit some of its souvenir shops and relax in one of the numerous cafés or bars. We later return to Wengen by train where we enjoy dinner tonight at the hotel.
Day 5 - The Jungfrau Express to the 'Top of Europe'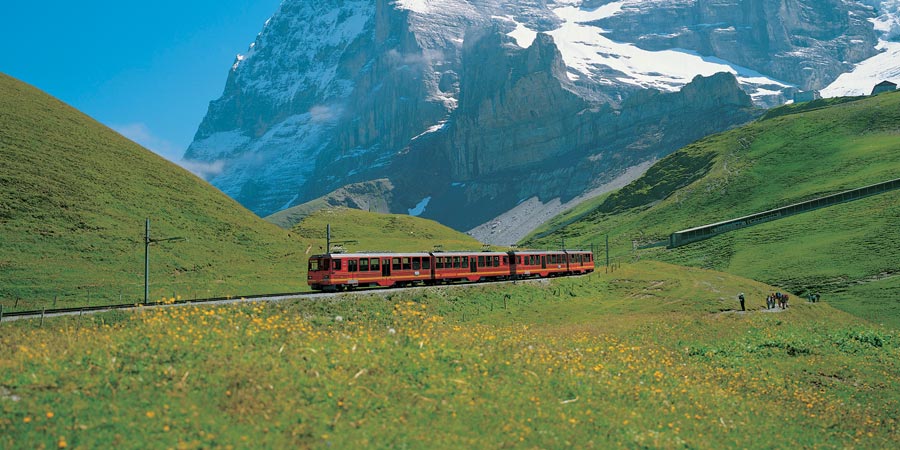 Today is unquestionably the highlight of our visit to the Bernese Oberland region as we travel on the Jungfrau Railway to the Jungfraujoch - the highest railway station in Europe. The famous narrow-gauge line was completed in 1912 and is now celebrated as a major feat of engineering.
As we climb from Kleine Scheidegg the distinctive string of red and yellow carriages disappear into the tunnel through the Eiger. During the journey the train pauses at two separate observation stops; windows hewn out of solid Alpine rock between the tunnel and the infamous north face of the Eiger, with spectacular views down to the valley below.
Finally, the train arrives at Jungfraujoch, the 'Top of Europe', located at 3454m above sea level. With free time at the summit station, you will have plenty of time to explore the Ice Palace and its incredible ice sculptures. You can also spend time on the Sphinx Terrace, enjoying superb views onto the Aletsch Glacier, at 22 km the longest ice stream in the Alps. After time to explore and to enjoy lunch, we descend back down to Wengen passing picturesque villages and idyllic farming cabins.
Day 6 - The Schilthorn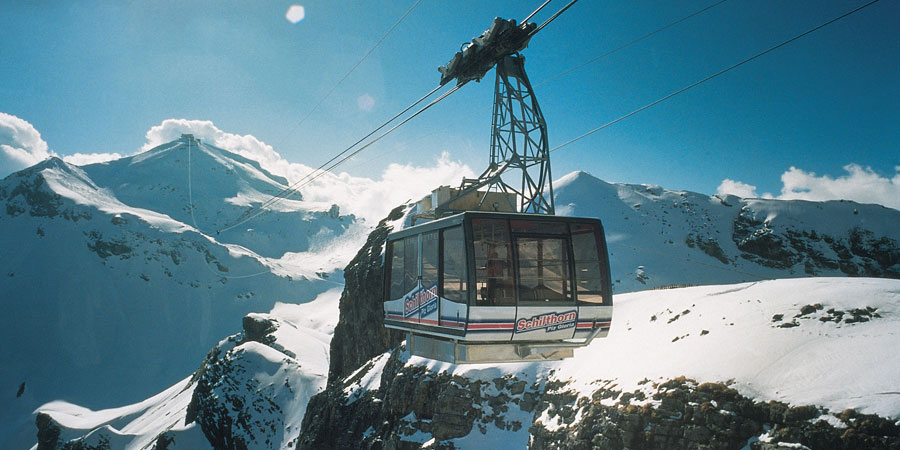 Today we continue our journey into the dramatic Swiss landscape with an excursion by cable car to the summit of the Schilthorn. We travel firstly by train to Lauterbrunnen, changing for our onwards service to delightful Mürren, before joining the cable car for our ascent to the summit, 2970m above sea level. The views are truly unparalleled and on a clear day we are able to admire a magnificent vista.
You have some free time here to appreciate our stunning surroundings. Why not visit the fantastic revolving restaurant and enjoy a 360 degree panorama of the Eiger, Mönch and Jungfrau mountains as you sample a delicious, traditional Swiss menu and maybe a martini, shaken not stirred? The restaurant is named Piz Gloria in honour of the James Bond film, 'On Her Majesty's Secret Service' that was filmed here, and there are many 007 references to spot in the building and out on the mountain.
On our descent, there is the opportunity to stop at Stechlberg to visit the mighty Trümmelbach Falls. Nestled deep into the canyon, the falls have carved a path for themselves through the hillside making this a waterfall with a difference. Trümmelbach boasts Europe's largest subterranean waterfalls, and the only glacial waterfalls accessible underground by lift, galleries, tunnels, paths and platforms. A monument to nature itself and its thunderous power, these waterfalls resemble a scene from an adventure fi lm, and the roaring sound of white water crashing against ancient rock is not soon to be forgotten.
Day 7 - At leisure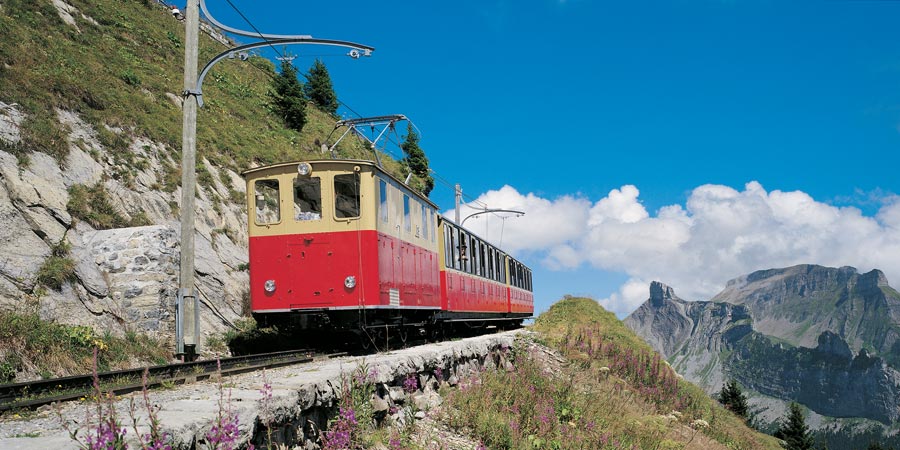 Today is free to spend at leisure, exploring the Bernese Oberland using your included Swiss Travel Card for 50% fares. Perhaps journey up to the Schynige Platte and travel in restored 19th century carriages, hauled by a vintage electric locomotive, as you ride on this classic cog railway. Be prepared for more aweinspiring views of the towering mountain ranges as well as the lakes of Thun and Brienz, visible to the north. Why not visit the Alpine Botanical gardens up here, home to around 500 plant species, or relax and drink in the views from the café terrace?
Alternatively, you could take a ride on the Brienz-Rothorn railway, one of the steepest in Switzerland and powered almost entirely by steam engines. This rackand- pinion line traverses a number of bridges, crossing the steep, stony mountain trails and offering glittering views of Lake Brienz as you climb to the terminus at the summit of Rothorn.
Day 8 - Return to London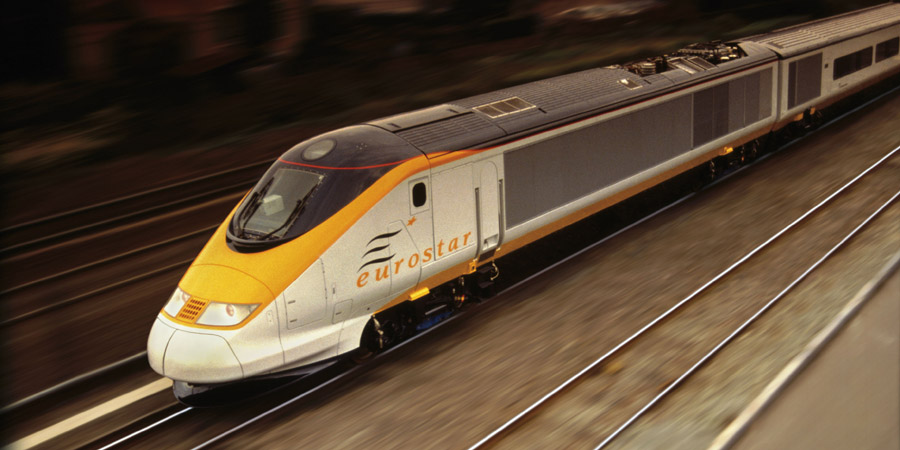 After breakfast, we begin our journey home. Departing Wengen, we travel by rail via Interlaken, Basel (on the high-speed service) and Paris, where we connect with the Eurostar service back to London. Here our holiday concludes.
Please Note
Please note: One of the excursions on this tour is at high altitude. If you have any medical conditions or concerns that could impact this part of the tour, we recommend you seek medical advice and talk to us. We want to make sure that any holiday you book is right for you.
Recommended airports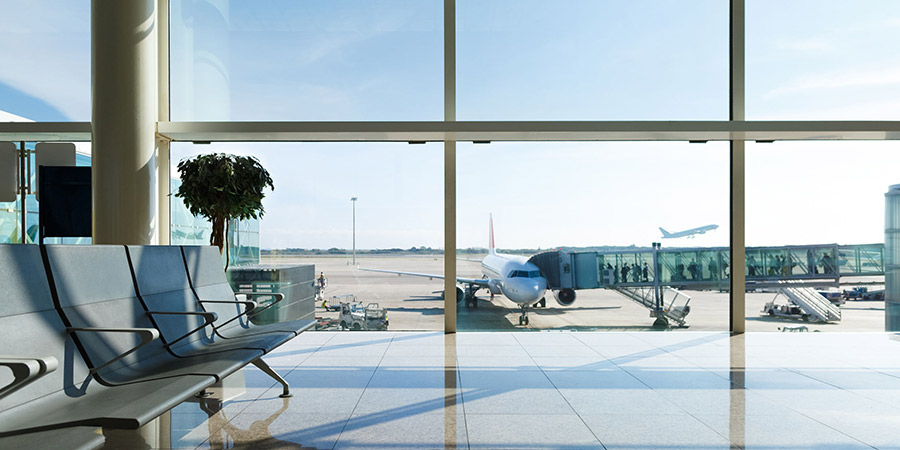 For this tour, we recommend arriving to, and departing from, London Gatwick or London Heathrow airport (LGW or LHR). London Gatwick is approximately 30 miles from your start and end point, and London Heathrow is approximately 19 miles from your start and end point.
Visa Requirements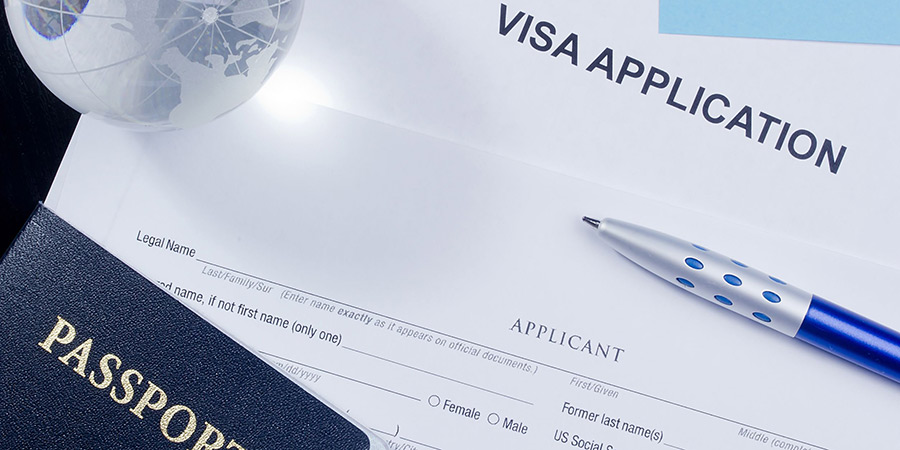 It is your responsibility to check and fulfil the passport, visa, health and immigration requirements applicable to your itinerary. We do not accept any responsibility if you cannot travel, or incur any other loss because you have not complied with any passport, visa, immigration requirements or health formalities. You agree to reimburse us in relation to any fines or other losses which we incur as a result of your failure to comply with any passport, visa, immigration requirements or health formalities.
Departure Dates
9 May 2020
From

$2,455

6 June 2020
Please call
15 August 2020
From

$2,595

12 September 2020
From

$2,675
All prices are per person and assume full occupancy of the room.
Please always refer to the website for up-to-date prices and availability.
Trains
Eurostar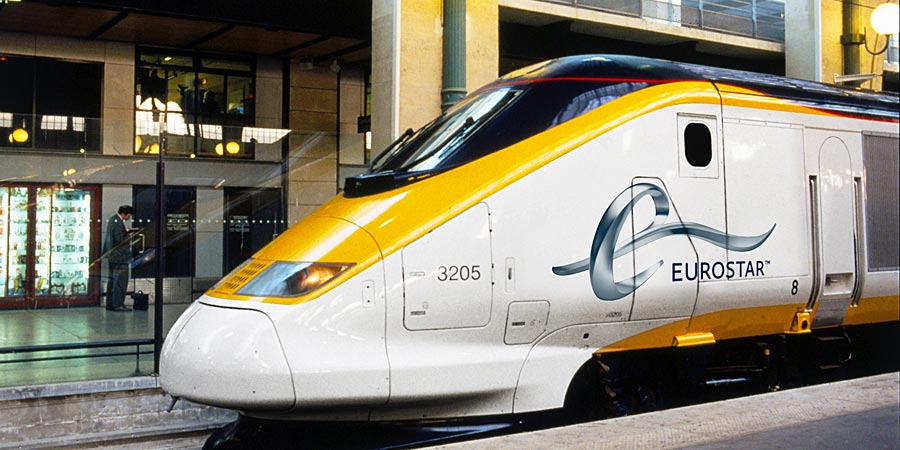 The high speed Eurostar trains link St Pancras International in London with Paris and Lille in France as well as Brussels in Belgium.
Eurostar's Standard Class coaches feature two seats on either side of the central aisle, most of which is arranged in an 'airline' seating configuration with drop down tray tables. There are two tables for four per carriage. Passengers travelling in Eurostar Standard Class coaches can take advantage of the Bar-Buffet which sells a range of snacks, meals, hot and cold drinks - including Champagne!
The highest class of Eurostar travel available for leisure customers is Standard Premier Class. In your dedicated Standard Premier carriage you'll find a less dense seat configuration, meaning the seats are larger and you have ample space to relax and stretch out. As part of the service you'll enjoy complimentary drinks and refreshments, served at your seat by friendly, helpful waiting staff.
For the class of travel used on your chosen tour, please refer to the 'What's Included' section of the tour page.
Jungfrau Railway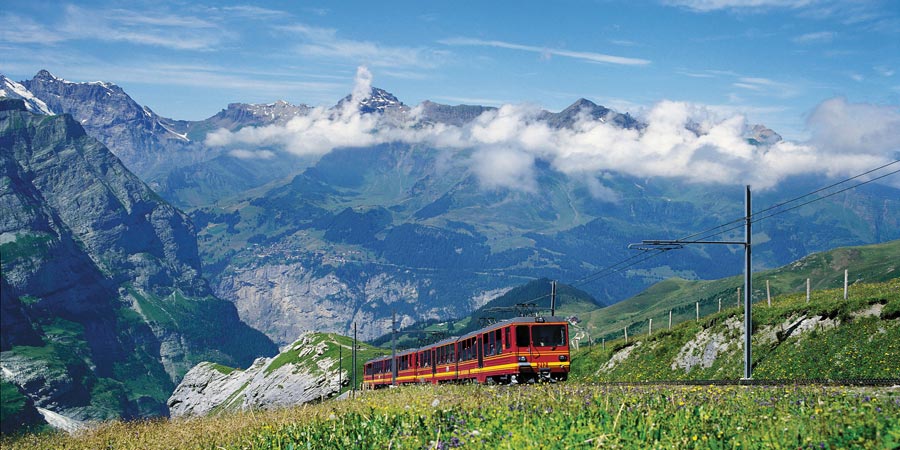 The wonderful train journey up to Jungfraujoch is the highlight of a number of our holidays and includes travel on the Bernese Oberland Railway, the Wengernalpbahn and the Jungfrau Railway. Providing visibility is good, passengers not only enjoy spectacular views from Jungfraujoch, but also throughout the journey itself. The sections that follow describe each stage of this journey in turn.
For customers starting in Meiringen, our journey begins as we travel along the valley to picturesque Lake Brienz, before closely following the lake's northern shore through the village of Brienz to Interlaken.
Bernese Oberland Railway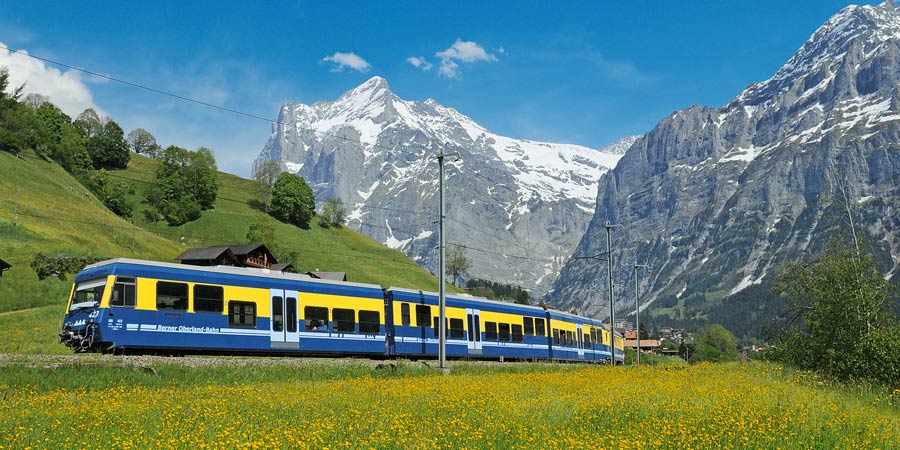 At Interlaken Ost station we change for the distinctive blue and yellow carriages of the historic Bernese Oberland Railway, which has been in operation since its opening in 1890. On leaving Interlaken, the train crosses the Bödeli and heads up a narrowing valley to Zweilütschinen. From here, the train follows the White Lütschine River valley to Lauterbrunnen, a village flanked by two sheer walls of rock. We leave the Bernese Oberland Railway at Lauterbrunnen to connect with the Wengernalpbahn.
Wengernalpbahn Railway in Summer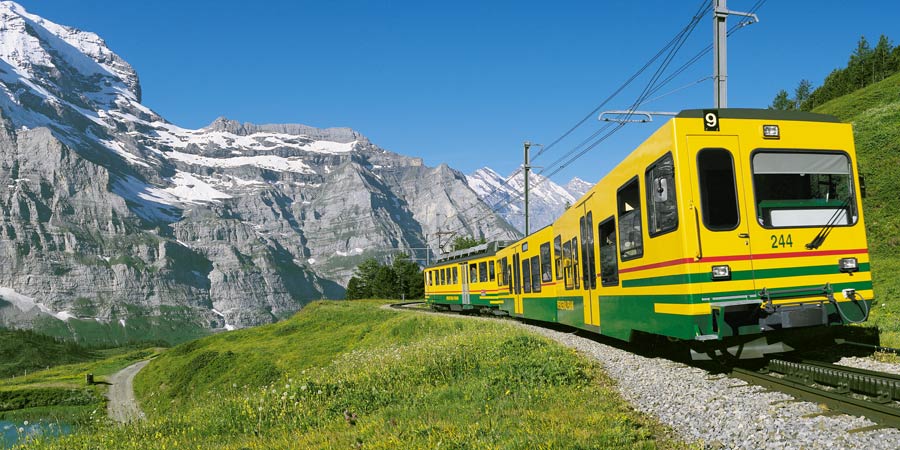 As well as offering Switzerland's longest continuous stretch of rack railway at 12 miles (19.2km), the Wengernalpbahn was built to different gauge to the Bernese Oberland Railway and the Jungfraubahn. This means that we make two changes of trains during our journey up to Jungfraujoch, giving us the opportunity to stretch our legs and take in the magnificent Alpine scenery.
Jungfrau Railway in Summer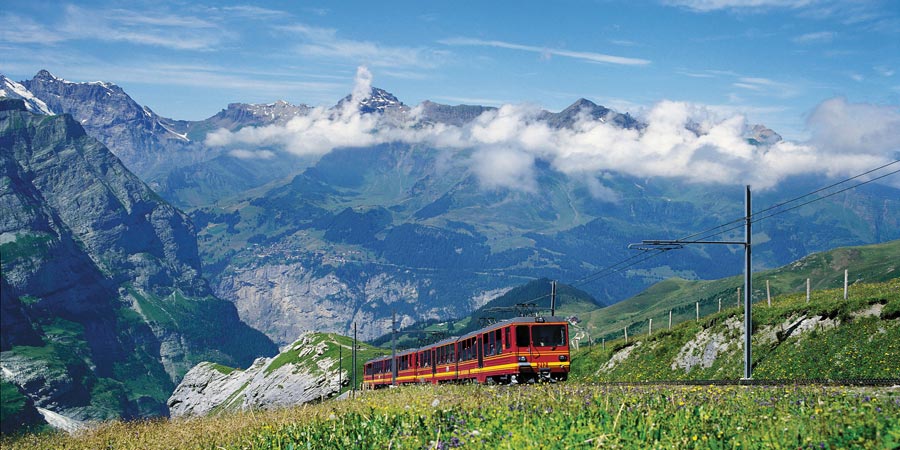 Work on the Jungfrau Railway from Kleine Scheidegg to Jungfraujoch began in 1896. Built in stages so that ticket revenue could be used to fund construction, the line up to Jungfraujoch, Europe's highest railway station at 11,333 feet (3,454m) was finally completed in 1912.
TGV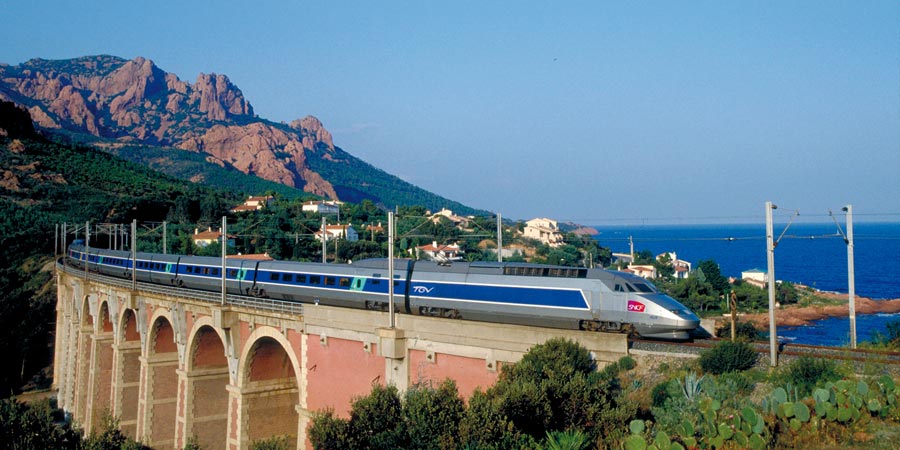 Introduced in 1981, France's TGV (Train à Grande Vitesse) was the original European high-speed train. Linking Paris with Lyon, the new service revolutionised train travel and meant that travelling by air over medium and short distances was no longer seen as the best option, even for business travel.
The network has expanded rapidly and today these sleek, stylish trains offer links to over 60 destinations throughout France. Operated by SNCF, the French national rail operator, TGV trains travel over specially-constructed high speed lines. The trains can achieve speeds of up to 186mph (300km/h) on most long distance routes and 200mph (320km/h) on the new TGV Est line, which links Paris with Strasbourg, Luxembourg and Basel. With the exception of shorter journeys, TGVs almost always have an on-board buffet car, serving a selection of drinks and light refreshments.
Hotels
Hotel Belvedere, Wengen
In Wengen, we say at the delightful 3-Star Hotel Belvedere. Built in 1912 the art nouveau Hotel Belvedere boasts magnificent views to the Jungfrau and the Lauterbrunnen Valley. Located just five minutes from the centre of Wengen, and close to the train station, the hotel is an excellent base for exploring this pretty car-free town and its surroundings.

Breakfast is served as a rich buffet every morning in the hotel's classically-decorated dining room. The hotel amenities include a sun terrace, restaurant, a lounge bar, a library and a games room. The Hotel Belvedere's rooms offer a comfortable stay, with modern conveniences including complimentary Wi-Fi.

Upgrades

We offer a selection of upgrades and 'add-ons' designed to help you make the most of your holiday - and make it even easier!

This page was printed from

www.greatrail.com/us/tours/wengen-and-the-jungfrau-express/#WGJ20

on 24 January 2020.

Call

01904 521 936

to discuss your holiday

© Copyright 2020. Great Rail Journeys