01904 521 936
Open 7 Days a Week
The Italian Riviera
Spellbinding beauty by rail
Colourful villages cling to the dramatic coastline of the Italian Riviera, with the glittering Mediterranean delivering picture-postcard vistas in every direction and glamorous yachts clamouring for attention alongside quaint fishing boats.
The itinerary for your journey
Tour highlights
Discover the breathtaking scenery of the beautiful Cinque Terre
Enjoy a cruise to the quaint fishing town of Portofino
Explore Pisa on a guided tour, seeing the famous Leaning Tower and the Field of Miracles
Relax in scenic Sestri Levante, our idyllic base for this holiday
Step back in time on a visit to the historic walled city of Lucca
Travel by rail to the pretty village of Camogli
Day 1 - London to Turin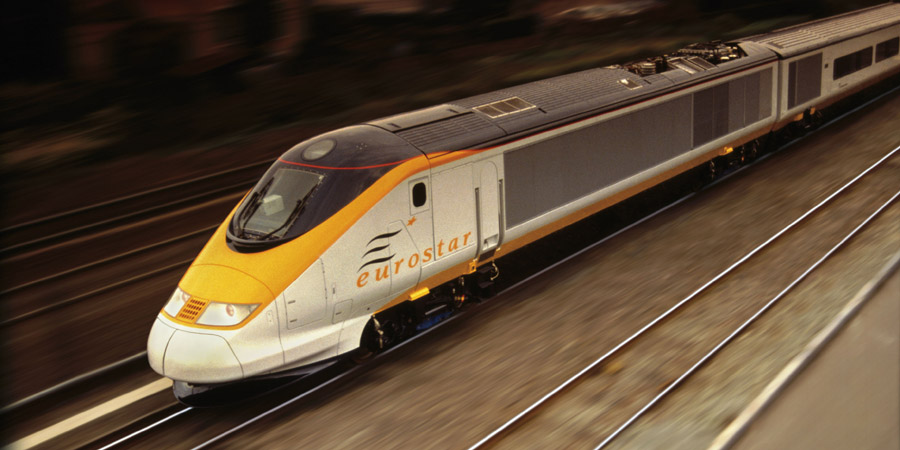 After meeting at our St Pancras Departure Office, we take the Eurostar to Paris, continuing to Turin, by high speed TGV where we overnight.
Day 2 - To Sestri Levante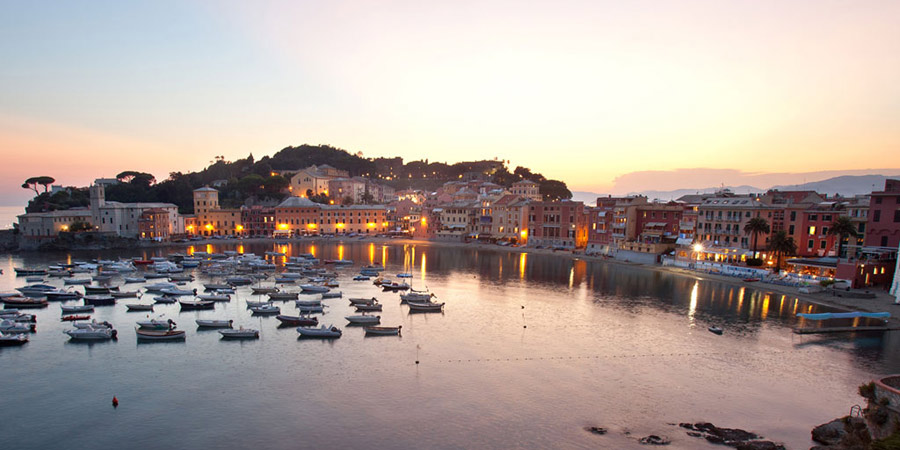 This morning you are free to explore Turin. Take a stroll under the intricate arcades to Piazza Castello, or discover the magnificent cathedral and Egyptian Museum, before we begin our journey to Sestri Levante, a picturesque town overlooking the Mediterranean. The town boasts a large beach, with houses built right up to the edge of the sand. We travel by rail to Chiavari, where we transfer by coach to Sestri Levante and the beautiful Grand Hotel Villa Balbi, our base for seven nights. Set in a stunning 19th century mansion, the hotel is surrounded by lush private gardens and has a truly elegant feel.
Day 3 - At leisure in Sestri Levante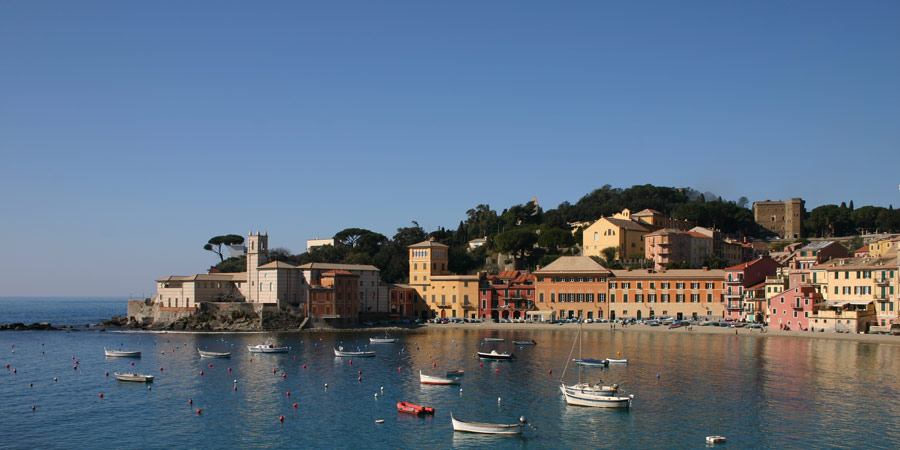 Today, you are free to explore Sestri Levante. Occupying a beautiful position on a peninsula, surrounded by two gorgeous bays, Sestri Levante is a delight. On one side is the Bay of Fairytales, named in honour of Hans Christian Andersen, the most famous former resident of Sestri Levante. With its port, promenade, and shops, it is the liveliest part of town. On the other side is the Bay of Silence, which is also known as Portobello. Considered one of the best beaches in Italy, the Bay of Silence is a wonderful destination for a gentle stroll - or to appreciate the incredible colours of an Italian sunset.
Day 4 - Cinque Terre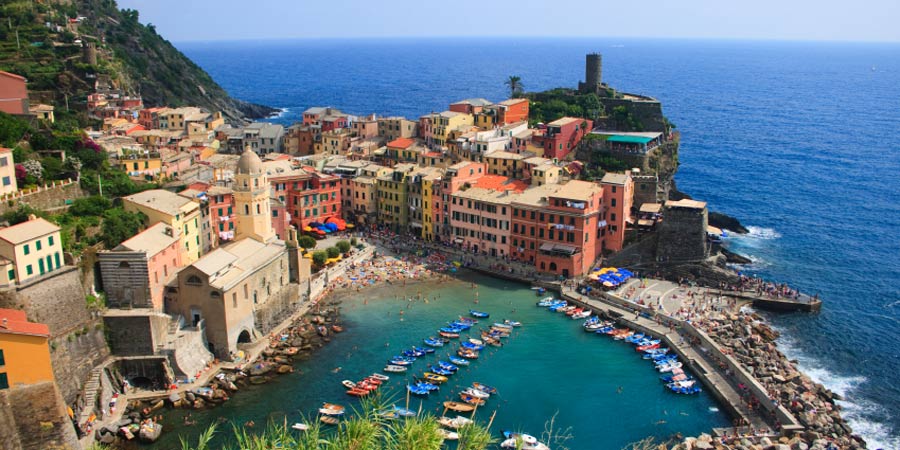 This morning we explore the Cinque Terre - five picturesque villages set on the coast: Monterosso, Vernazza, Manarola, Corniglia and Riomaggiore. The villages are set within a National Park and share UNESCO World Heritage status, thanks to the breathtaking scenery along this stretch of the Italian coastline. The regional train (Standard Class) winds its way along the rugged coast, travelling through tunnels carved deep into the rock and emerging into steep wine terraces. We visit Riomaggiore, before continuing by train to Vernazza and Manarola, with time to explore with our local guide.
Day 5 - Portofino and San Fruttuoso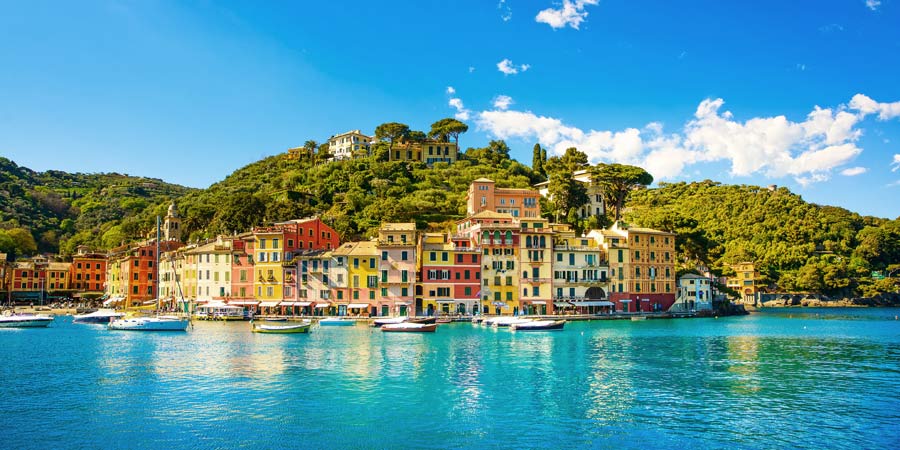 Today we cruise to the famous resort of Portofino, a glorious Italian fishing village surrounded by olive groves and pine trees. Considered one of the most beautiful Mediterranean ports, the town has a stunning harbour surrounded by pastelpainted houses. The resort is really no more than a small fishing village, but thanks to its unique beauty, has become a popular tourist destination.
Lunch is served in a local restaurant before we continue along the stunning coastline to the Abbey of San Fruttuoso, which was originally built in the 10th century. Over the course of its history the abbey has had many uses; as well as its monastic use, it has been a home for fishermen, a pirate den, and the property of the Princes of Doria. Underwater, in the sea in front of the abbey, is a statue of 'Christ in the Abyss', said to protect local divers and sailors from watery peril.
Please note: landing at San Fruttuoso is dependent on weather. If it is not possible, the boat will land at Santa Margherita.
Day 6 - A day at leisure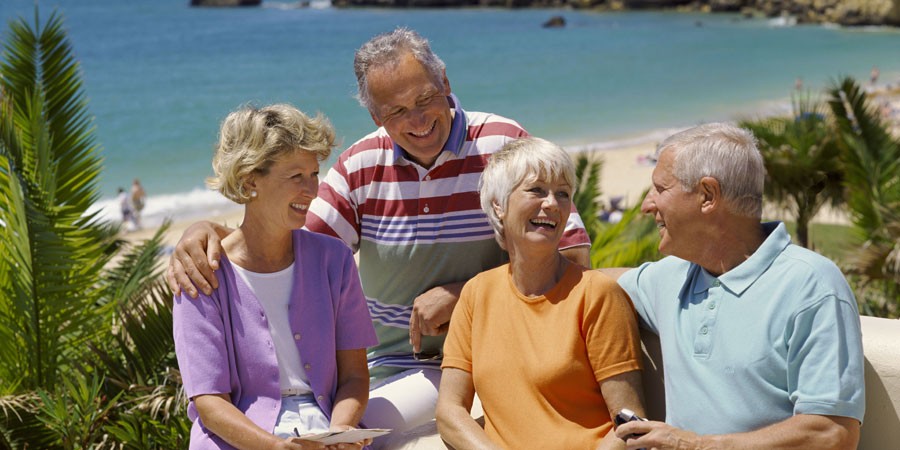 Today you are at leisure to continue exploring Sestri Levante. Perhaps spend the day enjoying the hotel's gardens, or else enjoy the winding medieval streets, charming buildings and harbour views with a walk through the town centre.
Day 7 - Pisa and Lucca
This morning we travel by coach to Pisa, where we enjoy a guided tour that includes the Campo dei Miracoli, or 'Field of Miracles.' Here we see the worldfamous Leaning Tower, which began to tilt as soon as it was built and was used by Galileo to study gravity. Restoration work at the end of the 20th century prevented the tower from falling, whilst preserving its famously jaunty angle. We also see the white marble Duomo, often overlooked by tourists but a true gem in its own right with its beautiful façade and sublime Moorish mosaics.
This afternoon we visit the city of Lucca - one of Tuscany's best-kept secrets and a place of true beauty. Majestic city walls encircle a Roman and medieval heart packed with piazzas, art galleries and tiny churches, all connected by an intricate network of narrow cobbled streets. Splendid Renaissance architecture mingles with historic buildings from the Middle Ages, making the city a pleasure to explore. We enjoy free time to explore or perhaps enjoy lunch. A stroll along the top of the ancient ramparts is an excellent way to discover the true charm of the city.
Day 8 - Excursion to Camogli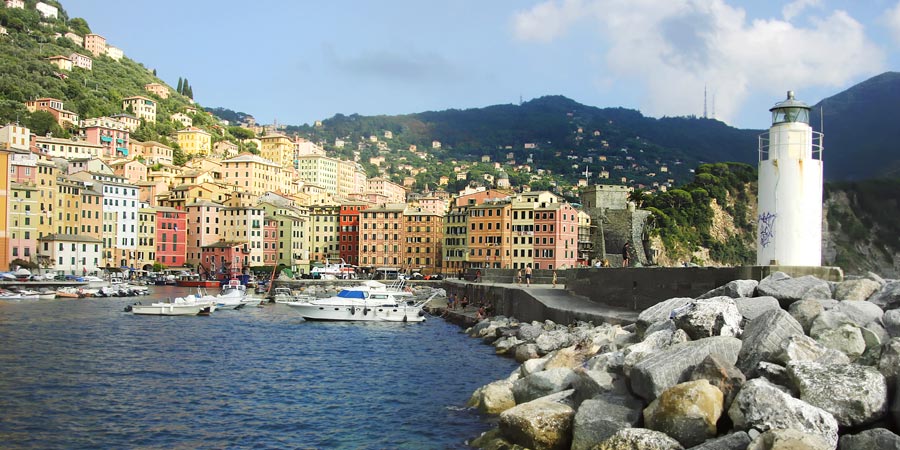 This morning we travel by regional train (Standard Class) to the picturesque fishing village of Camogli. The name Camogli is a contraction of Casa Mogli (Wives' House) from the days when the women ran the town while the men were at sea. Set on a steep hill, Camogli climbs from the harbour and dark pebble beaches, up to groves of pine and olive trees. After a guided tour of the centre and the harbour, which is full of colourful fishing boats, we return to Sestri Levante and enjoy a farewell dinner in the hotel this evening.
Days 9-10 - To London via Nice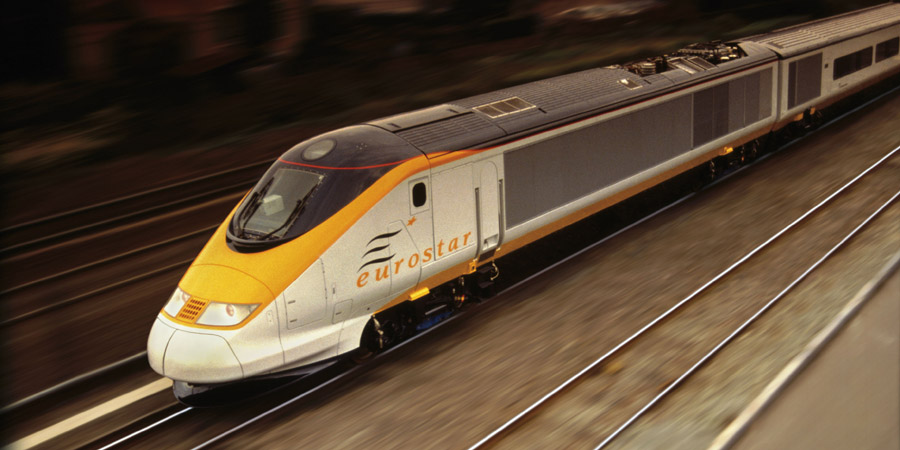 Today we travel west through Italy by rail, travelling along the stunning Ligurian coastline to Nice, where we spend the night. This evening, you are free to explore Nice at leisure. On Day 10 we take the high-speed TGV to Paris. Here we connect with the Eurostar to London, where our tour concludes.
Please Note: For departure RPS2005 on Day 9 you will overnight in Cannes
Please note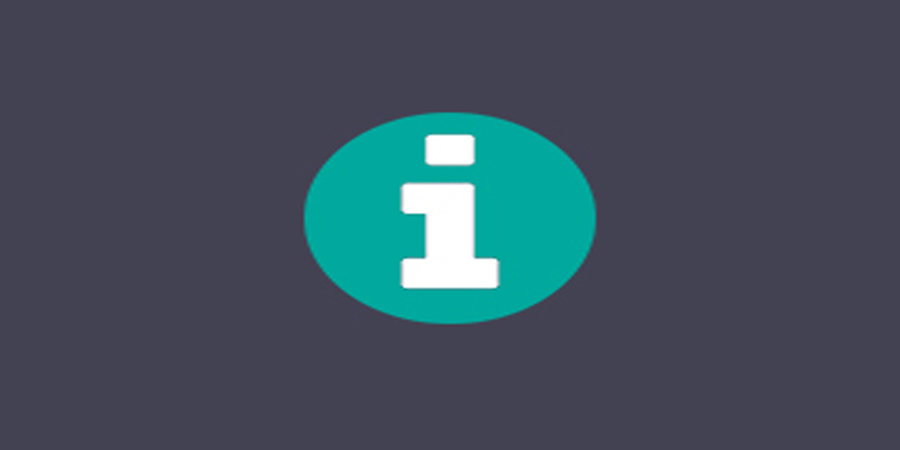 The following departures are guaranteed to operate:
Recommended airports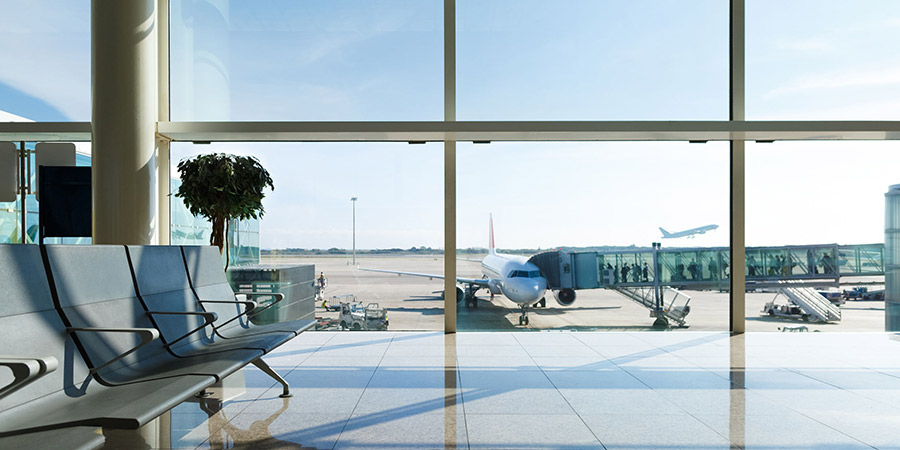 For this tour, we recommend arriving to, and departing from, London Gatwick or London Heathrow airport (LGW or LHR). London Gatwick is approximately 30 miles from your start and end point, and London Heathrow is approximately 19 miles from your start and end point.
Visa Requirements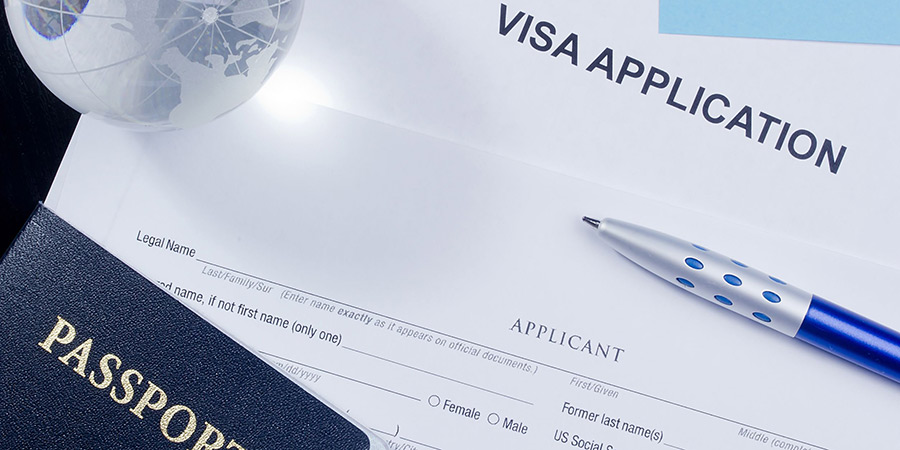 It is your responsibility to check and fulfil the passport, visa, health and immigration requirements applicable to your itinerary. We do not accept any responsibility if you cannot travel, or incur any other loss because you have not complied with any passport, visa, immigration requirements or health formalities. You agree to reimburse us in relation to any fines or other losses which we incur as a result of your failure to comply with any passport, visa, immigration requirements or health formalities.
Departure Dates
6 September 2020
From

$3,315

13 September 2020
From

$3,315

20 September 2020
From

$3,245

27 September 2020
From

$3,175

4 October 2020
From

$3,035
All prices are per person and assume full occupancy of the room.
Please always refer to the website for up-to-date prices and availability.
Trains
Eurostar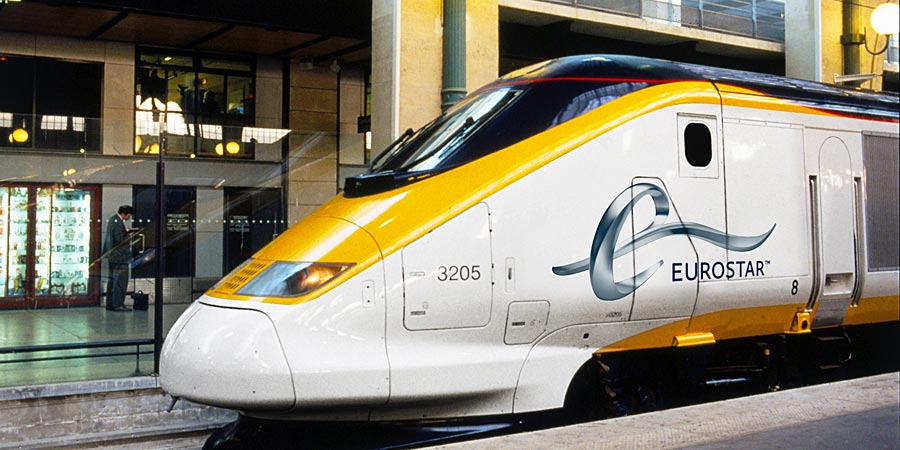 The high speed Eurostar trains link St Pancras International in London with Paris and Lille in France as well as Brussels in Belgium.
Eurostar's Standard Class coaches feature two seats on either side of the central aisle, most of which is arranged in an 'airline' seating configuration with drop down tray tables. There are two tables for four per carriage. Passengers travelling in Eurostar Standard Class coaches can take advantage of the Bar-Buffet which sells a range of snacks, meals, hot and cold drinks - including Champagne!
The highest class of Eurostar travel available for leisure customers is Standard Premier Class. In your dedicated Standard Premier carriage you'll find a less dense seat configuration, meaning the seats are larger and you have ample space to relax and stretch out. As part of the service you'll enjoy complimentary drinks and refreshments, served at your seat by friendly, helpful waiting staff.
For the class of travel used on your chosen tour, please refer to the 'What's Included' section of the tour page.
TGV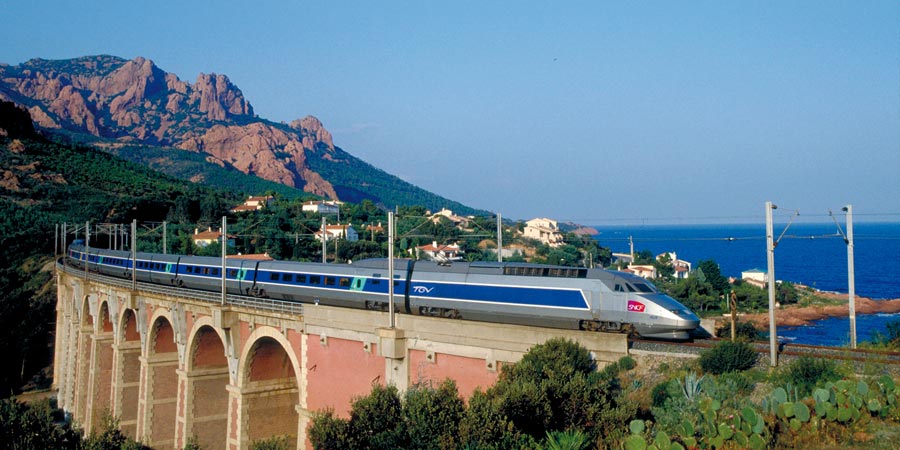 Introduced in 1981, France's TGV (Train à Grande Vitesse) was the original European high-speed train. Linking Paris with Lyon, the new service revolutionised train travel and meant that travelling by air over medium and short distances was no longer seen as the best option, even for business travel.
The network has expanded rapidly and today these sleek, stylish trains offer links to over 60 destinations throughout France. Operated by SNCF, the French national rail operator, TGV trains travel over specially-constructed high speed lines. The trains can achieve speeds of up to 186mph (300km/h) on most long distance routes and 200mph (320km/h) on the new TGV Est line, which links Paris with Strasbourg, Luxembourg and Basel. With the exception of shorter journeys, TGVs almost always have an on-board buffet car, serving a selection of drinks and light refreshments.
Hotels
Grand Hotel Villa Balbi, Sestri Levante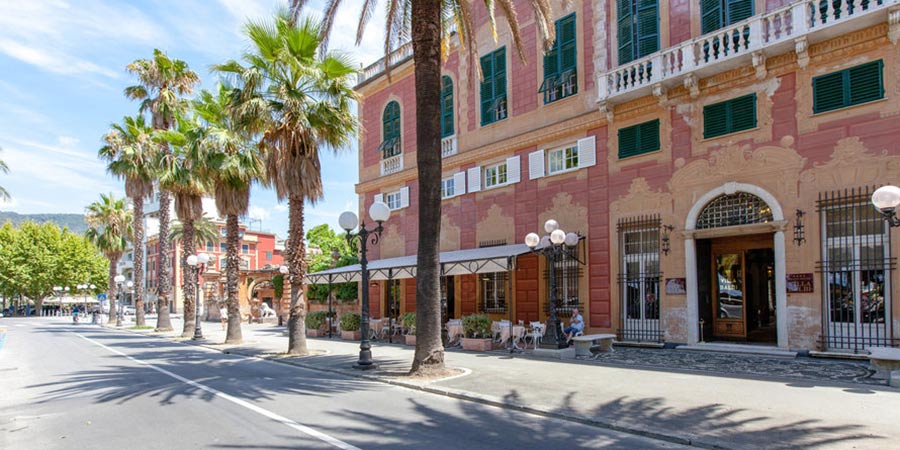 The 4-Star Grand Hotel Villa Balbi in Sestri Levante is a stunning hotel set on the sea front in a large 19th century mansion, and surrounded by 2.5 acres of lush, private gardens. The hotel has a truly elegant feel, with antique furniture, beautiful chandeliers and marble flooring throughout the public rooms. The hotel benefits from a fabulous garden terrace where you can enjoy drinks in the warmth of the evening. The hotel also has an outdoor pool with sun loungers and beach umbrellas, providing the perfect spot for a day of relaxation. Rooms are remarkably spacious and classically decorated, with facilities that include a television, minibar, safe and air conditioning.

Upgrades

We offer a selection of upgrades and 'add-ons' designed to help you make the most of your holiday - and make it even easier!

This page was printed from

www.greatrail.com/us/tours/the-italian-riviera-by-train/#RPS20

on 26 May 2020.

Call

01904 521 936

to discuss your holiday

© Copyright 2020. Great Rail Journeys