01904 521 936
Open 7 Days a Week
Moscow and St Petersburg
Discover the heritage of a warm and welcoming country
Two cities, both alike in proudly displaying their culture and history, give you the chance to discover the heritage of a warm and welcoming country still emerging from its soviet shell. This tour is operated by our sister company Rail Discoveries.
The itinerary for your journey
Tour highlights
Guide Tour of Moscow
The Kremlin
Moscow Metro
Guide Tour of St Petersburg
Peterhof Palace
The Hermitage
Days 1-2 - Fly to Moscow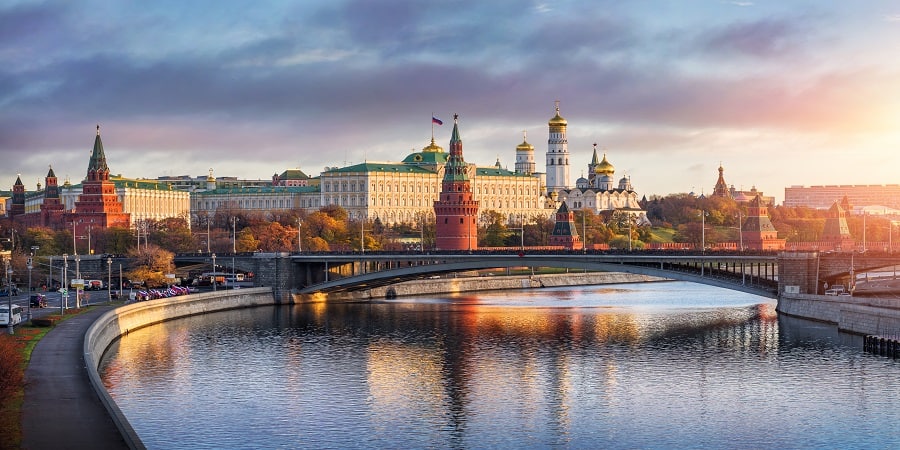 Meet your group and Tour Manager at the Park Inn Sadu hotel on arrival. Here you'll be welcomed in traditional style, being presented with bread, associated with hospitality, and salt, representative of a long friendship.
On Day 2 we embark on a sightseeing tour, travelling by coach around some of Moscow's most impressive landmarks. Sparrow Hills, situated on the bank of the Moskva River from which the city takes its name, offers a magnificent panoramic view of Moscow. Here, you will also find the Temple of the Holy Trinity, a whitewashed Russian Orthodox temple with aquamarine domes.
The impressive Moscow State University is another site you visit today, boasting of beautiful collections of diverse architectural styles and enchanting botanical gardens. You also visit Red Square. This city square is surrounded by many of the most iconic sights of the city, including the multi-coloured domes of Saint Basil's Cathedral. Also on the square is Lenin's Mausoleum, where it is possible to view the body of the Communist leader.
There'll also be a visit to the vast Kremlin building, a walled city surrounded by 18th century towers, and the seat of Russian government. This afternoon, and this evening, are at leisure to continue exploring Moscow at your own pace.
Day 3 - Moscow Metro Tour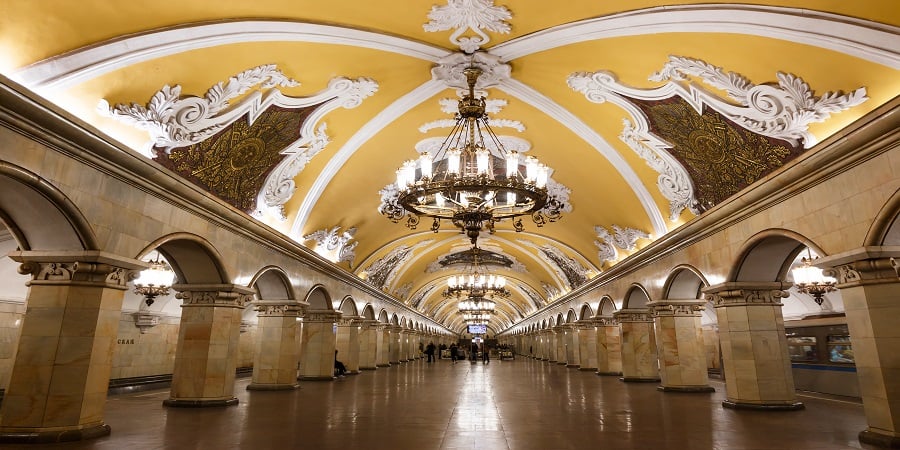 Today you get to experience one of the most visually pleasing Metro systems in the world, and a true highlight of the city, on a guided tour. Moscow's amazing Metro system dates back to the 1930's, and many of the stations are sumptuously decorated with marble, bronze, chandeliers, and stained glass.
Featuring art and sculptures spanning from Soviet philosophy to the Modernist avant-garde movement, these magnificent termini are a delight to behold and explore. Following this, you are at leisure to enjoy your last evening in Moscow.
Day 4 - Uncovering St Petersburg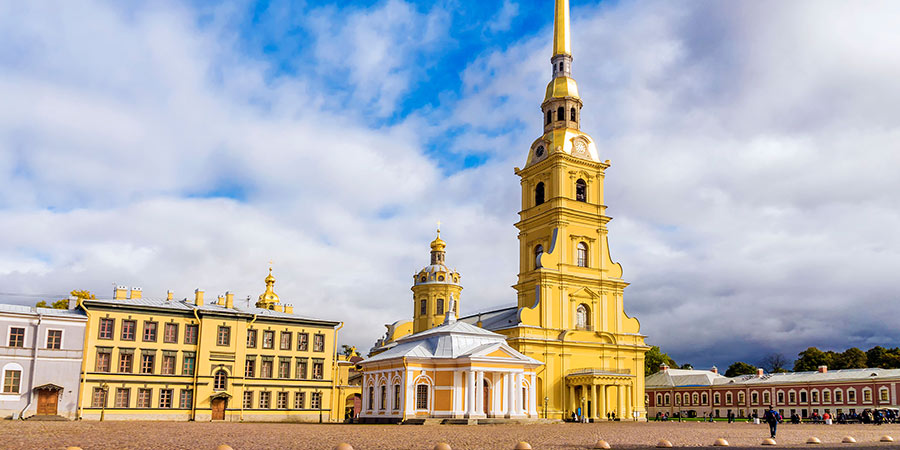 After breakfast, transfer to the train station to board your train to the 'City of the Tsars', St Petersburg. This impressive and elegant city is a former Imperial capital, and was home to the previous royals of Russia. Until about 300 years ago, the region was completely uninhabited until Peter the Great ordered the construction of a defensive garrison to reduce the threat of Swedish attack. On the completion of the St Peter and St Paul fortress, the Tsar decided to relocate the capital here, building it with almost an unlimited supply of money. The latter half of the 18th century saw Catherine the Great come to the throne, and the city flourished further during her reign as she was a great patron of architecture and the arts - Pushkin and Dostoyevsky's work came to the fore in this time.
On arrival, you have time to enjoy lunch at your leisure, before transferring to your hotel for the remainder of your stay, where you enjoy dinner together this evening.
Day 5 - Peterhof Palace and the Hermitage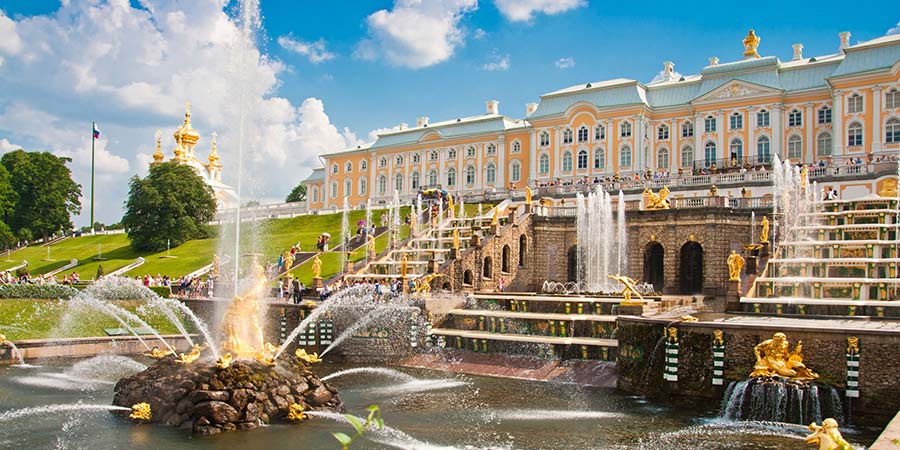 Begin exploring on today as you tour two of its most enticing attractions, Peterhof Palace and the Hermitage. Sometimes referred to as a 'Russian Versailles', the opulent Peterhof Palace is a UNESCO World Heritage site constructed by Peter the Great. The palace is renowned for its beautiful grounds, which are filled with spectacular fountains and waterways. The numerous glittering palaces display some of the finest and most lavish artworks and ornaments that the world has to offer, and you have some time to explore before transferring to your next destination.
Continue to the Hermitage, founded by Catherine the Great in 1764 and set in the magnificent Royal Winter Palace. This evening, you are at leisure.
Day 6 - At leisure
Today you are free to explore St Petersburg at your own pace, and there is a plethora of things to do. Perhaps take a boat trip through the cities numerous canals? Due to its location on a former swamp, it boasts a myriad of pretty waterways, the perfect way to get around the city. Another option is to visit the Peter and Paul Fortress. Occupying a commanding position on an island in the Neva River, this mighty structure was the city's first stone building. It was originally designed as a defensive fort - a throwback to when the city was used to reduce the threat of an attack from nearby Sweden - but over the ages it has also been used as a prison, holding activists such as Dostoevsky and Gorky, and stands today as a museum.
This evening, meet your tour group back at the hotel to transfer to a local restaurant. Here, you enjoy your final dinner of the holiday.
Day 7 - Homeward bound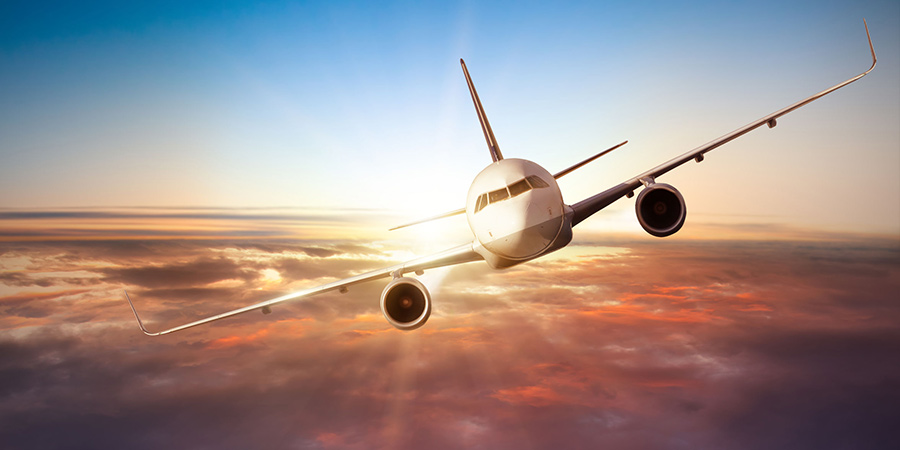 Make your way to the airport after breakfast for your flight back home.
Recommended Airports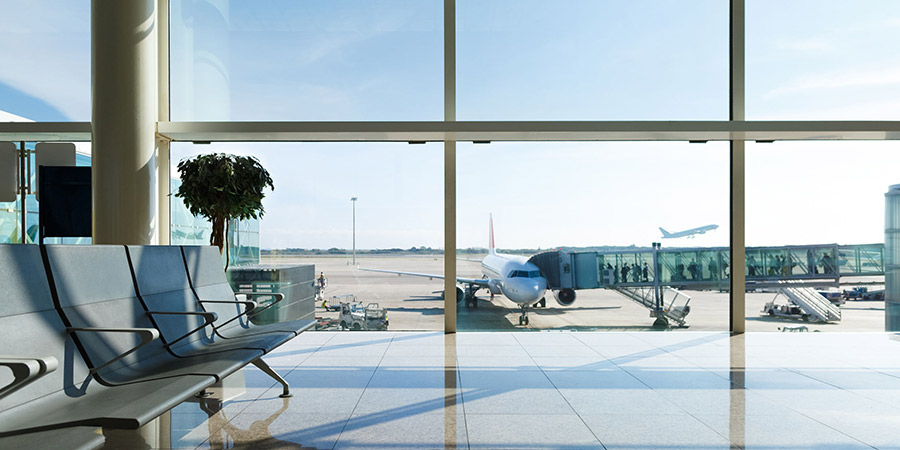 For this tour, we recommend arriving into Moscow Domodedovo Airport (Code DME), which is approximately 27 miles from your first hotel. Our recommended departure airport is St. Petersburg Airport (Code LED), which is approximately 14 miles from your final hotel.
Visa Requirements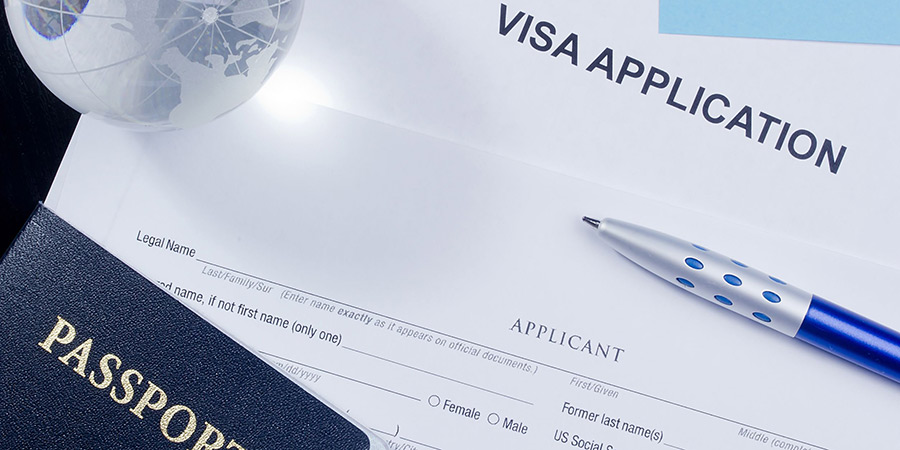 It is your responsibility to check and fulfil the passport, visa, health and immigration requirements applicable to your itinerary. We do not accept any responsibility if you cannot travel, or incur any other loss because you have not complied with any passport, visa, immigration requirements or health formalities. You agree to reimburse us in relation to any fines or other losses which we incur as a result of your failure to comply with any passport, visa, immigration requirements or health formalities.
Departure Dates
All prices are per person and assume full occupancy of the room.
Please always refer to the website for up-to-date prices and availability.
Trains
Sapsan Train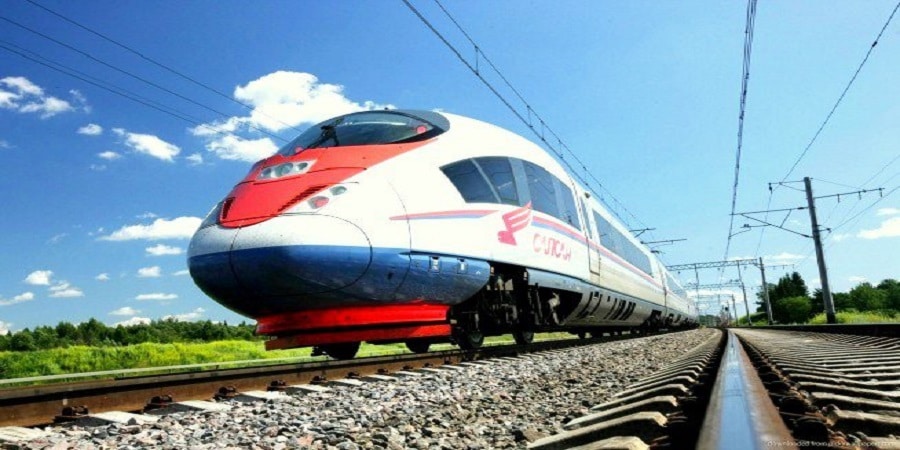 The Sapsan trains that run between Moscow and St Petersburg are Russian gauge, high-speed electric express trains named after the peregrine falcon, a bird known for its incredible speed. A relatively new initiative that began running in 2009, it has become Russia's only profitable passenger service. On the outside, the train is sleek and modern, reminiscent of the Japanese 'Bullet Trains', and on the inside, the carriages are comfortable. Each economy class seat comes with an adjustable back rest, a footrest, a folding table, an armrest, and individual lighting and there is also the opportunity to order food from on-board the bistro (payable locally).
Hotels
Park Inn Sadu by Radisson, Moscow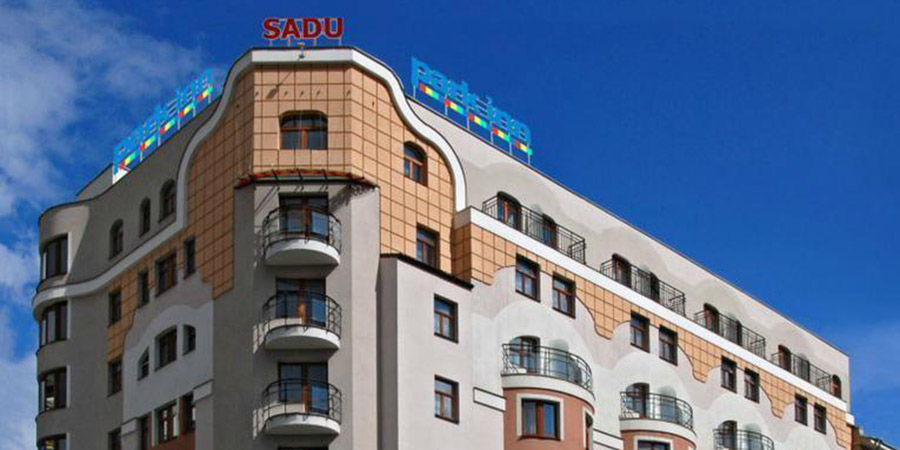 Situated in a unique location in Moscow's historical centre, the 4* Park Inn Sadu by Radisson offers stylish furnishing and a convenient location just minutes away from the Polyanka Metro Station, with views of the Cathedral of Christ the Saviour.
The guest rooms are cosy yet contemporary, and come well equipped with soundproofing, a television, desk, hairdryer, free high-speed Wi-Fi and complimentary bottled water. The hotel boasts a range of amenities including an elegant 24-hour restaurant, Café SADU, which serves up a variety of classic regional dishes, along with a bar and gift shop.
Hotel Dostoevsky, St Petersburg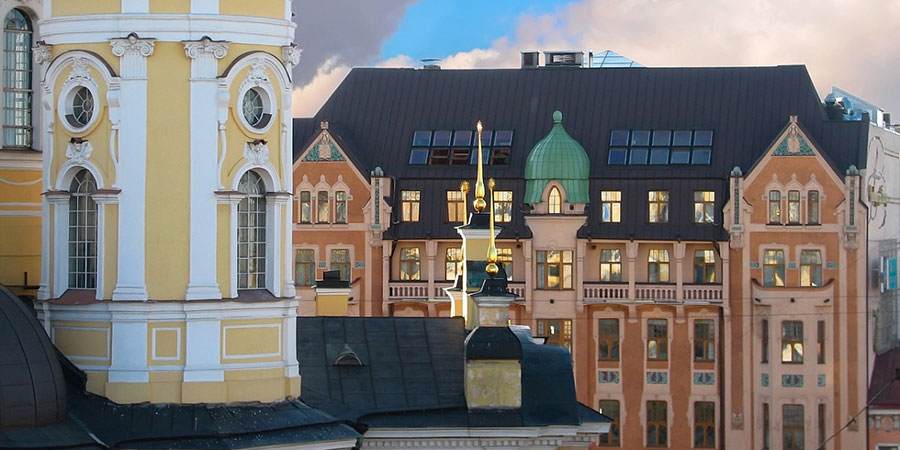 Housed in a grand old building, with elegant interiors and a range of amenities, the 3* Hotel Dostoevsky is an iconic institution in St Petersburg. Overlooking the historic centre of the city, the building itself dates back to 1783 and is a trip back in time through Russia's history. Amenities here include a restuarant serving Russian and international dishes, a well-stocked bar and a fitness suite. We stay in superior hotel rooms with ample space, a television and a hair dryer.

Upgrades

We offer a selection of upgrades and 'add-ons' designed to help you make the most of your holiday - and make it even easier!

This page was printed from

www.greatrail.com/us/tours/moscow-st-petersburg/#20MWJ

on 5 August 2020.

Call

01904 521 936

to discuss your holiday

© Copyright 2020. Great Rail Journeys