01904 521 936
Open 7 Days a Week
Machu Picchu & the Andes
Visit the incredible 'lost city of the Incas' by rail
The lost city of Machu Picchu and the treasures of Peru are unveiled in this high-altitude adventure, combining scenic rail journeys with first class hotels. An unforgettable experience awaits you in this South American paradise on a tour that includes Lima, Arequipa, Lake Titicaca and Cusco.
The itinerary for your journey
Tour highlights
Sightseeing tours of Lima, Cusco, Arequipa and Pisac
Guided tour of Machu Picchu
Excursion to the Colca Canyon
Cruise on Lake Titicaca
Scenic journey on the PeruRail Titicaca Train
Visit to the Sacred Valley
What's included
Transportation

All rail and coach travel throughout your tour
Journey on the PeruRail Titicaca train

Accommodation

13 nights' hotel accommodation including 2 nights at the Casa Andina Select Miraflores in Lima, 2 nights at the Casa Andina Select Arequipa in Arequipa, 2 nights at the Colca Lodge in the Colca Valley, 2 nights at the Sonesta Posada del Inca Puno in Puno, 3 nights at the 4-Star Costa del Sol in Cusco and 2 nights at the Sonesta Posada del Inca Yucay in Ollantaytambo

Excursions & Entertainment

The services of a professional Tour Manager from start to finish
Selected Departures Guaranteed

Food & Drinks

23 meals including 12 breakfasts, 8 lunches and 3 dinners

Flights and airport transfers

All internal flights in Peru

What's not included

Cancellation & Travel Insurance is not included in the price of the tour but can be arranged
Flights and Airport transfers
Days 1-2 - Lima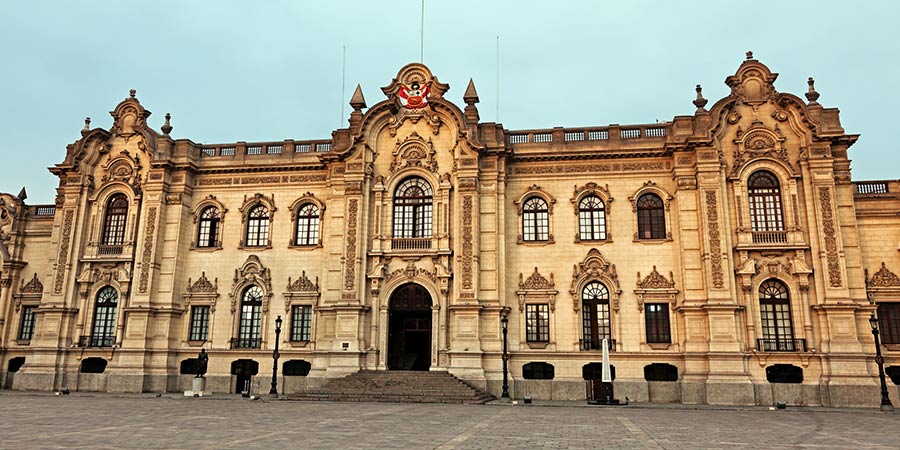 Meet your group and Tour Manager at the Casa Andina Select Miraflores Hotel in Lima. On Day 2 we enjoy a guided tour of Peru's thriving capital which takes us to the historic centre of colonial Lima, home to the church of Saint Francis and the impressive cathedral. Construction of this grand Cathedral began in 1535, and over the years parts of it have been built and rebuilt, leading to a mixture of architectural styles, including Gothic and Neoclassical.
We also visit the Miraflores district, an upscale shopping area that mixes sleek and modern architecture with more traditional stalls. Here, we visit the Plaza de Armas, which is surrounded by yellow fronted buildings and filled with palm trees, and the Convento de San Francisco, a stunning example of baroque architecture that was named a UNESCO World Heritage site in 1991. Later, we enjoy lunch at a local restaurant after which, the rest of the day is spent at leisure to continue exploring Lima at your own pace.
Days 3-4 - Fly to Arequipa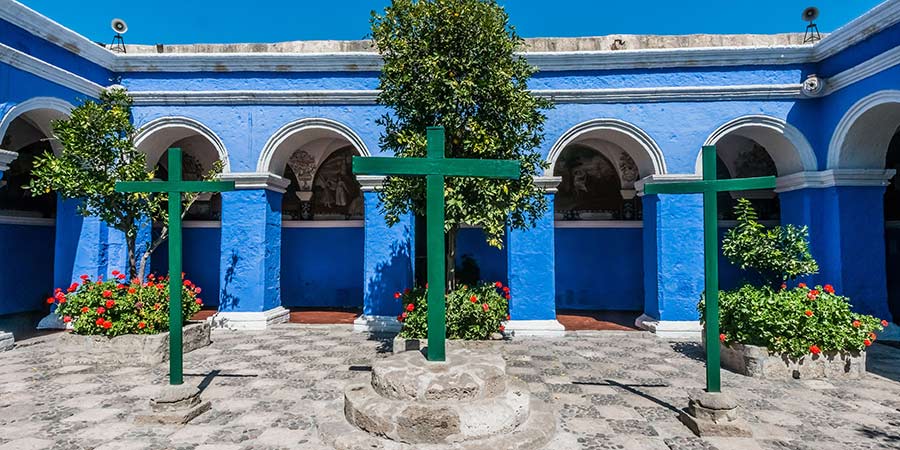 Heading to the airport this morning, we board our flight to the 'White City' of Arequipa, named so thanks to its myriad of white buildings that seem to glow beguilingly in the sunlight. After lunch at a local restaurant, we explore Arequipa on guided tour.
This includes the enormous complex of monastic buildings of the Santa Catalina Convent. This complex was founded in 1580 but has since has been beautifully refurbished with period furniture and paintings. Behind the closed doors the nuns - daughters of aristocrats - paid little heed to the vows of poverty and silence. Each had her own servant and porcelain plates, fine tablecloths and silver cutlery.
The convent is a complete miniature walled colonial town in the middle of the city and there are flower-filled gardens, spacious patios, granite fountains as well as arches and narrow streets. The tile-roofed buildings are painted in traditional white, brown and blue, housing about 20 who nuns still live in a section of the convent, much more piously, which was once home to as many as 500.
In the Iglesia de La Compañía, we see the San Ignacio de Loyola Chapel, which is a marvel of colour and beauty, with stunning murals showcasing the incredible jungle flora and fauna of South America. On Day 4 you are free to explore Arequipa further.
Days 5-7 - Colca Canyon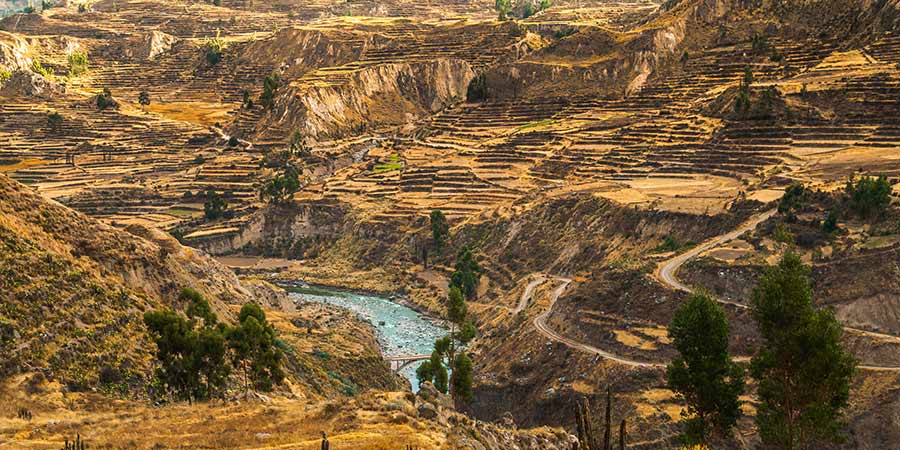 We travel to Colca Canyon this morning, stopping along the way at the National Reserve of Pampa Canahuas and the quaint village of Chivay, which continues to embrace its delightfully traditional stone buildings, and even has an 'Inca' bridge nearby. Colca Canyon is home to the legendary condor, and on Day 6 we visit 'Mirador Cruz del Condor', the perfect viewpoint from which to spot these magnificent creatures soaring on the thermal air currents. Your afternoon is at leiusre.
On Day 7 we depart by coach to Puno, enjoying scenic stops along the way. During the journey we will reach heights of up to 4,500 metres (14,700 feet) above sea level where the air is much thinner than at lower altitudes. This elevation however allows to enjoy fabulous views out across the Andes.
Days 8-10 - Lake Titicaca and Cusco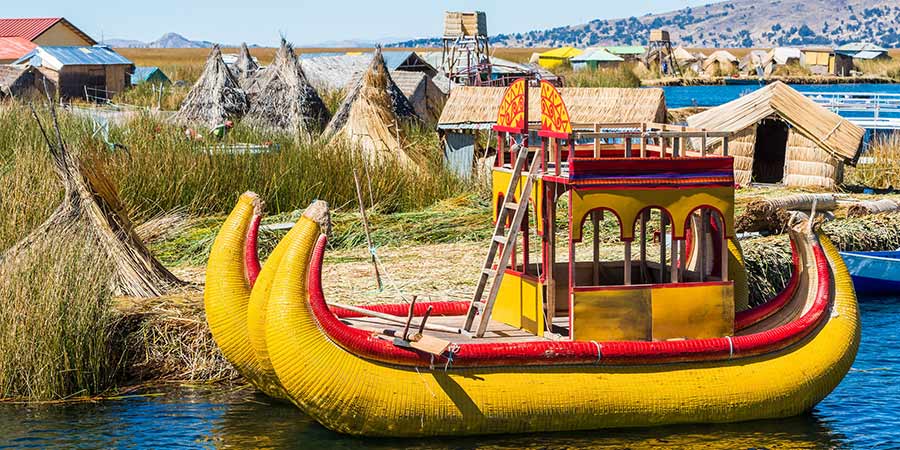 From Puno, today we enjoy an excursion to Lake Titicaca, cruising across to Uros floating islands, where incredible flotillas made entirely out of totora reeds and populated by the enterprising Uros people. From here, we continue to Taquile, home to the Aymara, a Spanish-speaking people who live in an almost economically-autonomous community. We are treated to lunch at a local restaurant. We board the luxury PeruRail Titicaca Train to Cusco on Day 9, taking in the beautiful Andean landscapes as we journey in restored 1920s carriages through the Peruvian highlands.
Cusco is a city of true beauty, which is regarded as the 'Archaeological Capital of the Americas', with a delightful blend of indigenous and colonial Spanish architecture. One of the most impressive architectural attractions are the incredible Inca walls, created from enormous granite blocks that were carved to fit together perfectly without the aid of mortar beds. Many of the walls were simply built upon during the construction of a new Spanish city. It's a lasting tribute to the ingenuity of the Incas that their anti-seismic design has survived the test of time, especially when compared to the Spanish colonial architecture that has been rebuilt several times following a wave of earthquakes that have hit the city.
Day 10 includes a sightseeing tour of this ancient capital which takes in Plaza de Armas, in the historic centre, and San Pedro market. Another place we visit on this tour is the Temple of Koricancha, meaning 'Temple of the Sun', which dates back to Incan times. Indeed, the temple was one of the most important temples to the Incans, however it was destroyed and brought to ruin after war with the conquistadors from Spain in the 16th century. The temple was filled with incredible golden artefacts with the walls also being covered in gold. This incredible display led the Spanish to describe the very aptly named Temple of the Sun as 'fabulous beyond belief'.
Days 11-12 - Machu Picchu and Ollantaytambo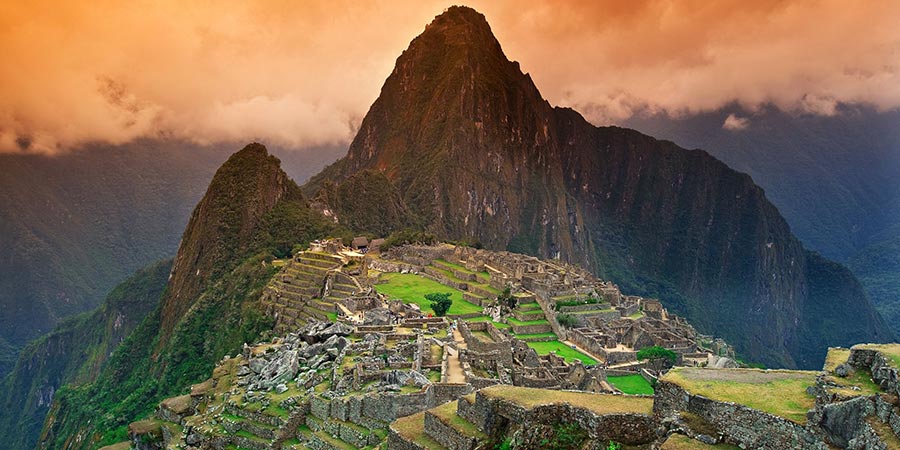 Our journey today takes us to the highlight of the tour as we travel on the scenic rail route to Aguas Calientes to visit the 'Lost City of the Incas': Machu Picchu.
A winding bus ride takes us all the way up to the city itself, where we are greeted by one of the most incredible sights in the world. Our local guide explains the fascinating history of this awe inspiring site that was forgotten for 400 years and remained undiscovered until 1911. Machu Picchu is now a UNESCO World Heritage site, as well as being one of the New Seven Wonders of the World. Next we take the train to Ollantaytambo, transferring by coach to our hotel. We admire the city's impressive fortress, which, even in ruins, is an incredible sight to behold on Day 12 before making our way to Chinchero by coach to experience the impressive Sunday market as well as visit its church and see some traditional weaving techniques.
Day 13 - Pisac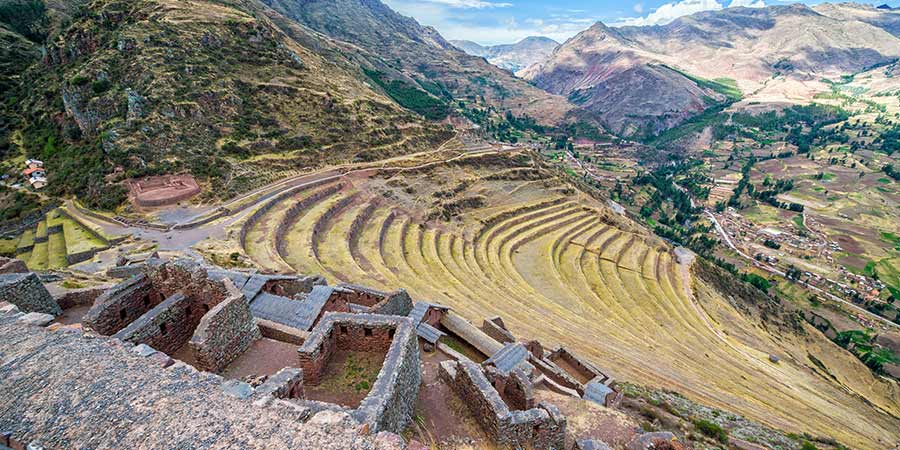 Driving to Pisac today, take a walk around the ancient Inty Huatana fortress, where it is possible to find the ancient Intihuatana ritual stone which was used as an astrological clock - literally translated 'Intihuatana' means 'the Hitching Post of the Sun'.
After time here, we return to Cusco visiting Awanachancha en route. In this small centre, you can find a surprising number of llamas, vicunas, guanacos, and alpacas, as well as a myriad of colourful cloths which are weaved in Awanachancha from their fur. Tonight there's an authentic dinner at a local restaurant, the perfect way to end our South American adventure.
Day 14 - Return Home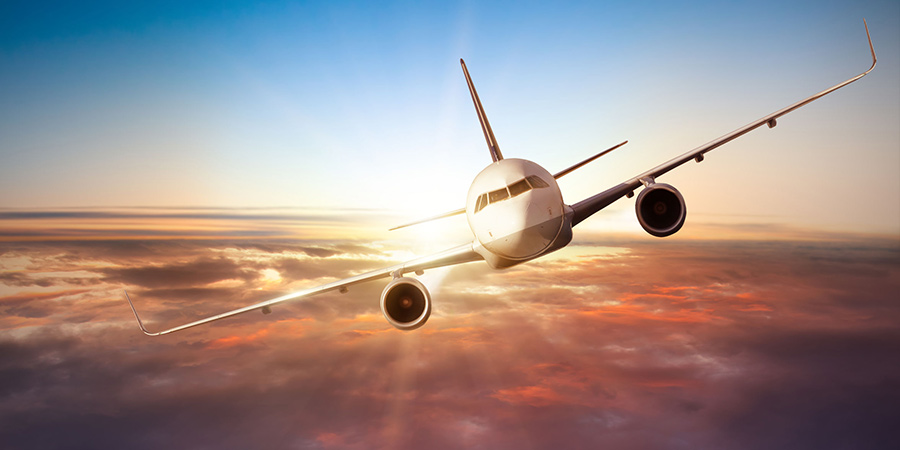 Following an internal flight to Lima, your tour concludes.
Recommended airport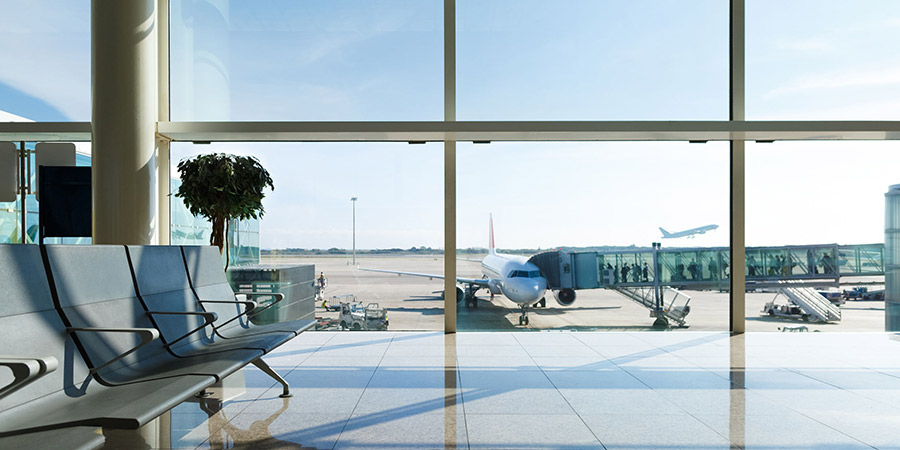 We recommend that for this tour you arrange flights to and from José Martí International Airport (LIM), approximately 12 miles from your start and end points in Lima.
Visa Requirements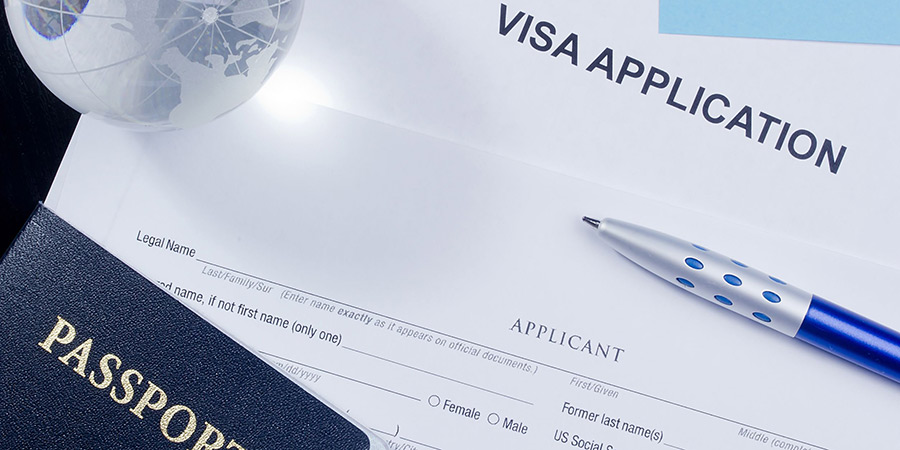 It is your responsibility to check and fulfil the passport, visa, health and immigration requirements applicable to your itinerary. We do not accept any responsibility if you cannot travel, or incur any other loss because you have not complied with any passport, visa, immigration requirements or health formalities. You agree to reimburse us in relation to any fines or other losses which we incur as a result of your failure to comply with any passport, visa, immigration requirements or health formalities.
Please note
Our 3rd May 2018 departure features a slightly different itinerary. Running at 14 days in length, it includes two nights aboard the Andean Explorer train as well as some alternative excursions and hotels. Please call for more details.
Departure Dates
6 May 2020
Please call
30 September 2020
From

$3,855
All prices are per person and assume full occupancy of the room.
Please always refer to the website for up-to-date prices and availability.
Trains
PeruRail Titicaca Train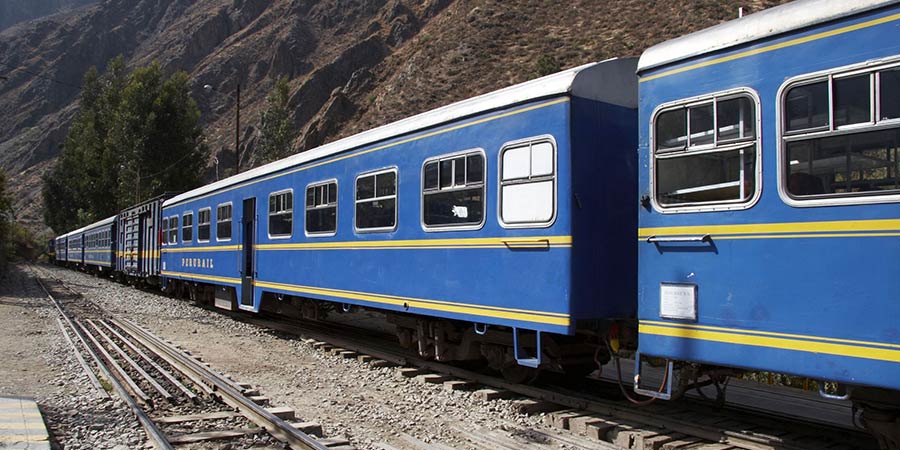 Making its way through the Andes, one of the world's most dazzling mountain ranges, it is little wonder than this excellent Peruvian train is regular thought to be one of the finest rail journeys in South America. Running across the plains and under the peaks, the PeruRail Titicaca is dressed up in handsome blue, while the interiors echo the halcyon days of rail travel, with subtle wood finishes and comfortable seats. The train travels the incredible route between Cusco and Puno, brushing alongside the majestic Titicaca lake, an enormous stretch of water crossing the Peruvian and Bolivian Borders.
With an open-air observatory car allowing for excellent views, and excellent staff ready and on hand to serve your every need, luxury and class are key on board the PeruRail Titicaca. With the journey completed by sublime cuisine from Peru and around the world, this train truly offers one of the world's finest rail journeys.
Hotels
Colca Lodge Spa & Hot Springs, Colca Valley
The Colca Lodge Spa & Hot Springs stands in the heart of the Colca Valley, against a backdrop of steeply rising rows of farming terraces. Inspired by the architectural style of the ancient Incas, the lodge buildings are built out of stone and mud bricks and have thatched roofs, meaning they not only have a charming, rustic feel, but have a minimal environmental impact on the valley. The Colca Lodge has a restaurant, bar, a lounge with a fireplace and a games room. There are no televisions or other modern distractions and all the water is heated by solar power. Guests can enjoy the use of the Lodge's hot springs (seasonal) and there is a spa offering a range of treatments and therapies (pay locally). The comfortably furnished rooms all feature en suite facilities and an outdoor terrace from which guests can admire the stunning views.
Casa Andina Private Collection hotels, Peru
Casa Andina Private Collection of 4-Star hotels are unique, upscale properties in exceptional locations, perfect for our exploration of Peru. The hotels are created with an eye to conveying what is quintessential about the region. Guests are treated to the finest of local gastronomy at gourmet restaurants, stunning views and privileged surroundings, including architecture that combines the best of traditional and modern Peru. Rooms have air conditioning, a telephone, television, safe, wireless internet access, coffee makers and a hairdryer.

Upgrades

We offer a selection of upgrades and 'add-ons' designed to help you make the most of your holiday - and make it even easier!

This page was printed from

www.greatrail.com/us/tours/machu-picchu-and-the-andean-explorer/#PUJ20

on 26 February 2020.

Call

01904 521 936

to discuss your holiday

© Copyright 2020. Great Rail Journeys