01904 521 936
Open 7 Days a Week
Premium Trans-Siberian Express
Explore half way around the world entirely by train
Step on board the Golden Eagle and be transported back to the romantic age of travel as we wend our way across Russia, Mongolia and Siberia in unprecedented luxury. This rail adventure takes you on a journey of over 8,000 miles; a true odyssey to the other side of the world.
The itinerary for your journey
Tour highlights
The Golden Eagle Trans-Siberian Express with all meals
Kazan
Private barbeque on the shores of stunning Lake Baikal
Irkutsk
Ulan Ude & Ulaanbaatar
Mongolia
Vladivostok
Days 1-2 - Moscow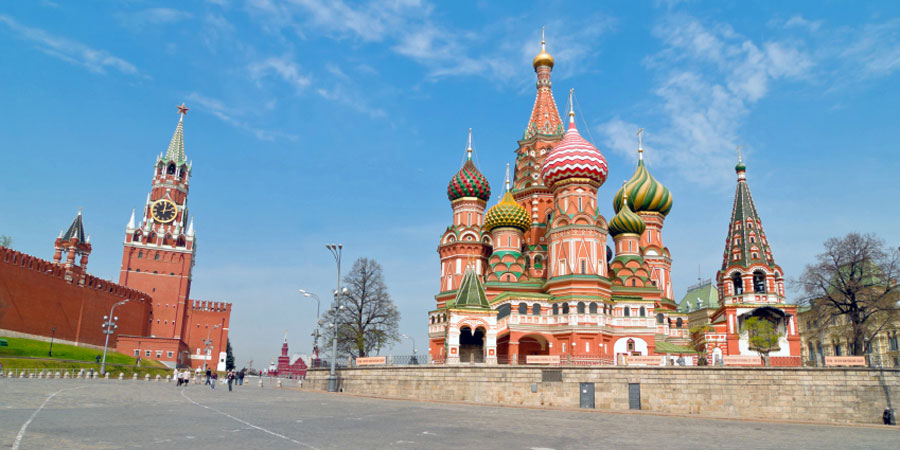 On Arrival in Moscow, you will be transferred to the 5-Star Four Seasons Hotel Moscow, where you will meet the rest of your group and Tour Manager, we later enjoy dinner in the evening.
We spend Day 2 in Moscow, where we take a tour of its famous sights, including Red Square, on which you can find the Kremlin as well as Lenin's Mausoleum, the final resting place of the Communist leader, and we also view the marvelous multi-colored domes of St Basil's Cathedral.
This afternoon we join the Golden Eagle Trans-Siberian Express, for our fabulous 12-night adventure to Vladivostok.
Day 3 - Kazan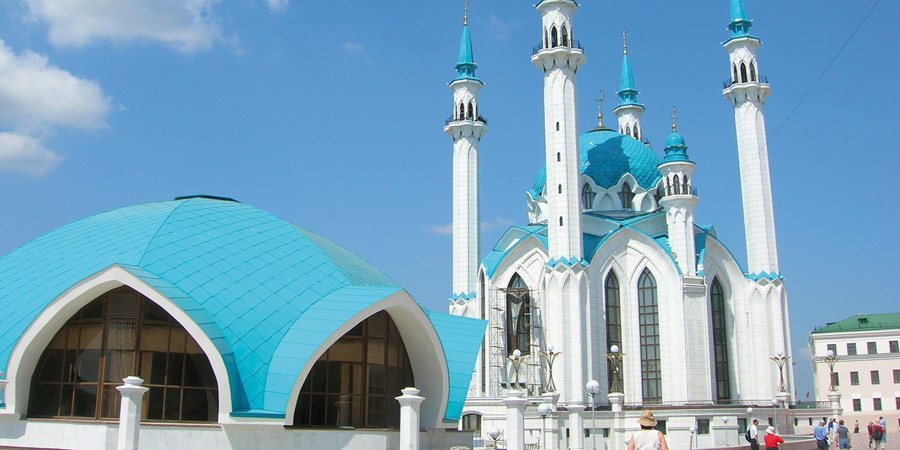 Our first stop on our Trans-Siberian adventure is Kazan, the capital of Tatarstan on the River Volga. The city is renowned for its ornate buildings, including the colorful onion-domed cathedral, the inspiring Kul Sharif Mosque in the grounds of the impressive Kazan Kremlin, and the classical style buildings of the university, which we see on an informative sightseeing tour. After a delectable lunch of traditional Kazan cuisine, we continue our tour, before returning to the Golden Eagle for the journey towards Yekaterinburg.
Days 4-5 - Yekaterinburg and Novosibirsk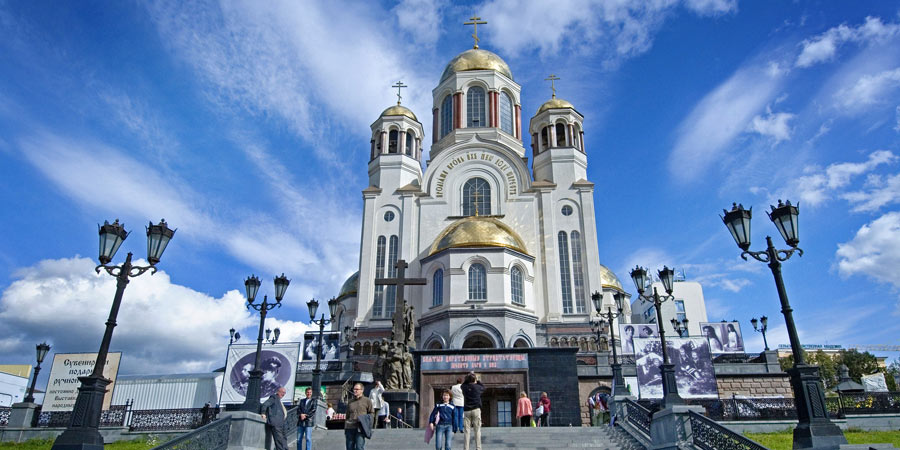 Today we cross the Europe-Asia divide and arrive in Yekaterinburg, founded in 1723 by Peter the Great. Here we visit the site where the Romanov family, headed by Tsar Nicholas II, was murdered in 1918, now marked by a church dedicated to their memory.
On Day 5 we alight in Novosibirsk, the capital of Siberia, for a guided tour of the city's sights, including the Opera House.
Days 6-7 - To Irkutsk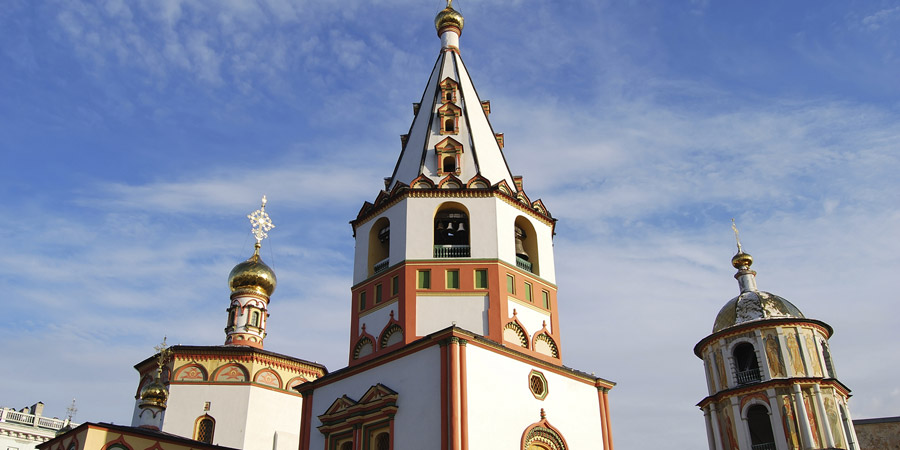 We spend Day 6 on the train enjoying the passing scenery as we travel through the Sayan Mountains. On Day 7 we arrive in Irkutsk, founded by Cossacks. The city is affectionately known as 'the Paris of Siberia'. Much of the city's cultural heritage came from the Decembrist exiles, and today many of their wooden houses have survived. During a sightseeing tour we take in this fascinating wood-carved architecture, and visit the city's most significant sights and museums including the Decembrist House Museum.
Day 8 - Lake Baikal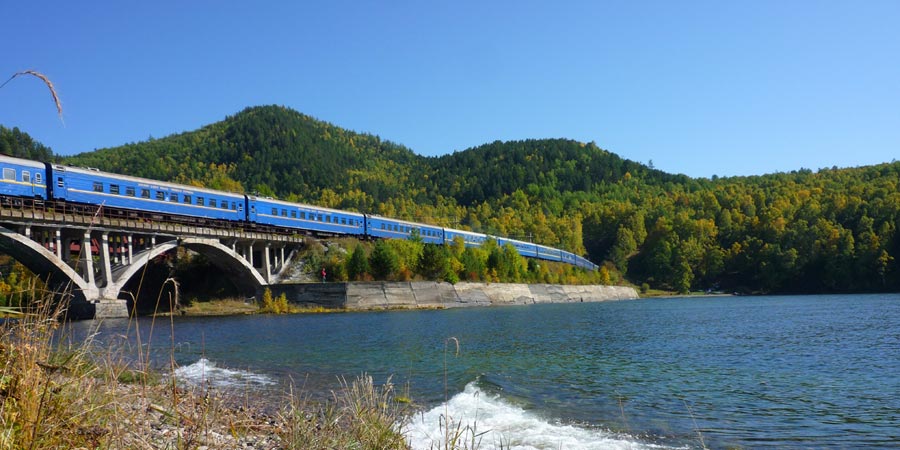 Today we experience one of the true highlights of our journey through Siberia. The Golden Eagle Trans-Siberian Express will be steam-hauled, as we skirt the shores of vast Lake Baikal, the largest freshwater lake in the world. We continue on to visit the small village of Listvyanka, nestled at the foot of the surrounding hills. We stop off later tonight for a barbecue dinner on the lakeside including freshly smoked fish.
Days 9-11 - Ulan Ude and Ulaanbaatar, Mongolia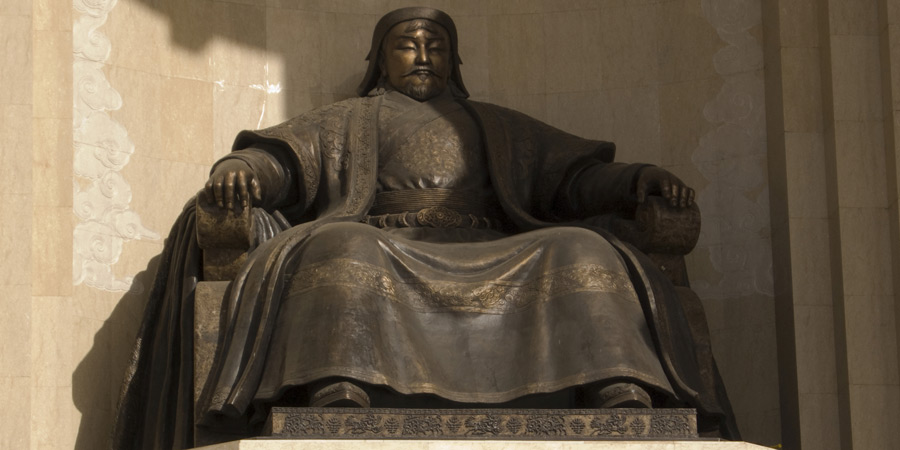 Today we arrive in Ulan Ude, the capital of the Buryat Republic. Here we visit the Old Believer's Village, where we have the opportunity to learn about the culture and history of these religious people as we are treated to a traditional meal and enjoy a concert featuring local musicians and dancers.
On Day 10 we arrive in Ulaanbaatar, the capital of Mongolia. Passing the Genghis Khan monument, we visit the National Museum before enjoying a traditional lunch. Day 11 is spent on board as we continue east through this vast and varied country.
Days 12-13 - Remote Siberia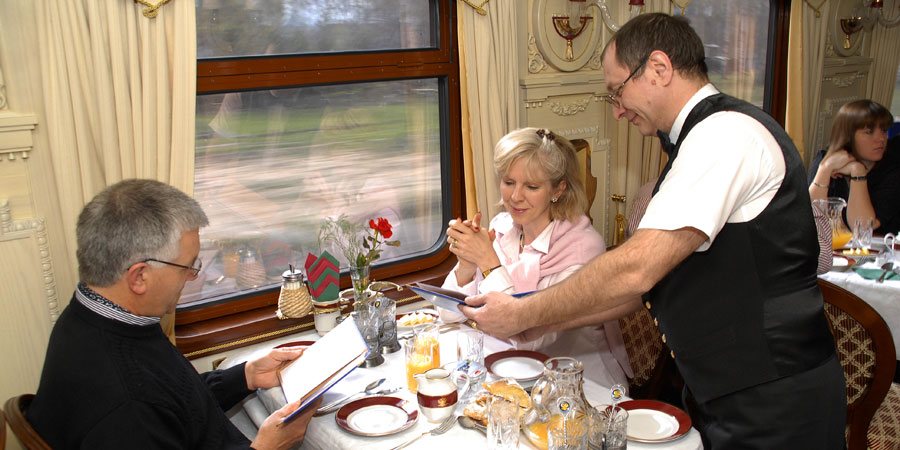 The train follows the Shilka and Amur Rivers close to the Chinese border today. Our route takes us across an area of permafrost, as remote as it is dramatic.
During Day 13 we reach the most easterly point of our journey and as we head towards the Pacific coast, we enjoy a farewell dinner on board.
Days 14-15- Vladivostok and home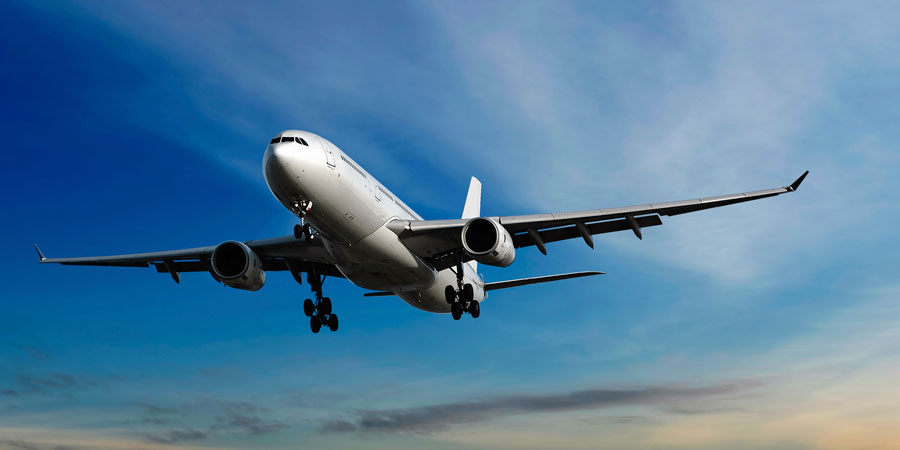 After travelling across 11 time zones and over 8,000 train miles, our epic journey concludes today, as the Trans-Siberian Express arrives in Vladivostok. We take a tour of the city before transferring to the Lotte Hotel for one night.
On Day 15 you are free to make your own way home.
Recommended Airport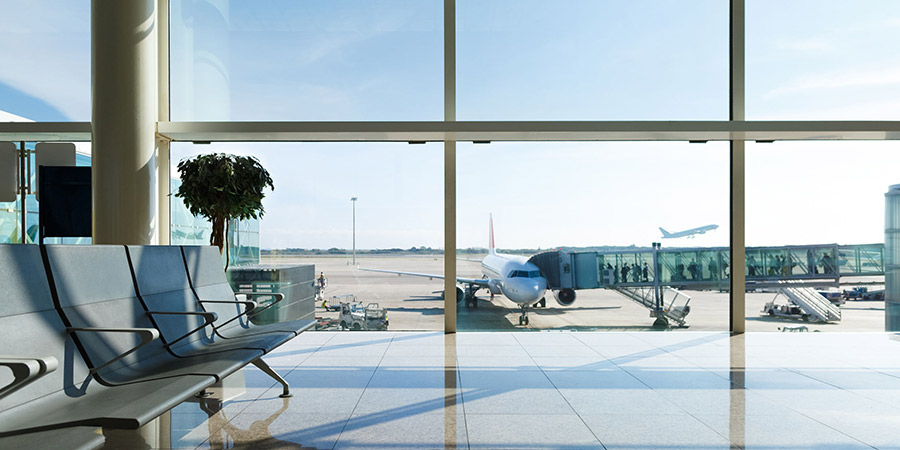 For this tour, we recommend arriving into Moscow Domodedovo Airport (Code DME), where you will be transferred to your first hotel. Our recommended departure airport is the Vladivostok airport, where you will be transferred to from your final base in Vladivostok.
Visa Requirements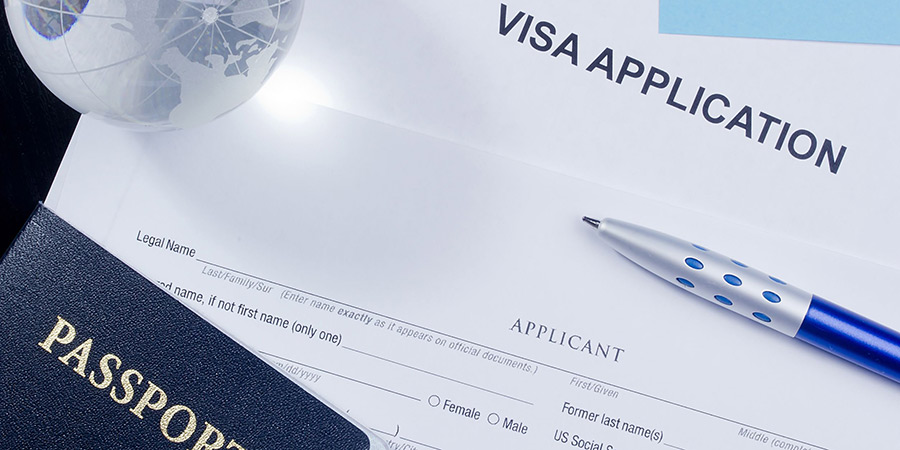 It is your responsibility to check and fulfil the passport, visa, health and immigration requirements applicable to your itinerary. We do not accept any responsibility if you cannot travel, or incur any other loss because you have not complied with any passport, visa, immigration requirements or health formalities. You agree to reimburse us in relation to any fines or other losses which we incur as a result of your failure to comply with any passport, visa, immigration requirements or health formalities.
Departure Dates
All prices are per person and assume full occupancy of the room.
Please always refer to the website for up-to-date prices and availability.
Trains
Golden Eagle Trans-Siberian Express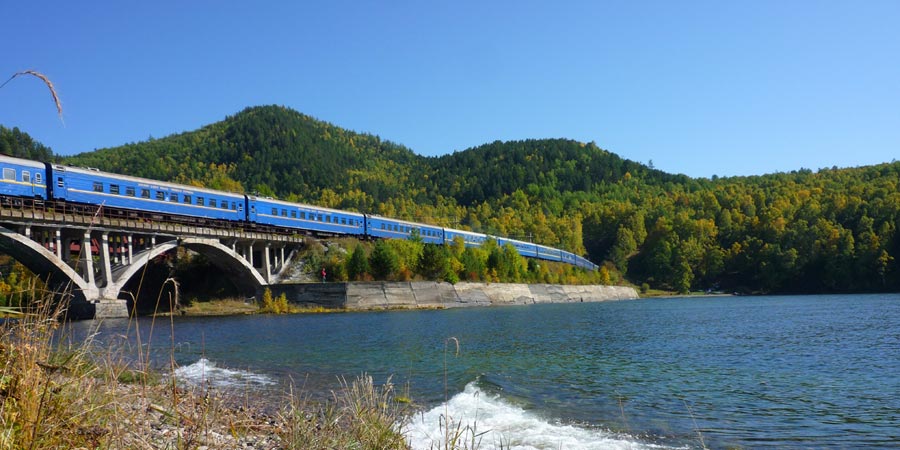 The Golden Eagle Trans-Siberian Express offers arguably the best quality of rail travel found anywhere in the world. This private train features 2 beautifully appointed restaurant cars, in which freshly prepared meals are accompanied by wine and vodka. There is also a bar car where you can enjoy music from the resident pianist.
Silver Class cabins sleep 2 people silver cabins and consist of a small double lower berth, and a single upper berth. They feature a wealth of amenities including air-conditioning and heating, a wardrobe, luggage space, a safe and DVD/CD player with LCD television screens. Complimentary tea, coffee, and mineral water are available and towels are provided. All Silver Class cabins have private en-suite facilities with a 'wet room' style shower.
Hotels
Four Seasons Hotel, Moscow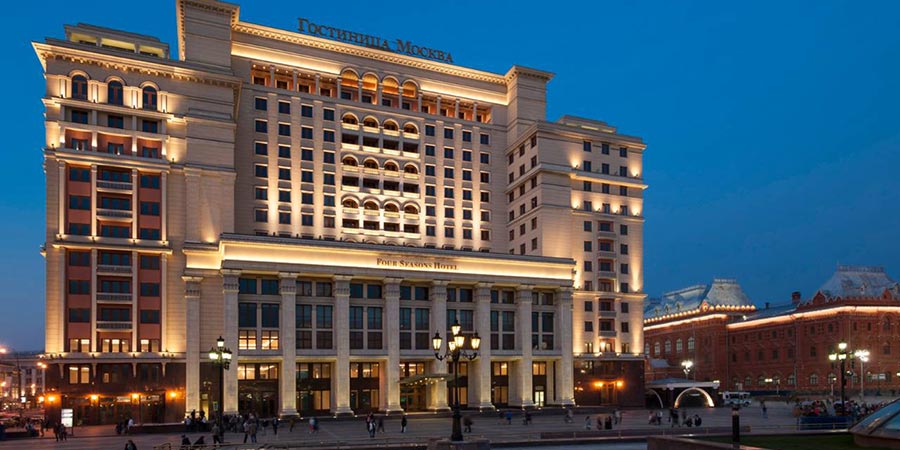 Situated in what was once the city's legendary Hotel Moskva, the 5-Star Four Seasons Hotel is a homage to Soviet Art Deco design and grandeur perfectly placed in the heart of Moscow, just a minute or two's walk from the Kremlin, Red Square and Bolshoi Theatre. Facilities include an impressive, mosaicked swimming pool, a spa and two bars while each of the elegant rooms features air conditioning, a coffee machine, tea making facilities, Roberto Cavalli toiletries as well as a safe and hairdryer.
Hotel Hyundai, Vladivostok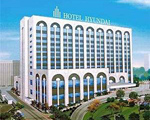 The 4-Star Hotel Hyundai is ideally located within walking distance of Vladivostok's historical sites, museums and shopping areas. The hotel has a restaurant, coffee shop and bar and is equipped with a health club, swimming pool, sauna and solarium. Bedrooms include air conditioning, television, telephone, minibar and hairdryer.
Lotte Hotel, Vladivostok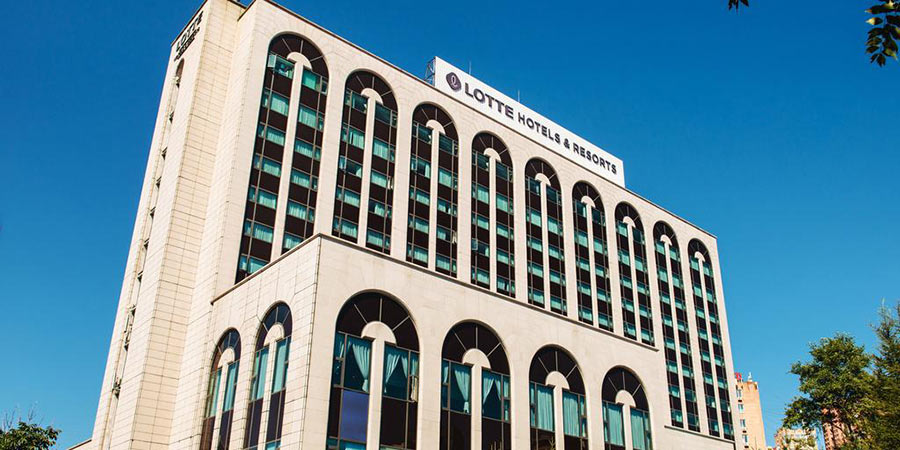 In Vladivostok, we stay at the Lotte Hotel.

Upgrades

We offer a selection of upgrades and 'add-ons' designed to help you make the most of your holiday - and make it even easier!

This page was printed from

www.greatrail.com/us/tours/trans-siberian-express/#TSJ20

on 13 August 2020.

Call

01904 521 936

to discuss your holiday

© Copyright 2020. Great Rail Journeys