01904 521 936
Open 7 Days a Week
Tracks of the Deep South
The soundtrack of Deep South USA
Historic tracks lead us on a rail tour through the heartland of great American music - from Nashville, home of Country Music, to the Blues, Soul and Rock 'n' Roll of Memphis and the jazz of New Orleans.
The itinerary for your journey
Tour highlights
Enjoy a journey on the Lookout Mountain Incline Railway, the world's steepest passenger railway
Pay a visit to Graceland, home to Elvis' 14 acre mansion
Explore Oak Alley Plantation and learn about Louisiana's role in America's Slave Trade during the 19th century
Enjoy a guided tour and tasting at Jack Daniel's Distillery
Discover New Orleans on a guided sightseeing tour
Take a jazz cruise along the Mississippi River
Day 1 – Meet in Atlanta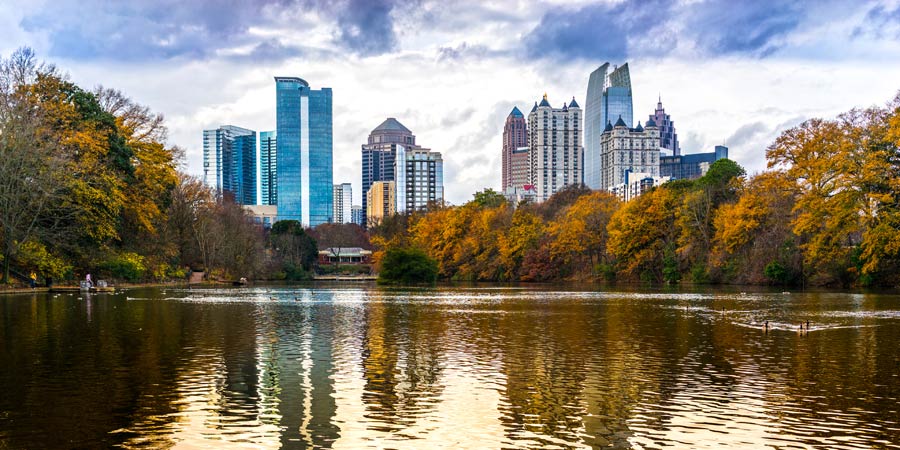 Meet your group and Tour Manager at the Holiday Inn & Suites Atlanta Airport South.
Day 2 - Atlanta and Chattanooga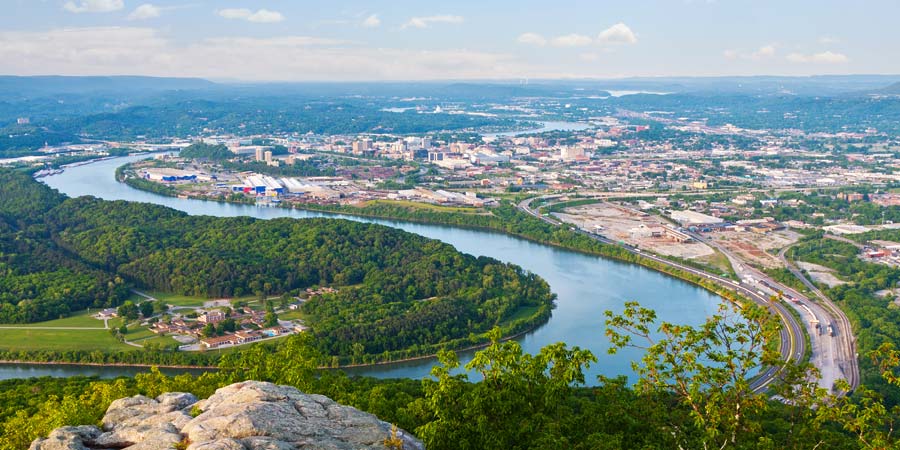 A morning sightseeing tour explores this fascinating city. Entrance is included to the Martin Luther King Center and Church, which pays homage to the man himself as well as the civil rights movement he was a driving force of. The tour continues to Margaret Mitchell House, where the author wrote her Pulitzer Prize winning novel, 'Gone with the Wind'. Following free time for lunch, we transfer to Chattanooga, where we board the Lookout Mountain Incline Railway. This evening, we check in for one night at the Doubletree by Hilton Chattanooga Downtown.
Please Note: For departures DSG2001 & DSG2002 you will now travel on the Tennessee Valley Railroad instead of the Lookout Mountain Incline Railway.
Day 3 - Lynchburg and Jack Daniel's Distillery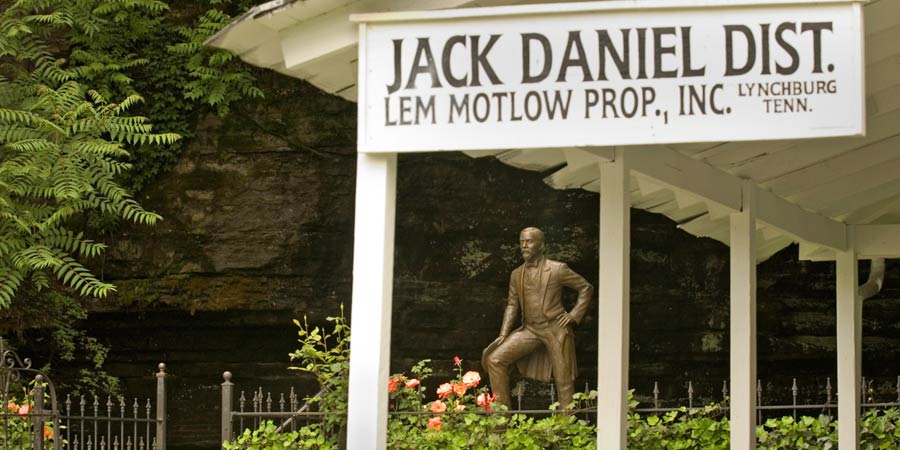 Our coach takes us through Tennessee to Lynchburg, capital of Moore County. Moore County has been 'dry' since the days of prohibition, which makes its main attraction all the more extraordinary - it is the home of Jack Daniel's Distillery. After a tour and tasting at the distillery we continue to Nashville, staying for three nights at the Clarion Downtown Nashville. This evening, we visit the legendary Grand Ole Opry. Founded as a radio station in 1925, today this classic music venue still hosts the same regular broadcast, now with a popular extended format, in addition to regular stage shows. Tonight, enjoy live music performed on 'country's most famous stage', a wonderful introduction to Nashville's culture.
Days 4-5 - Nashville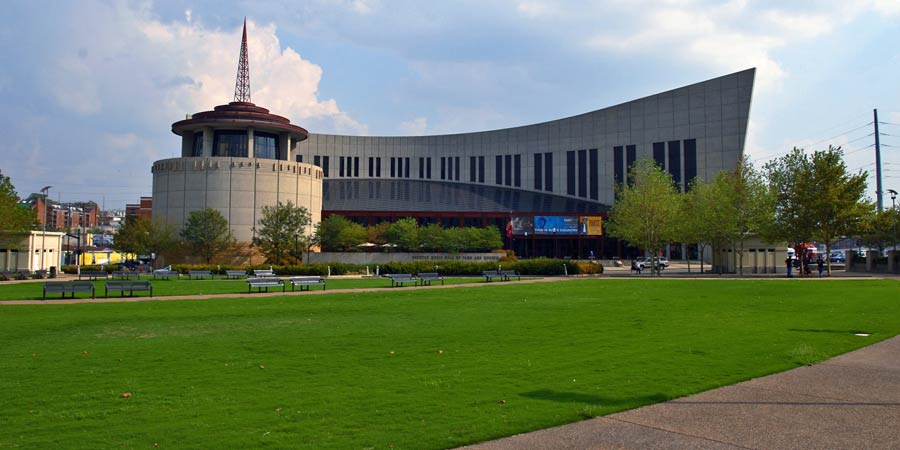 Since the 1940s Nashville has been synonymous with country music, with its collection of recording studios on 'Music Row' and the Ryman Auditorium, home of the Grand Ole Opry for three decades. A morning guided tour introduces you to the sights before we visit the Country Music Hall of Fame, the world's largest music museum, for an amazing 'who's who' in the world of country music.
Day 5 is free to explore Nashville under your own steam. Named the capital of Tennessee in 1843, today the city is still considered by many to be a haven and refuge for musicians of many styles. Perhaps delve into the rich music scene of the city, enjoy traditional southern food in a typical American diner, or soak up some 200 years of history at one of Nashville's historic sites, such as Belmont Mansion.
Day 6 - Jackson and Memphis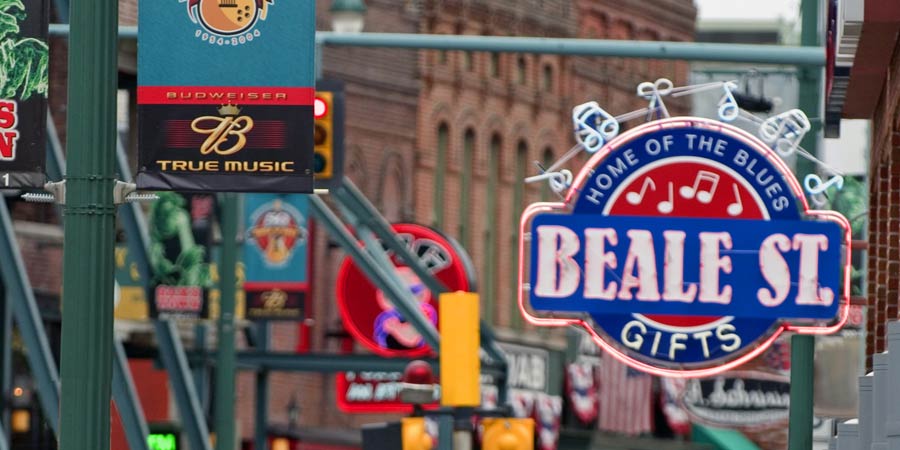 Our journey through Tennessee continues to Memphis, pausing en-route at Jackson, where you have free time for lunch and a spot of sightseeing - perhaps visit the Rock-a-Billy Hall of Fame. We then stop at the Tennessee Delta Heritage Center in Brownsville, a series of museums dedicated to the history of the south, from its musical traditions to its infamous history of slave labour in the cotton fields.
We complete our journey to Memphis later this afternoon, where we check in to the Sheraton Hotel Memphis. The rest of your day is at leisure.
Day 7 - Graceland and Sun Studios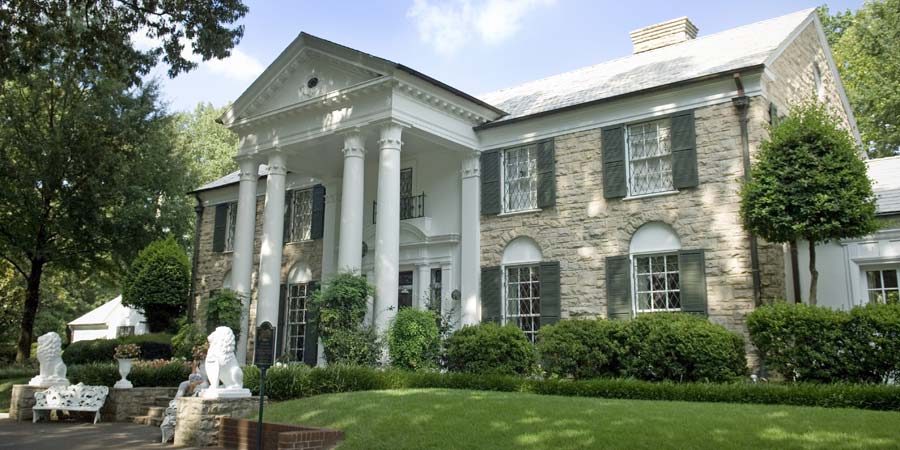 This morning we pay a visit to the fantastic Graceland, Elvis' 14 acre mansion, and view his preserved living quarters. This afternoon introduces the sights of Memphis' extraordinary musical history. We visit Sun Studio, which lays claim to being the birthplace of rock 'n' roll, with a roster featuring Elvis Presley, Jerry Lee Lewis and Johnny Cash.
Day 8 - The City of New Orleans train and the Oak Alley Plantation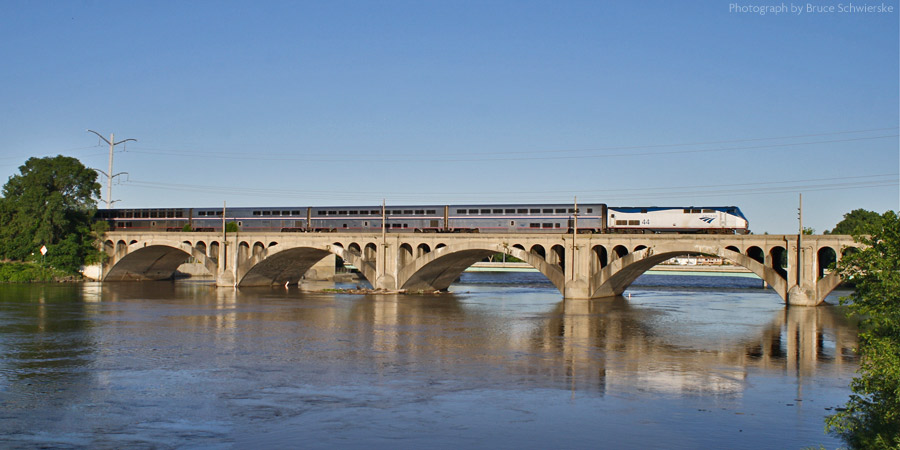 This morning we board Amtrak's City of New Orleans service, heading through Mississippi to Louisiana. It is claimed that the blues spread along this route by rail. The pretty, floral towns of Brookhaven and McComb lead into the exotic Cajun swamps of the Louisiana Bayou. We take the train as far as Hammond, from where we transfer by coach to the Oak Alley Plantation, for a guided tour. This restored house stands as testament to both the grand lives of Louisiana land owners and the suffering of those once enslaved here. Our guided tour reveals the history of the house, sometimes referred to as the 'Grande Dame of the Great River Road', along with its grounds. Later, we continue by coach to New Orleans, where we stay at the Sheraton New Orleans Hotel.
Day 9 - The French Quarter and a Mississippi cruise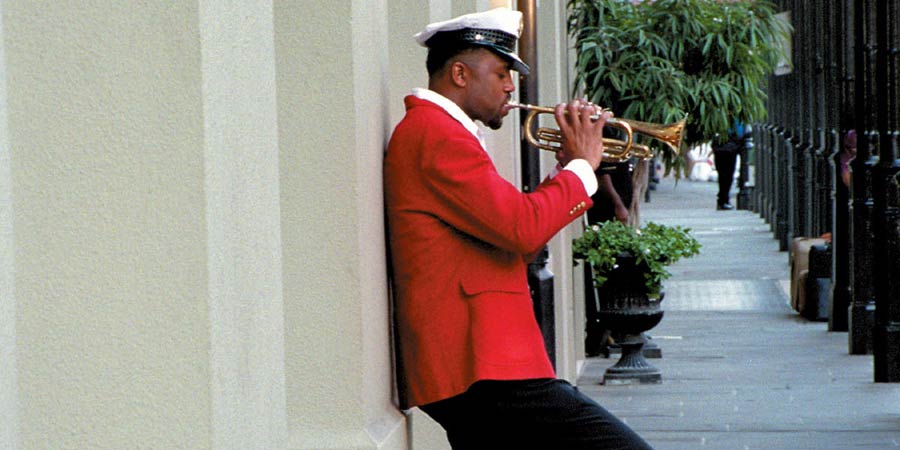 This morning's guided tour provides an introduction to one of the best-known parts of the city: the renowned French Quarter. Following some free time to arrange lunch (perhaps sample some of the famous Creole cuisine), this afternoon we board a traditional paddle steamer, for a delightful sightseeing cruise along the Mississippi River. Our jazz cruise takes place on board an authentic steamboat, and offers a view of the 'Big Easy' that only a vantage point on the river can provide. During our time on board, we enjoy a live performance from the ship's jazz band as a fabulous background to our historic cruise. After disembarking, you are free to enjoy your evening at leisure.
Day 10 - New Orleans
Your entire day is free to soak up the splendour of New Orleans. Roaring with life, the 'Big Easy' is known as the south's party city thanks to Mardi Gras, yet yearround there is a sense of spirited adventure and playfulness here. A wander through the colourful streets will offer an excellent introduction to the eclectic architecture stretching back centuries, whilst restaurants here offer a taste of hearty southern cuisine influenced by the various cultures that have rubbed shoulders over the years.
Days 11-13 – From Houston to home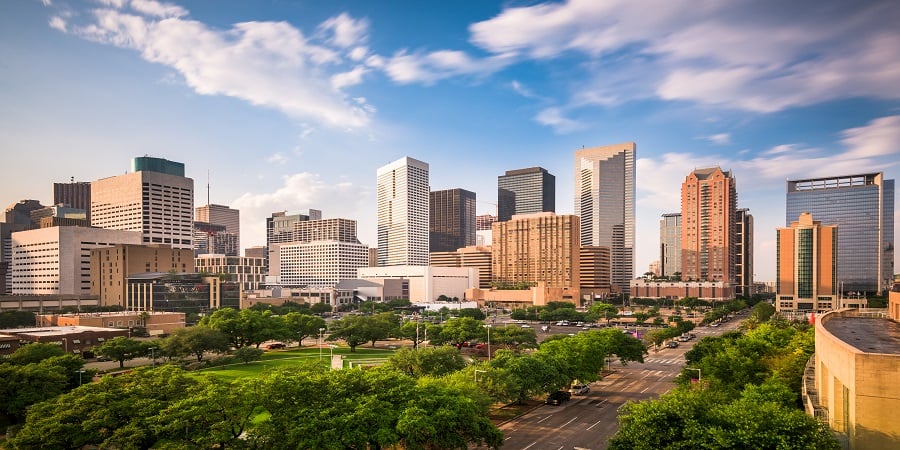 On Day 11, departing from New Orleans, we board our Amtrak service to Houston. We begin Day 12 in Houston with a guided tour of the city's main landmarks, including the Allen's Landing and NASA's Lyndon B. Johnson Space Center. On Day 13, make your way to the airport for your flight home.
Mardi Gras
For our February 16th 2020 departure a grandstand ticket for the New Orleans Mardi Gras (or 'Fat Tuesday') celebrations is included in the price. Mardi Gras is one of the biggest and most colourful celebrations in America, with a plethora of parades, jazz, and food to enliven anyone who visits. Taking place on what is otherwise known as 'Shrove Tuesday' in the Easter season, this is one of America's oldest traditions, with the first one being held in 1699. Enjoy this incredible experience - it is certainly unforgettable.
Recommended Airports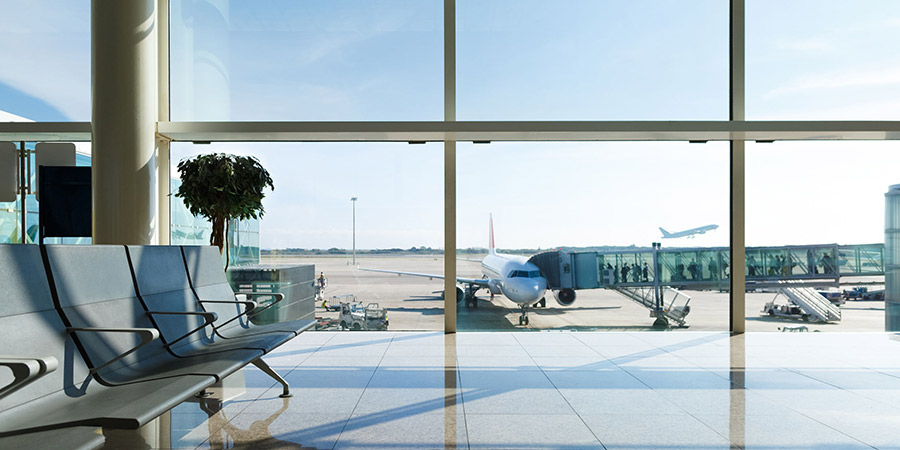 For this tour, we recommend that you arrive at Atlanta Hartfield-Jackson International Airport (airport code ATL), which is approximately 1 miles from your first hotel. Our recommended departure airport is Houston George Bush International Airport (IAH), which is approximately 30 miles from your final hotel.
Departure Dates
All prices are per person and assume full occupancy of the room.
Please always refer to the website for up-to-date prices and availability.
Trains
Amtrak Trains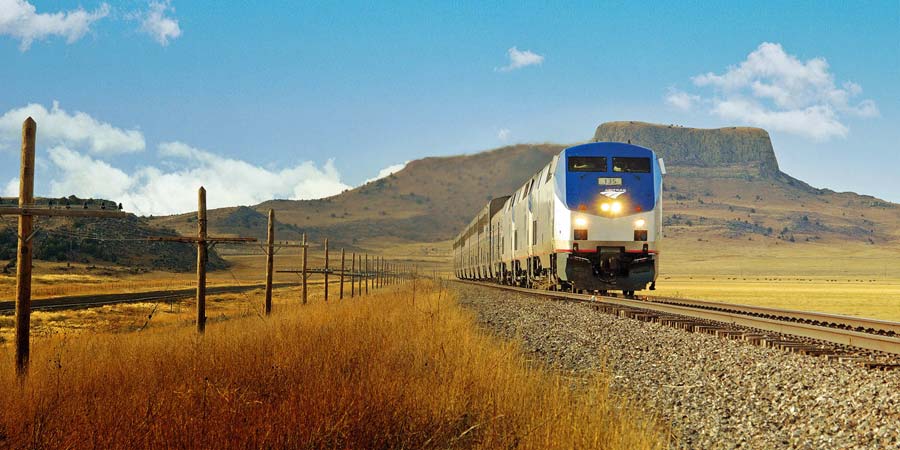 Amtrak trains provide the passenger rail services in the USA, and relaxing on board one of its comfortable long distance trains is simply the best way to discover this vast country, its great cities and ever-changing landscape.
On overnight journeys, accommodation is in a Roomette Cabin, which are comfortable but compact. Inside you have two comfortable reclining seats beside a large window, which convert to upper and lower berths at night. Each cabin has individual climate control, a fold down table, fresh towels and complimentary bottled water. WC, shower and washroom facilities are located at the end of each carriage. Roomettes are located on both the upper and lower levels of the double-deck carriages.
On some Amtrak trains a limited number of bedrooms are available at a supplement. These cabins have a daytime sofa that converts to a wide lower berth and a comfortable upper berth at night, and the added benefit of their own en suite shower, washbasin and WC. During daytime journeys we travel in comfortable seats with plenty of legroom. On tours involving journeys on overnight sleeper services, passengers enjoy a meal in the restaurant car if they are travelling during a mealtime. Passengers travelling during the day may purchase meals from the restaurant car where this service is provided. Many Amtrak trains also have Lounge, Dinette and Café cars where passengers can buy snacks, meals and beverages and take advantage of the comfy seating.
Amtrak's City of New Orleans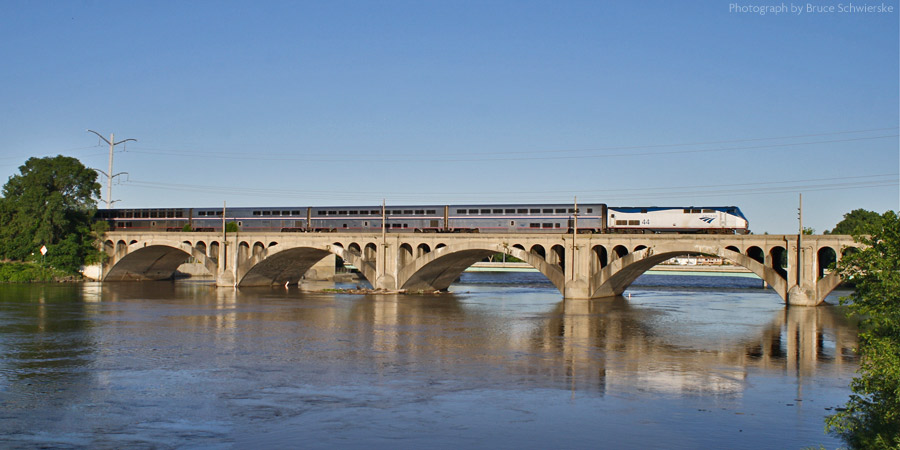 The City of New Orleans serves the 926-mile (1,490km) route between Chicago and the Great Lakes in the north to the Gulf of Mexico and the city of New Orleans in the south. On our Tracks of the Deep South tour, we join the train for just a section of this route from Memphis, Tennessee, through Mississippi and Louisiana to New Orleans - a journey of just under 9 hours, all in daylight. It is particularly apt, given the musical theme of our Tracks of the Deep South tour, that the City of New Orleans is the subject of a folk song of the same name written and performed by Steve Goodman. The song, which describes the journey made by the City of New Orleans, was subsequently covered by artists such as Arlo Guthrie, Johnny Cash, John Denver and Willie Nelson, amongst others.
Lookout Mountain Incline Railway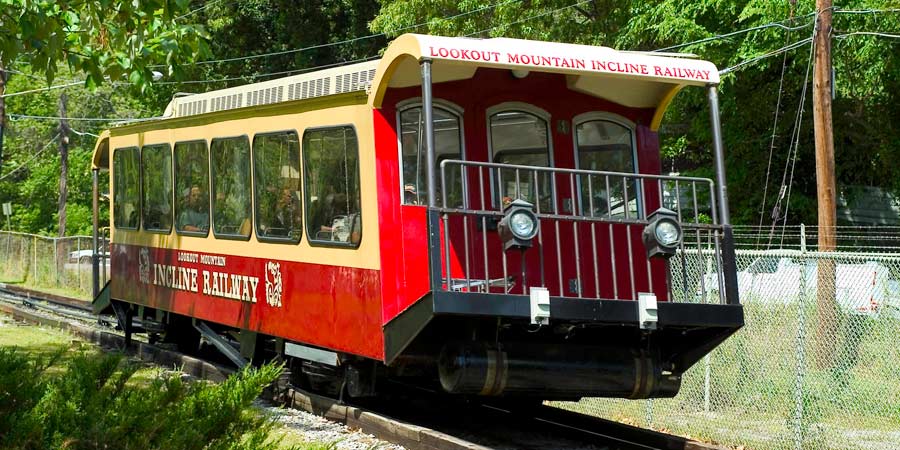 Lookout Mountain played an important part in the American Civil War, as it was where the Union forces suffered one of their greatest defeats. So, by the late 19th century, Lookout Mountain had become a popular attraction for tourists, but it took a long time to ascend - horse drawn buggies were the quickest option, and they took about four hours.
With the advent of railways, the idea of a mountain railway was proposed to reduce the time taken to reach the top. A direct route was planned and then built on; this ran for a mile from St Elmo to the summit. The Lookout Mountain Incline Railway was opened in November 1895, and has been a firm favourite with locals and tourists ever since. In 1911 the steam locomotives were replaced with diesel engines, but apart from that very little has changed on the line since its opening.
Due to the tremendous scenery it passes, the railway is sometimes referred to as "America's most amazing mile". The line is also loved by railway enthusiasts as in places it reaches an incline of 72.7% - making it one of the steepest passenger railways in the world.
Hotels
Courtyard Atlanta Airport South, Atlanta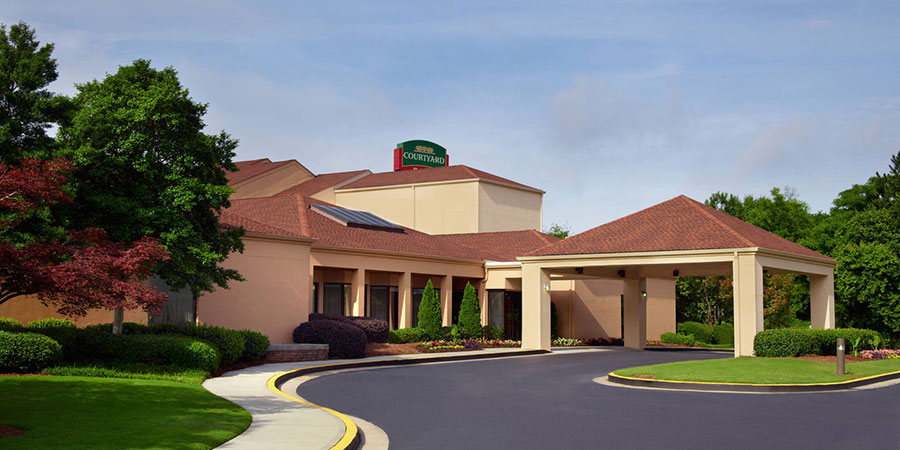 In Atlanta we stay at the 3-Star Courtyard by Marriot Atlanta Airport South, conveniently located just minutes from the airport. The hotel provides comfortable guest rooms and a great range of facilities, including a swimming pool, fitness centre, an à la carte restaurant serving American cuisine and a full bar.
DoubleTree by Hilton Hotel Chattanooga Downtown, Chattanooga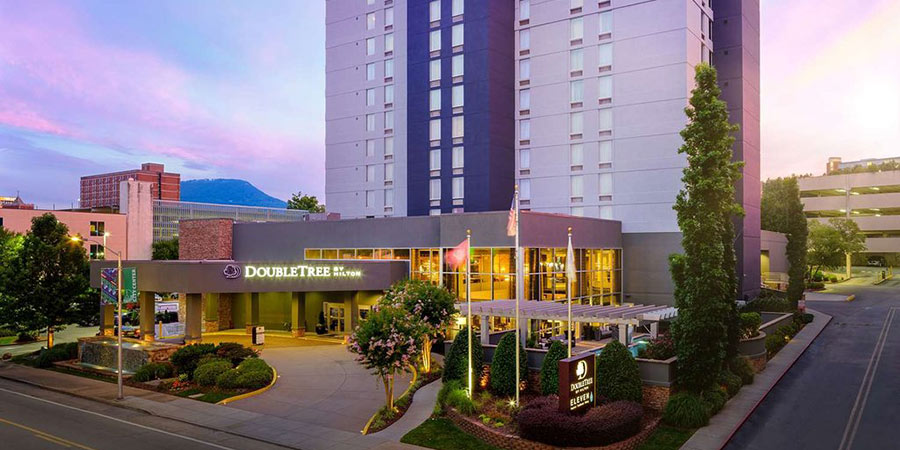 In Chattanooga, you will stay at the DoubleTree by Hilton Hotel Chattanooga Downtown.
Crowne Plaza Houston River Oaks, Houston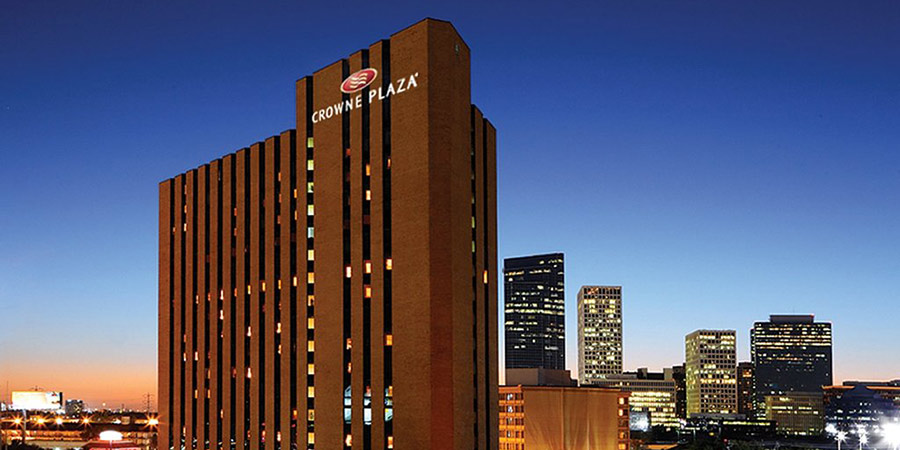 A short distance from the centre of the fourth largest American city, the 3-Star Crowne Plaza Houston River Oaks is our home in Houston, boasting comfortable, minimalist rooms with fantastic views across the city. Facilities here include an outdoor pool, a fitness room and a restaurant and bar. The rooms enjoy complimentary WiFi, a television and a fridge.
Sheraton Memphis Downtown Hotel, Memphis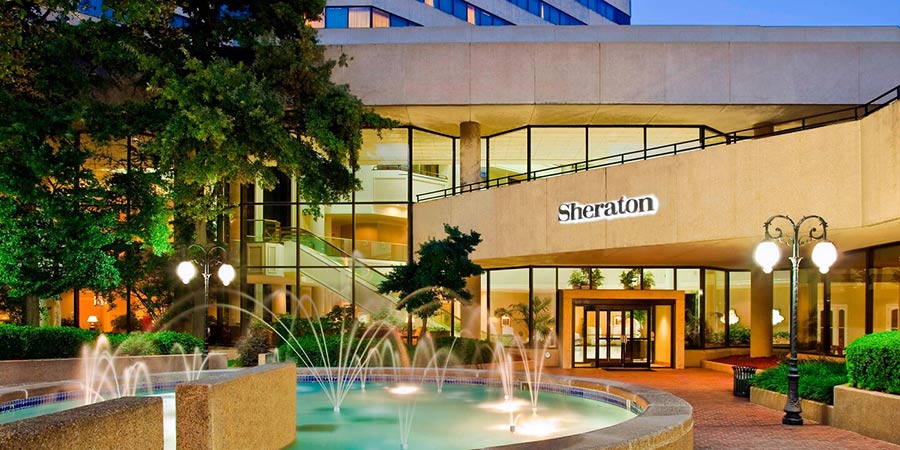 The 4-Star Sheraton Memphis Downtown Hotel in Memphis is set in an attractive tower at the heart of Memphis and minutes away from the impressive Memphis Bridge. The tower itself offers magnificent views across the city below and the nearby attractions, while amenities here include an indoor heated pool and a fitness centre. Each room has complimentary WiFi, a hairdryer and a television.
Clarion Downtown Nashville, Nashville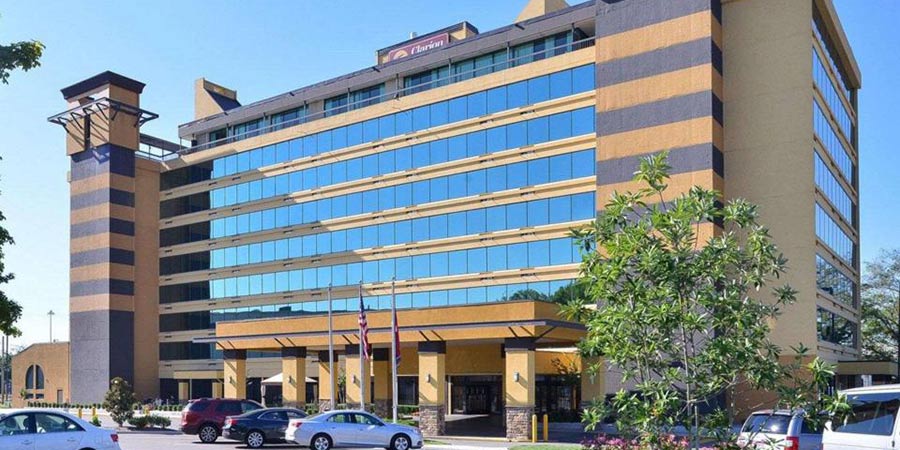 The 4-Star Clarion Hotel Nashville Downtown is our 4-Star hotel whilst in this area of Tennessee. With a wonderful location right near McFerrin Park in the centre of the city, this truly is a wonderful base to enjoy our time in. Here, you may enjoy a fitness centre, free breakfast, complimentary Wi-Fi, and a lounge and bar.
Sheraton New Orleans Hotel, New Orleans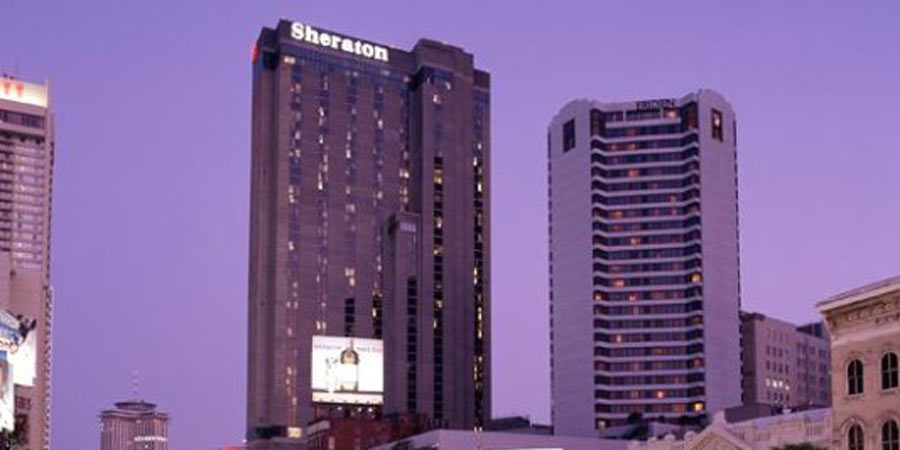 The Sheraton New Orleans Hotel is located on Canal Street, close to the French Quarter and Bourbon Street. The hotel has a bistro serving typical New Orleans cuisine, a bar offering a range of drinks and light snacks and a Starbucks. Leisure facilities include an outdoor swimming pool and a fitness centre with cardiovascular equipment, weights, steam rooms and saunas. (Please note: a fee applies for use of the fitness centre.) Rooms are air conditioned and feature a telephone, television, radio alarm clock, coffee maker, safe and a hairdryer. Many of the rooms offer views over the Mississippi or the French Quarter.

Upgrades

We offer a selection of upgrades and 'add-ons' designed to help you make the most of your holiday - and make it even easier!

This page was printed from

www.greatrail.com/us/tours/tracks-of-the-deep-south/#DSG20

on 25 September 2020.

Call

01904 521 936

to discuss your holiday

© Copyright 2020. Great Rail Journeys