01904 521 936
Open 7 Days a Week
Jungfrau Express and Moselle Cruise
Cruise one of Europe's quieter waterways and admire views from the 'Top of Europe' on the Jungfrau Railway
Admire views from the 'Top of Europe' on the Jungfrau Railway after sailing the meandering waters of the Moselle. Travel to the highest station on the continent and marvel at some of the most impressive mountain scenery in the world.
The itinerary for your journey
Tour highlights
Discover Trier - The whole of Trier is a UNESCO World Heritage site, and with so much to discover in its plazas and bustling streets, this comes as little surprise. Thought to be Germany's oldest city, Trier is rife with ancient Roman ruins occupying the same street corner as classic Baroque architecture and brightly coloured town-houses.
Wines of the Moselle - Can only be made from grapes grown alongside the Moselle River, with the most common variety, Reisling, a popular choice. Ranging from very sweet to dry, and with a distinctive yellow tinge, enjoy sampling this delicious local specialty at different destinations along the Moselle.
Explore Rüdesheim on an evening tour - As the sun sets and visitors start to disperse, wander the historic streets of Rüdesheim and see this fairytale town in a different light. For the perfect finish, relax and enjoy a delicious cup of traditional Rüdesheimer Kaffee. Invented by a German television chef in 1957, it's served with local brandy and sugar in a specially-designed cup.
Time to explore the town of Interlaken
Journey on the Jungfrau Express
Day 1 - London and Trier
We meet at London St Pancras ahead of our Eurostar journey to Paris. From here, we continue by rail to Trier. Transferring to the waterfront, we board our ship and are welcomed with a cocktail ahead of dinner. Later tonight, our ship casts off and begins sailing to Remich.
Day 2 - Luxembourg and Grevenmacher
From Remich, we board a coach to the Grand Duchy of Luxembourg, one of the smallest countries in the world. In the capital, Luxembourg City, we enjoy a guided walking tour that introduces us to the local history and attractions. We see Constitution Square, a beautifully maintained public space dedicated to fallen soldiers of WWII, the Grand Duke's Palace, the residency of Luxembourg's Grand Duke to this day, and the Kirchberg Plateau. Located in the city's business district, this elevated area overlooks this historic centre and the scenic Pfaffenthal Valley. Our final stop is the train station, surrounded by an impressive array of stunning Art Deco and Art Nouveau buildings. Returning to the ship for lunch, we cruise to Grevenmacher, on the German-Luxembourg border, where you have free time to look around. You could take a relaxed stroll through this quaint riverside town or head to one of the local Moselle wine makers.
Day 3 - Trier and Bernkastel-Kues
We moor in Piesport and board a coach that returns us to Trier for a tour of Germany's oldest city. Dating back to the Roman period, there's plenty to see as we explore with our local guide. The immense Porta Nigra guards the entrance to the northern part of the city and was built by the Romans around 200 AD. It's now a designated UNESCO World Heritage site, along with St Peter's Cathedral and the Church of Our Lady, which we also see. We continue sailing to Bernkastel-Kues as we enjoy lunch on board, arriving mid-afternoon. We get to know Bernkastel-Kues on a guided tour that includes insights into some of the town's more unique aspects. Sat in the heart of the Moselle Valley, Moselle wines are a particular speciality here and we enjoy a stroll through a nearby vineyard and a special tasting of different vintages, including the world-famous Bernkasteler 'doctor wine'. With a town motto that translates as 'wine and health', we also learn about the supposed restorative properties of this popular drink.
Day 4 - Zell and Cochem
Arriving into riverside Zell, you have free time after breakfast to explore. Centred around its wineries, you can do some shopping in the quaint Old Town or make a visit to the 16th-century castle or black cat fountain in the town's market place. You'll see black cats everywhere you look in Zell, as they're the official town mascot. In the afternoon, we continue to Cochem, nestled in the Moselle Valley and surrounded by lush vineyards. The town, in particular its old quarter, is dominated by a Gothic castle, the Reichsburg, which we tour with our local guide. With a fantastic viewpoint from the castle's turrets, take a moment to admire the topography of the Moselle Valley with its dreamy forests, wild meadows and sprawling vineyards. There's also a preserved mustard mill that was built around 1810 and is the only surviving example of its kind in Europe, while the old quarter of Cochem is where you'll find well-preserved sections of the ancient town walls; there's even a fascinating arts centre housed in Cochem's former monastery.
Day 5 - Koblenz and Rüdesheim
Sat at the meeting point of the Rhine and Moselle rivers, Koblenz takes its name from its position at their 'confluence'. The modern town has ancient roots that go all the way back to the Romans, who established a strategic settlement and military stronghold here in 8 BC. We uncover the area's history on a walking tour, wandering the charming streets between the St Castor Basilica and the Liebfrauenkirche (the Church of our Beloved Lady). Next, we take a cable car ride over the Rhine to Ehrenbreitstein Fortress for unforgettable views over the Rhine Valley. After sailing through the Rhine Gorge, our evening is spent in Rüdesheim, where the unique Winzerexpress train takes us from our mooring point to the centre of town. This is the starting point of our walking tour and from here we make our way along the world-renowned Drösselgasse - a street lined with traditional pubs and wine cellars - to the market square, surrounded by noble courtyards and half-timbered buildings from the 16th century. We end with a warming cup of Rüdesheimer coffee, a local specialty featuring the town's own-brand brandy, 'Asbach'.
Day 6 - Speyer and Strasbourg
We enjoy a walking tour of lovely Speyer today, home to a beautiful Old Town. Among the highlights we take in include the city's cathedral, a UNESCO World Heritage site. A basilica with four towers and two domes, it was founded by Conrad II in 1030, then remodelled at the end of the 11th century, and is still one of the most important Romanesque monuments from the time of the Holy Roman Empire. It's also been the burial place of German emperors for the last 300 years and its network of arcades, added in the 1200s, was a first in architectural history.
Day 7 - Strasbourg and Interlaken
After disembarking our ship in Strasbourg, we travel by rail to Interlaken, checking into our hotel. After dinner, you could take a stroll into town. Interlaken is set between lakes Thun and Brienz, and the surrounding mountains stand guard over the calm waters below. Interlaken itself is a historic town with highlights including a medieval monastery and castle, and an ancient town hall square, Stadthausplatz.
Day 8 - The Jungfrau Express
We begin today's journey travelling along the Bernese Oberland Railway. Trundling through the foothills of the Alps from Interlaken to Lauterbrunnen, we pass flower-filled pastures and pretty villages before joining the Wengernalp Railway and continuing our ascent through ever-changing scenery to Kleine Scheidegg. Here, we board the famous Jungfrau Express. Climbing from Kleine Scheidegg, our train travels through tunnels carved from mountains to arrive at Jungfraujoch, the 'Top of Europe', sat 11,332 feet above sea level.
We're greeted by views across the eternally snowy Aletsch Glacier, one of the largest in Europe and a UNESCO World Heritage site. On the other side is the Top of Europe building, where there are several restaurants and an exhibition on the history of the mountain and its railway. Further up the mountain is the Sphinx Observatory, an astronomical centre with a platform which peers over the Jungfrau, Mönch and Eiger mountains. During your time here, you could also visit the Ice Palace, home to some unique ice sculptures.
Day 9 - Interlaken and London
We depart Interlaken today, travelling to Basel by rail. We continue our journey to London St Pancras via Paris.
Departure Dates
15 August 2022
From

£2,795
All prices are per person and assume full occupancy of the room.
Please always refer to the website for up-to-date prices and availability.
Trains
Eurostar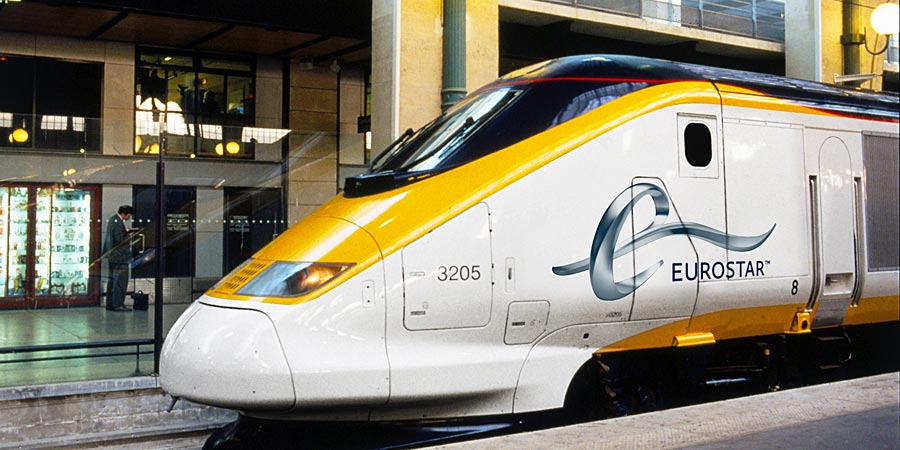 The high speed Eurostar trains link St Pancras International in London with Paris and Lille in France as well as Brussels in Belgium.
Eurostar's Standard Class coaches feature two seats on either side of the central aisle, most of which is arranged in an 'airline' seating configuration with drop down tray tables. There are two tables for four per carriage. Passengers travelling in Eurostar Standard Class coaches can take advantage of the Bar-Buffet which sells a range of snacks, meals, hot and cold drinks - including Champagne!
The highest class of Eurostar travel available for leisure customers is Standard Premier Class. In your dedicated Standard Premier carriage you'll find a less dense seat configuration, meaning the seats are larger and you have ample space to relax and stretch out. As part of the service you'll enjoy complimentary drinks and refreshments, served at your seat by friendly, helpful waiting staff.
For the class of travel used on your chosen tour, please refer to the 'What's Included' section of the tour page.
Jungfrau Railway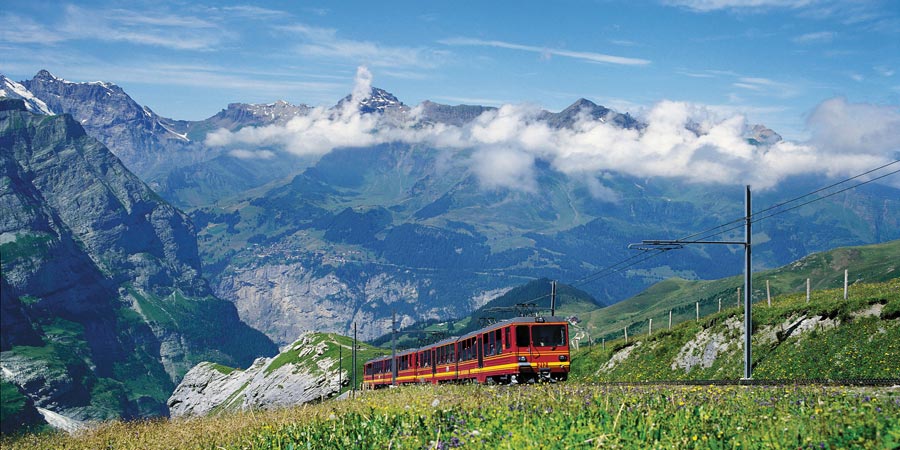 The wonderful train journey up to Jungfraujoch is the highlight of a number of our holidays and includes travel on the Bernese Oberland Railway, the Wengernalpbahn and the Jungfrau Railway. Providing visibility is good, passengers not only enjoy spectacular views from Jungfraujoch, but also throughout the journey itself. The sections that follow describe each stage of this journey in turn.
For customers starting in Meiringen, our journey begins as we travel along the valley to picturesque Lake Brienz, before closely following the lake's northern shore through the village of Brienz to Interlaken.
TGV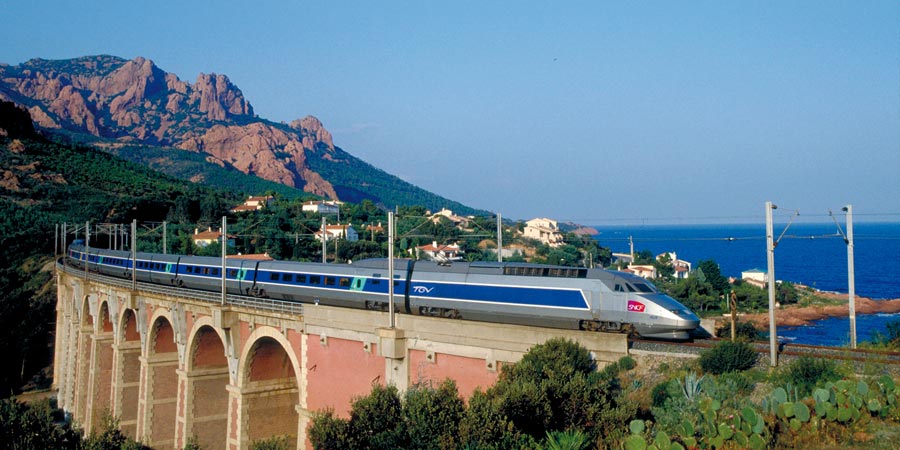 Introduced in 1981, France's TGV (Train à Grande Vitesse) was the original European high-speed train. Linking Paris with Lyon, the new service revolutionised train travel and meant that travelling by air over medium and short distances was no longer seen as the best option, even for business travel.
The network has expanded rapidly and today these sleek, stylish trains offer links to over 60 destinations throughout France. Operated by SNCF, the French national rail operator, TGV trains travel over specially-constructed high speed lines. The trains can achieve speeds of up to 186mph (300km/h) on most long distance routes and 200mph (320km/h) on the new TGV Est line, which links Paris with Strasbourg, Luxembourg and Basel. With the exception of shorter journeys, TGVs almost always have an on-board buffet car, serving a selection of drinks and light refreshments.
Hotels
Hotel Metropole Interlaken, Interlaken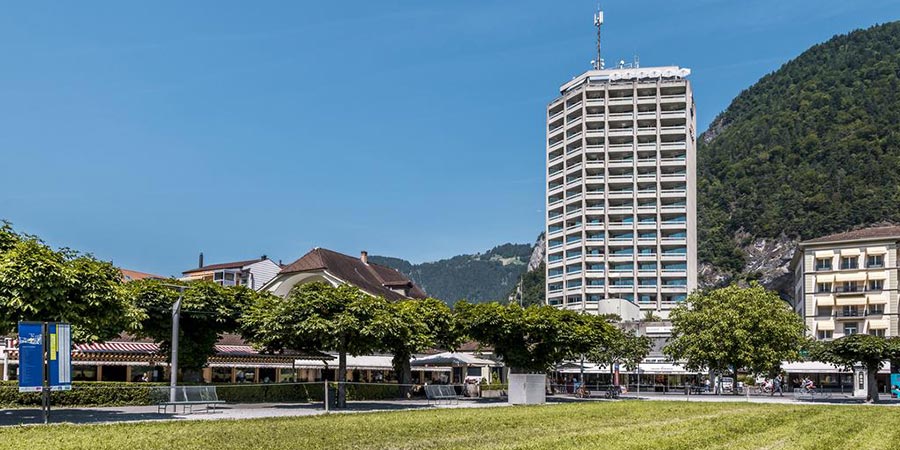 The 4-Star Hotel Metropole Interlaken is ideally located in the centre of Interlaken and offers spacious public areas with free Wi-Fi and, from the higher floors, magnificent views of the Jungfrau mountain. The hotel has two restaurants, the Bellini on the 4th floor, a traditional Swiss speciality restaurant, and the Top O'Met on the top floor, the highest restaurant in the area, boasting unrivalled scenery. You can enjoy a cup of coffee and slice of cake during the day whilst soaking in the surrounding landscapes. Leisure facilities at the hotel include a sauna, a café and a small shop. Rooms are attractively furnished and feature a telephone, flat-screen television, minibar and safe. All offer wonderful views of Interlaken and the surrounding mountains.
Ships
MS Amadeus Brilliant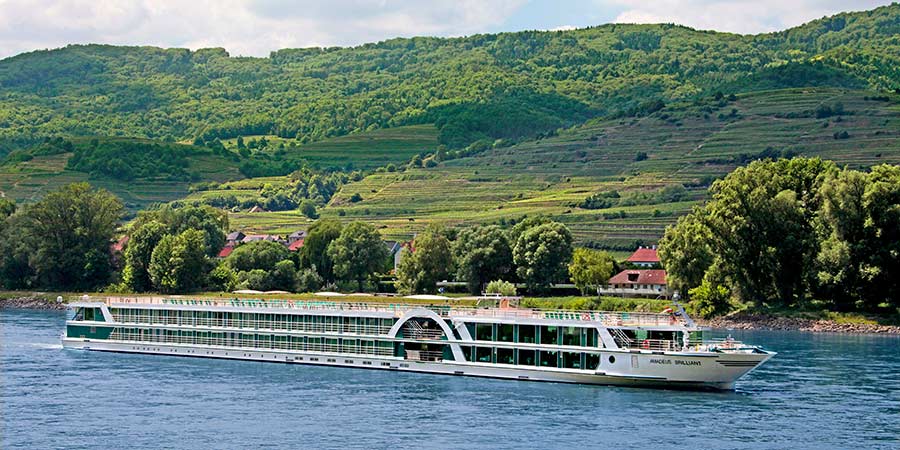 The spectacular 5-star MS Amadeus Brilliant boasts impressive on-board facilities, including a fitness room, a hairdresser and spa facilities. There's also a panoramic lounge and bar where you can admire the passing scenery. Cabins are beautifully appointed with a plush en suite bathroom, a telephone, flat-screen television and a safe. Cabins on the Strauss and Mozart decks also have a French balcony.
Upgrades
We offer a selection of upgrades and 'add-ons' designed to help you make the most of your holiday - and make it even easier!
London Hotels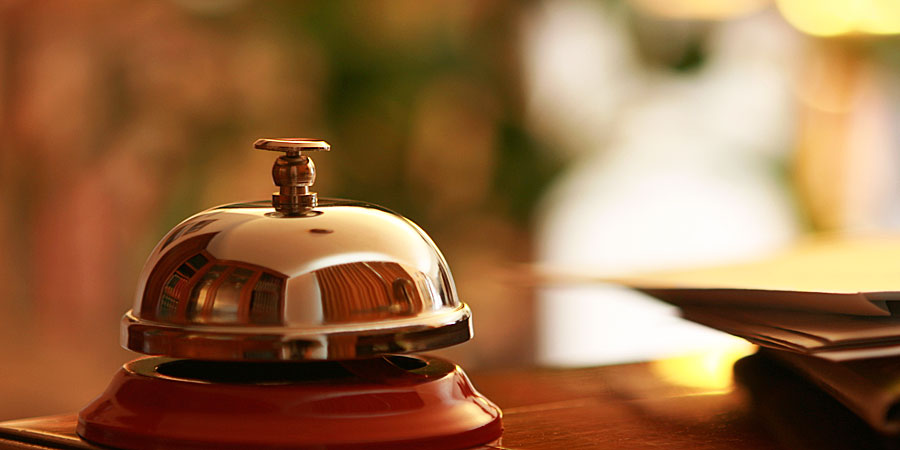 Spending a night in London before your tour can make such a difference to the first day of your holiday - you can arrive in the capital in good time, relaxed and ready to join your Tour Manager the next morning. You may even want to take in a show on the West End, or dine in one of London's famous restaurants. Perhaps on your return to London, you would like to break your journey with an overnight stay before continuing home.

We are able to book a wide range of hotels in central London or, for our holidays beginning with a flight, at Heathrow, Gatwick or Manchester Airport for the night before or after your holiday. The hotels listed below are some of the more popular hotels our customers book in Central London, others are available on request.
| | |
| --- | --- |
| Hotel | Room Rate From Price |
| The Ambassador Hotel | From £65 per person |
Above prices are approximate, subject to availability, and per room per night based on two people sharing. If you require a quote for single occupancy at any of the hotels please contact us on 01904 734 805.
UK rail connections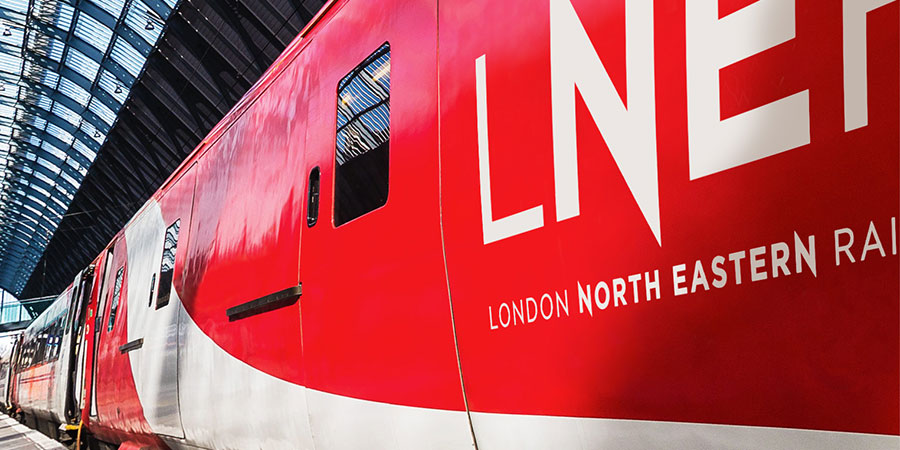 Buying tickets for UK train services can be a tricky business - there are so many fares to choose from, each with different rules and restrictions. As you are connecting with an international departure, we strongly recommend that you book a fully flexible ticket to ensure that should the departure times for your holiday change, your rail ticket can allow for these changes.

We can book fully-flexible UK rail tickets from your local station to join your holiday whether this be a European holiday from St Pancras or a UK holiday. The prices are competitive and tickets are not restricted to a particular train or time of day, and in most cases offer you a free choice of routes.

For an up to date quote from your local station, please ask one of our Tour Advisors.

This page was printed from

www.greatrail.com/tours/jungfrau-express-and-moselle-cruise/#MMR22

on 10 May 2021.

Call

01904 521 936

to discuss your holiday

© Copyright 2021. Great Rail Journeys