01904 521 936
Open 7 Days a Week
Ultimate Australia and the Ghan
The Ghan and Australia's highlights by rail
This fantastic rail adventure takes in many of Australia's natural wonders, including the Great Barrier Reef, Uluru and the Blue Mountains. A wonderful train journey on the legendary Ghan from Alice Springs to Adelaide is a real highlight, and time in Melbourne and Sydney completes this holiday of a lifetime.
The itinerary for your journey
Tour highlights
Enjoy a day spent discovering the Great Barrier Reef from the Frankland Islands
Experience the World Heritage Rainforest of Cairns from aboard the Kuranda Scenic Railway and explore the Blue Mountains travelling on Katoomba Scenic Railway
Uncover Uluru at sunset whilst savouring some sparkling wine
Journey overnight in Gold Service, aboard The Ghan train as you travel through Australia's outback
Visit the vineyards of the Barossa Valley, accompanied by delicious wine tastings
Take a tour of Sydney, including a visit to Bondi Beach for a special fish and chip lunch Australian style
What's included
Transportation

All rail and coach travel throughout your tour
1 night on board The Ghan travelling in Gold Service with all meals and drinks, including beers, wines, and spirits

Accommodation

4-5* Accommodation
19 Nights' Hotel Accommodation

Excursions & Entertainment

UK Tour Manager from start to finish

Food & Drinks

19 breakfasts
6 lunches
3 dinners

Flights and airport transfers

Flights from London Heathrow to Cairns via Singapore and Sydney to London Heathrow via Singapore
Internal flight from Cairns to Uluru

What's not included

Cancellation & Travel Insurance is not included in the price of the tour but can be arranged
Days 1-3 - London and Cairns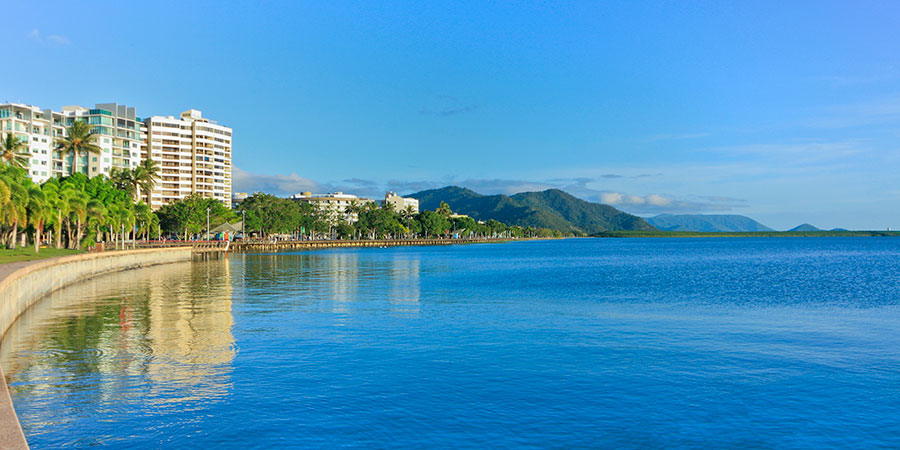 We depart London Heathrow on our overnight flight to Singapore, before continuing to Cairns. We arrive late on Day 2, enjoying a leisurely day on Day 3.
Days 4-6 - Kuranda Scenic Railway and the Great Barrier Reef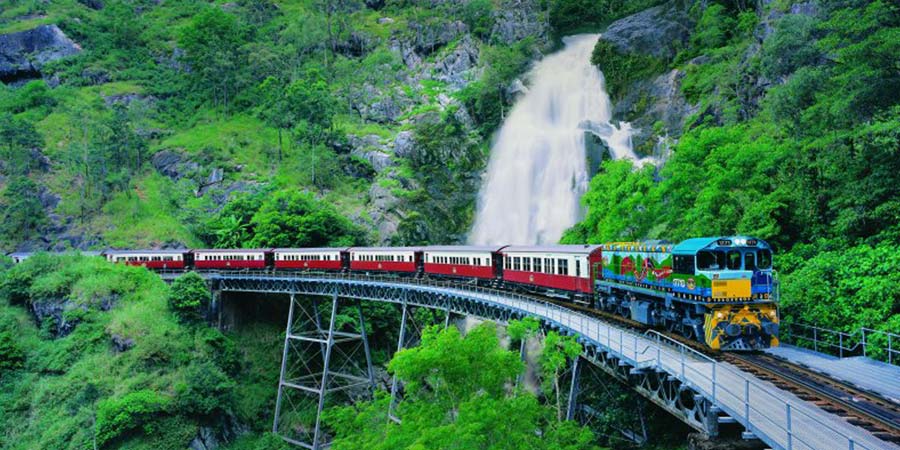 We take the coach to the Rainforestation this morning and on arrival, take a trip on a World War II amphibious military transport unit, or 'Army Duck'. Afterwards, we embark on a guided Dreamtime Walk, learning how Aborigines understand the world and its creation, before experiencing a 'pamagirri' dance performance that depicts aspects of indigenous culture including animals, food gathering, and hunting. After enjoying a BBQ lunch, we travel by shuttle to Kuranda village where we explore the local market before transferring to the station. Here, a journey along the 125-year old Kuranda Scenic Railway awaits us and we travel through the rainforest and across the stunning Barron River Gorge.
A real highlight of our holiday is Day 5's explorations of the Great Barrier Reef, the world's largest coral reef system and home to thousands of species of marine life. We begin with a cruise along the Mulgrave River, making our way to the Frankland Islands, a secluded archipelago whose waters are filled with unique wildlife and coral reefs. During a guided snorkelling session, we may see tropical fish, giant clams, sea turtles, and even octopuses. If you prefer to stay dry however, you can get a glimpse into this underwater world from on board a semi-submersible or glass-bottomed boat. We break for a tropical buffet lunch, before joining a marine biologist for a guided island walk. Day 6 is at leisure to explore the Great Barrier Reef.
Days 7-8 - Uluru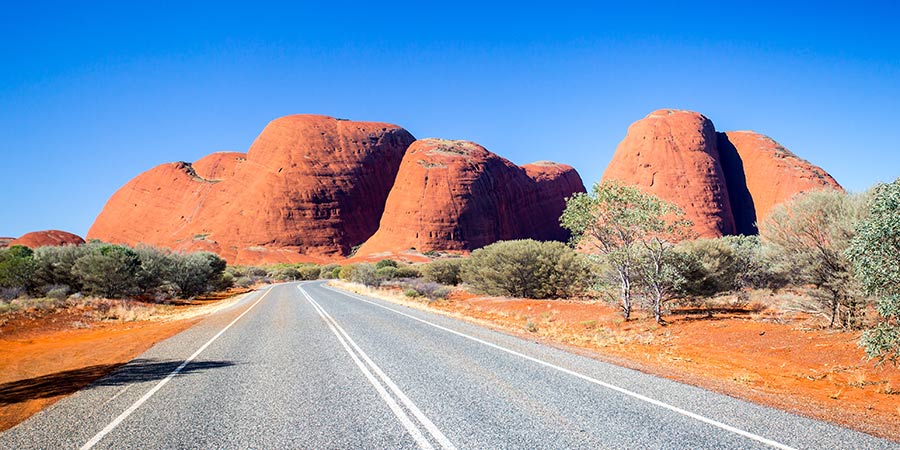 We leave Cairns today and fly to Uluru, the world's largest monolith which rises more than 1,142 feet out of the flat desert floor. We begin at the Aboriginal Cultural Centre with a guided tour around this sacred site, which holds great spiritual significance to the local Anangu people.
As the sun sets, we watch this giant rock change colour and enjoy a magical dinner under the stars. The incredible 'Sounds of Silence' experience includes canapés and sparkling wine as the sun sets over Uluru, followed by a 3-course dinner with a bush-inspired menu. After dinner, a 'star talker' will decode the southern night sky, pointing out signs of the zodiac and the planets and galaxies visible due to the clarity of the atmosphere. On the morning of Day 8, we enjoy a sunrise visit to Uluru ahead of breakfast at the Ininti Café. We continue with an olgas tour, visiting the circular group of 36 red rocky domes, or 'olgas', which cover a large area around Uluru. We end the day back at Uluru to watch the sunset, accompanied by a glass of sparkling wine.
Days 9-10 - Alice Springs & The Ghan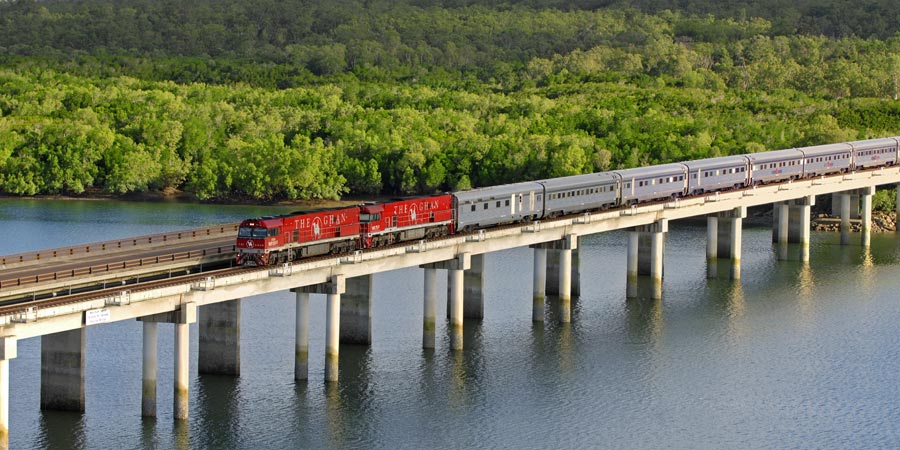 Today we travel by coach to Alice Springs, visiting the Royal Flying Doctor service on arrival. On Day 10 we stop off at the Old Telegraph Station and Anzac Hill - a local lookout area - before boarding the iconic Ghan for our epic rail journey to Adelaide. We travel in Gold Service, with all of our meals included during the journey. These are freshly prepared by the on-board chefs, and menus feature a selection of both Australian and international cuisines. Gold Service passengers also have access to the on-board Gold Lounge. All drinks, including beers, wines, and spirits, are included during your time on The Ghan.
Days 11-14 - Adelaide, Barossa Valley and The Overland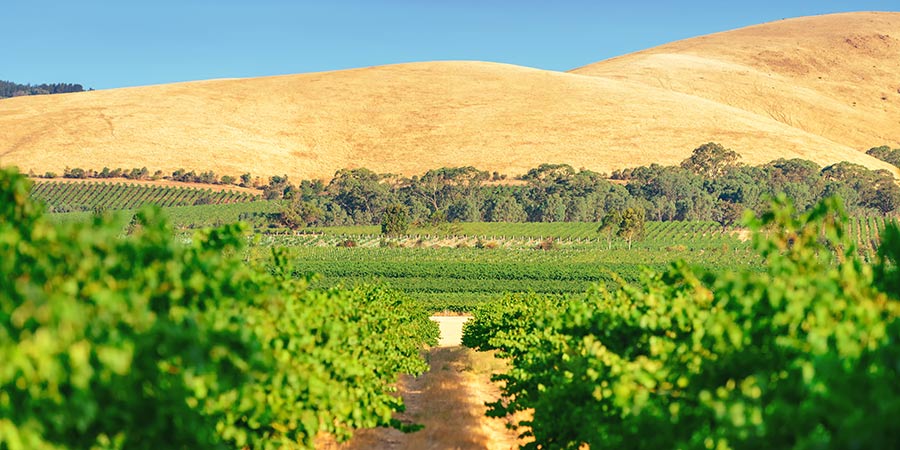 Once in Adelaide we enjoy a city tour, seeing the Government House and Parliament Building. On Day 12 we explore the vineyards of the Barossa Valley, enjoying plenty of wine tastings and pairings at well-known wineries, including Jacob's Creek. This is followed by a visit to Hahndorf in the Mount Lofty Ranges, the oldest surviving German settlement in Australia. Day 13 is at leisure. We take The Overland train to Melbourne, Australia's 'Garden State', on Day 14.
Days 15-17 - Melbourne and Phillip Island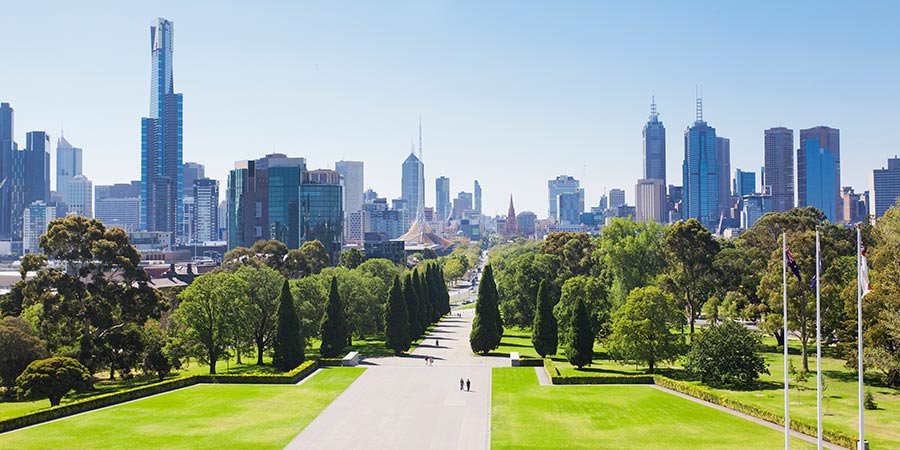 Our city tour today includes the Melbourne Cricket Ground and Parliament House. In the afternoon we immerse ourselves in Melbourne's famous café culture, enjoying a cup of coffee at one of the city's popular coffee houses before joining the Puffing Billy steam train for a journey through the rainforest and fern gullies of the Dandenong Ranges. On Day 16 we travel along one of the world's most scenic roads, the Great Ocean Road, to see the Twelve Apostles, Bells Beach, and the Otway Rainforest. Day 17 is free until mid-afternoon, when we head by coach to Phillip Island, named after Governor Arthur Phillip, which forms a natural breakwater for the shallow waters of Western Port Bay. Here we visit the Koala Conservation Centre and encounter wild fairy penguins at sunset, as they emerge from the sea and waddle across the sand to their burrows.
Days 18-20 - Sydney and the Katoomba Scenic Railway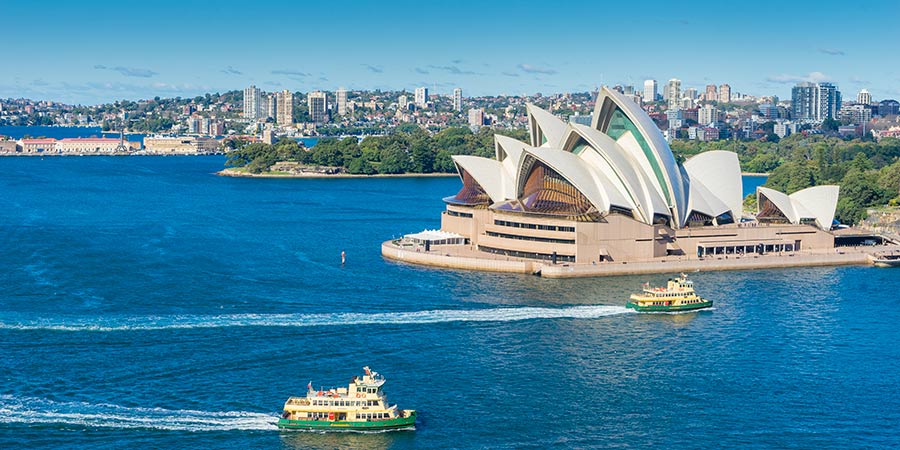 We make our way by rail to Sydney today. On Day 19 we enjoy a cruise around Sydney Harbour, seeing some of the city's most famous sights, such as the instantly recognisable Opera House and the Harbour Bridge, from our boat. On Day 20 we journey into the Blue Mountains, enjoying a ride on the world's steepest incline railway, the Katoomba Scenic Railway. We also visit the unique Three Sisters Rock Formation at Echo Point.
Days 21-23 - Bondi Beach and London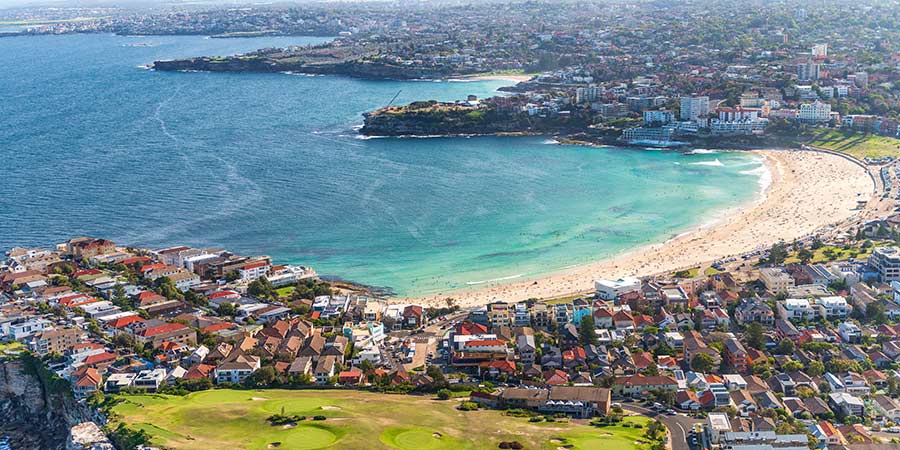 We visit an Australian institution today, Bondi Beach, home to sun-kissed surfers and a laid-back vibe. We sit down to lunch at the Bondi Icebergs Club to experience fish and chips Australian style. We catch an afternoon flight via Singapore to London Heathrow on Day 22, arriving early on Day 23.
Departure Dates
26 October 2021
From

£6,995

9 November 2021
From

£6,995
All prices are per person and assume full occupancy of the room.
Please always refer to the website for up-to-date prices and availability.
Trains
Katoomba Scenic Railway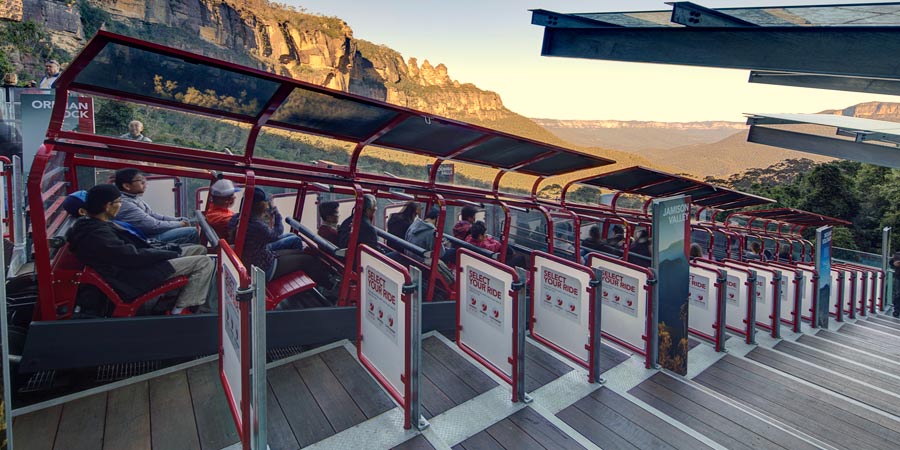 Once a 19th century novelty that pre-dated rollercoasters, the Katoomba Scenic Railway is the world's steepest incline track. The railway gradually lowers through the ancient rainforest surroundings.
Kuranda Scenic Railway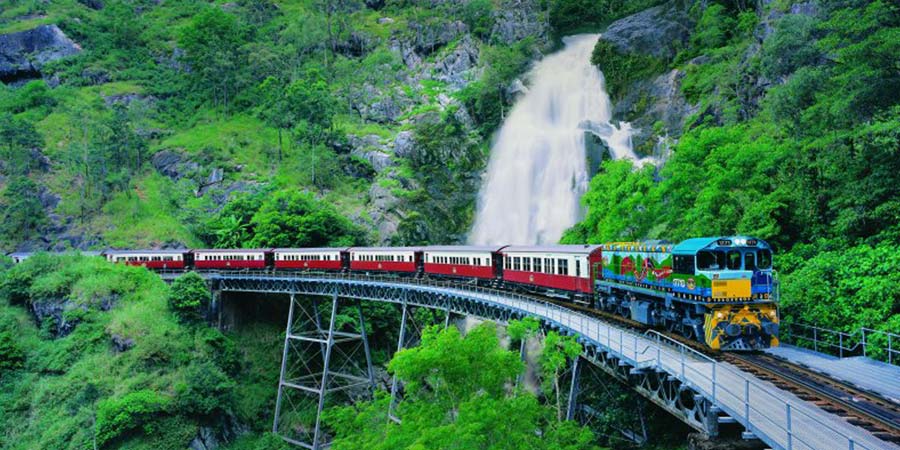 The unique Kuranda Scenic Railway has journeyed through tropical North Queensland for over 125 years, and provides its passengers with breathtaking views over one of the most stunning areas of Australia. The 23 mile (37 kilometre) long track winds through the lush green World Heritage Rainforest, past cascading waterfalls and a variety of different birds, fauna and reptiles, before it terminates at the small mountain village of Kuranda.
NSW Trainlink XPT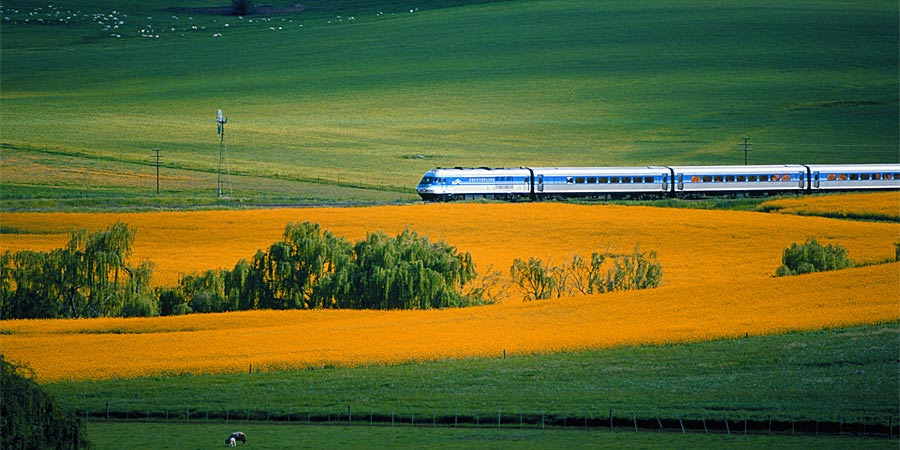 The frequent NSW TrainLink XPT service operates in and between several Australian cities, including Brisbane, Sydney, Melbourne and Casino.
Similar in design to the UK's InterCity 125, the XPT follows the route of the Hume Highway through the state of Victoria, passing through Benalla and the cathedral city of Wangaratta before entering the state of New South Wales and the Riverina region. The broad, flat plains of the Riverina comprise some of the most agriculturally productive land in Australia due to the favourable climate and a plentiful water supply.
The XPT service continues through the cities of Albury and Wagga Wagga and then heads west to Cootamundra and the Southern Tablelands. Leaving Goulburn, the train enters the Southern Highlands of New South Wales, a mountainous wine-producing region that sits on the Great Dividing Range. Finally, after passing through the suburbs of Campbelltown and Strathfield in the Australian capital, the service pulls into Sydney's Central Railway Station.
We reserve First Class carriages for daytime journeys on the NSW TrainLink XPT. First Class accommodation features extra legroom, a deluxe reclining seat, and a footrest. Most seats rotate to form a 'conversation group' of four. A buffet car selling a selection of hot and cold meals, snacks, alcoholic and non-alcoholic drinks are available on board the train.
Puffing Billy steam train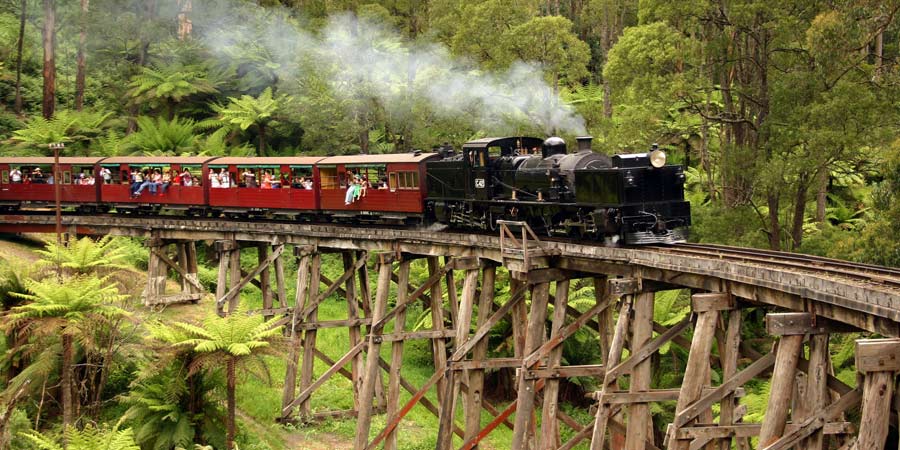 With its reputation as Australia's favourite steam train the century-old Puffing Billy is a treasure for rail enthusiasts. A low-cost narrow gauge line constructed in Victoria during the early 1900s, the classic steam engine opened up rural areas and has been championed by the Puffing Billy Preservation Society since the sixties. We journey on Billy from Belgrave through the Dandenong Ranges, crossing rustic timber bridges and passing scenic Emerald Lake Park and Wright State Forest.
The Ghan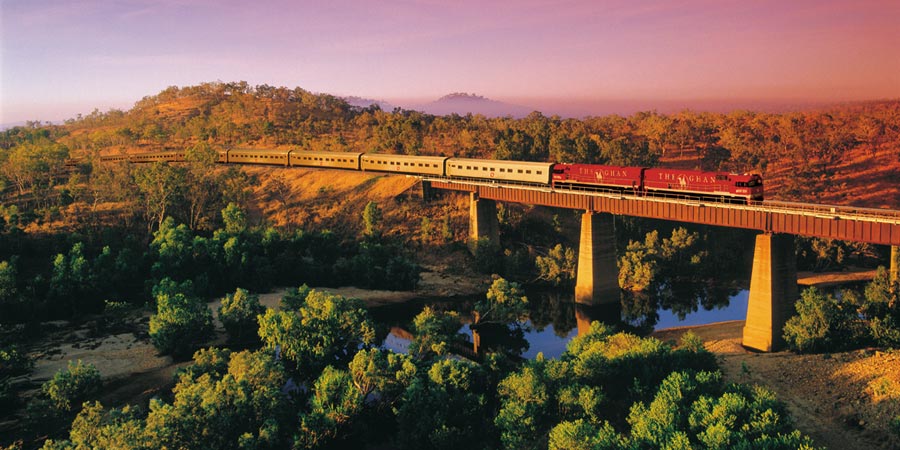 Australia's Afghan Express, now affectionately referred to as The Ghan, offers Great Rail Journeys' guests an epic travel experience through this remarkable country.
Named in tribute to the Afghan camel drivers who helped to make Australia's arid and uncharted Red Centre accessible at the end of the nineteenth century, The Ghan's maiden journey in August 1929 travelled the 1,559 kilometres from Adelaide, South Australia to Alice Springs.
Since that first journey it was always intended that The Ghan's journey would continue from Alice Springs to Darwin on the coast of Australia's Northern Territory, and this became a reality in 2004 following the opening of a 1,420-kilometre rail link between the two cities.
Today, the entire 2,979-kilometre trip from Adelaide to Darwin, or vice-versa, can be made in three days. Travelling in luxurious comfort aboard a train fully-equipped with modern amenities, our guests aboard The Ghan enjoy a journey that takes in some of Australia's most diverse and spectacular scenery.
The Overland Train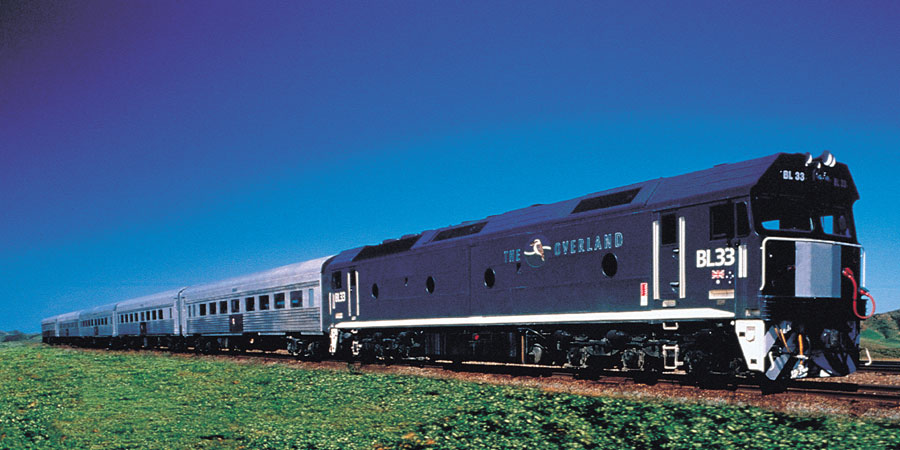 The recently refurbished Overland serves the route between Adelaide and Melbourne. During this daylight journey we travel in Red Premium Service, which offers passengers comfortable reclining seats and complimentary orange juice or water on boarding the train. Red Premium Service passengers have access to the licensed Red Service Café Carriage which serves a selection of snacks, meals and drinks. There is also an at-seat trolley service with snacks and drinks available for purchase, as well as a limited selection of a la carte dishes.
Hotels
Majestic Roof Garden Hotel, Adelaide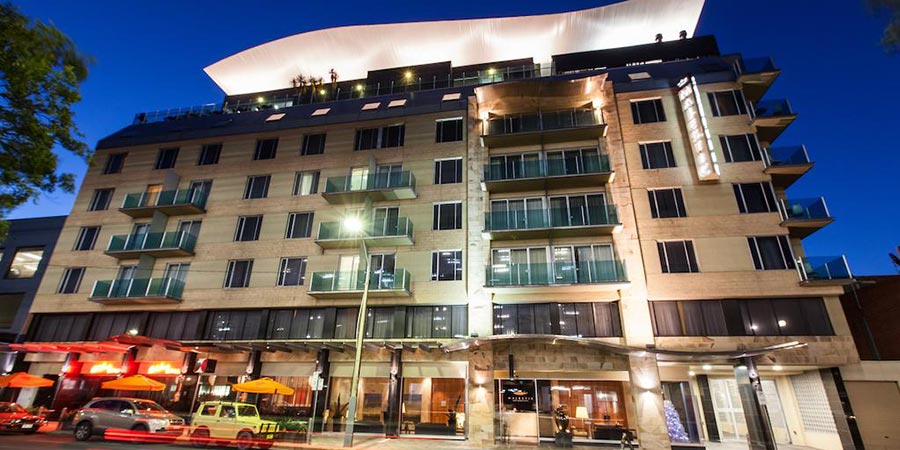 The 4-Star Majestic Roof Garden Hotel is located in the centre of Adelaide, providing easy access to many of the city's main attractions. The hotel boasts a lobby restaurant and bar overlooking the streets of Adelaide, which is open daily for breakfast and dinner. Leisure facilities include a fitness centre offering views over the whole city. All hotel rooms come equipped with mini bar, air conditioning, complimentary Wi-Fi internet access, safe, television, iron and ironing board, and tea and coffee making facilities.
Crowne Plaza Lasseters Hotel, Alice Springs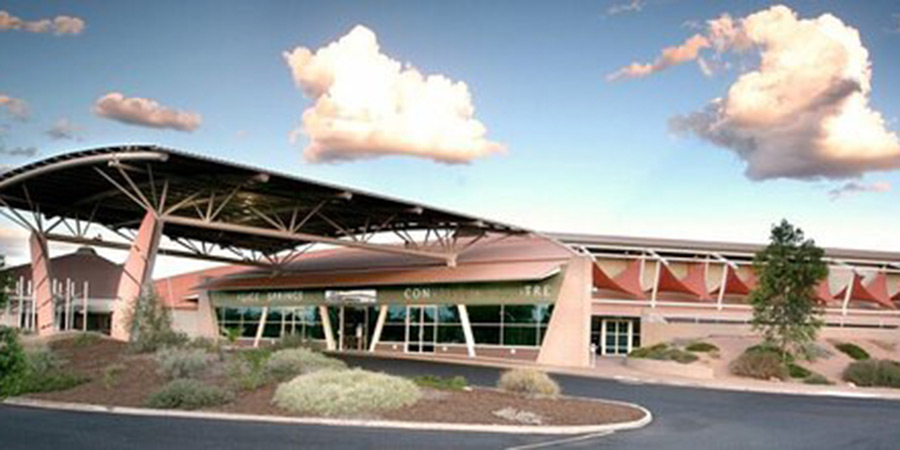 The 4-Star Crowne Plaza Lasseters is elegant, stylish and modern, offering comfortable accommodation in one of Australia's favourite towns. There is a superb range of facilities at your disposal, including a fitness suite, an outdoor pool, a spa, various restaurants and bars, and complimentary WiFi. Guest rooms include a television, a hairdryer and a safe.
Desert Gardens Hotel, Ayers Rock Resort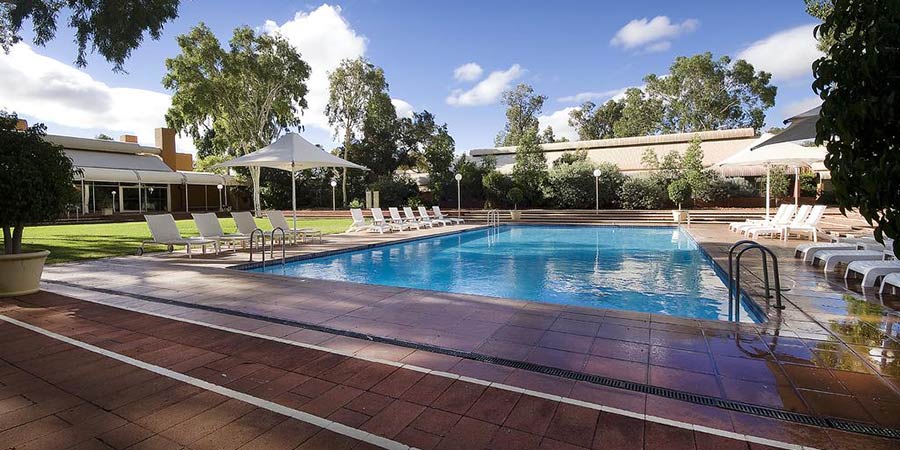 The 4-Star Desert Gardens Hotel enjoys a central location in Ayers Rock Resort, close to all the resort's facilities as well as the lookouts, where you can enjoy watching the sunset on Uluru and the surrounding desert. The hotel is set amidst gardens of ghost gums and native flowering shrubs and features a restaurant serving Australian cuisine, a bar and an outdoor pool. All rooms are air conditioned and equipped with a telephone, television, radio, mini-bar, refrigerator, tea and coffee making facilities and a hairdryer. All rooms have either a private veranda or courtyard.
Novotel Cairns Oasis Resort, Cairns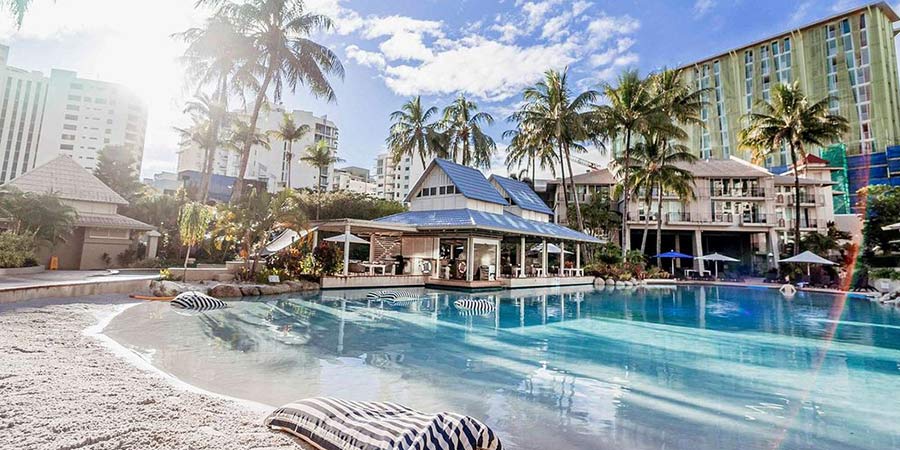 The 4-Star Novotel Cairns Oasis Resort is located close to Cairns' town centre. The hotel offers a restaurant and bar with both indoor and outdoor terrace seating, in addition to the Aqua pool bar. Hotel facilities include a large swimming pool, sandy beach, gymnasium and a lobby shop. The bright and spacious resort style rooms all have individual balconies or private terraces, air conditioning, minibar, television, safe, iron and ironing board and tea & coffee making facilities.
Crown Promenade, Melbourne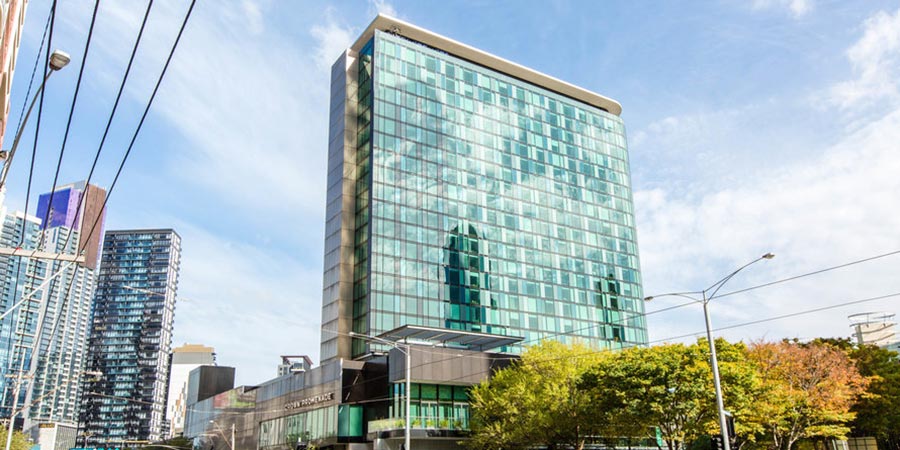 The 4-star Crown Promenade is situated in the heart of Melbourne's lively Southbank district. A range of restaurants, bars and cafés serve food and drinks in the attached Entertainment Complex, and the hotel also has its own restaurant and bar on site. 24-hour room service is available. Rooms at the Crown Promenade assure air conditioning with independent temperate control, a large flat-panel digital television, mini-bar, tea and coffee making facilities, hair dryer, safe and high-speed wireless internet access. Relaxing is easy at the hotel's Deck leisure centre, which features a 25 metre indoor pool, a sauna, steam and massage rooms, a gym and an activities studio.
Amora Hotel Jamison, Sydney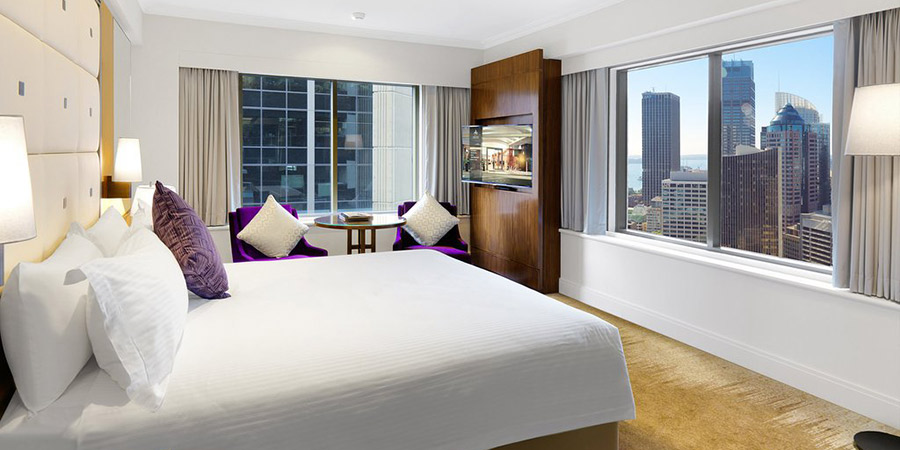 The 5-Star Amora Hotel Jamison is located in the centre of the city near just a short walk away from the Sydney Opera House, Harbour Bridge and many more of Sydney's great attractions. The hotel boasts two restaurants and two bars for you to choose from, offering a wide range of food for you to enjoy. Leisure facilities at the Amora Hotel Jamison include a heated swimming pool, fully equipped gym, sauna, steam room and the Amora spa (payable locally). The contemporary hotel rooms come equipped with air conditioning, mini bar, hairdryer, safe, toaster, telephone, iron and ironing board and television.
Upgrades
We offer a selection of upgrades and 'add-ons' designed to help you make the most of your holiday - and make it even easier!
Combine your tour with the Grand Tour of New Zealand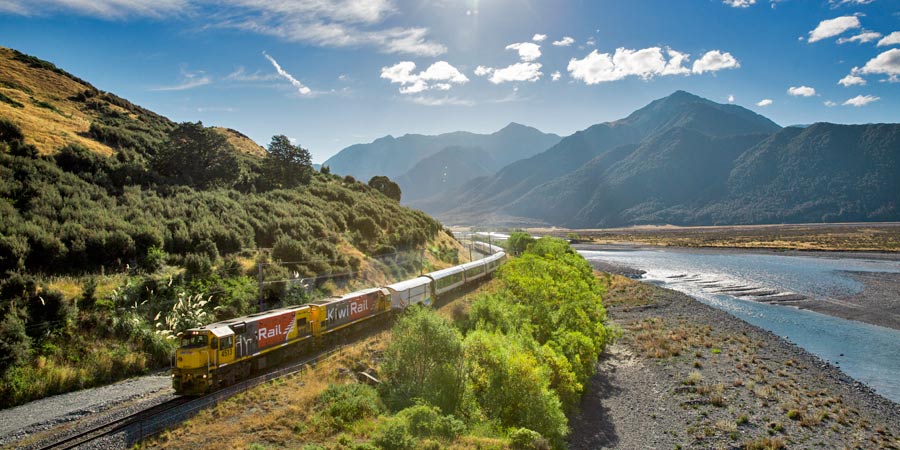 Immerse yourself in another side of Australasia by combining your Australian odyssey with Great Rail Journeys' enchanting Grand Tour of New Zealand. Explore glorious mountain ranges, cruise across the beautiful Bay of Islands, discover multiple magnificent railway journeys and more on this fantastic 40-day holiday taking in the best of both countries. Please call for more details.
London Hotels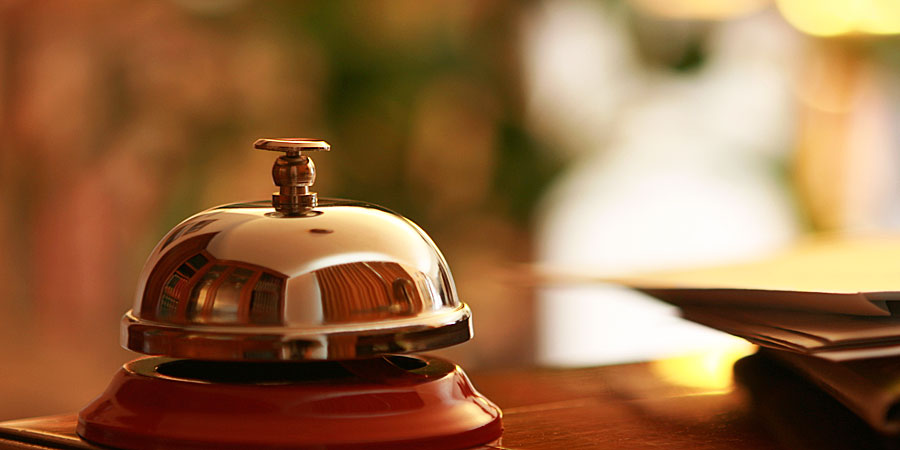 Spending a night in London before your tour can make such a difference to the first day of your holiday - you can arrive in the capital in good time, relaxed and ready to join your Tour Manager the next morning. You may even want to take in a show on the West End, or dine in one of London's famous restaurants. Perhaps on your return to London, you would like to break your journey with an overnight stay before continuing home.

We are able to book a wide range of hotels in central London or, for our holidays beginning with a flight, at Heathrow, Gatwick or Manchester Airport for the night before or after your holiday. The hotels listed below are some of the more popular hotels our customers book in Central London, others are available on request.
| | |
| --- | --- |
| Hotel | Room Rate From Price |
| The Ambassador Hotel | From £65 per person |
Above prices are approximate, subject to availability, and per room per night based on two people sharing. If you require a quote for single occupancy at any of the hotels please contact us on 01904 734 805.
UK rail connections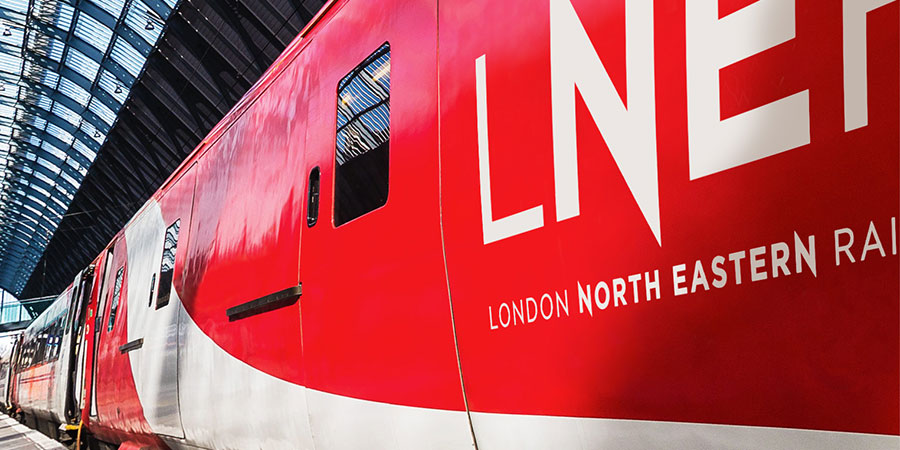 Buying tickets for UK train services can be a tricky business - there are so many fares to choose from, each with different rules and restrictions. As you are connecting with an international departure, we strongly recommend that you book a fully flexible ticket to ensure that should the departure times for your holiday change, your rail ticket can allow for these changes.

We can book fully-flexible UK rail tickets from your local station to join your holiday whether this be a European holiday from St Pancras or a UK holiday. The prices are competitive and tickets are not restricted to a particular train or time of day, and in most cases offer you a free choice of routes.

For an up to date quote from your local station, please ask one of our Tour Advisors.

This page was printed from

www.greatrail.com/tours/australia-and-the-ghan-/#AUJ21

on 10 May 2021.

Call

01904 521 936

to discuss your holiday

© Copyright 2021. Great Rail Journeys