Add-ons
Before you leave home
Imagine being able to travel incredibly light to your destination, without having to even think about your bag... We are delighted to be able to recommend a service which collects your baggage from your home prior to your departure on one of our tours and delivers it to destination before you arrive, enabling you to enjoy a relaxed journey without carrying your suitcases!
Door to door luggage service
Great Rail Journeys is pleased to provide the GRJ Luggage Concierge Service - supported by our partner Baggage Man, a company with many years' experience transporting customers' baggage around Europe. They understand that where your holiday is concerned, nothing is more important than your baggage. They work in partnership with the world's most respected transport specialists and are delighted to offer a service tailor made for the needs of a modern traveller.
How does it work?
The Baggage Man simply take the hard work out of carrying and transporting your baggage whilst on your journey, allowing you to enjoy your trip safe in the knowledge that your bags will be waiting for you at your destination. Customers who have a one-night stop en route to their destination choose to travel with a small overnight bag and send their main bag on ahead. For cruise holidays, they pick up your luggage and deliver it directly to your cruise ship. When your holiday is at an end, leave your luggage behind and it will be safely collected and delivered to you only a few days later.
How much does it cost?

| | | | | |
| --- | --- | --- | --- | --- |
| Number of cases | UK | Europe* | Switzerland | European Cruises |
| 1 case | from £85 return | from £115 return | from £160 return | from £185 return |
| 2 cases | from £115 return | from £195 return | from £260 return | from £280 return |
*excluding Switzerland and European cruises
Prices are based on a suitcase weighing less than 20kg.
If your tour stays at more than one hotel, your cases will be delivered to your first main hotel and picked up from the last main hotel. You will still be responsible for your cases on all intermediate journeys.
For further information about The Baggage Man service, please contact a member of the Great Rail Journeys' team on 01904 521 936.
Joining your holiday
We appreciate that many of our customers travel from a variety of places in the UK to London to join our European and Worldwide tours, some more distant than others. As our European tours generally commence at St Pancras International during the morning of the first day, it is often more convenient to make your way to London the previous day, so you are fresh and rested before joining your tour. Why not let us make it easy for you by booking rail tickets to London and an overnight hotel near St Pancras International? Most of our Worldwide holidays depart London Heathrow - similarly, we can assist with rail travel from your home station to the airport and an airport hotel - as well as airport parking, should you choose to travel to Heathrow by car.
UK rail connections
Buying tickets for UK train services can be a tricky business - there are so many fares to choose from, each with different rules and restrictions. As you are connecting with an international departure, we strongly recommend that you book a fully flexible ticket to ensure that should the departure times for your holiday change, your rail ticket can allow for these changes.
We can book fully-flexible UK rail tickets from your local station to join your holiday whether this be a European holiday from St Pancras, a Worldwide holiday from Heathrow or a UK holiday. There are a number of benefits of booking your UK rail tickets with us:
Competitive prices representing excellent value: save up to 50% on standard open fares
Fully flexible open return ticets, valid on any train
We make seat reservations on your behalf (where available)
First Class upgrades from £30 per person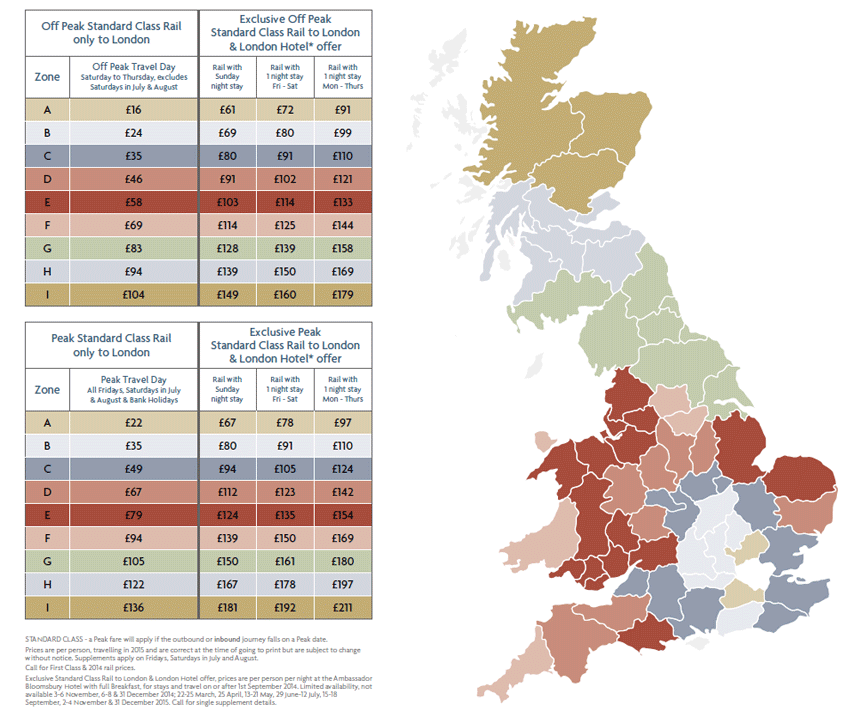 For an up to date quote from your local station, please ask one of our Tour Advisors.
We are unable to offer London Underground tickets or passes and your rail tickets will be valid to and from the nearest main London station on your route.
We will issue tickets once payment has been received. Once issued, any changes to the tickets will be subject to a £5 per ticket charge. Cancellation of the ticket is subject to full cancellation charge (100% of ticket cost).
Tickets will be sent to you along with your travel documents which will be sent approximately 10-14 days prior to departure.
We must stress that we cannot accept any responsibility or liability for any late running trains and missed connections in the UK.
Exclusive Rail & Hotel Offer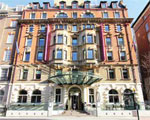 To make the most of your holiday why not book our Rail & Hotel offer, exclusive to Great Rail Journeys.
Simply choose when you want to travel to London, the zone where you will depart from and which day you want to stay at the hotel.
Our UK Rail and hotel offer will stay at the 3-star superior Ambassador Hotel in Bloomsbury. The 3-star superior Ambassador Hotel is ideally located in Bloomsbury, central London, just a 10 minute walk from St Pancras International, and is the perfect location for exploring some of London's most popular attractions. The hotel has a restaurant serving delicious fresh Italian food and a bar. Your stay here also includes a full breakfast. Rail & Hotel offer from £61 per person. Further nights are available, call for details.
Hotel only stays from £57 per person
London Hotels
Spending a night in London before your tour can make such a difference to the first day of your holiday - you can arrive in the capital in good time, relaxed and ready to join your Tour Manager the next morning. You may even want to take in a show on the West End, or dine in one of London's famous restaurants. Perhaps on your return to London, you would like to break your journey with an overnight stay before continuing home.

We are able to book a wide range of hotels in central London or, for our holidays beginning with a flight, at Heathrow, Gatwick or Manchester Airport for the night before or after your holiday. The hotels listed below are some of the more popular hotels our customers book in Central London, others are available on request.
| | | | | |
| --- | --- | --- | --- | --- |
| Hotel | Board | Star | Weekday room rate | Weekend room rate |
| Pullman London St Pancras | B&B | 4-star | From £240 | From £220 |
| Comfort Inn Kings Cross | B&B | 3-star | From £140 | From £140 |
| President Hotel | B&B | 3-star | From £110 | From £110 |
The prices above are from prices and are per room per night based on 2 sharing a twin/double room, subject to availability.
Prices may change without prior notice.
Booking conditions apply.
For more information, see our page on London hotels. Alternatively, if you wish to discuss your plans with a member of our team - or request a quote for your particular holiday - please contact us on 01904 521 936.

Heathrow Airport parking, hotel and airport lounge package
If you're embarking on one of our holidays departing London Heathrow, you may decide that you would prefer to drive to the airport rather than travel by train. If this is the case, you may be interested in our complete package of parking, a hotel room at a Heathrow Airport hotel and airport lounge access. The package includes:
An overnight stay at the 4-star Sheraton Skyline Hotel, situated just minutes away from Heathrow Airport and with a regular coach service connecting you to the terminals.
Parking in the hotel's on-site car park.
Access to the airport lounge in either Terminals 1 or 3, with free newspapers, drinks, snacks and free Wi-Fi.
For further information and up to date prices, see our page on our airport hotel, parking and lounge package. Alternatively, if you wish to discuss the package in more detail - or enquire about similar arrangements at Manchester Airport - please contact us on 01904 521 936.
Travelling on EurostarJoining Eurostar at Ebbsfleet International
It's not just London that can boast direct links to the Continent. Travellers from the South of England can also connect to the Eurostar at Ebbsfleet International, which is conveniently situated close to the M25 and other major road links, and has lots of parking spaces. For travellers who wish to avoid London, departing from Ebbsfleet International can get your holiday off to a hassle-free start.

Unfortunately not all Eurostar services to and from St Pancras International stop at Ebbsfleet International. Those people travelling from Ebbsfleet may have to travel on an earlier train from the group who depart from St Pancras International and meet them in Paris or Brussels. A Rail Variation Fee of £25 per person will applicable in this instance as we have to purchase an individual ticket for you.
By train: Southeastern have launched their Kent Highspeed trains which now call at Ebbsfleet International.
By car: Located less than 3 miles from Junction 2 of the M25, and very close to the other major road links of the M2, M20 and A2, you will fi nd this station easy to reach by car.
Secure parking facilities: There is ample parking around the station complex, charged from £8.00 per day or £37 per week. Pre booking is available by visiting www.eurostar.com (You will require a Eurostar booking reference to pre-book parking, call our Customer Services team to obtain your reference).
Joining Eurostar at Ashford International
This Kent station offers a handy, time-saving alternative to travelling up to London for many people departing from South or South-East England. As at Ebbsfleet, a variation fee will be levied against you. Contact our Customer Services team for more details if you would like to join your tour at Ashford.
By train: Ashford International is served by local rail services from Kent and East Sussex provided by Southeastern and Southern Railway.
By car: Ashford International is located less than 10 minutes from junction 10 of the M20 (A20), and is easily reached from the M25.
Secure parking facilities: The station also offers secure parking facilities with charges starting as low as £1 for up to 1 hour (short stay), £4.50 for up to 5 hours or £11.50 for up to 24 hours. Alternatively you can buy a weekly ticket for £69. No pre-booking is required for these parking services.
Extending your European holiday
Before or after your European tour, you can choose to extend your holiday; we'll happily arrange the details for you. Many of our holidays travel out via Paris, Cologne or Brussels or include a final stopover in these cities en route to London. Whether you simply want to stay for a few more days at the end of the tour or travel ahead of the main group for a few days' sightseeing, we are able to make all of the necessary arrangements including alternative trains and quality hotel accommodation.
Paris
Stay at the Mercure Hotel Terminus Nord, located opposite Paris Gare du Nord - the arrival station for Eurostar - and spend the evening wandering along the Champs-Élysées, and dine in one of the many terrific Parisian restaurants.
If you're extending the start of your holiday with us, you can wake up the next morning refreshed, enjoying a leisurely breakfast as you wait for the rest of the group to make their way from London.
The Mercure Terminus Nord
This 3-star hotel is full of character, in an exceptional location facing the Gare du Nord station. Bedrooms are well equipped with en suite bathroom, safe, hairdryer, satellite and pay TV as well as direct dial telephone. Decorated in typical Parisian style, the public rooms, including the bar, reflect the hotel's high standard.
Cologne
An absolute favourite with Great Rail Journeys customers, Cologne is a terrific city in which to extend your holiday. Find a restaurant for your evening meal from one of the many excellent places in the city, or spend the evening in one of the local 'bierkellers', savouring the local atmosphere, bratwurst, and sauerkraut!
You could stay at either the Wyndham Cologne or the TRYP by Wyndham Cologne City Centre, both located only a short walk from the railway station. Spend the morning exploring this wonderful city - with its magnificent Gothic Cathedral and beautiful Old Town. If you're extending the start of your holiday, arrange to meet the group and Tour Manager later in the day, after they have made their way from London.
Wyndham Cologne/TRYP by Wyndham Cologne City Centre
Both the The Wyndham Cologne and the TRYP by Wyndham Cologne City Centre are well appointed 4-star hotels with a bar, lounge and restaurant. Room facilities include en suite bathroom, tea and coffee making facilities (available on request), minibar with free soft drinks, cable TV, hairdryer and telephone. A laundry service is available at both hotels.
Brussels
Only 2 hours away by Eurostar, Brussels offers a charming alternative to a night in London. Visit the Grand Place, one of Europe's most beautiful squares, and find the perfect restaurant for your dinner.
You could stay at the Park Inn Hotel, located next to the Brussels Midi Railway station. If you're extending the start of your holiday, wake up the next morning, enjoy a relaxed breakfast in the hotel, and await the rest of the group's arrival.
Park Inn Hotel
Conveniently located between the Grand Place and Brussels-Midi Eurostar terminal, the Park Inn Hotel is an ideal place to stay and explore Brussels. The spacious rooms include a hairdryer, cable TV and a safe. The hotel restaurant offers buffet and a la carte dining, and the hotel piano bar is a perfect place to relax on an evening.
Extending your Worldwide holiday
When you plan your long-haul holiday, take time to consider the attractions, sights and exciting possibilities on offer in the country and regions you are choosing to visit. Our holidays are designed to include as much as possible during your time away from home. We create balanced itineraries which include an exciting programme of excursions and sightseeing tours, as well as free time for you to explore at leisure - plus time for you to relax and feel like you are on holiday! However, there are often places, sights and excursions which we simply cannot fit into the itinerary. At the beginning or end of your tour, we are able to arrange extensions which give you the chance to experience sights you may otherwise have missed.
Worldwide tour extension packages
We offer a fantastic range of extensions for many of our Worldwide tours. Details of the tour extensions available for a particular tour may be found by clicking on the 'Tour Extensions' button on the tour page, but here is a taster of the kind of things we offer.
Please note, this is just a small selection of the tour extension packages we are able to offer you. To see the full selection of tour extensions available on your chosen tour, please visit the tour page and click on 'Tour Extensions'.
Independent extensions
If you would like to create a comprehensive and detailed holiday extension yourself, our Travel Experts at Great Rail Journeys - Tailormade by Great Rail Journeys - can help you arrange everything you need from internal flights and rail travel to hotel bookings, exciting excursions, meals and visas. You set the budget, you tell us where you want to go and our Tailormade Travel Experts will do the rest.
Back to Back Holidays
Occasionally, our customers like to connect two Great Rail Journeys holidays together to create an extended 'back to back' holiday. This works particularly well in the southern hemisphere, linking tours to New Zealand and Australia, for example. Our Tour Advisors can look into the practicalities involved in putting two tours together, detailing how we can marry the two tours and outlining the related costs and implications.
For more information about any of our Add-ons, call a member of our team