Rail Tours in Russia
Luxury Train Travel in Russia and around Siberia
The only practical way to appreciate the diversity of the world's largest country is by train. A country that encompasses landscapes from desert to frozen tundra guarantees that guests on an escorted rail tour of Russia will find beautiful scenery to admire. Then there are Russia's great cities to explore. Stunning St Petersburg embodies so much of Russia's history and culture that the city has been designated a UNESCO World Heritage Site.
Moscow is awash with iconic attractions such as the Kremlin, Red Square and St Basil's Cathedral which justify the journey alone, but Russia's capital also has an endless supply of art and architecture. Russia is also the starting point for what is the greatest of all railway adventures: the journey along the Trans-Siberian Railway. Not only is this a once-in-a-lifetime experience but with Great Rail Journeys you can enjoy this epic odyssey in one of the world's most luxurious trains.
There are 10 holidays in this category
Moscow & St Petersburg
Discover the two incredible and powerful cities that have both driven and shaped Russia on this magnificent journey. Starting in Moscow, we visit iconic attractions including the Kremlin and Red Square, before travelling to St Petersburg - a city so rich in history its entire centre is an UNESCO World Heritage site.
Departs from May 2017 to September 2017.
Premium Volga Cruise St Petersburg to Moscow
Experience a true taste of Russia on this epic cruise along the tributaries of the Volga River. From traditional Russian villages to the cultural cities of St Petersburg and Moscow, delve into Russian heritage both ashore and aboard the fantastic MS Rostropovich.
Departs in July 2017.
SPECIAL OFFER
View Details
Highlights of the Baltics & Scandinavia
Discover the contrasting cultures of the fascinating Baltic region, from colourful Scandinavia to the splendour of Russia, via the historic countries of Latvia and Estonia. Explore glorious palaces and UNESCO World Heritage sites on this unique Baltic Explorer rail tour.
Departs from May 2017 to September 2017.
Trans-Siberian Express
Step on board the Golden Eagle and be transported back to the romantic age of travel as we wend our way across Russia, Mongolia and Siberia in unprecedented luxury. This rail adventure takes you on a journey of over 8,000 miles; a true odyssey to the other side of the world.
Departs from May 2017 to August 2017.
Around the World in 51 Days
Beginning and ending in London, we travel just under 23,000 miles across the globe on this incredible worldwide adventure. Starting in the iconic 'Big Apple', we chart a course across the heartland of America, to the West Coast. From there, we cross the Pacific into Asia and immerse ourselves in the rich legacies of China, before boarding the iconic Tsar's Gold Train for the journey across Russia. For the final leg of the journey, we head into central Europe, south through the imperial cities to Venice, boarding the luxurious Simplon-Orient- Express for the journey home.
.
Departs in August 2017.
Premium Trans-Siberian Express in Winter
Witness the true splendour of Dr Zhivago landscapes from the warmth of your luxurious carriage, enjoying sleigh rides and choirs, saunas and yurts en-route to Vladivostok. Travel on the Golden Eagle Trans-Siberian Express train for an unforgettable 8,000-mile winter adventure.
Departs in February 2017.
The Trans-Siberian: Moscow to Beijing
Let the Tsar's Gold Train take you on an incredible adventure across almost half of the surface of the world from the ornate splendor of Moscow to the bustling beauty of modern Beijing, through remote Siberia, beautiful Mongolia and the vast landscapes of the Gobi Desert.
Departs from May 2017 to September 2017.
Persian Odyssey
As rail tours go, our Persian Odyssey itinerary on board the Golden Eagle is truly stunning. Travelling along the Silk Road onto the ancient land of Persia, this unique journey between Moscow and Tehran takes in destinations that are rarely experienced by the Western visitor which makes it all the more special.
Departs in March 2018.
SPECIAL OFFER
View Details
Arctic Explorer
Take in the beautiful cities of St Petersburg and Moscow, graced by festive decorations and nature's own wintry adornments, before exploring deep into the Russian and Norwegian Arctic Circle in pursuit of the magnificent Aurora Borealis (Northern Lights).
Departs in December 2017.
SPECIAL OFFER
View Details
Land of the Midnight Sun
Join us on an incredible rail journey during the celebratory White Nights season as we cross deep into the Arctic Circle on the Golden Eagle. Incomparable cities, remote communities, dramatic fjords, abundant wildlife, serene forests and stories recounting a turbulent history awaits you on this adventure of a lifetime to the Land of the Midnight Sun.
Departs in June 2017.
Get in touch with one of our Russia Specialists
Helping you plan your holiday to Russia...

Julie
Lynne

Kathryn

Lori
Travelling in Russia with Great rail Journeys
Joining Great Rail Journeys on an escorted rail tour or train holiday in Russia is the easiest and most enjoyable way to gain an introduction to the colossal and compelling country. To ensure you obtain the best value for money, we include everything in the price of your Russian rail tour: return flights, rail and coach travel in Russia, overnight accommodation, a selection of meals and an itinerary of guided tours and sight-seeing excursions are all covered.
At each destination you'll stay in the best available accommodation that meets our criteria for convenient location, value, comfort and service; often a family-owned hotel that will provide our guests a more personal service and informal environment.
You'll also have the services of our professional Tour Manager at your disposal throughout your time in Russia, who will be happy to assist with any requirements, answer questions and provide information about the destinations you'll visit.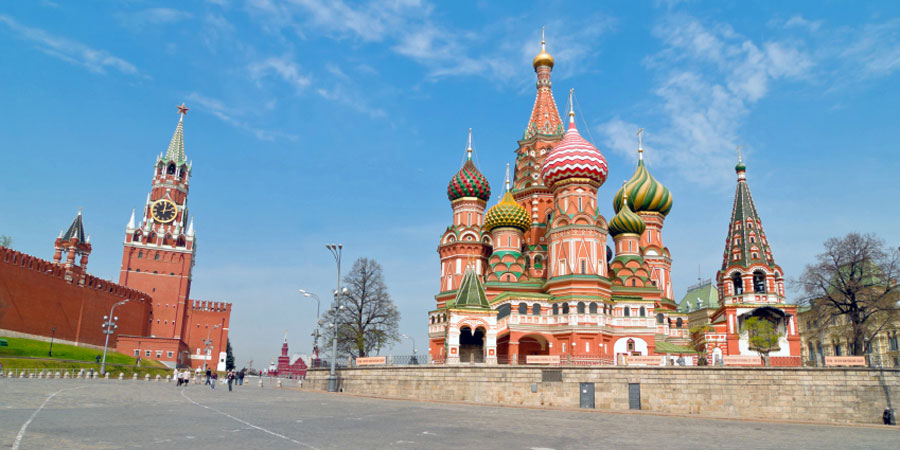 Russia traveller's guide
Russia occupies a little over seventeen million square kilometres, covering an eighth of the earth's inhabited land area and spanning Europe and Northern Asia. Succinctly summarising Russia's history, geography and native culture is virtually possible due to country's sheer immensity and diversity. It's enough to say that Russia's three-thousand-year history, during which it has been an imperial power, the seat of Communism, witnessed civil war and revolution and seen the dissolution of the Soviet Union and the establishment of the Russian Federation, has invested the country with a legacy of historic museums, buildings, monuments and artefacts that would take a lifetime of visits to appreciate in its entirety.
In general terms, given Russia's vastness, it's safe to say that the majority of the country enjoys warm to hot summers and very cold winters. Inevitably, climate varies by region. Siberia, for example, experiences extremes of temperature, and can become as cold as -50°C in winter. The weather is at its most unpredictable in the central and northern regions of European Russia, whilst southern European Russia experiences shorter winters and year-round rainfall.
Russia's predominantly cooler/colder temperatures have informed the country's cuisine; food tends to be rich in carbohydrate and fats that provide the warmth and energy needed to endure long and cold winters. Typically, traditional Russian recipes will favour the use of potatoes, bread, eggs, meat and dairy produce. Although fresh fruit and vegetables don't play a large role in the standard Russian diet, cabbage, mushrooms, tomatoes, onions, cucumber and garlic do feature. Rye bread, also known as 'black bread' accompanies every meal. Commonly enjoyed Russian foods include Pirozhki, a baked bun traditionally filled with minced beef or vegetables including cabbage, potatoes and onions; Borscht, a beetroot soup, Kasha; a simple dish of whole grains such as oats, wheat, millet or barley boiled in water until the water evaporates and the mixture thickens, and served with milk, honey or jam, and Solyanka; a traditional soup of meat, fish or mushrooms which may additionally contain olives, pickled cucumber, cabbage, potato and sour cream.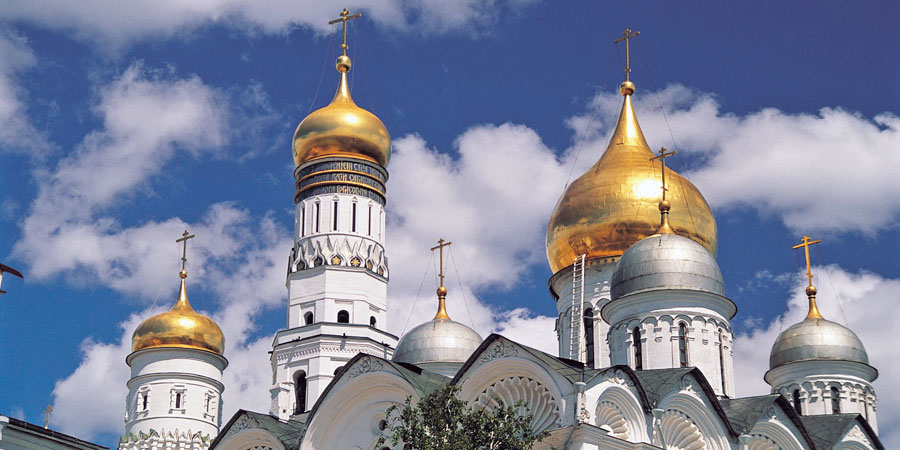 Russia is so vast that correct manners and etiquette can vary drastically from region to region. This is one destination in which our Tour Managers come into their own as they are able to offer in-depth advice regarding appropriate behaviour and customs at any stage of the journey.
It is the scenery which makes this countryside unforgettable and taking a train to travel through Russia is one of the only ways to cover the huge distances in comfort and without missing out on the view.