Rail Tours in Laos
Discover one of Asia's most inspiring and unspoilt destinations by rail
When compared with its neighbouring nations, Laos appears to have remained largely untouched by the hand of time, its rich culture and traditions upheld today as they have done for centuries. This mountainous country, heavily carpeted with pristine rainforest, still chiefly relies upon agriculture to drive its economy, and as such the pace of daily life beyond Laos' major towns and cities is both uncomplicated and unhurried.
Customers joining Great Rail Journeys for an escorted rail tour of Laos enjoy a truly authentic Asian experience and the once-in-a-lifetime opportunity to sail the waters of the legendary Mekong River. You can also meet the friendly Lao Lu and Hmong peoples in rural villages, plus many other cultural and historic attractions vie for attention here.
Along the way there is plentiful time in which to admire Laos' breath-taking natural beauty, from the mighty Mekong Delta to soaring rain forest-clad peaks and the dramatic limestone cliffs wherein the famous Pak Ou Caves lie, lined with images and effigies of Buddha. Further treasures wait in Vientiane, the compelling capital of Laos, where the grandest colonial architecture and exquisite temples stand beside simple wooden dwellings. In this compact, friendly city ancient meets modern and nowhere can visitors find a more enjoyable summation of everything that makes Laos such a wonderful destination.
There is 1 holiday in this category
The Ancient Kingdoms of Thailand and Laos
Embark on an unforgettable exploration of this mystic corner of the globe, discovering the magnificent temples of Bangkok, journeying across the River Kwai on the historic Death Railway, and experiencing the spiritual city of Chiang Mai. Sail along the Mekong to the ancient kingdom of Laos and absorb its enchanting mixture of culture and charm.
SPECIAL OFFER
View Details
Get in touch with one of our Laos Specialists
Helping you plan your holiday to Laos...

Lori
Lynne

Julie

Kathryn
Escorted tours of Laos with Great Rail Journeys
As the UK's leading provider of specialist rail holidays, Great Rail Journeys strives to ensure that each of our customers benefits from an exceptional tour experience and the best possible value for money. The price of an unforgettable journey through beautiful and hospitable Laos covers all flights, rail fares and other transport costs throughout the tour, quality overnight accommodation, a diverse and exciting itinerary of sightseeing excursions and activities, and many meals.
Our customers also benefit from the services of a professional and friendly Tour Manager who is available for the duration of the Laos rail holiday to provide assistance, answer questions, and offer information about each of the points of interest on the tour. The Tour Manager is there to ensure that our customers enjoy the very best possible experience of Laos.
From cruising on the Mekong River to exploring the country's oldest temple in Vientiane, our Laos tour itinerary has been designed to showcase the most memorable and interesting aspects of Lao history, culture and nature. We also ensure that our customers enjoy sufficient free time to spend as they choose, either relaxing for a while or further investigating those attractions and activities which appeal to them.
The hotels we use are hand-picked for the quality of their location, comfort, service and amenities yet which still offer outstanding value for money. For further peace of mind, customers of Great Rail Journeys are protected by our membership of ATOL, AITO, and ABTA and where applicable, any flights that we provide are protected by the CAA.
A quick guide to Laos
Laos is situated in Southeast Asia and is landlocked by its neighbouring countries of Myanmar, China, Vietnam, Cambodia and Thailand. Migration from China into what is now known as Laos began in eighth century, with the first Laotian state - the kingdom of Lan Xang - established six hundred years later. In the eighteenth century, control of Laos was assumed by Thailand (at that time Siam) but in 1893 the country became a French protectorate. Laos regained its current independence in 1953 but evidence of its and varied and colourful history are still evident throughout the country.
Unlike much of Southeast Asia, landlocked Laos is not subject to coastal variations in climate and weather. The climate is best described as tropical and Laos experiences two distinct seasons - 'wet' and 'dry'. In the wet season, from May to October, heavy rain showers lasting a few hours occur every few days and humidity is high. In the dry season, between November and late April temperatures can reach 35C (95F), skies are clear and sunny and rainfall is rare.
Although Lao cuisine shares many similarities with the food of neighbouring Thailand and Vietnam, it offers sufficient regional variation and native dishes as to boast its own distinct identity. The freshest vegetables accompany fish or meat which is usually either steamed or grilled ensuring that Lao food is both delicious and healthy. Lao meals are typically eaten with fingers rather than utensils or chopsticks and khao niew - sticky rice - is invariably part of the dish. Popular dishes to look out for when in Laos include Som Moo, a sausage made from fermented pork; Pho, a noodle soup to which any of a wide variety of meats may be added plus green vegetables and chillies; kaipen - paper-thin sheets of dried green algae dusted with sesame seeds, deep fried and served with chilli paste (jaew bong) and tam mak houng, a papaya salad flavoured with chilli, garlic, peanuts, fish sauce and lime. Fruit juices, sugar cane juice or coconut water are popular drinks in Laos.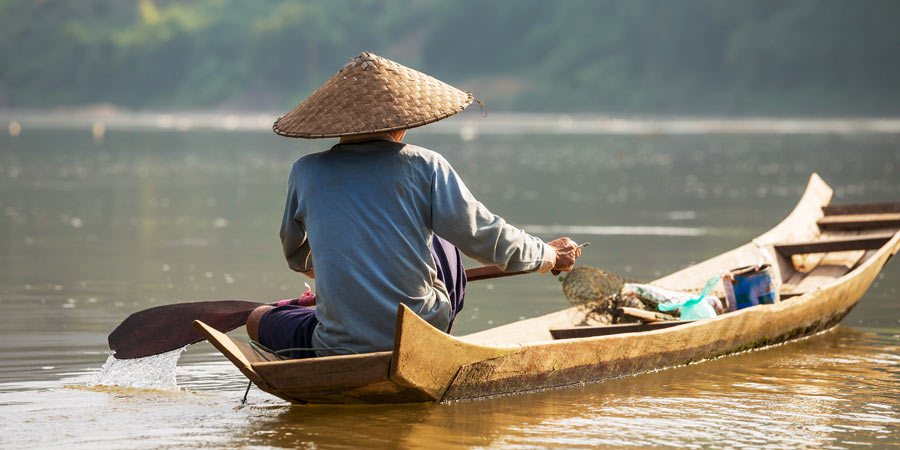 Laos is a Buddhist country and when visiting temples respect should be shown by dressing appropriately; bare arms and legs should be covered and footwear should be removed before entering a temple. It is bad etiquette to display the soles of your feet or to touch another person on the head.
If you are exploring independently from the tour group always carry your passport and visa, or copies of them, with you at all times as proof of ID may be requested in many different situations and at any time.