Winding its way one hundred and eighty miles through the magnificent Swiss Alps, the Glacier Express is one of the most iconic trains in the world.
The fairytale-like journey connects St Moritz and Zermatt, passing snow-capped mountains, rocky gorges, quaint alpine villages and rambling rivers and providing breathtaking views of the Matterhorn, Oberalp Pass and Landwasser Viaduct.
In 2020, the Glacier Express will celebrate its 90th anniversary - what better way to pay homage to this famed railway than to book a Glacier Express adventure!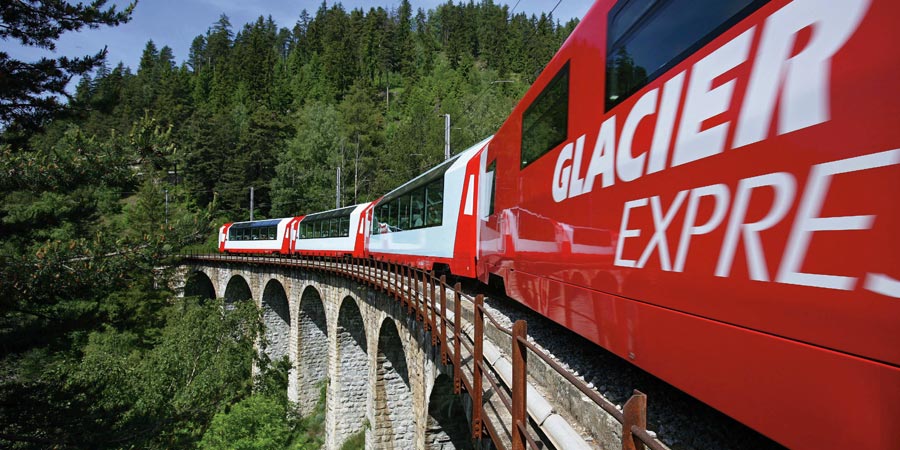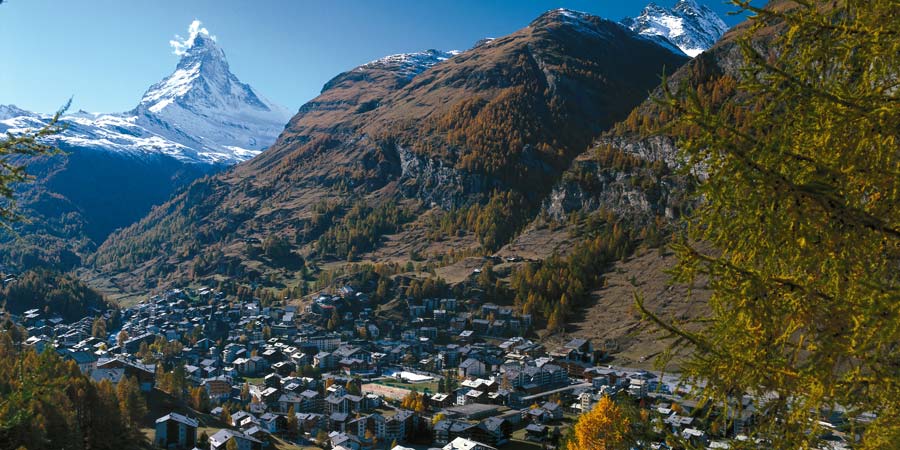 In the 1920s, adventurous travelers from all over the world began to discover the Swiss Alps. Remote mountain villages like Zermatt and St. Moritz transformed themselves into desirable vacation destinations and the three large Swiss railway companies - Visp-Zermatt Bahn, Furka Oberalp Bahn and Rhaetian Railway - opened new routes to exploit this tourism boom. The Glacier Express made its first complete journey from Zermatt to St. Moritz in 1930. The train has been operated by the Glacier Express AG since 2017 and carries an estimated 250,000 passengers per year.
Don't be fooled by the name - the "express" does not refer to the speed of the train, but rather because it's a one-seat ride that omits stops made by local trains. And while faster engines were introduced in the 1950s, the Glacier Express is still known as 'the world's slowest express train'. Due to the altitude of the mountains it winds through, the train travels at an average of only around 24 miles an hour.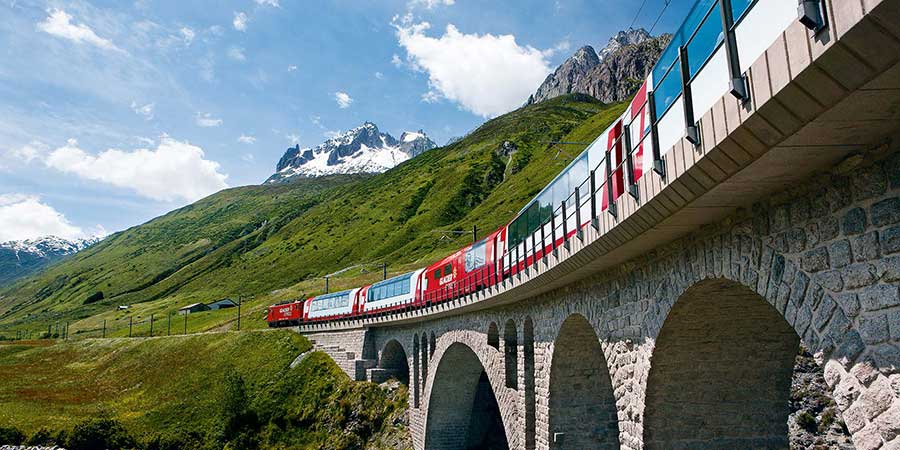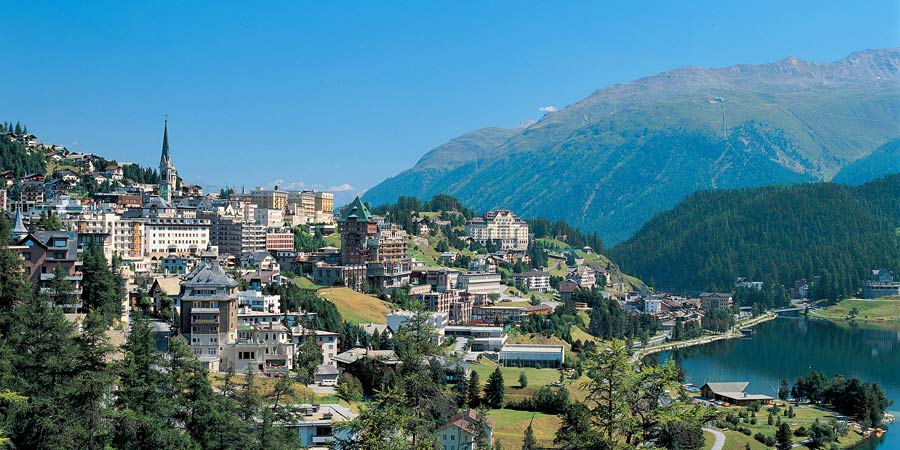 The journey from St Moritz to Zermatt takes around eight hours, crosses 291 bridges and goes through 91 tunnels and takes you through the three cantons of Valais, Uri and Graubunden. For the entire journey the train runs on a narrow-gauge track, only three feet wide, and because of the steep ascents and descents needed to traverse the Alps, large portions of the track use a rack-and-pinion system. This system involves a toothed rack between the rails and a cogwheel underneath the train; at the steepest points these provide the train with extra grip.
Glacier Express is easy to spot as it winds through the Alps thanks to its distinctive red and white colors - to match the Swiss flag. Domed panoramic windows provide an almost 180-degree view of the spectacular landscape as you pass by untouched mountain landscapes, deep gorges, and pretty valleys. During the eight-hour trip, passengers can enjoy meals served at their table, and sit back and relax while they savor the views of one of the most spectacular train journeys in the world.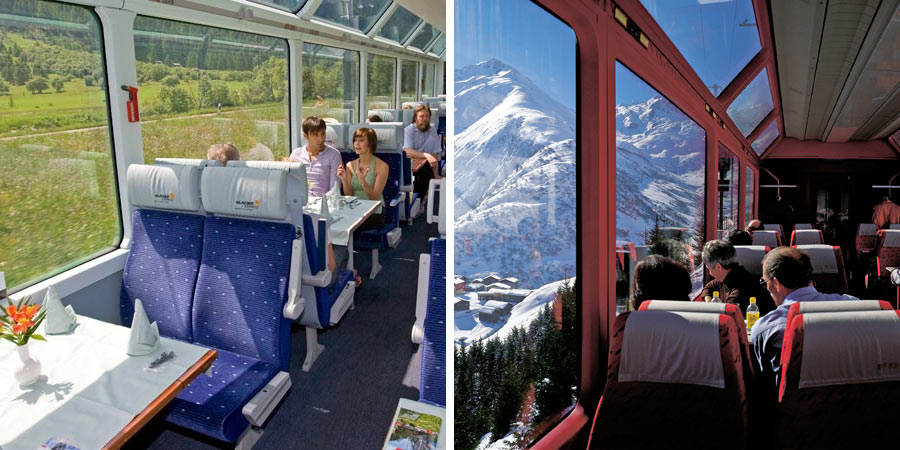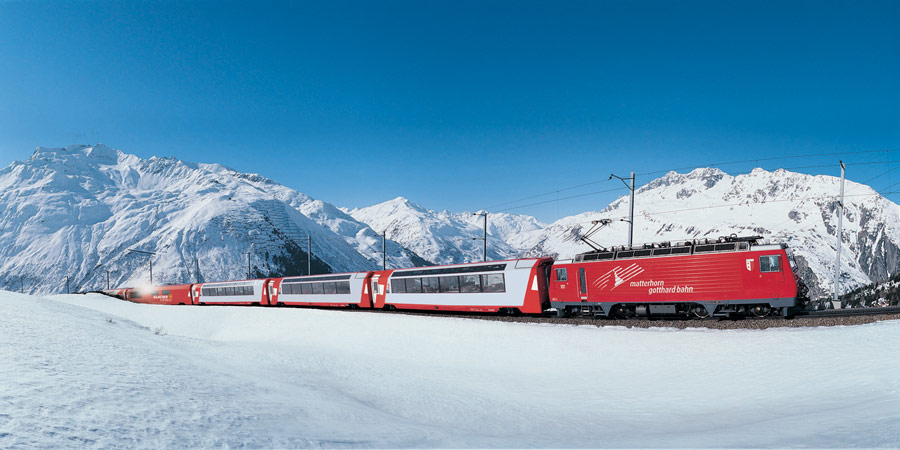 Until 1982 - more than 52 years after the first journey - the complete line was only able to operate during the summer months because the winter snow at the Oberalp Pass and Furka Pass made the route impassable. Thanks to the construction of the Furka base tunnel in 1973, which connects Oberwald and Realp, the Glacier Express is now able to run year-round.