01904 521 936
Open 7 Days a Week
The Adriatic by Yacht & Plitvice Lakes
Be dazzled by the islands and cities of the sparkling Dalmatian Coast
Be dazzled by the islands and cities of the sparkling Dalmatian Coast on this relaxing yacht cruise. Swim in pristine, secluded coves, discover the natural beauty of Plitvice Lakes National Park and experience the splendor of magnificent Dubrovnik.
The itinerary for your journey
Tour highlights
Guided tours of Hvar, Korčula, Dubrovnik and Split
Excursion to the breathtaking Plitvice Lakes National Park with a guided tour
Visit to Mljet National Park with a walk around the Great lake and the Small Lake
Swim stops in secluded idyllic island locations
Time at leisure to explore Hvar, Korčula and Dubrovnik
Day 1 - To Split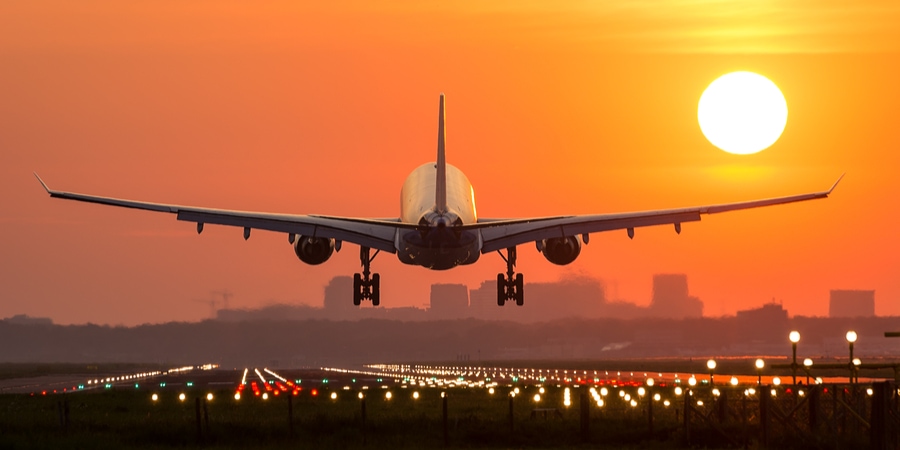 Meet your group and Tour Manager at the Hotel Atrium in Split, where we overnight.
Day 2 - Plitvice Lakes National Park
Today we take a scenic rail journey to Plitvice Lakes National Park, a place of exceptional natural beauty and a UNESCO World Heritage site. We enjoy a guided tour of the beautiful emerald lakes, which are surrounded by verdant grassy hills and connected by a series of stunning, cascading waterfalls. Situated roughly halfway between the capital city of Zagreb and the Croatian coastline, Plitvice Lakes are enclosed by the lush surrounding hills, giving it an almost undiscovered air. After an unforgettable day exploring one of Croatia's most beautiful national treasures, we retire to our nearby hotel in time for dinner.
Day 3 - The MS Arca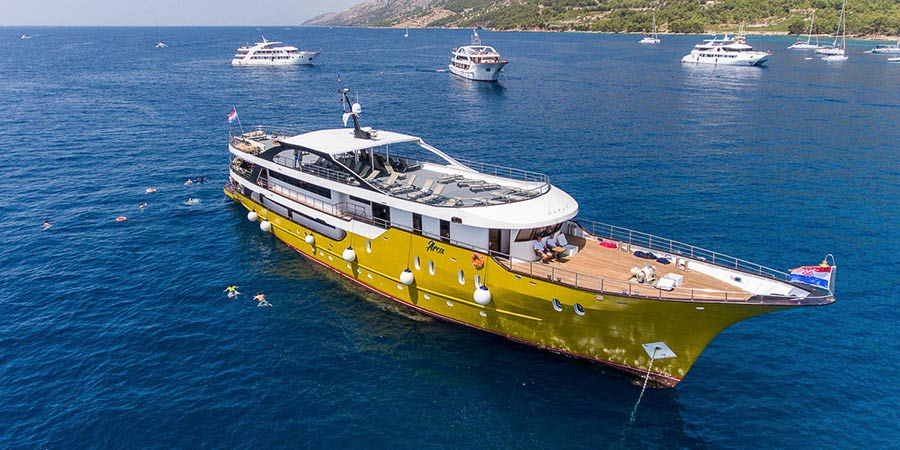 This morning we return to Split where we board our exclusive floating hotel for the next seven nights, the MS Arca, an intimate, Five-Star ship with a range of luxurious facilities. We meet our Cruise Director and enjoy a welcome reception on board the ship, giving us the opportunity to settle into our new surroundings. The yacht is equipped with luxurious facilities, and a swimming platform with a ladder to the rear of the ship offers easy access to the sparkling waters, which you can indulge in on one of many swim stops offered on the cruise.
Day 4 - Brač and Hvar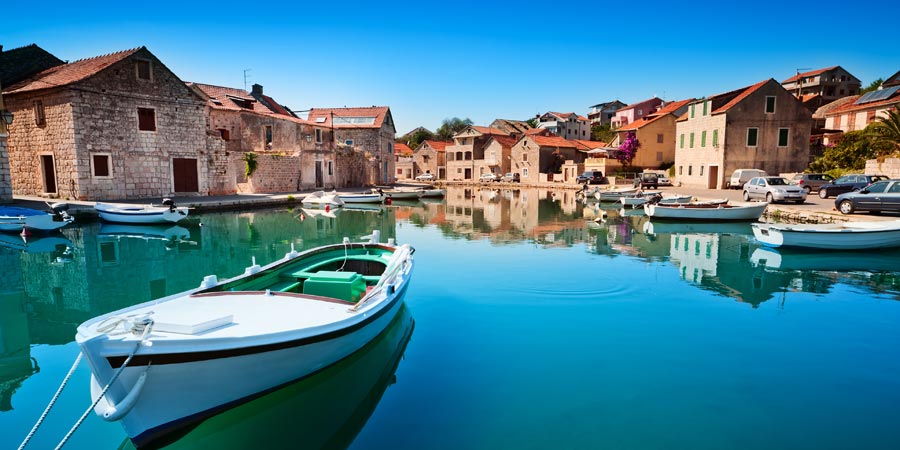 After a delicious breakfast on board, we set sail for the stunning island of Brač, where we have time for a walk along the breathtaking seafront, and the option to swim at the stunning Zlatni Rat Beach, one of the most iconic locations in Croatia. Recognised as one of the most stunning beaches in all of Europe, its unique shape has earned it the epithet "the Golden Horn."
After lunch on board, we continue to the lively island of Hvar, where we visit its eponymous port town. The buildings here retain a sand-swept façade and the town square, a fairytale paved piazza overlooked by Hvar's lovely cathedral, is a particularly photogenic place to enjoy. A guided tour introduces us to the historic sights of the town before we enjoy an evening at leisure. We moor in Hvar for the night.
Day 5 - To Korčula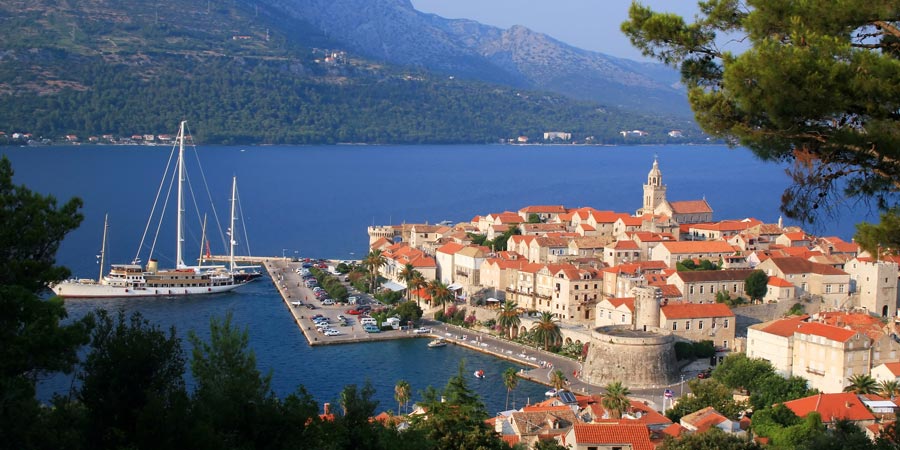 Our cruise continues early this morning, as we set sail for historic Korčula, stopping along the way to swim in the brilliant waters of the Adriatic. The birthplace of famed explorer Marco Polo, Korčula sits like a diamond on the Dalmatian coastline, its white-grey houses and terracotta roofs contrasting with the blues of the Adriatic. We have a guided walking tour of the town, seeing its many cultural and historical monuments, before some free time to continue discovering its charms.
Day 6 - Dubrovnik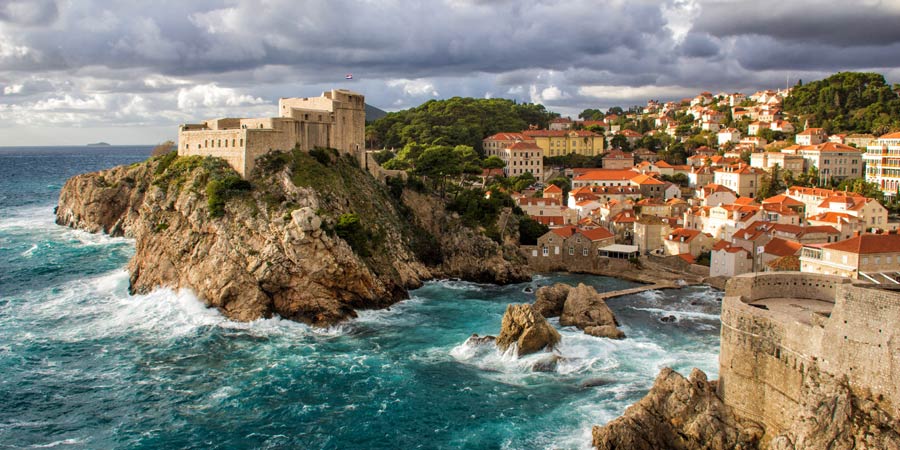 This morning we set sail for the "Pearl of the Adriatic", Dubrovnik, stopping on the way for another refreshing swim break in the sparkling ocean. This afternoon we are treated to a walking tour of majestic Dubrovnik. The city has seen a resurgence in tourism in recent years, with its use as a filming location in HBO's Game of Thrones heightening its already alluring appeal. The Old Town here charms visitors with its splendour, and its collection of narrow streets, lined with cafés and restaurants, are part of a UNESCO listed site. Orange-tinged terracotta roofs, domed spires and ancient walls abound, and simply walking through the ancient streets here is a delight. We embark on a guided sightseeing tour, seeing the Old Town, the 15th century Onofrio's Fountain and the Old Port, before an evening to explore at leisure. Perhaps walk along the ancient fortified walls for views out across the bay. You are free to make your own way back to the ship.
Day 7 - Mljet National Park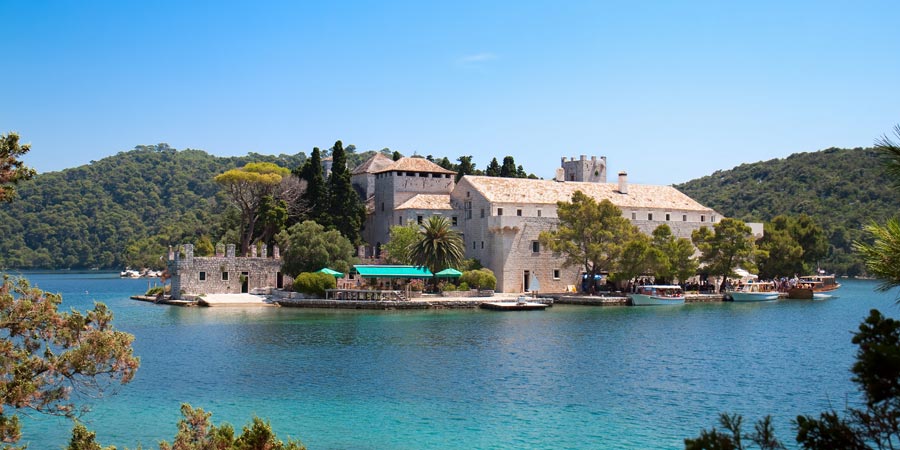 We leave Dubrovnik this morning and cruise to Mljet National Park, enjoying lunch on board along with a further swim stop. We arrive in the heart of the National Park, where two connected salt-water lakes and a collection of small, verdant islands are ringed by turquoise waters and enveloped in the deep blue of the Adriatic Sea. We enjoy a walk around the footpaths surrounding the Great Lake and the Small Lake, taking in the breathtaking scenery and outstanding natural majesty of the area.
Day 8 - Pučišća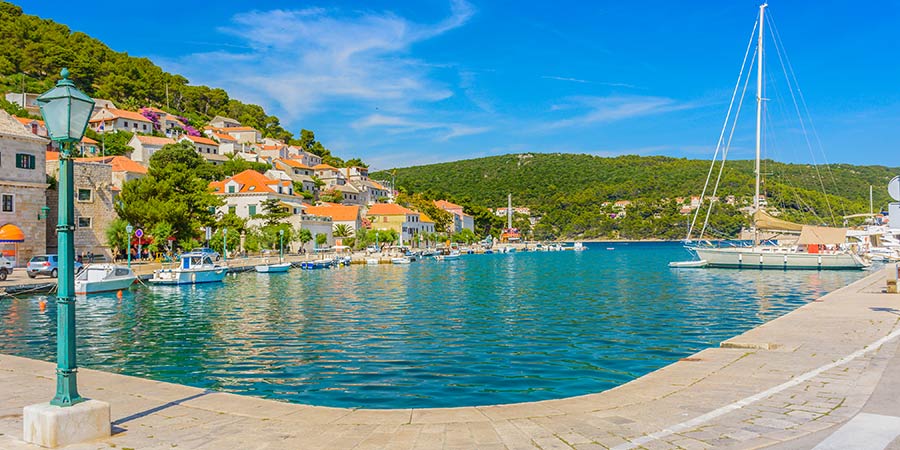 This morning we cruise to the stunning coastal town of Pučišća on Brač island, pausing en route for a relaxing swim in one of the stunning, secluded coves of Pelješac Peninsula. We arrive in the pretty town this afternoon. Pučišća is renowned for its beauty, with white limestone buildings and a stunning, dramatic cobalt bay. We enjoy a magnificent captain's dinner on board tonight.
Days 9-10 - Split and home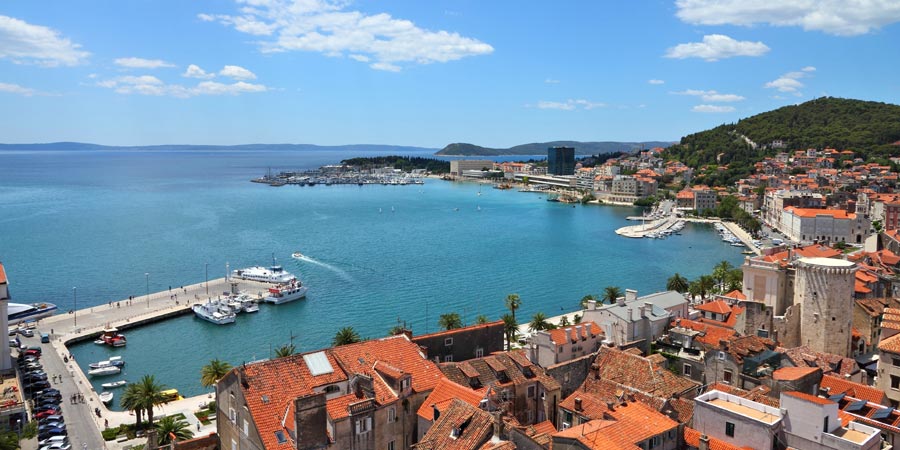 This morning we depart for Split, the largest city on the Adriatic coast, via the attractive port town of Omiš. We sail into Split and embark on a guided walking tour, taking in the town's impressive Roman and medieval heritage, before some time at leisure to explore.
Split has a rich history, emerging from a Greek settlement founded between the 3rd and 4th centuries. Diocletian's Palace complex, a magnificent palace built for the Roman emperor Diocletian at the turn of the 4th century, holds UNESCO World Heritage status and is one of the most important areas in Split. The thriving limestone and marble palace ruins form around half of the Old Town of Split, and people continue to live, work, and shop within the ancient walls. Back on board our luxurious yacht, we enjoy a final farewell dinner this evening.
On Day 10 make your way to Split airport for your flight back home
Recommended airports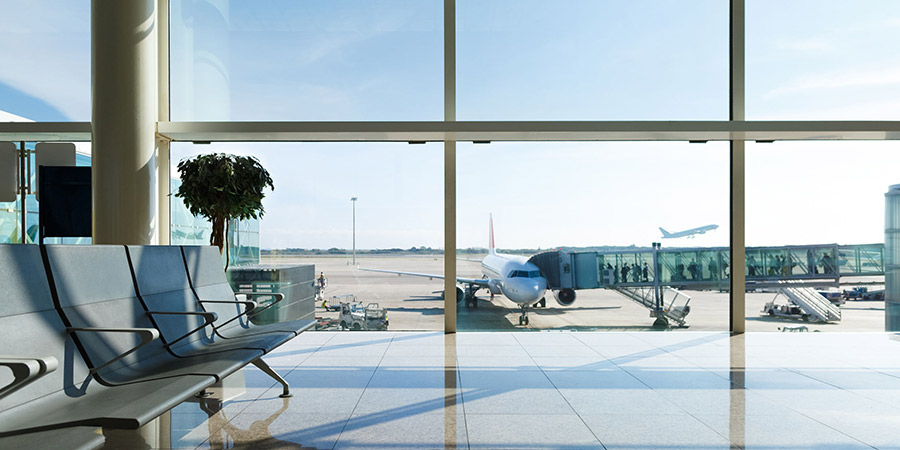 For this tour, we recommend arriving to, and departing from, Split airport (SPU). Split airport is approximately 11 miles from your start and end point.
Visa Requirements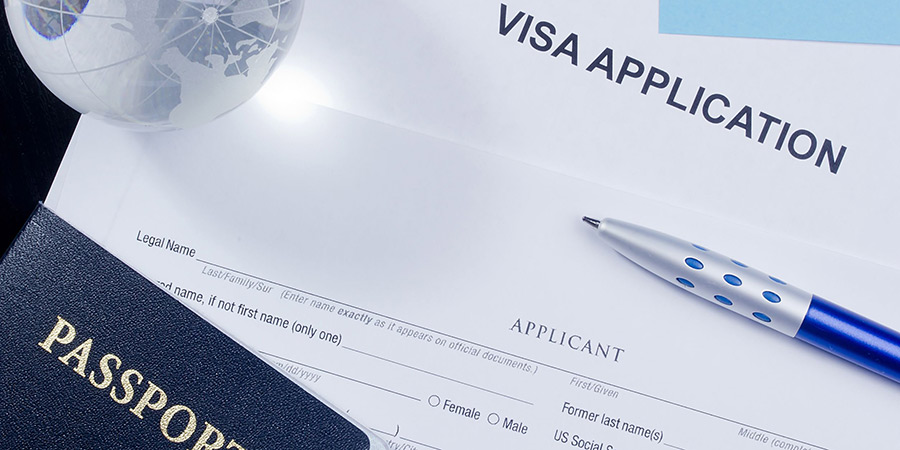 It is your responsibility to check and fulfil the passport, visa, health and immigration requirements applicable to your itinerary. We do not accept any responsibility if you cannot travel, or incur any other loss because you have not complied with any passport, visa, immigration requirements or health formalities. You agree to reimburse us in relation to any fines or other losses which we incur as a result of your failure to comply with any passport, visa, immigration requirements or health formalities.
Departure Dates
All prices are per person and assume full occupancy of the room.
Please always refer to the website for up-to-date prices and availability.
Trains
Hotels
Ships
MS Arca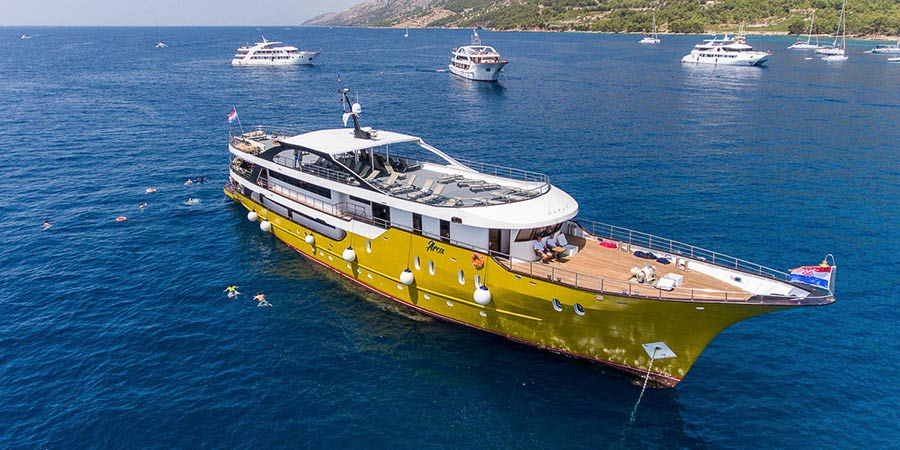 The MS Arca is a private yacht with a maximum of 38 passengers, designed to offer an unrivalled, intimate island cruising experience. A beautiful and elegant vessel, plying the waters of the gentle Adriatic Sea, the MS Arca offers a wonderful way to experience the charm of the Adriatic coastline. A fantastic range of amenities, a professional and multilingual crew and a deck of spacious cabins are at your disposal, as the MS Arca whisks you away to a world of refined relaxation.

Upgrades

We offer a selection of upgrades and 'add-ons' designed to help you make the most of your holiday - and make it even easier!

This page was printed from

www.greatrail.com/ca/tours/adriatic-by-yacht-and-plitvice-lakes/#CRO20

on 3 June 2020.

Call

01904 521 936

to discuss your holiday

© Copyright 2020. Great Rail Journeys