01904 521 936
Open 7 Days a Week
Railways & Castles of Wales
Scenic tours through the Welsh countryside
Enjoy a fantastic tour of North Wales from our base in charming Llandudno. Ride aboard historic steam railways and visit the impressive castles found along the coastline of this beautiful and mountainous region of Wales.
The itinerary for your journey
Tour highlights
Snowdon Mountain Railway
Scenic rail journey on the Welsh Highland Railway
Scenic rail journey on the Ffestiniog Railway
Tours of Caernarfon Castle and Conwy Castle
Visits to Plas Mawr and Bodnant Gardens
Excursion to Portmeirion
Visit to the National Slate Museum
Day 1 - Meet in Llandudno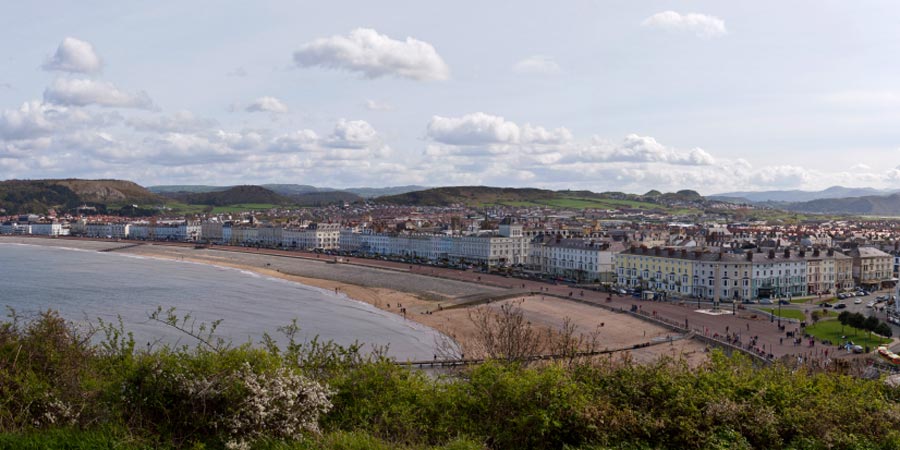 Our holiday begins as you meet your Tour Manager in Llandudno, where we stay at the Dunoon Hotel. This fabulous seaside resort, sometimes referred to as the 'Queen of the Welsh Resorts', is the ideal base from which to enjoy our explorations of Wales, thanks in part to its marvellous history in welcoming travellers and guests to its delightful sandy beaches.
Tonight we meet for a drinks reception ahead of our first dinner together in the hotel's award-winning restaurant.
Day 2 - Portmeirion and Ffestiniog Railway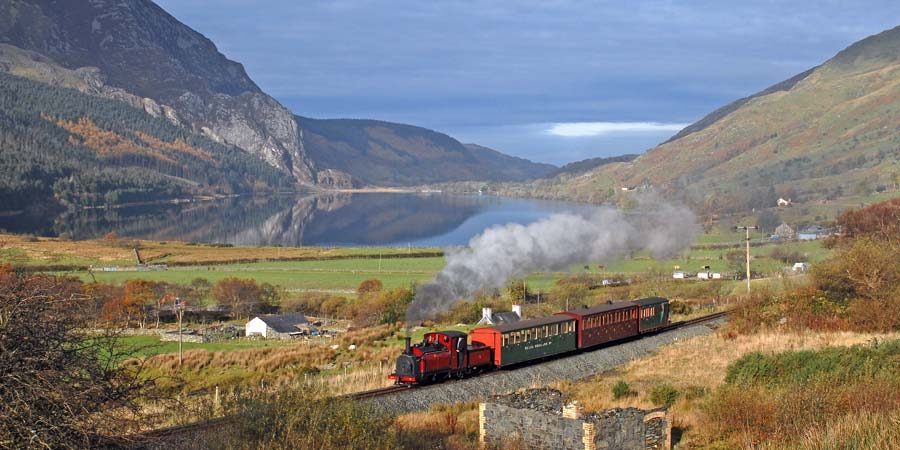 Today we head along the coast to Caernarfon, joining the narrow-gauge Welsh Highland Railway* for a journey into the foothills of the Snowdon Mountain Range to Beddgelert. This excellent line was opened in what is considered to be the 'Golden Age of rail travel', the roaring 20s. Although it closed only 15 years later, a marvellous effort has brought the line back to life, and in 1980 it began running again.
On arrival in Beddgelert, we transfer to Portmeirion by coach for a short guided tour. This tiny tourist village was designed by architect Clough Williams-Ellis, in 1925, who wanted to create a town that wouldn't look out of place on the Italian Riviera: something that has been achieved to a marvellous effect. Construction of Portmeririon was finished 52 years later, and now enjoys numerous visitors, who come to enjoy the calming sea views, the lovely architecture, and abundant greenery.
After some time at leisure, perhaps perusing the quaint souvenir shops, we travel to Porthmadog to join the narrow-gauge Ffestiniog Railway* to Blaenau Ffestiniog.
The second heritage railway that we travel on today is owned by the same company as the Welsh Highland Railway, and it boasts the title of being the oldest railway company in the world. This particular line is short but sweet, and has a history dating back nearly 200 years.
There are a number of locomotives that operate on this line, some of them steam, but the oldest among them are over 150 years old, and has been impeccably maintained to guarantee a marvellous experience.
*Steam-hauled where possible
Please Note: For departure WDS2012 Days 2, 3 and 5 have swapped around
Day 3 - Caernarfon Castle & Snowdon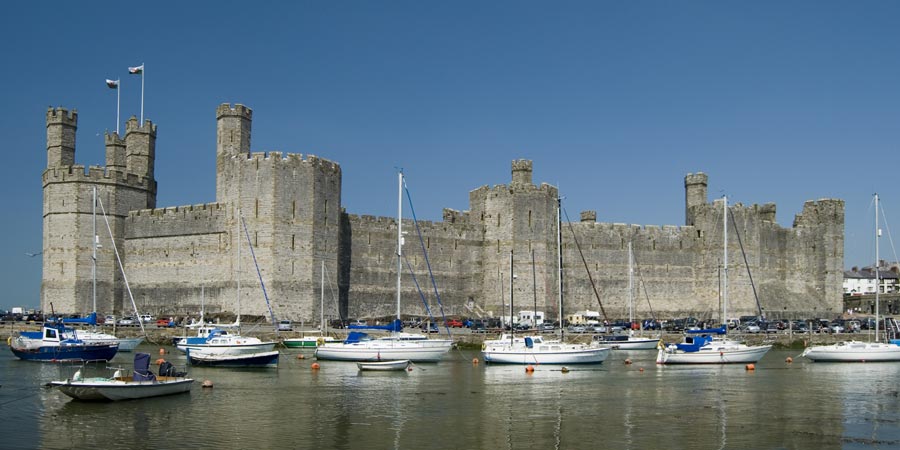 We begin our day with a guided tour of the impressive Caernarfon Castle, a UNESCO World Heritage site. Marvel at the iconic polygonal towers of this famed attraction. As we wander through the sprawling ancient complex, it is easy to imagine what life must have been like for the soldiers that lived here - from the legions of Rome to the armies of Edward I.
After the tour of the castle, we then travel over the rather dramatic scenery of the Llanberis Pass to Llanberis, where we visit the National Slate Museum which outlines the history of quarrying and slate in Wales since the original quarry was opened in 1870. Later, we board the Snowdon Mountain Railway's diesel service, which climbs to the summit* of Snowdon at 3,494 feet (weather dependent).
Enjoy travelling up the rugged sides of Wales' highest mountain in the comfortable, and rather modern, carriages of this wonderful service. Mingled with the everunchanging scenery of Snowdonia National Park, it can be all to easy to lose yourself in the amazing and immersive experience of this fantastic mountain railway. Hopefully, if the weather is good, you are able to reach the summit† and marvel at the spectacular panorama that is laid out before you, as you enjoy a scene that was just this year voted 'the best view in Britain'.
This evening, we return to our hotel and enjoy a talk on the history of Llandudno ahead of dinner by special guests from the Llandudno Museum.
*April departures will not travel to the summit
Please Note: For departure WDS2015 Days 3 and 5 have swapped around
Day 4 - At leisure in Llandudno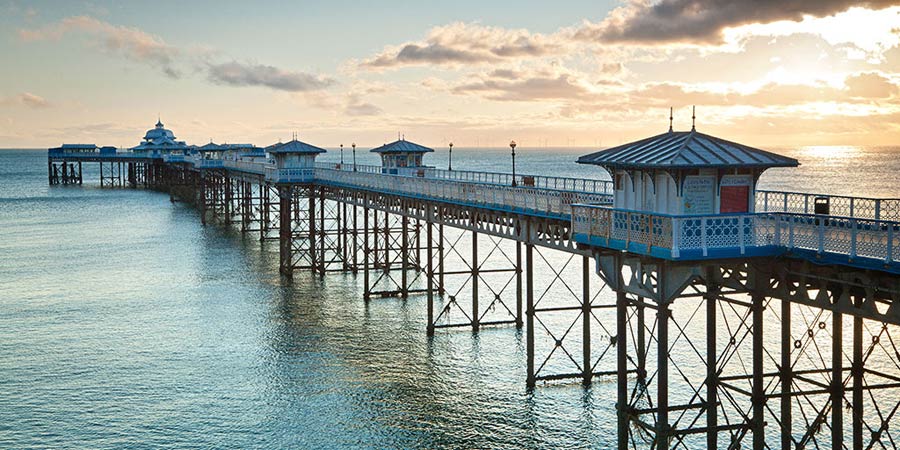 Today is at leisure to explore Llandudno. The nostalgic Victorian pier is well worth a visit. Built in 1878, this charming attraction provides excellent views of the seafront promenade. It also has the lovely title of being the longest pier in Wales, taking you out into the sea and giving a delightful view of Llandudno behind you.
Day 5 - Conwy Castle and Bodnant Garden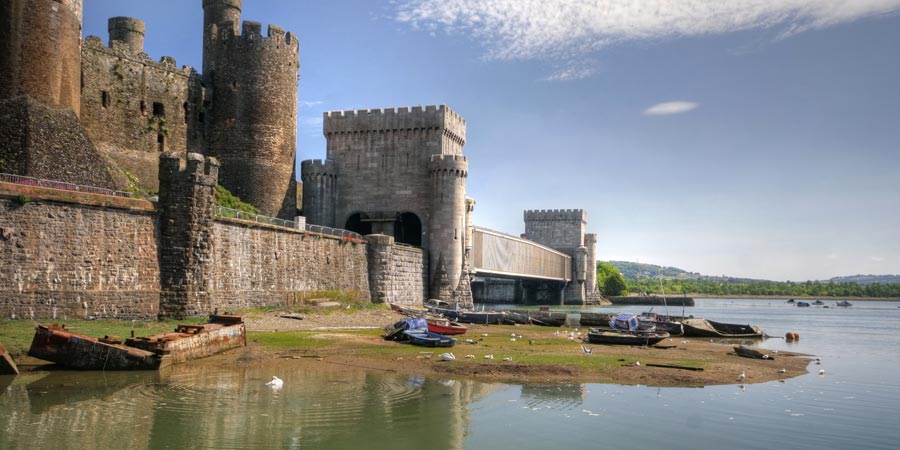 This morning we visit Conwy Castle, a wonderfully preserved 13th-century castle. A guided tour reveals its intriguing history, from its initial and somewhat humble beginnings as a Cistercian monastery and its part played in the War of the Roses, to its eventual ruin in the 17th century. It is now a UNESCO World Heritage site, a title which it shares with many of the castles built on the borders of King Edward that are scattered throughout Wales.
We also visit Plas Mawr, the best preserved Elizabethan townhouse in Britain. Constructed over the course of 9 years, what is perhaps most striking about this white-washed house is its lovely crow-stepped gables and the heraldry that stands out above the door. It has stood unchanged since the 16th century, and is therefore an incredible insight into how life was in the 1500s. We then continue to Bodnant Garden, which spans 80 acres and includes a beautiful wild garden, an explosion of colour and scents. This evening we enjoy a 'Taste of Wales' farewell dinner at the hotel with a harpist.
Day 6 - Homeward bound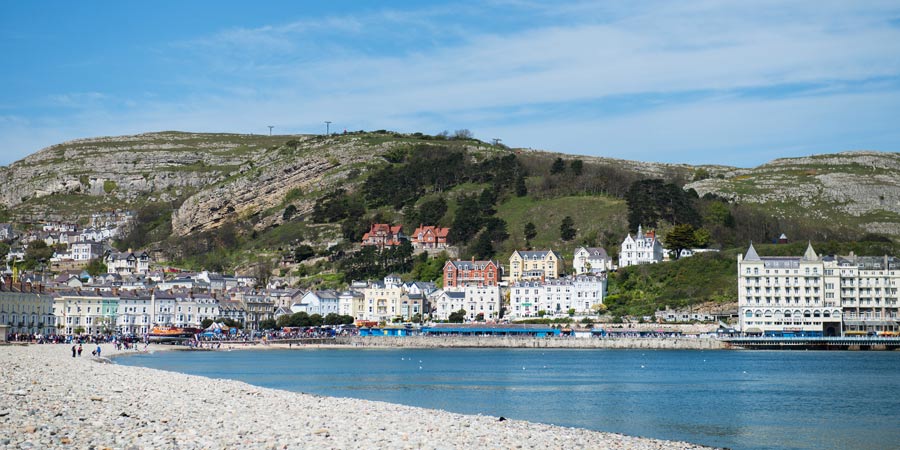 The tour concludes after breakfast this morning, and you are free to depart Llandudno at your leisure.
Please note
Please note: The itinerary order may differ dependent on departure. Please call for more details.
Recommended airport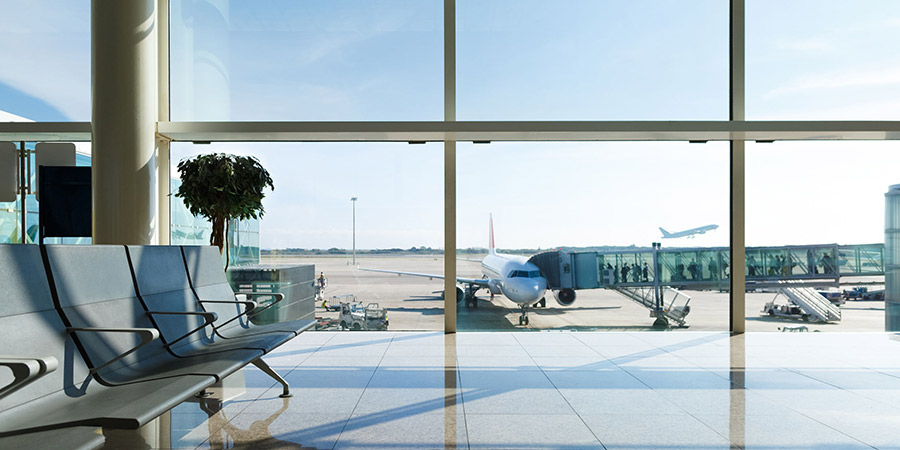 We recommend that for this tour you arrange flights to and from Manchester Airport (MAN), which is approximately 76 miles from your base in Llandudno.
Visa Requirements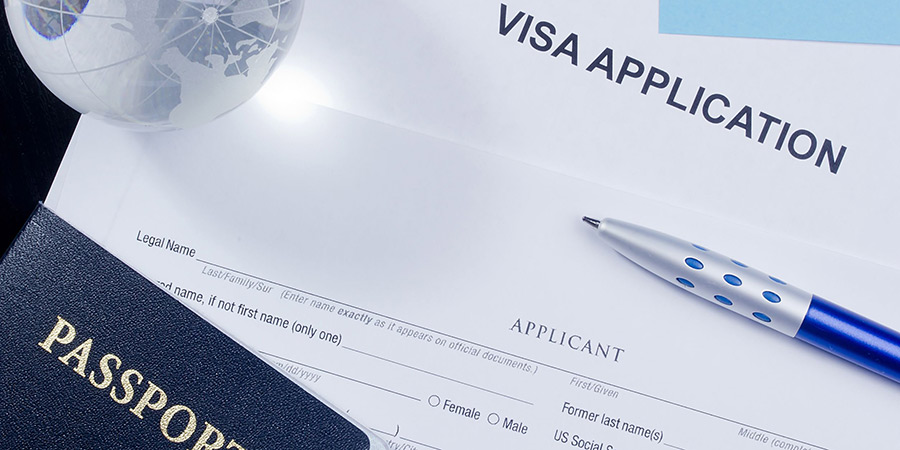 It is your responsibility to check and fulfil the passport, visa, health and immigration requirements applicable to your itinerary. We do not accept any responsibility if you cannot travel, or incur any other loss because you have not complied with any passport, visa, immigration requirements or health formalities. You agree to reimburse us in relation to any fines or other losses which we incur as a result of your failure to comply with any passport, visa, immigration requirements or health formalities.
Departure Dates
All prices are per person and assume full occupancy of the room.
Please always refer to the website for up-to-date prices and availability.
Trains
Ffestiniog Railway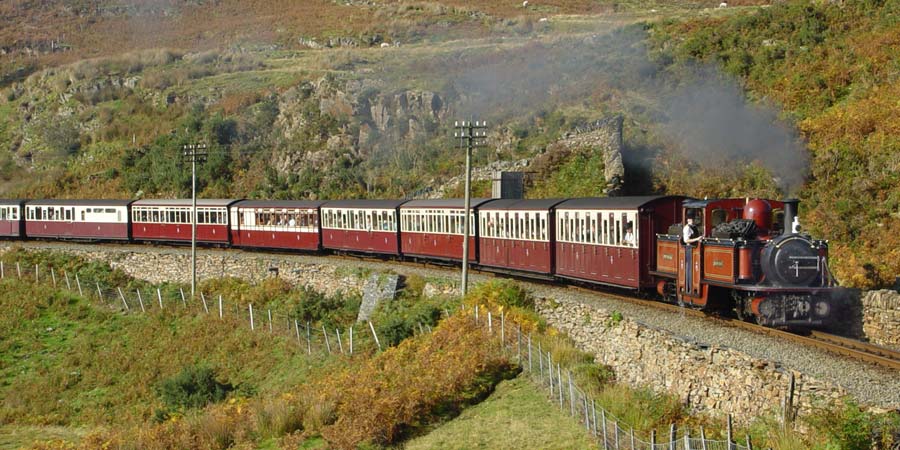 The world's only surviving narrow-gauge railway, winds its way from the harbour at Porthmadog to the slate mining town of Blaenau Ffestiniog. Savour living history, travelling in monogrammed wooden carriages pulled along by 150-year-old steam locomotives as you look out at landscapes little changed for decades, lined with oak forests and majestic mountain scenery.
Snowdon Mountain Railway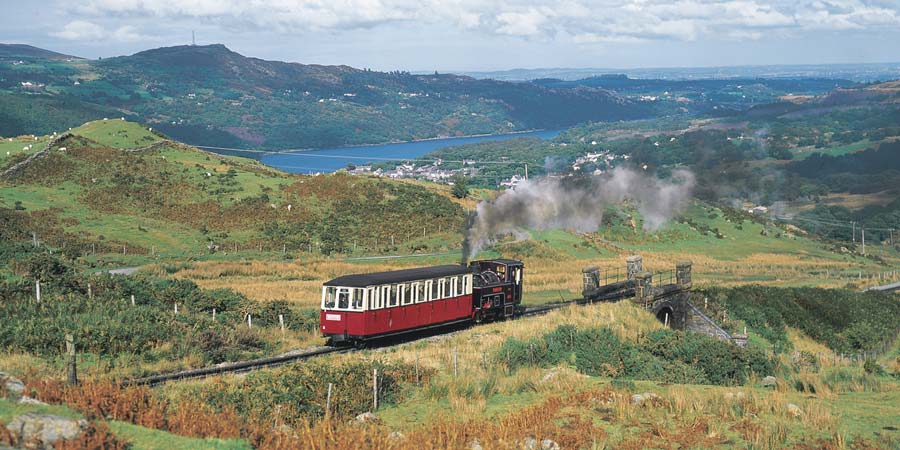 The Snowdon Mountain Railway opened in April 1896 and is a narrow gauge rack and pinion railway, which carries its passengers 4.7 miles (7.6km) up the highest mountain in England and Wales.
Our journey to the summit of Snowdon begins in Llanberis. As we leave the town behind us the train starts its climb, travelling past a spectacular waterfall and through ancient forest until we emerge into the wild, open countryside above the tree line. A quarter of the way up Snowdon we pass the small ruined chapel at Hebron before continuing to Halfway Station - so named because it is situated at the half way point - and then to Rocky Valley Halt.
Immediately after leaving Rocky Valley Halt the train travels along an exposed ridge, which offers breathtaking views of the Llanberis Pass and the volcanic rockface of Clogwyn du'r Arddu. Situated on the ridge is Clogwyn Station - our last stop before the summit.
Enjoy the wonderful panoramic views as we travel towards our destination - 'Hafod Eryri' - the new railway terminus and visitor centre, opened in June 2009. An award-winning structure of granite and glass, Hafod Eryri offers visitors refreshment facilities and an interpretation of the mountain and its history - but perhaps best of all are the views over the rugged Welsh landscape and, on very clear days, the Isle of Man and the Wicklow Mountains in Ireland.
Welsh Highland Railway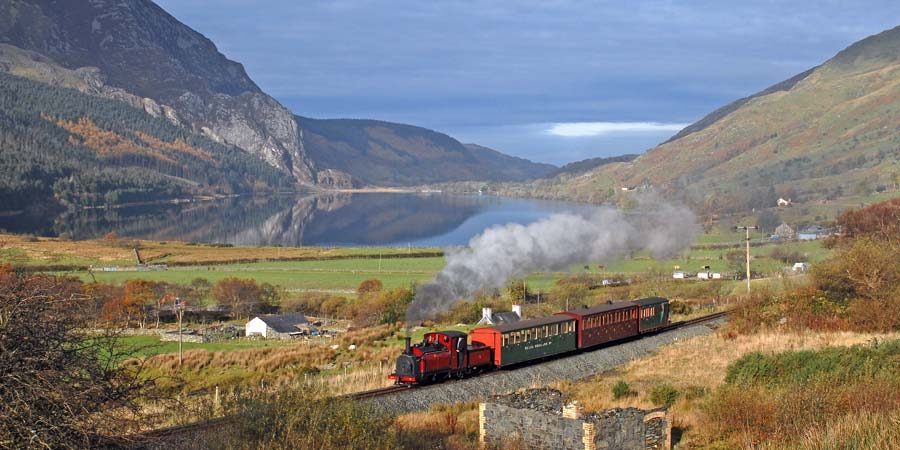 We join the Welsh Highland Railway for a wonderful journey by narrow gauge steam train* through the beautiful Snowdonia National Park. The line originally opened to passengers in 1923 but closed in 1937, having never achieved commercial success. From the early 1960s onwards a group of railway enthusiasts have been working to restore the line and in 2003 the 13-mile (20.9km) section from Caernarfon right the way through to Rhyd Ddu was opened for service once again.
* Journeys are usually by steam train and we utilise these services where available but occasionally the locomotive hauling the train may be diesel.
Hotels
Dunoon Hotel, Llandudno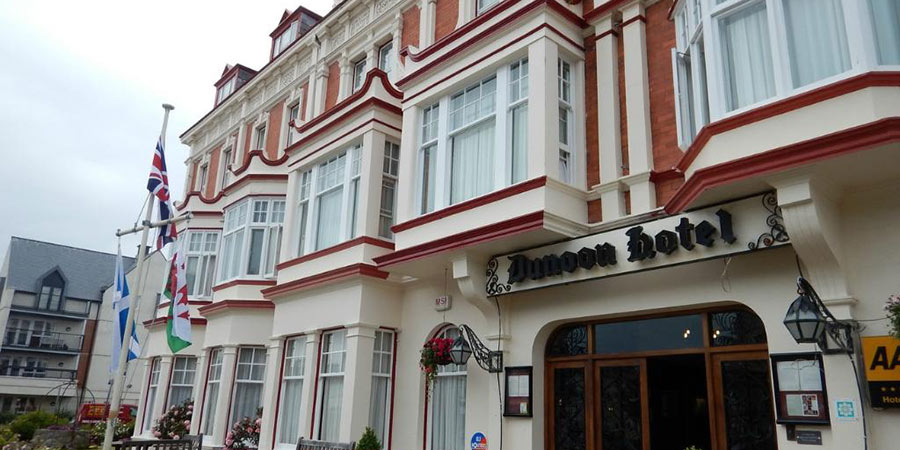 The 4-Star Superior Dunoon Hotel is a beautiful Georgian building located close to Llandudno town centre and promenade. The hotel has been awarded two AA rosettes and an AA Silver Star, plus it is Michelin Guide listed and is a former winner of Les Routiers' UK Hotel of the Year. It is also consistently popular with Great Rail Journeys customers, winning a number of awards - most recently the Best Food Award in 2019.

The hotel prides itself on impeccable service and attention to detail. Rooms have been finished to the highest standard and are complemented by "understated luxuries", fluffy white towels and complimentary Molton Brown toiletries in every bathroom.

Dining at the Dunoon
The Dunoon Hotel has consistently demonstrated a passion for excellence with its cuisine. Using fresh, seasonal and (wherever possible) locally sourced ingredients, the Head Chef creates a delicious, unpretentious menu of "good, honest food" - undeniably the perfect way to finish a day's sightseeing. The elegance of the oak-panelled dining room is enhanced by crisp linen table cloths and napkins, fine china, heavy Sheffield-steel cutlery and fresh flowers on every table. An "adventurous and approachable" wine list offers more than might normally be expected for a small hotel in the far north-west of Wales. Owners Charlotte & Rhys and their dedicated team create a genuinely homely atmosphere at the Dunoon Hotel while striving for the highest possible standards of accommodation, service and cuisine. In 2019 the quality of the food was recognised with Great Rail Journeys customers awarding the hotel the award for Best Food in the UK and Ireland, and Best Service in the previous years. It also won the Wales Tourism Awards, Hotel of the Year for North Wales 2018. The Dunoon has also picked up a Gold Award from VisitWales, making it the only hotel in North Wales currently to hold all three awards at the same time.

Upgrades

We offer a selection of upgrades and 'add-ons' designed to help you make the most of your holiday - and make it even easier!

This page was printed from

www.greatrail.com/ca/tours/railways-castles-wales-dunoon-hotel/#WDS20

on 5 August 2020.

Call

01904 521 936

to discuss your holiday

© Copyright 2020. Great Rail Journeys