01904 521 936
Open 7 Days a Week
Fall Colours of New England
Discover the almost indescribable beauty of New England in the Fall season
Discover the almost indescribable beauty of New England in the Fall season. Explore the historic wonder of Falmoth and Martha's Vineyard, enjoying both heritage and Amtrak rail journeys along the way.
The itinerary for your journey
Tour highlights
Hyannis
Martha's Vineyard
Newport
Boston & Salem
Mount Washington Cog Railway
Fall colours of New England
Day 1 - To Hyannis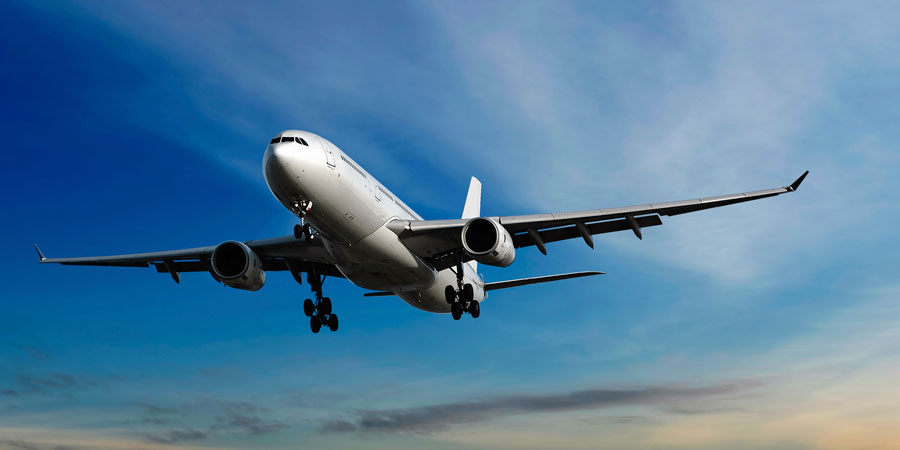 Meet your group and Tour Manger at your hotel in Hyannis. Here, enjoy a welcome drink, and take some time to settle in to your surroundings.
Day 2 - Visit to Martha's Vineyard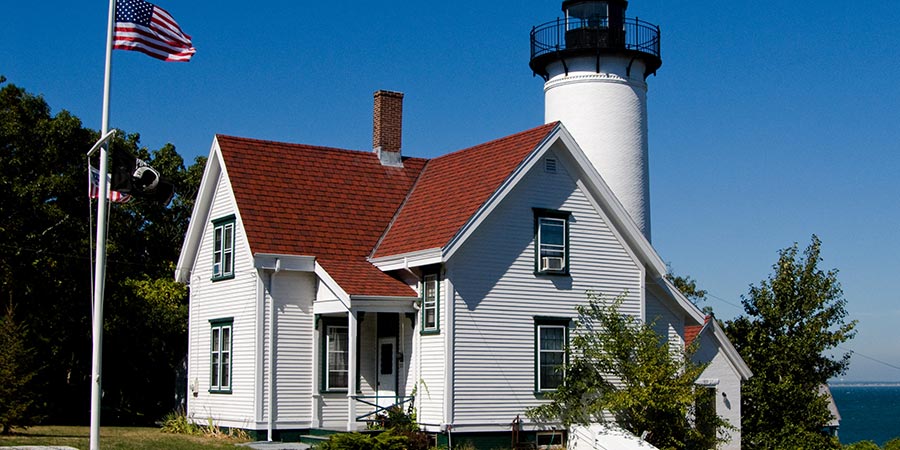 Today, venture forth from the hotel to take a ferry to nearby Martha's Vineyard. This beautiful New England resort is known to be the summer escape for New England's elite, and is therefore an incredibly beautiful and elegant place.
The 'Vineyarders', as the island's residents are known, are extremely protective of their heritage and traditions, making Martha's Vineyard seem gorgeously historic with a relaxing atmosphere. This island is also fairly untouched by the 'big businesses', which gives it a delightfully smalltown feel.
In the 'up island' area, you can find lovely, but sparsely-populated towns, with the more busy and fashionable area of Martha's Vineyard being known as 'down island'. You enjoy a coach tour of the sights of Martha's Vineyard before you cross back to the mainland and return to the hotel.
Day 3 - Newport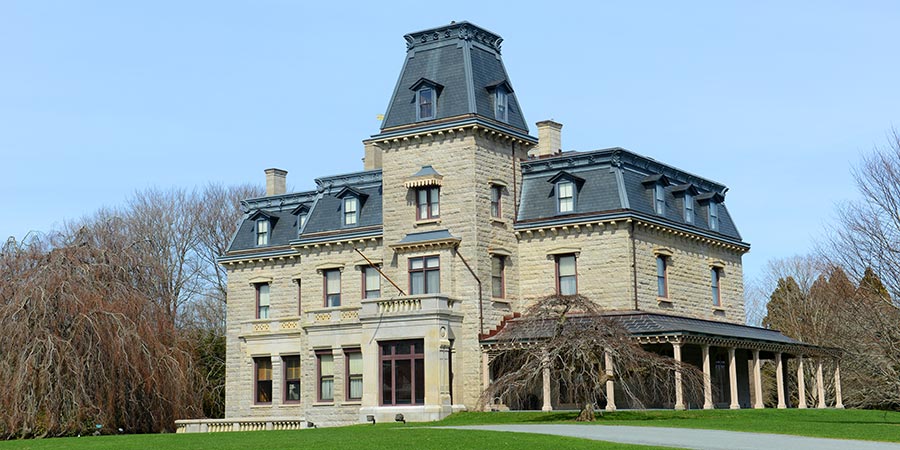 Your excursion begins with a visit to pretty Rhode Island, starting at fashionable Newport in the morning. Long a destination for rich visitors from across American, Newport is home to some marvellous mansions and to an annual sailing regatta which attract thousands of competitors and spectators from across the globe. Like many towns and cities in the region, Newport was one of the first cities built in American by European settlers.
Your time spent is free to take in the historic beauty of the city, including Hammersmith Farm, the childhood home of Jacqueline Bouvier, later Jacqueline Kennedy Onassis.
Day 4 - Boston and Salem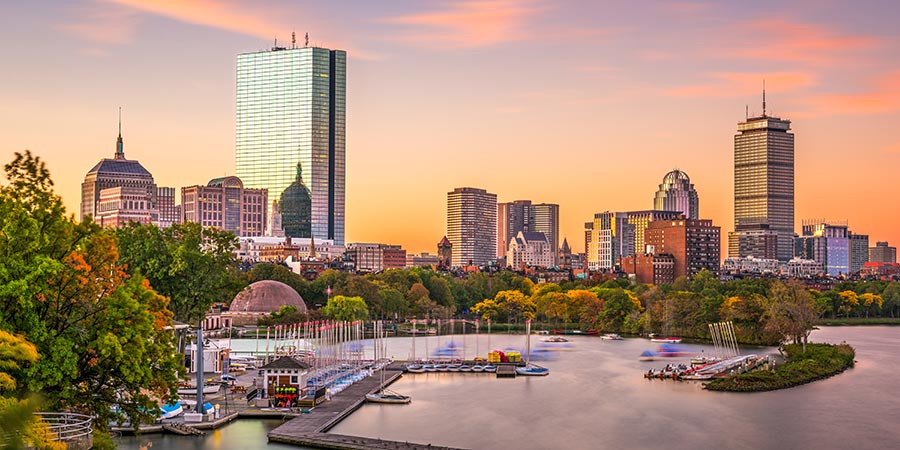 This morning, transfer to Boston, where you take a guided walking tour of the Freedom Trail and Quincy Market. Boston is one of the most important cities in the young history of the United States. Founded back in 1630 by the British colonisers, it is also one of America's oldest cities, and played a vital role in the American Revolution with such iconic events as the Tea Party and Siege of Boston taking part in the harbour and city outskirts. The Freedom Trail reveals part of this history, revealing the locations and battles which took part in the city.
Following your visit here, transfer to Salem, where you have time to explore. Salem is infamous for its witch trials in the late 17th century, during which time more than 200 men and women were accused of witchcraft. It is now widely recognised as having a connection with the paranormal, a connection which often dwarfs the significance of Salem as an early American seaport.
Day 5 - Mount Washington Cog Railway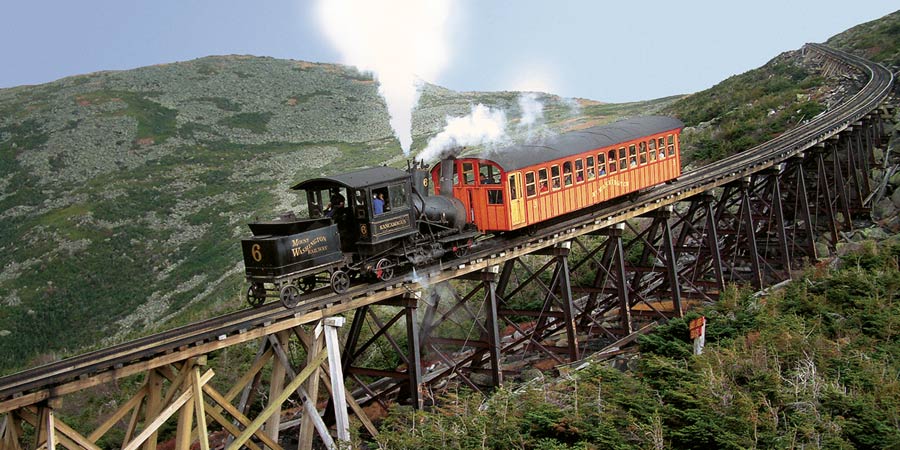 Discover the awe-inspiring scenery that makes New England such a beloved place to be in the fall season whilst on a journey aboard the Mount Washington Cog Railway. Taking you up to a spectacular vantage point that looks out over the golden-hued trees blanketing the surrounding hills, this is truly the perfect way to enjoy autumn.
Red, yellows and greens are sewn into the fabric of the fall tapestry in New England, and we travel through this beautiful world to the summit of Mount Washington We have time to soak in our surroundings before our train makes the descent through the Arcadian forests.
On your return to the hotel, you enjoy a scenic route that takes in the White Mountains, Crawford Notch, and the Kancamangus Scenic Highway, all of which look resplendent in their autumn dress.
Day 6 - Vermont's Fall foliage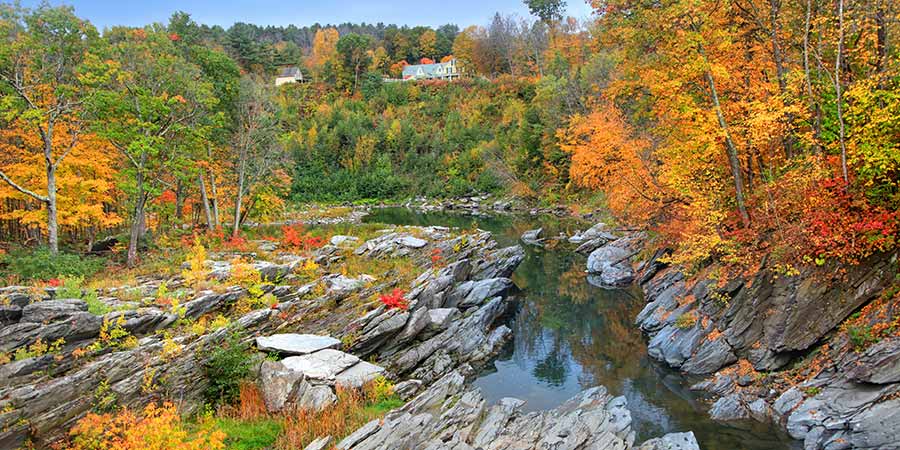 Board your coach for a full-day fall foliage tour in and around Vermont. Discover Woodstock as well as the awesome Quechee Gorge which spans the rushing Ottauquechee River.
We also enjoy another drive on the glorious Kancamangus Highway which winds its way through the deep forest, under the gold-bearing branches and under the crisp north American sky.
Day 7 - Homeward bound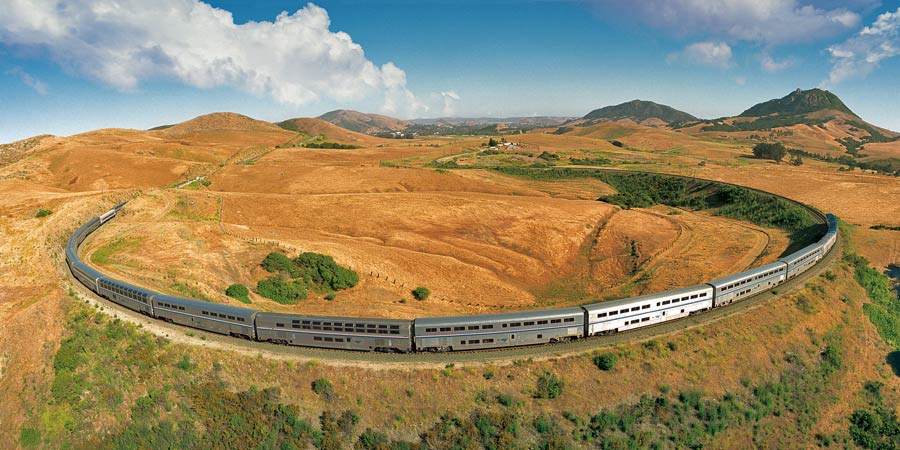 After breakfast, transfer to Portland where you join the Amtrak service to Boston. Your afternoon is at leisure. Perhaps take the time to venture to the huge expanse of parkland at Boston Common, the oldest city park in the USA. It was originally used by the British as a camp during the American Revolution before it was reclaimed and given as a public area to the people of the city.
After time to explore Boston your tour concludes and you are free to make your way to the airport for your flight home.
Recommended Airports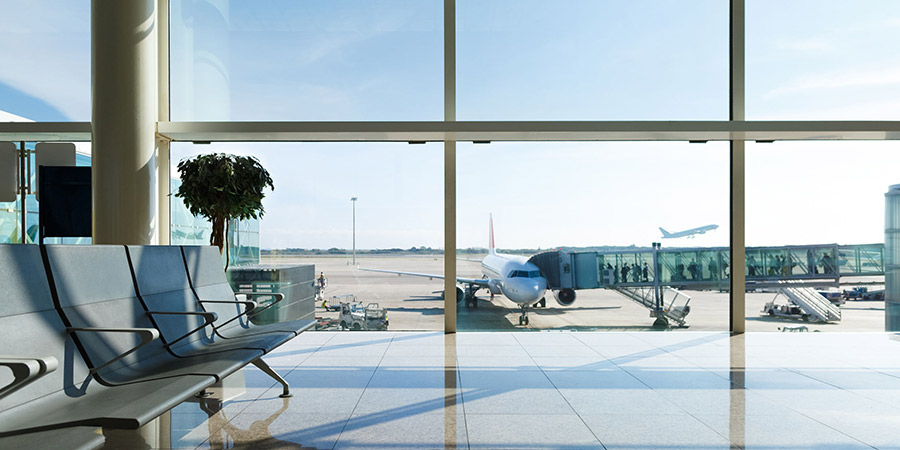 For this tour, we recommend you arrive into Barnstable Municipal Airport (HYA), which is approximately 2 miles from your first hotel. Our recommended departure airport is Boston Airport (BOS), which is situated approximately 3 miles away from your end point.
Departure Dates
28 September 2020
From

$1,735

5 October 2020
From

$1,935
All prices are per person and assume full occupancy of the room.
Please always refer to the website for up-to-date prices and availability.
Trains
Amtrak Trains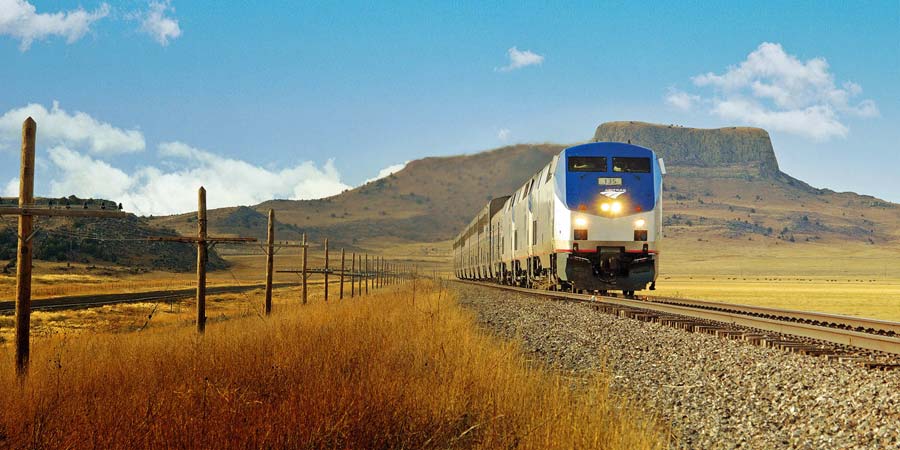 Amtrak trains provide the passenger rail services in the USA, and relaxing on board one of its comfortable long distance trains is simply the best way to discover this vast country, its great cities and ever-changing landscape.
On overnight journeys, accommodation is in a Roomette Cabin, which are comfortable but compact. Inside you have two comfortable reclining seats beside a large window, which convert to upper and lower berths at night. Each cabin has individual climate control, a fold down table, fresh towels and complimentary bottled water. WC, shower and washroom facilities are located at the end of each carriage. Roomettes are located on both the upper and lower levels of the double-deck carriages.
On some Amtrak trains a limited number of bedrooms are available at a supplement. These cabins have a daytime sofa that converts to a wide lower berth and a comfortable upper berth at night, and the added benefit of their own en suite shower, washbasin and WC. During daytime journeys we travel in comfortable seats with plenty of legroom. On tours involving journeys on overnight sleeper services, passengers enjoy a meal in the restaurant car if they are travelling during a mealtime. Passengers travelling during the day may purchase meals from the restaurant car where this service is provided. Many Amtrak trains also have Lounge, Dinette and Café cars where passengers can buy snacks, meals and beverages and take advantage of the comfy seating.
Mount Washington Cog Railway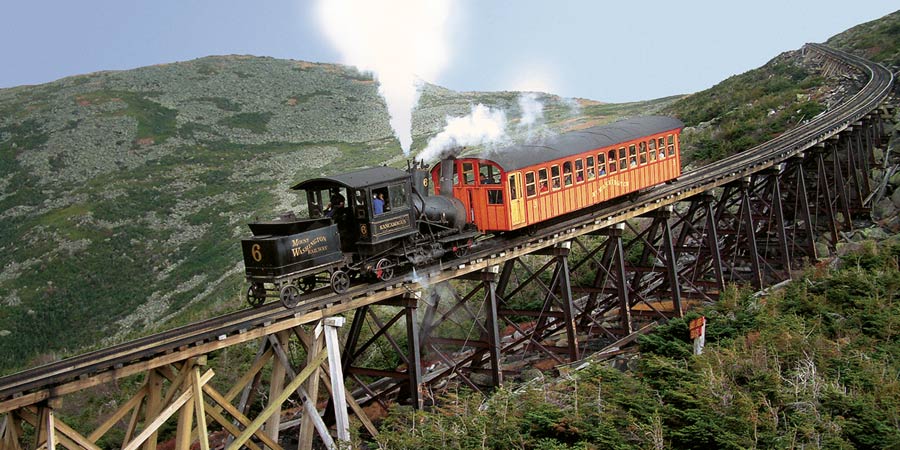 First taking passengers to the summit in 1869, the Mount Washington Cog Railway in New England is the oldest mountain railway in the world. The journey to the top of the 6,288-feet Mount Washington still runs with its vintage steam engines and replica coaches, though on occasion the three mile trip is made with a bio-diesel locomotive. There is a gift shop, a restaurant and a fascinating museum all on site.
Hotels
Cape Codder Resort & Spa, Hyannis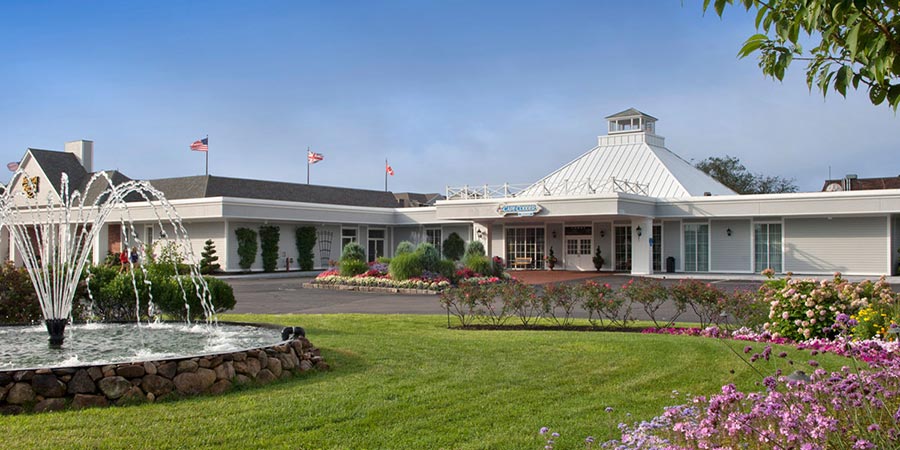 The 3* Cape Codder Resort & Spa is a wonderful base from which to conduct our explorations of this area of New England. The hotel offers a wide variety of amenities, including a spa, a variety of restaurants, a bar, and a year-round outdoor pool.
The hotels are traditionally decorated, but come with modern conveniences including climate control, a coffee maker, a minifridge, and WiFi.
Fox Ridge Resort, North Conway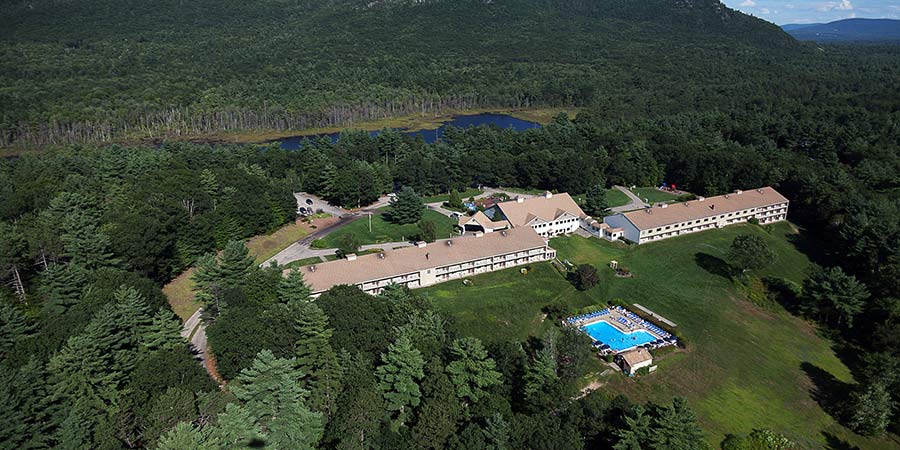 The 3-Star Fox Ridge resort is situated in the quiet town of North Conway in the heart of the White Mountains region, and offers incredible views across the rugged landscapes. The hotel is located on 30 acres of stunning land, and boasts indoor and outdoor swimming pools, a whirlpool and a private nine-hole golf course, making it the perfect spot for relaxing.

The comfortable guest rooms feature traditional décor, and are equipped with a television, refrigerator, coffee maker and Wi-Fi access.

Upgrades

We offer a selection of upgrades and 'add-ons' designed to help you make the most of your holiday - and make it even easier!

This page was printed from

www.greatrail.com/ca/tours/fall-colours-of-new-england/#20NEC

on 2 June 2020.

Call

01904 521 936

to discuss your holiday

© Copyright 2020. Great Rail Journeys