01904 521 936
Open 7 Days a Week
French Riviera & Rhône Cruise
Discover the immaculate and enchanting charm of Nice and the French Riviera
Discover the enchanting allure of Nice and the French Riviera on this dazzling tour, before continuing to Lyon for an exquisite 7-night cruise on board the MS Amadeus Provence.
The itinerary for your journey
Tour highlights
Nice
The Ardèche Gorge
Monaco
MS Amadeus Provence
Beaune
Lyon
Journey on the Train de L'Ardèche
Avignon
The Camargue Delta
Pont du Gard
Day 1 – To France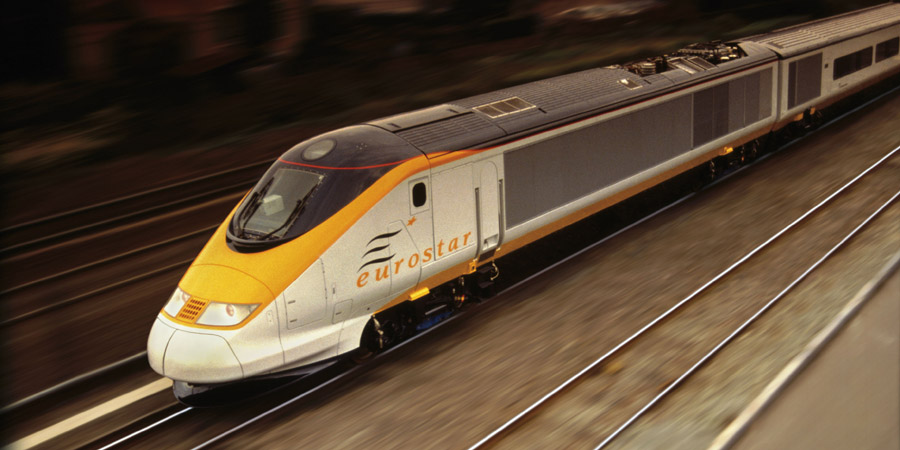 We meet at our London St Pancras departure office before boarding the Eurostar to Paris. From here, we continue by rail to Nice and check into our hotel close to the beautiful Riviera seafront. After dinner, you may wish to head out into for a stroll along the promenade, set against the ocean.
Day 2 – Exploring Nice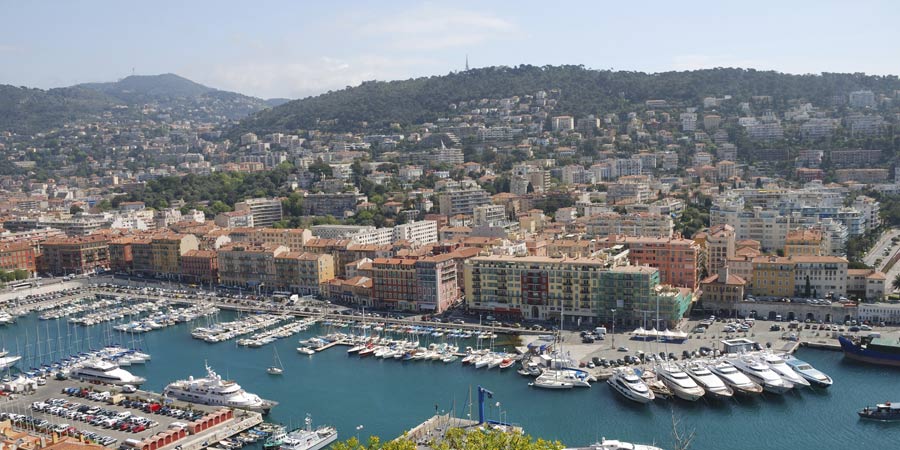 Our French Riviera experience begins with a guided tour of Nice, France's glittering jewel on the southern coast of the country. This magnificent city has always been a choice destination for travellers of repute and distinction, as it sits overlooking the Mediterranean coastline. We walk through the enchanting streets, seeing the famously affluent mansions of Mont Boron, the historical Old Town, and the chequered floor of the Place d'Opera. We also discover the history of the city, from the days of Greek settlers who founded Nice, to the modern day. If you would rather spend your time independently however, perhaps head to the beach and soak in the views and sun.
Day 3 – Monaco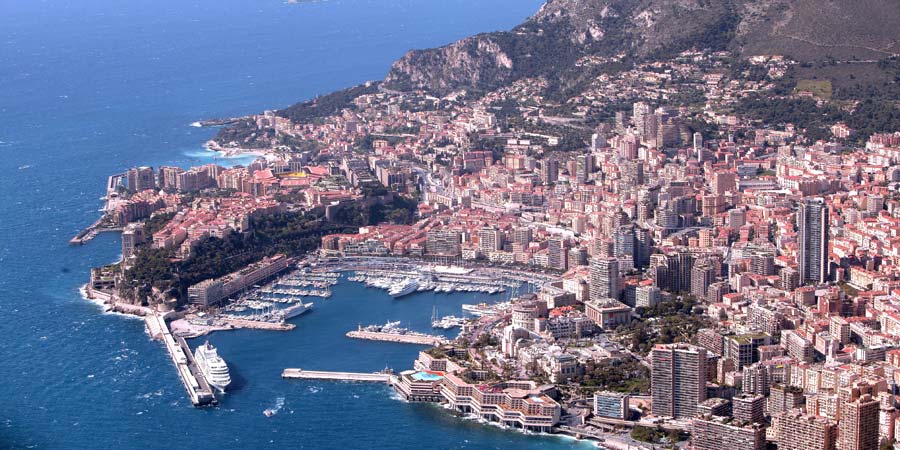 Today we pay a visit to the glamorous city-state of Monaco, famous as a retreat for the rich and famous. Taking a coach, we begin our day in the luxurious district of Monte Carlo, where we stop at the entrance of the iconic casino to admire its palm tree-lined fountains. From here we embark on a guided tour, seeing the fantastic flowers of the Jardin Exotique, the grand windows of the Place de l'Opera, and the beautiful Old Town. On our return to Nice, we pay a visit the elegant Villa Ephrussi de Rothschild, seaside home of the Rothschild banking family.
Day 4 - To our ship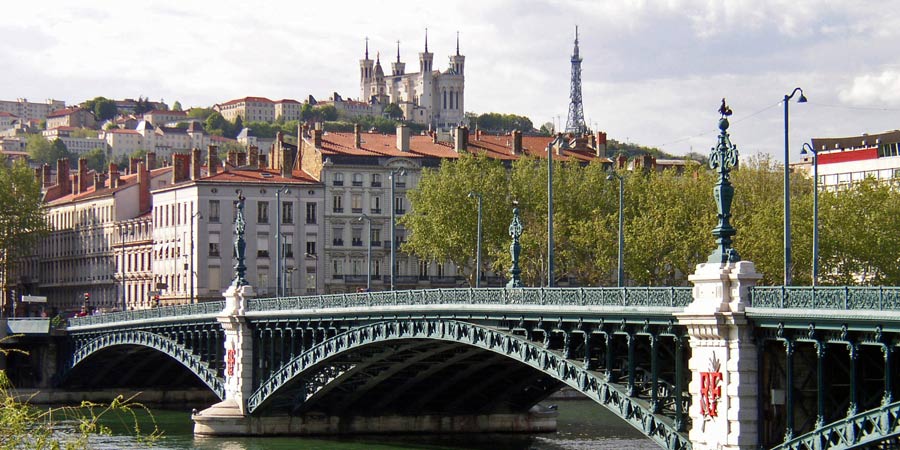 After a free morning to relax on the beach perhaps, we board our train to Lyon, bidding farewell to the south of France.
Arriving into this colourful old town, we board your luxurious ship, the excellent MS Amadeus Provence. We have time to settle into our cabins before we enjoy a welcome cocktail, which you might like to enjoy on the sun deck as we admire Lyon's colourful townhouses and lively streets. Later, we sit down to a splendid 5-course meal before setting sail for Beaune.
Day 5 - Beaune and wine tasting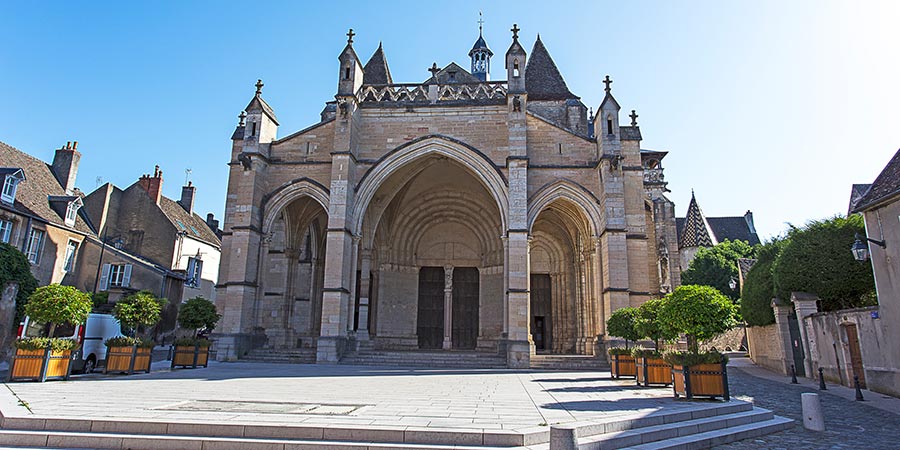 We arrive into Beaune this morning. Deep in the heart of the wine region of Burgundy, Beaune is a classic French medieval town with impressive town walls, terracotta roofs and fascinating historical buildings. We embark on a sightseeing tour, discovering the sights as we wander the enchanting streets. We enjoy a tasting of some delectable wines which make this town, and the Burgundy region so famous. Back on board later, we enjoy a leisurely afternoon cruising back to Lyon.
Day 6 - Lyon on a guided tour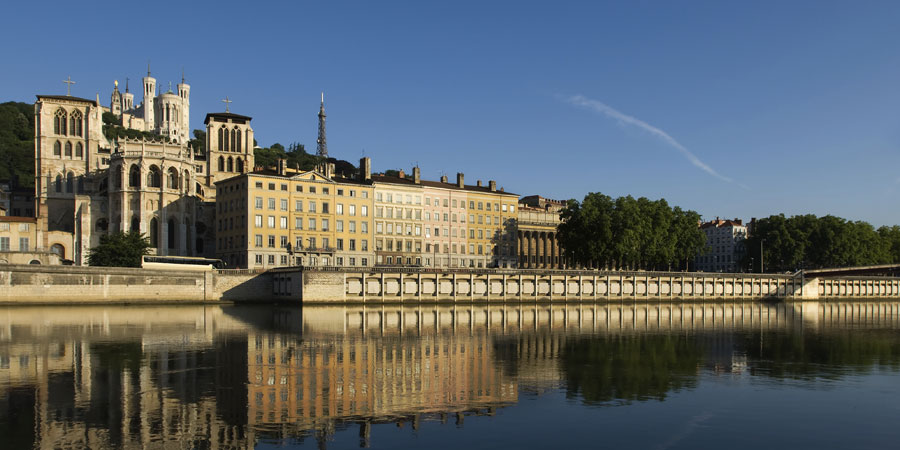 Arriving in Lyon this morning, we disembark for a guided tour. One of France's iconic cities, Lyon sits on the meeting point of the Rhône and the Saône rivers. The beautiful pinks, oranges, reds and whites of the buildings populating Lyon's riverfront give some indication of the city's elegance. Our tour takes us along the streets and over the bridges to explore some of the fantastic highlights and the extensive history here. The Old Town is a UNESCO World Heritage site, and many of the small shops and traditional businesses lend a truly French fl air to our surroundings.
After returning to the ship for lunch, we enjoy an afternoon at leisure as we cruise to Tournon sur Rhône. This is one of the most scenic and panoramic sections of the river, and it's well worth taking the time to admire the scenery from the spacious sun deck. Rolling hills, dotted with verdant vineyards rise and fall away under the gaze of various châteaux and stately homes.
Day 7 - Train de l'Ardèche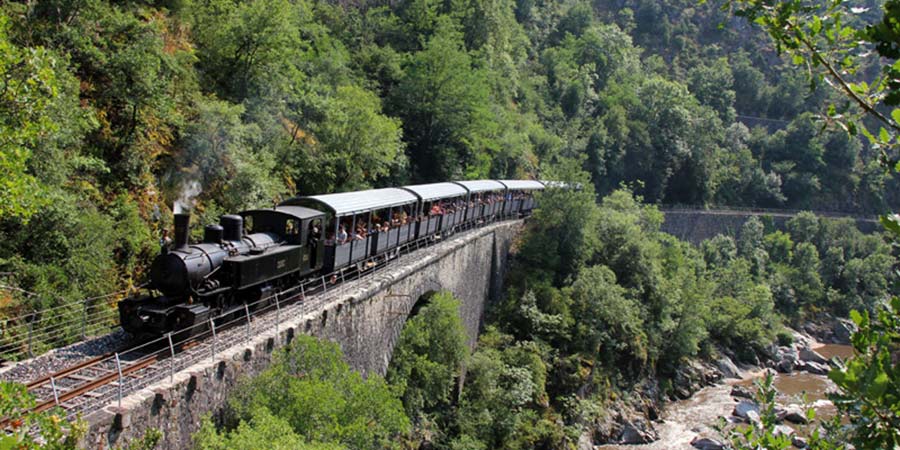 Early this morning, we travel by coach to Tournon sur Rhône's railway station to board the Train de l'Ardèche. Offering a memorable journey through the stunning environs of the spectacular Gorges du Doux region, this railway winds up the various foothills and valleys which populate the landscape. Several stone bridges criss-cross the brooks and rivers which snake under the trees, and our charming little locomotive takes us to sections of the gorges which no other form of transport can access. Later, our ship continues its course to the 'White City' of Avignon.
Day 8 - Exploring Avignon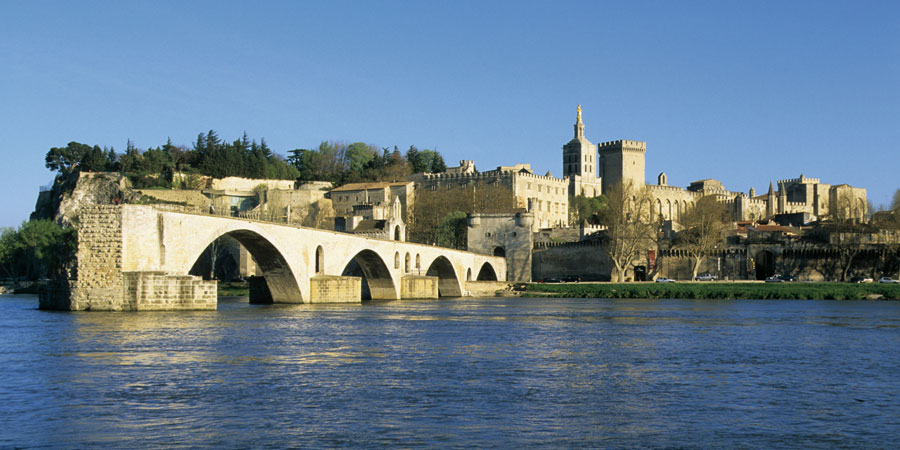 In Avignon today, we head out on a guided tour of this city famous for being seat of the Pope for a brief period in the 14th century. Its striking white papal palaces and majestic cathedral are just some of the highlights we see walking through the boulevards and squares of Avignon's historic centre, which earned UNESCO World Heritage status in 1995. Afterwards we enter the Pope's Palace, admiring its spectacular interiors and the range of holy and religious artefacts collected here. You are then free until early evening to discover the city at your own pace. After dinner tonight, our ship sets sail for Arles.
Day 9 - The Camargue and Arles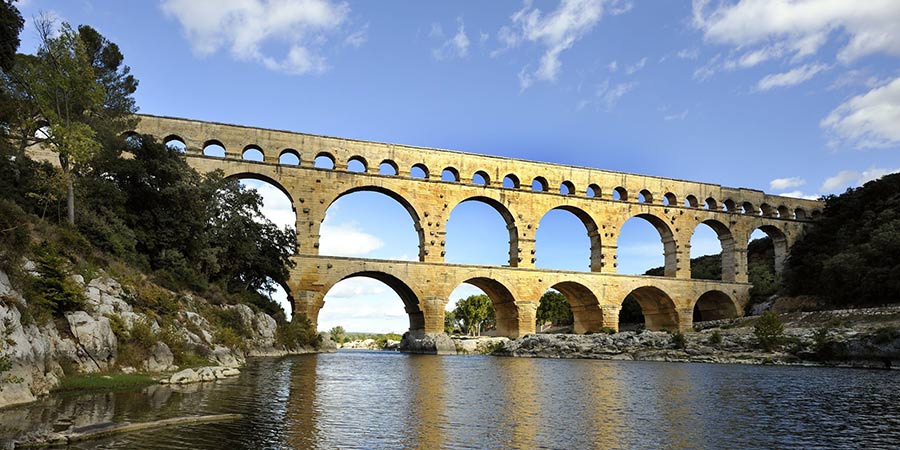 We begin the day with a guided tour of pretty Arles, whose enchanting streets provided the inspiration for many of Vincent Van Gogh's most famous paintings. In the afternoon, you have the choice of 2 excursions. Your first option is a visit to the beautiful Camargue Delta, where the Rhône opens out into the Mediterranean. This is a true treat for nature lovers, as the wetlands and park area are home to nearly 400 species of bird species, including an instantly- recognisable flock of pink flamingos. Also of note are the wild horses which roam freely, including a breed which can only be found in this part of the world - the famous Camarguais. Your second option takes you to the iconic arches of the Pont du Gard, an ancient Roman aqueduct of astonishing size which spans the Gardon river. Another UNESCO World Heritage site, the Pont du Gard is a sight to behold, measuring at least 160 feet, a real feat of engineering considering its age. Later, we return to the ship which sets sail for Chateauneuf du Rhône.
Days 10-11 - The Ardèche Gorge and home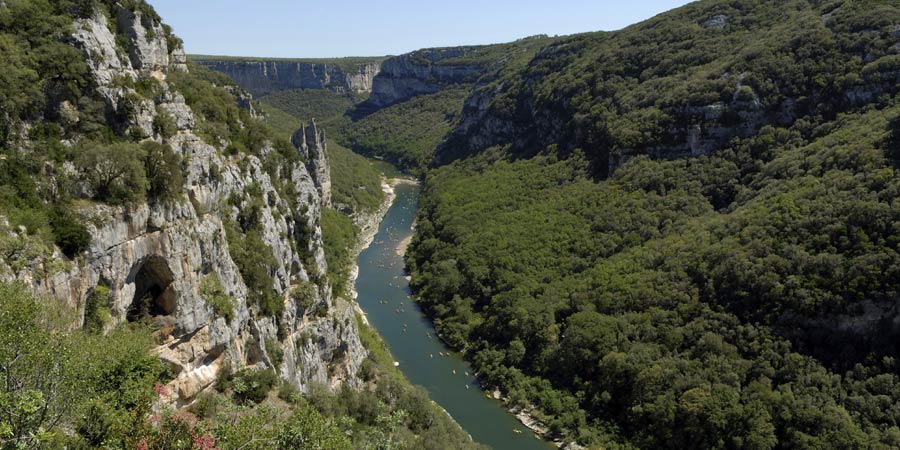 Today we pay a visit to the stunning Ardèche Gorge, widely regarded as the Grand Canyon of Europe. Nearly 19 miles in length and made up of snaking rivers and gorges, this natural monum the natural world. Sheer cliff faces rise over waterways of striking ent is a striking reminder of the enormity of emerald and forests of deep green. Our tour takes us to some of the most impressive sights here, including the Pont d'Arc. Afterwards, we rejoin the ship at Le Pouzin, beginning our return sailing to Lyon. We sit down to the captain's gala dinner this evening. On Day 11, you will travel by rail to Paris. On arrival in the French capital, we board the Eurostar service back to London.
Recommended airports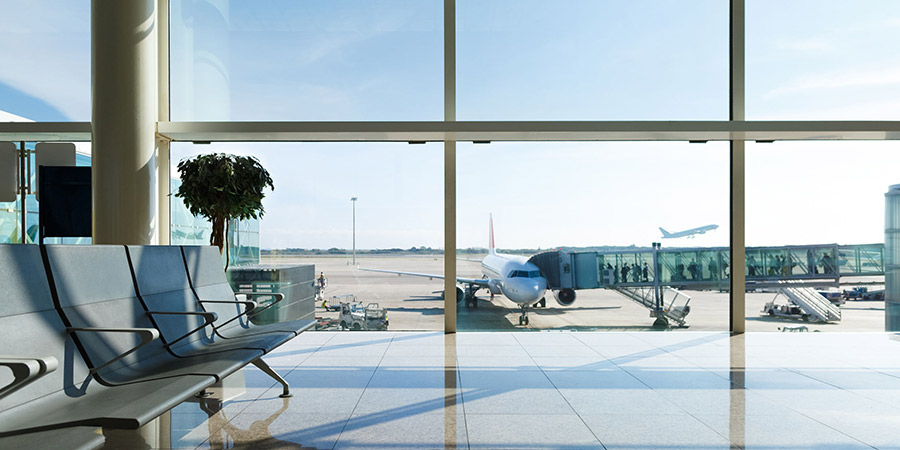 For this tour, we recommend arriving to, and departing from, London Gatwick or London Heathrow airport (LGW or LHR). London Gatwick is approximately 30 miles from your start and end point, and London Heathrow is approximately 19 miles from your start and end point.
Visa Requirements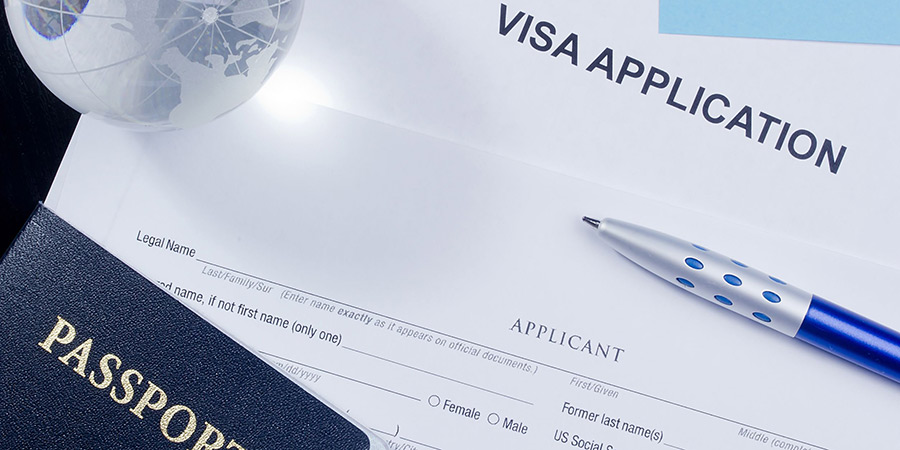 It is your responsibility to check and fulfil the passport, visa, health and immigration requirements applicable to your itinerary. We do not accept any responsibility if you cannot travel, or incur any other loss because you have not complied with any passport, visa, immigration requirements or health formalities. You agree to reimburse us in relation to any fines or other losses which we incur as a result of your failure to comply with any passport, visa, immigration requirements or health formalities.
Departure Dates
All prices are per person and assume full occupancy of the room.
Please always refer to the website for up-to-date prices and availability.
Trains
Eurostar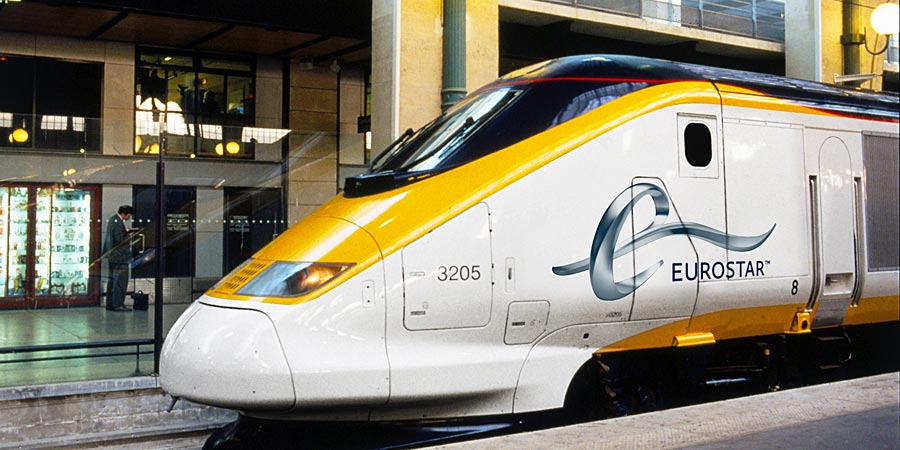 The high speed Eurostar trains link St Pancras International in London with Paris and Lille in France as well as Brussels in Belgium.
Eurostar's Standard Class coaches feature two seats on either side of the central aisle, most of which is arranged in an 'airline' seating configuration with drop down tray tables. There are two tables for four per carriage. Passengers travelling in Eurostar Standard Class coaches can take advantage of the Bar-Buffet which sells a range of snacks, meals, hot and cold drinks - including Champagne!
The highest class of Eurostar travel available for leisure customers is Standard Premier Class. In your dedicated Standard Premier carriage you'll find a less dense seat configuration, meaning the seats are larger and you have ample space to relax and stretch out. As part of the service you'll enjoy complimentary drinks and refreshments, served at your seat by friendly, helpful waiting staff.
For the class of travel used on your chosen tour, please refer to the 'What's Included' section of the tour page.
TGV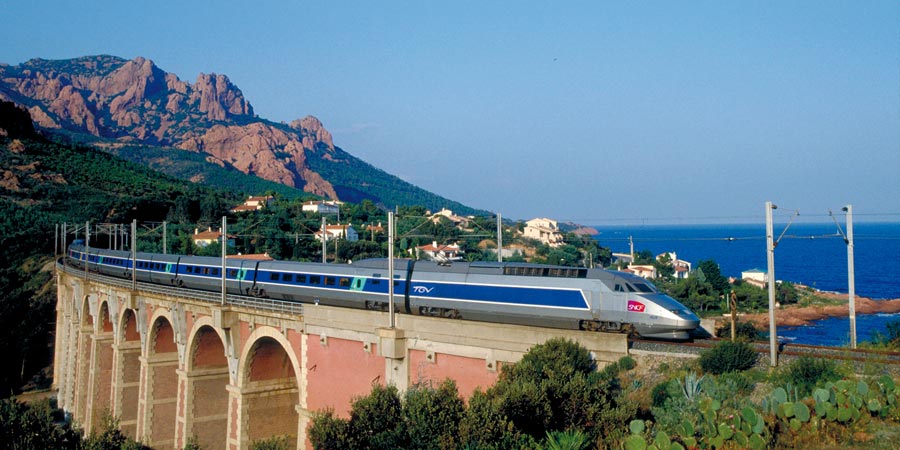 Introduced in 1981, France's TGV (Train à Grande Vitesse) was the original European high-speed train. Linking Paris with Lyon, the new service revolutionised train travel and meant that travelling by air over medium and short distances was no longer seen as the best option, even for business travel.
The network has expanded rapidly and today these sleek, stylish trains offer links to over 60 destinations throughout France. Operated by SNCF, the French national rail operator, TGV trains travel over specially-constructed high speed lines. The trains can achieve speeds of up to 186mph (300km/h) on most long distance routes and 200mph (320km/h) on the new TGV Est line, which links Paris with Strasbourg, Luxembourg and Basel. With the exception of shorter journeys, TGVs almost always have an on-board buffet car, serving a selection of drinks and light refreshments.
Hotels
Hotel Aston La Scala, Nice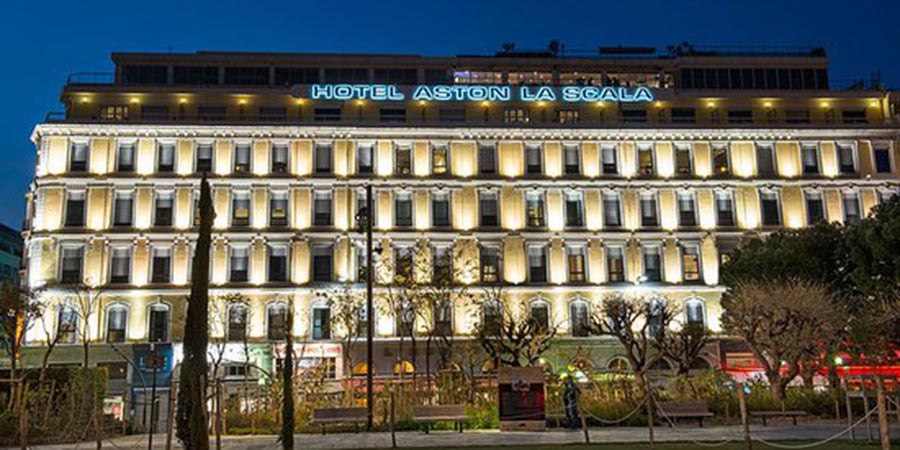 In Nice we stay at the 4-Star Hotel Aston La Scala.
Ships
MS Amadeus Provence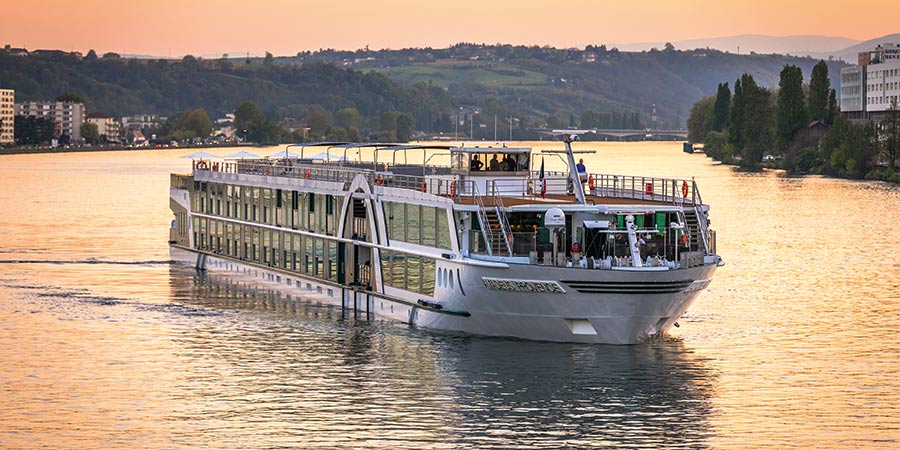 Discover unparalleled levels of luxury, elegance and tranquility on board the Amadeus Provence. Spacious and inviting cabins kitted out with all mod cons, quality food flowing almost continuously from the kitchens, and inviting facilitates that vie for your attention during sailing hours; you'll never find yourself at a loss whilst on board.

The ship has capacity for 140 passengers and will be crewed by approximately 40 members of staff. Featuring 62 cabins and 8 suites across 4 decks, the ship offers a comfortable, stylish base from which to explore France's waterways.

Upgrades

We offer a selection of upgrades and 'add-ons' designed to help you make the most of your holiday - and make it even easier!

This page was printed from

www.greatrail.com/ca/tours/the-french-riviera-and-five-star-rhone-cruise/#FIR20

on 6 August 2020.

Call

01904 521 936

to discuss your holiday

© Copyright 2020. Great Rail Journeys