01904 521 936
Open 7 Days a Week
Five-Star Seine Cruise
Cruise the scenic Seine and explore the world of the Impressionist artists
Cruising the scenic Seine on board the MS Renoir, explore the world of the Impressionist artists, from Monet's famous garden at Giverny to the city galleries of Paris and Rouen. With flexible shore excursions available, you can choose what you want to do whilst enjoying the romantic scenery of what is arguably France's best-loved waterway. Experience the very best of Northern France, from the world-changing D-Day landings to the enchanting cities and towns which inspired the artists of the Impressionist movement.
The itinerary for your journey
Tour highlights
MS Renoir
Tour of Paris
Tour of Rouen
Route des Abbayes
On board talk on the Impressionists
A guided visit to Giverny or Versailles and a tour of Honfleur or the beaches of WWII
Days 1-2 - Board the MS Renoir in Paris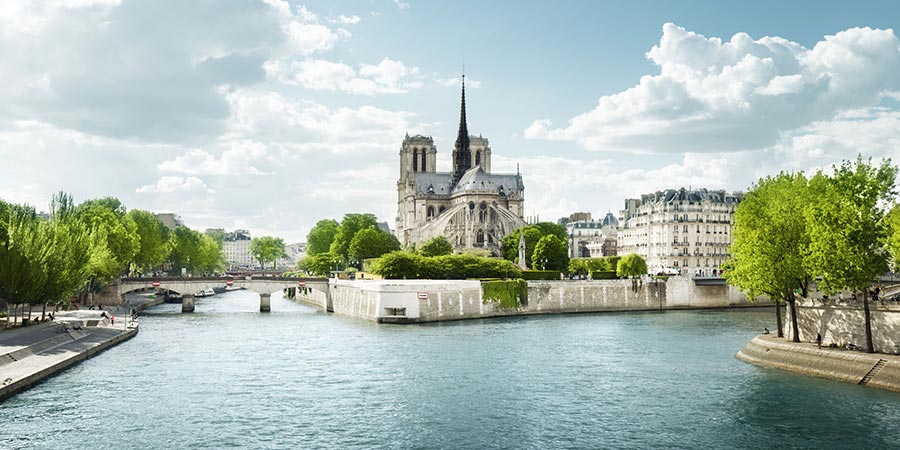 After our journey to Paris on the Eurostar, we transfer to our ship, the MS Renoir, where we are welcomed with a relaxing drink before dinner. On the morning of Day 2 we enjoy a guided tour of the splendid French capital. After lunch aboard you have some free time before we set sail for a cruise along the Seine, admiring the illuminated attractions along the way (weather permitting).
Day 3 - Giverny or Versailles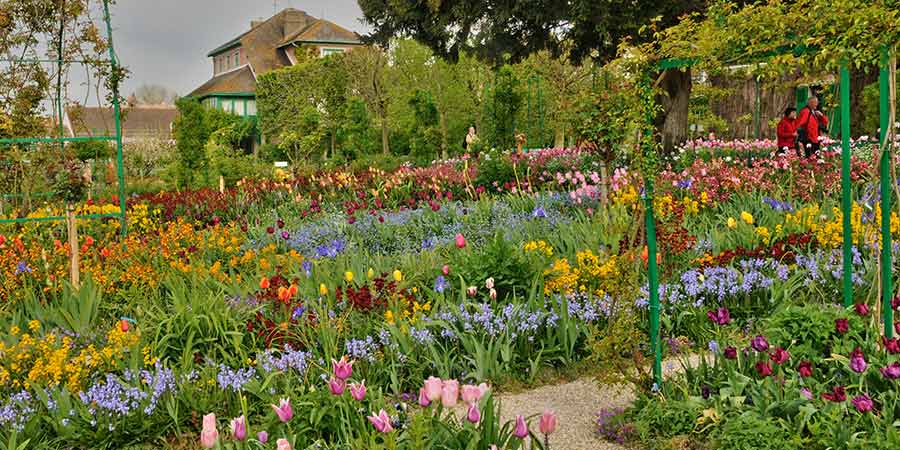 We start the day cruising to Giverny, during which time we are treated to an expert talk on board; 'A Definition of Impressionism'. Now synonymous with Monet, Giverny very nearly missed out on getting its name on the map. It was during a train journey in 1883 when the artist saw the area and decided that this was the spot he wanted to live and work in. With its instantly recognisable lily ponds, the gardens are the image of how they were when Monet first painted them, almost like stepping into one of his artworks, and the house still has the atmosphere of a creative retreat.
Alternatively, you may prefer to visit the slightly more opulent Palace of Versailles. We rejoin the boat where tonight there's a traditional French 'guinguette' evening held on board.
Day 4 - Rouen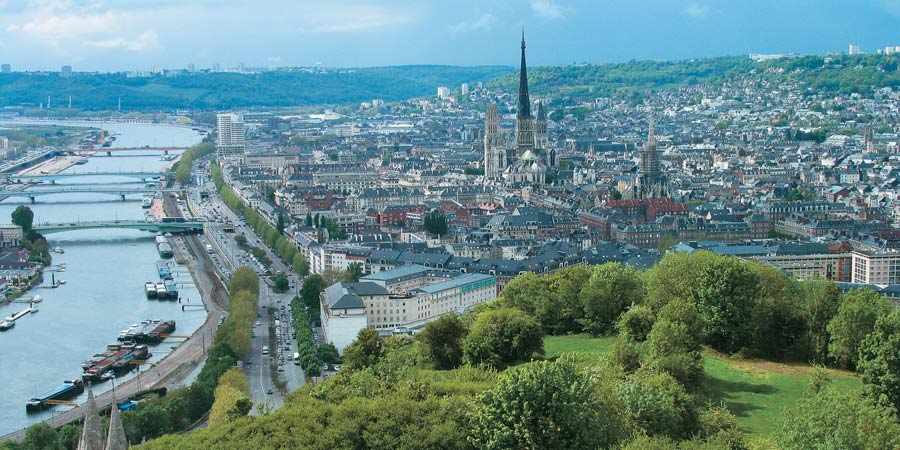 Our destination today is Rouen, former capital of Normandy, where we enjoy a guided tour that follows in the footsteps of the Impressionists themselves. This medieval city is the proud home of The Museum of Fine Arts and its impressive collection of Impressionist compositions. We make a visit to the gallery as well as taking in Rouen Cathedral, which was depicted in oil paint by Claude Monet. His series of over 30 paintings show the building at all different times of day. Following an insightful few hours, we return to our ship for tonight's dinner.
Day 5 - The Route des Abbayes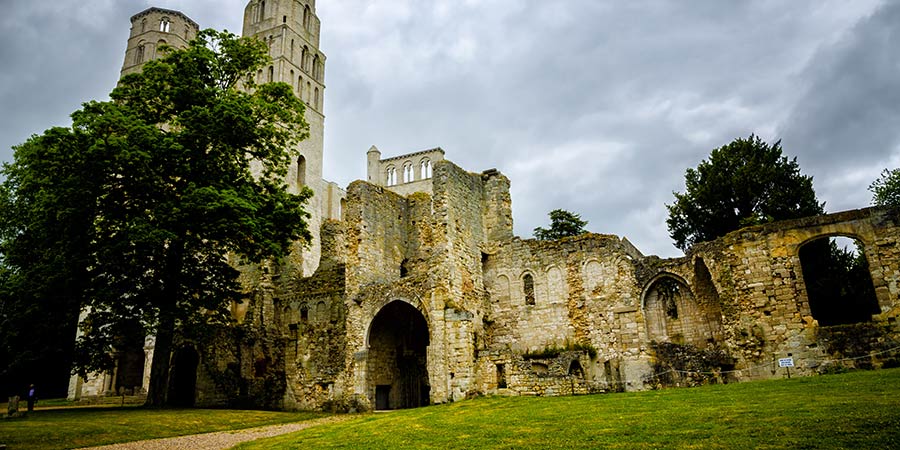 We make our way to Duclair today, sailing through a landscape of steep cliffs and timeless villages, fleeting views of which helped inspire the Impressionist style itself. On arrival in Duclair we embark on an excursion along the Route des Abbayes, exploring the abbeys that line the route of the river by coach. Stretching between Rouen and Mont-Saint-Michel, this historic trail has seen religious orders being built here from the 5th century onwards, and at one point there were up to 120 sites of worship. Later we continue upriver to Honfleur, where we moor for the night.
Day 6 - Tour Honfleur or discover the beaches of WWII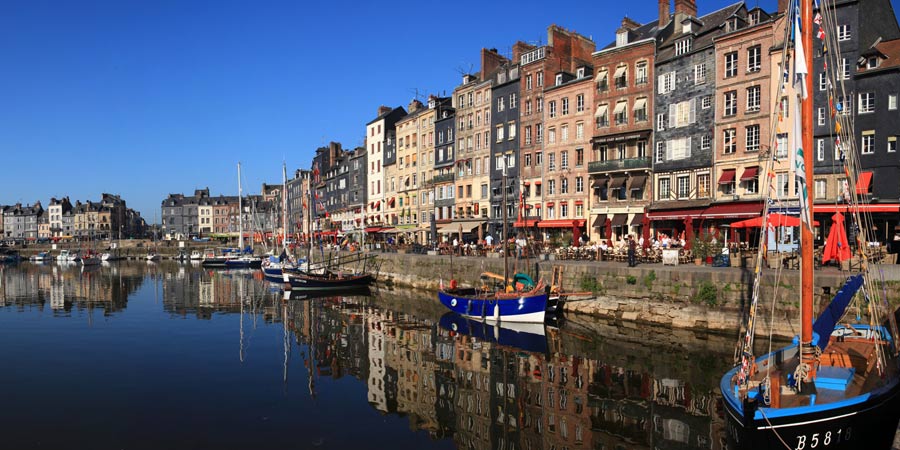 The charming port town of Honfleur is located on the southern bank of the Seine Estuary in the Calvados region of France famous for its apple brandy. Centred on its adorable historic port and marina - the 'Vieux Bassin' - Honfleur boasts a number of preserved traditional buildings and today you can choose to take a tour of this quaint destination, famous as being an important influence in the work of many artists, including Monet, Courbet and Boudin, who set up the Ecole de Honfleur, an artists' colony and melting pot for the whole Impressionist movement.
Otherwise you might select our excursion to the nearby beaches of Gold and Juno, two of five landing sites utilised for the D-Day landings on June 6th 1944, a pivotal event in the eventual Allied triumph over the Axis powers. Following some free time this afternoon, tonight we celebrate the end of our cruise at the captain's special gala dinner.
Day 7 - Return to London by rail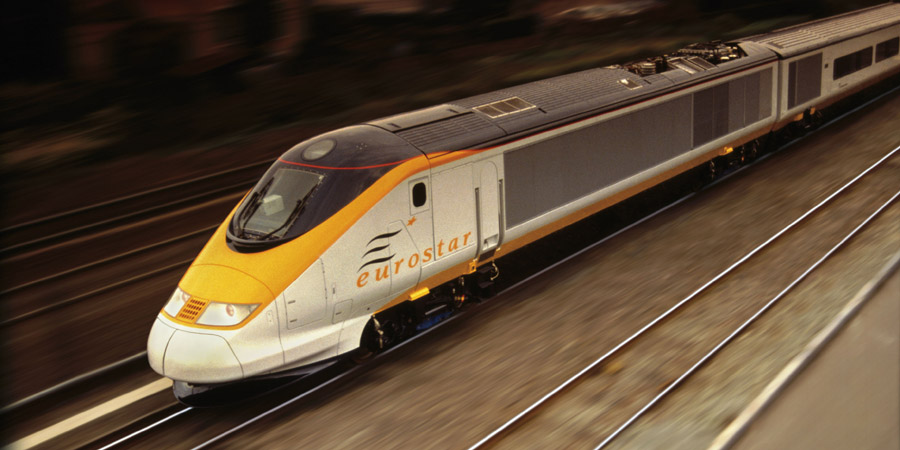 We transfer to Paris after a final breakfast together. From here we catch the return Eurostar service back to London.
Recommended airports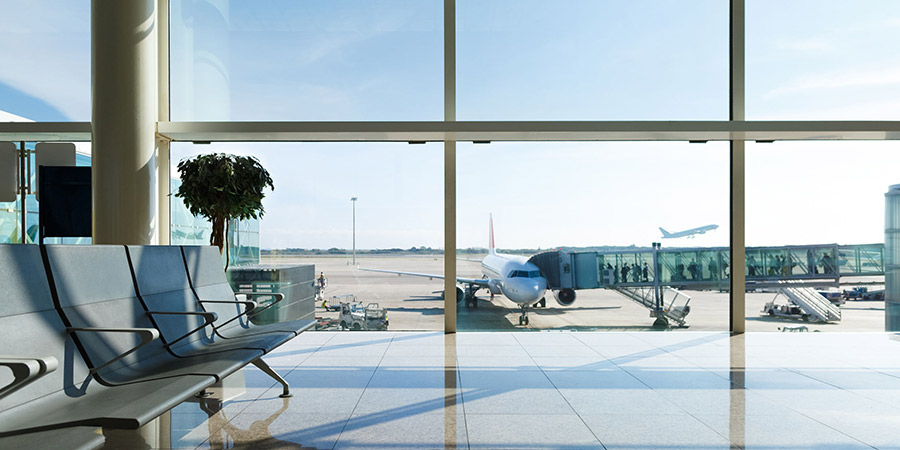 For this tour, we recommend arriving to, and departing from, London Gatwick or London Heathrow airport (LGW or LHR). London Gatwick is approximately 30 miles from your start and end point, and London Heathrow is approximately 19 miles from your start and end point.
Visa Requirements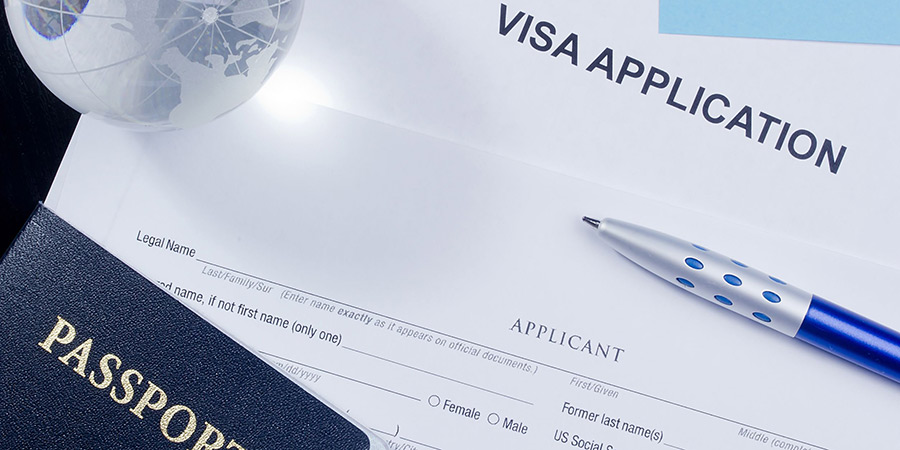 It is your responsibility to check and fulfil the passport, visa, health and immigration requirements applicable to your itinerary. We do not accept any responsibility if you cannot travel, or incur any other loss because you have not complied with any passport, visa, immigration requirements or health formalities. You agree to reimburse us in relation to any fines or other losses which we incur as a result of your failure to comply with any passport, visa, immigration requirements or health formalities.
Info - Travel Options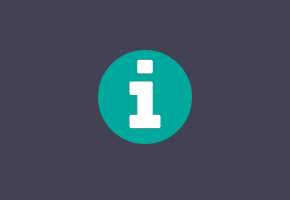 We offer a Standard Class and First Class rail options for departures on this tour. You can find out which class each departure is by clicking on the information button in the pricing grid. (Look for S - Standard Class and F - First Class)
Departure Dates
1 May 2020
From

$2,845

1 May 2020
From

$2,535

28 June 2020
From

$3,205

28 June 2020
From

$2,715

12 September 2020
From

$3,205

12 September 2020
From

$2,895
All prices are per person and assume full occupancy of the room.
Please always refer to the website for up-to-date prices and availability.
Trains
Eurostar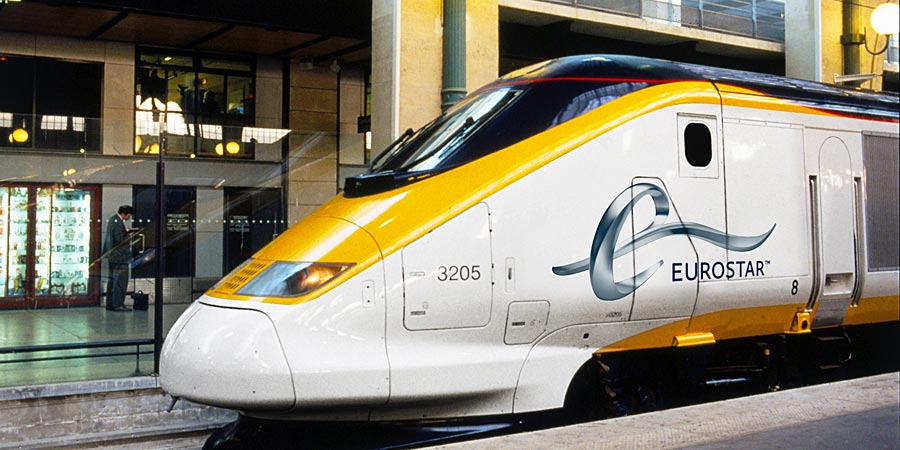 The high speed Eurostar trains link St Pancras International in London with Paris and Lille in France as well as Brussels in Belgium.
Eurostar's Standard Class coaches feature two seats on either side of the central aisle, most of which is arranged in an 'airline' seating configuration with drop down tray tables. There are two tables for four per carriage. Passengers travelling in Eurostar Standard Class coaches can take advantage of the Bar-Buffet which sells a range of snacks, meals, hot and cold drinks - including Champagne!
The highest class of Eurostar travel available for leisure customers is Standard Premier Class. In your dedicated Standard Premier carriage you'll find a less dense seat configuration, meaning the seats are larger and you have ample space to relax and stretch out. As part of the service you'll enjoy complimentary drinks and refreshments, served at your seat by friendly, helpful waiting staff.
For the class of travel used on your chosen tour, please refer to the 'What's Included' section of the tour page.
Hotels
Ships
MS Renoir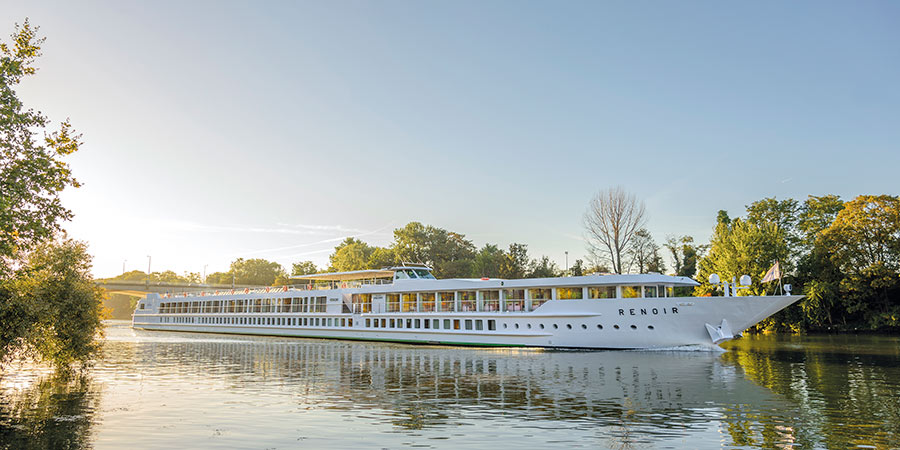 Cutting its way across the rivers of Europe, the MS Renoir is an elegant ship, boasting a variety of amenities on all three of its tastefully decorated decks. Renovated in 2018, this vessel offers comfort and charm in abundance, with 54 cabins playing host to 104 passengers and an excellent on board restaurant, offering refreshment and fine dining in equal measure. The beauty of European cruise has a home aboard the MS Renoir.

Sit back and enjoy the scenery of your chosen river from the well-appointed sun deck, sample classic dining inspired by your destinations in the panoramic restaurant or kick back with a book in your spacious cabin - the MS Renoir offers a range of options for you to make the most from your time aboard.

Upgrades

We offer a selection of upgrades and 'add-ons' designed to help you make the most of your holiday - and make it even easier!

This page was printed from

www.greatrail.com/ca/tours/five-star-seine-cruise/#SER20

on 23 February 2020.

Call

01904 521 936

to discuss your holiday

© Copyright 2020. Great Rail Journeys