01904 521 936
Open 7 Days a Week
Highlights of the Baltics & Scandinavia
Stay in seven countries on one escorted rail tour
Discover the contrasting cultures of the fascinating Baltic region, from colourful Scandinavia to the splendour of Russia, via the historic countries of Latvia and Estonia. Explore glorious palaces and UNESCO World Heritage sites on this unique Baltic Explorer rail tour.
The itinerary for your journey
Tour highlights
Enjoy guided tours of Copenhagen, Stockholm, Riga, Helsinki, Tallinn, and St Petersburg
Savour the authentic flavours of Copenhagen with a traditional smorrebrod sandwich
Discover the Fabergé Museum, and the Vodka Museum in St Petersburg, where vodka tasting is included
See Helsinki in style, with a guided tour aboard a vintage tram
Sit down to a dinner with a difference in Riga at a restaurant first established in 1293
Days 1-2 - London to Denmark
After meeting at our dedicated Departure Office, we leave St Pancras on the Eurostar to Brussels in Standard Premier Class. We change trains and travel in First Class to Bremen for the night, via Cologne. On Day 2 we travel by high-speed rail (Standard Class) via Hamburg to Copenhagen, the Danish capital that is home to the world's oldest monarchy. We spend two nights at the Scandic Copenhagen Hotel.
Day 3 - Discovering Copenhagen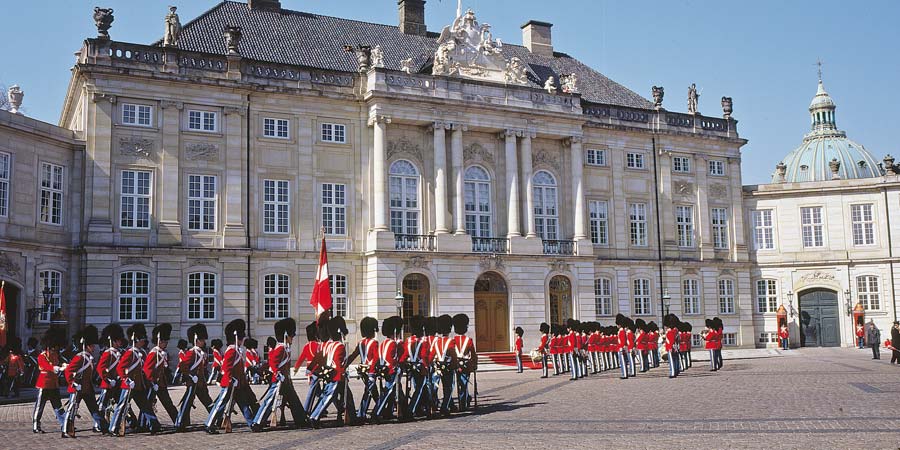 This morning we enjoy a sightseeing tour of Copenhagen, passing the Amalienborg Palace, a large octagonal structure, surrounded by four identical rococo palaces, one of which is home to the reigning monarch, Queen Margrethe II. We also visit the famous statue of the Little Mermaid and enjoy a cruise in the colourful canal area of Nyhavn.
Day 4 - By train to Stockholm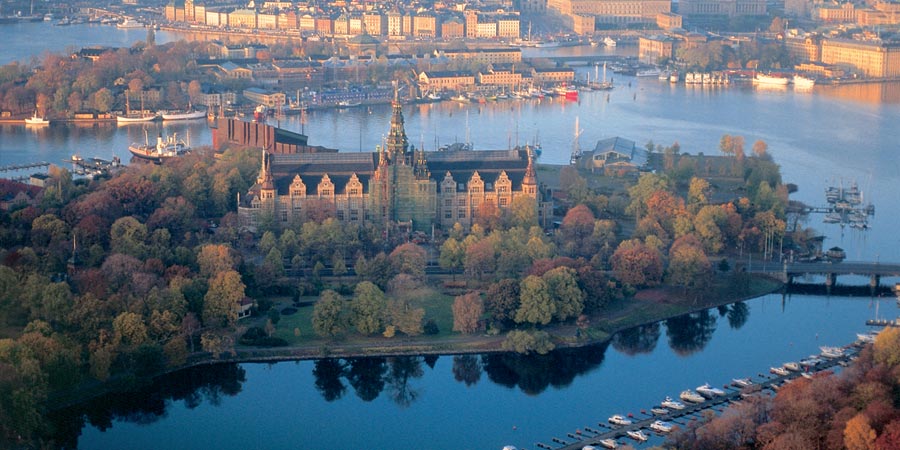 This morning we join the high-speed service (Standard Class) to Sweden's beautiful
capital. On arrival, we walk to our hotel for two nights, the Scandic Continental.
Day 5 - Discovering Stockholm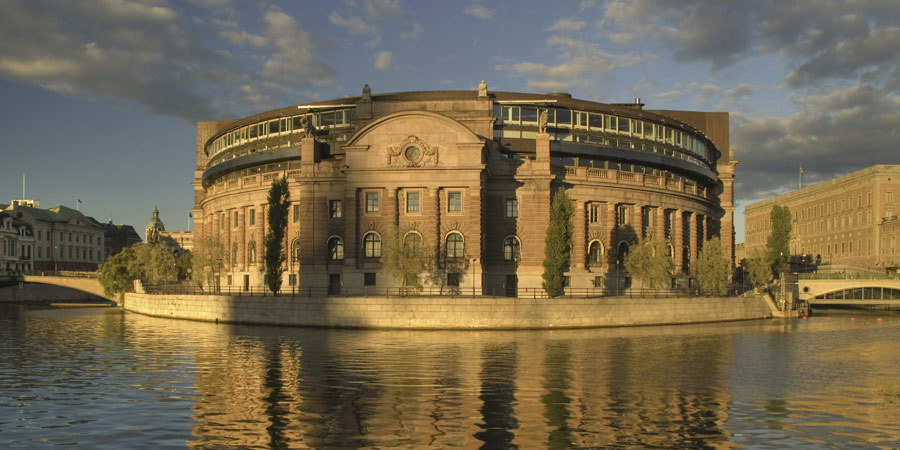 This morning we take a city coach tour to visit sights such as the Royal Palace, the cathedral and the Old Town. The afternoon is free to explore Stockholm, a wonderful maritime city full of waterways, parks and green areas.
Day 6 - The Ferry to Riga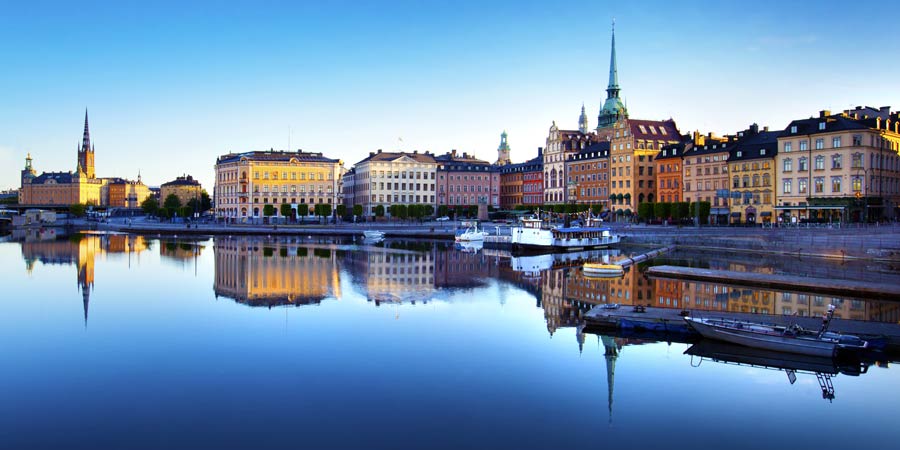 Today you are at leisure until the evening, when we join the ferry for the overnight cruise to Riga. Enjoy the fabulous views as we pass the Stockholm archipelago.
Days 7-8 - Discovering Riga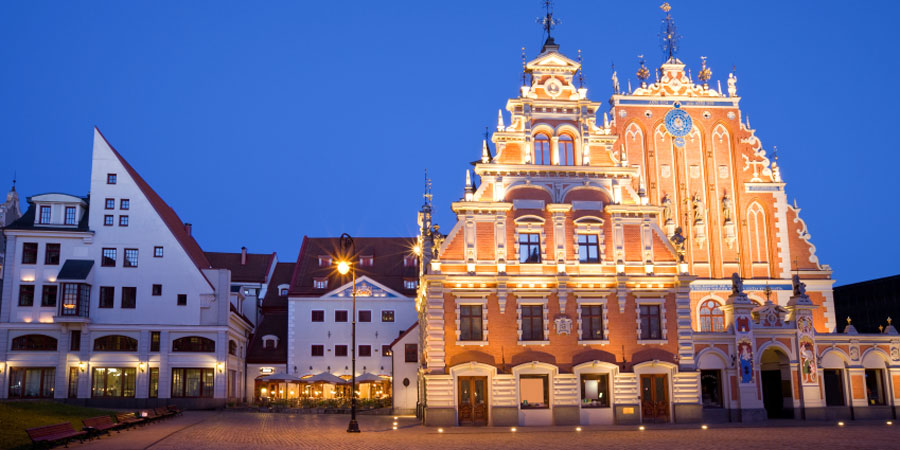 The ferry docks in Riga shortly after breakfast and we continue by coach on a tour of the city. We see the ornate St Jacob's Cathedral, and the Old Town of Riga, a UNESCO World Heritage site. The city is famous for its extensive Germanic Art Nouveau architecture, considered unmatched anywhere else in the world. After the tour, we check into the Radisson Blu Daugava Hotel. Day 8 is then free for you to explore Riga. You could perhaps take an elevator to the top of St Peter's church for a bird's-eye view of Riga.
Days 9-10 - Exploring Tallinn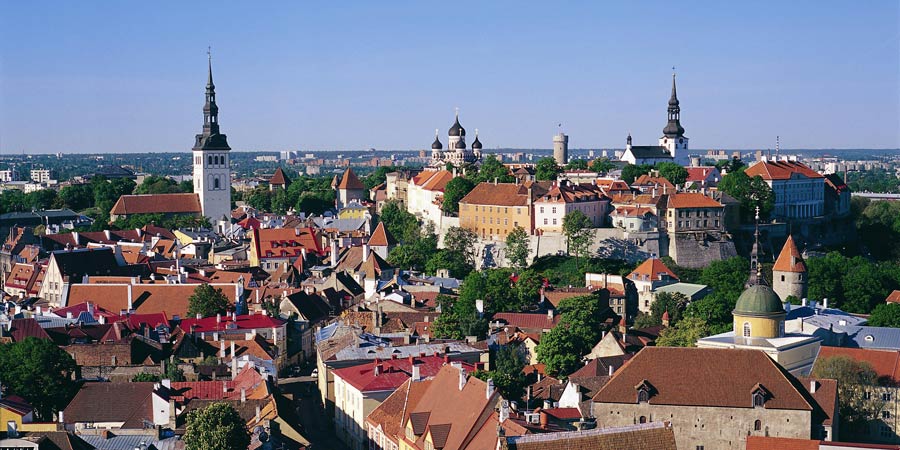 Today we travel by coach along the Gulf of Riga to the Estonian capital, Tallinn. At the heart of this historic city is the hill of Toompea, a maze of cobbled streets and alleyways filled with medieval houses; Tallinn's colourful Old Town is UNESCO-protected. On arrival we enjoy a guided tour of the city, which includes the Dome Church, the Town Hall Square and views of the Toompea Castle, Estonia's seat of power. We then transfer to our hotel for two nights, the Nordic Forum C Hotel.
Day 10 is free to explore Tallinn; in the Old Town there are plenty of historic sites to visit, including the House of the Brotherhood of Blackheads, the only preserved Renaissance building in Tallinn. Another option is the unusually named "Keik in de Kok", which means "Peek into the kitchen". This historic tower is believed to have acquired its name due to its height, which allowed those in the tower to see through the windows of the surrounding buildings. The tower houses a permanent exhibition of Tallinn's military history and serves as an entrance to the Bastion Tunnels, a network of hidden tunnels built in the 17th century during Swedish rule.
Days 11-12 - To Helsinki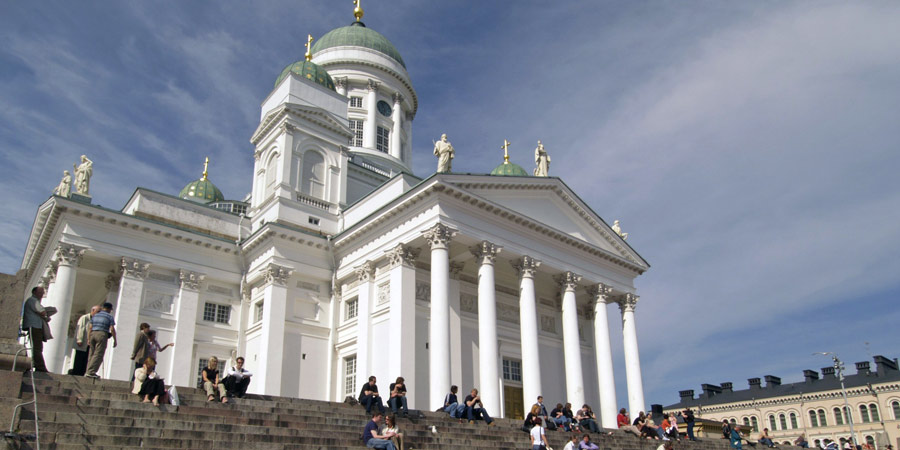 This morning we depart for Helsinki by ferry, arriving in the early afternoon. We continue by coach on a tour of Helsinki, including Senate Square and the elegant Lutheran Cathedral. Following the tour, we transfer to the Scandic Park hotel for a two-night stay. Day 11 is free for you to explore Helsinki. Finland's capital lies on an archipelago surrounded by many smaller islands, many of which are connected by regular ferry services.
Day 13 - St Petersburg and The Hermitage Museum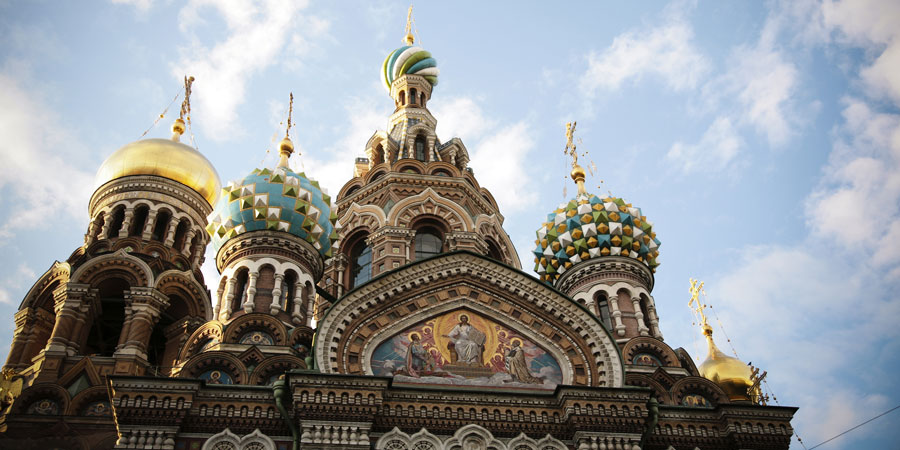 Today we travel by train (Standard Class) to St Petersburg, arriving this afternoon in this, by far the most cosmopolitan of Russia's cities. On arrival we visit the Hermitage, founded by Catherine the Great in 1764, in the magnificent Royal Winter Palace. We check in to our hotel for two nights where we enjoy a Russian welcome ceremony.
Days 14-15 - Peterhof Palace, Fabergé Museum & Vodka Museum
We enjoy a tour to discover the stunning architecture and history of this fascinating city, during which we see the vast St Isaac's Cathedral with its gold dome, the lavish Church of the Saviour on Spilled Blood and the grand Nevsky Prospect We continue to Peterhof Palace. This majestic complex is a UNESCO World Heritage site, renowned for its beautiful grounds filled with spectacular fountains and waterways.
Our excursion on Day 15 sees us take a private tour of Saint Petersburg's Fabergé Museum, an opulent building home to the world's largest collection of works by Carl Fabergé, including nine of his famous Imperial eggs. We also visit St Petersburg's impressive vodka museum, the only one of its kind in the world! Synonymous as the drink of mother Russia, vodka has long played a fascinating role in the lives of the people here - from Tsars to peasants - and during your visit, you'll learn all about Russia's history, culture and drinking traditions. There'll even be some tastings for that extra touch of authenticity.
Days 16-17 - Helsinki or return home (rail/air)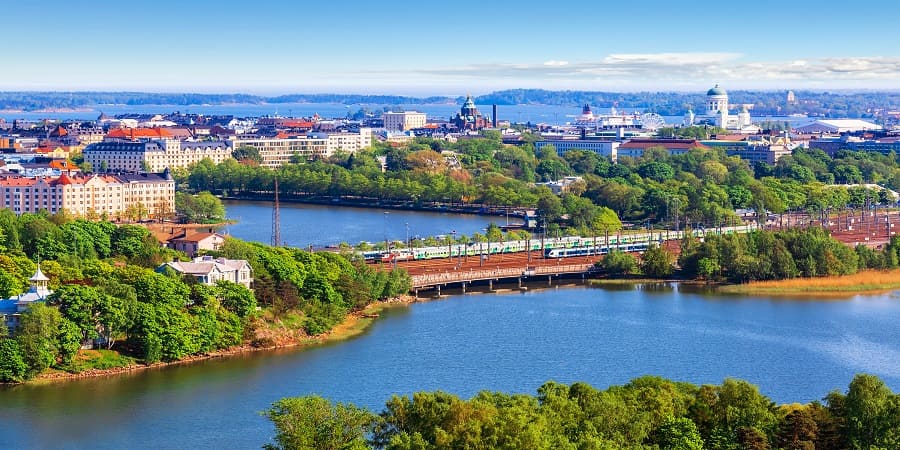 You can fly back home today if you chose our air option.
Otherwise, we leave St Petersburg by train (Standard Class), travelling on the Allegro service to Helsinki. On arrival, we transfer to the port for the overnight ferry* to Travemünde, a Baltic resort. As we depart Helsinki we enjoy a scenic view of the Baltic, sailing past islands dotted around the coastline, before continuing our 611 nautical mile journey through the Gulf of Finland. After dinner on board the ferry, we arrive in Travemünde in the evening of Day 17, and spend the night at the Maritim Strandhotel Travemünde.
Please note: your luggage will travel on the ferry with you, as opposed to via our luggage service.
Day 18 - Travemünde to Cologne
This morning we transfer by coach to the city of Hamburg, where we board the train and travel to Cologne. We spend the night in Cologne where we enjoy a farewell dinner as a group, the perfect way to round off our holiday.
Day 19 - To Brussels and London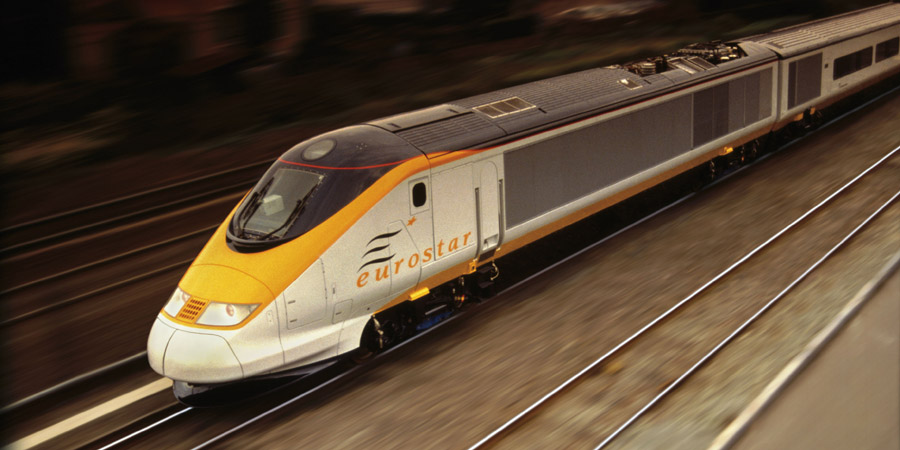 We leave Cologne and travel by rail to Brussels, where we join the Eurostar to London on arrival your tour concludes and you are free to make your way home.
Please note
We are happy to offer a fly home version of this tour which runs at 16 days in length. On Day 16 (after breakfast) make your way to the airport in St Petersburg for your flight back home.
Recommended Airports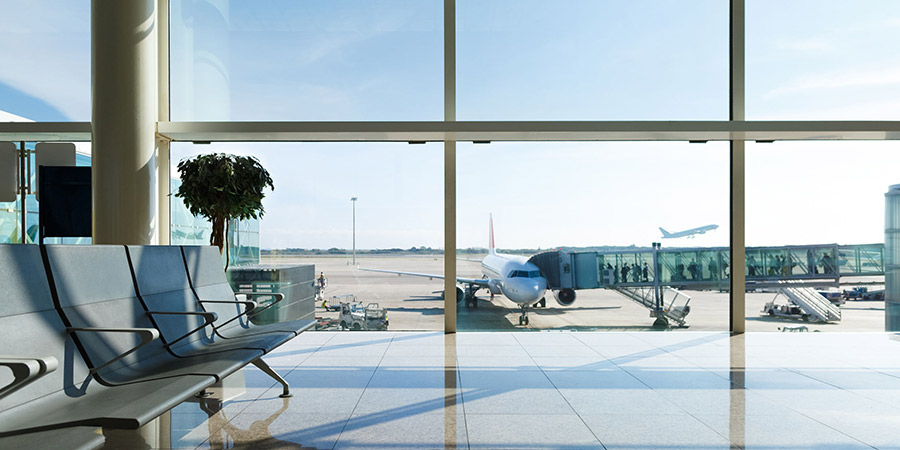 Rail Options
For this tour, we recommend arriving to, and departing from, London Gatwick or London Heathrow airport (LGW or LHR). London Gatwick is approximately 30 miles from your start and end point, and London Heathrow is approximately 19 miles from your start and end point.
Fly Option
For this tour, we recommend arriving into Copenhagen Airport (Code CPH), which is approximately 5 miles from your first hotel. Our recommended departure airport is St. Petersburg Airport (Code LED), which is approximately 11 miles from your final hotel.
Visa Requirements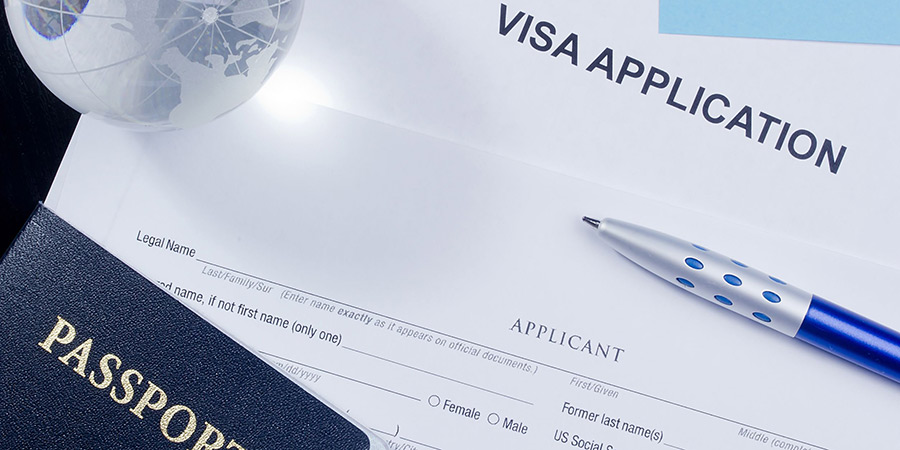 It is your responsibility to check and fulfil the passport, visa, health and immigration requirements applicable to your itinerary. We do not accept any responsibility if you cannot travel, or incur any other loss because you have not complied with any passport, visa, immigration requirements or health formalities. You agree to reimburse us in relation to any fines or other losses which we incur as a result of your failure to comply with any passport, visa, immigration requirements or health formalities.
Departure Dates
All prices are per person and assume full occupancy of the room.
Please always refer to the website for up-to-date prices and availability.
Trains
Allegro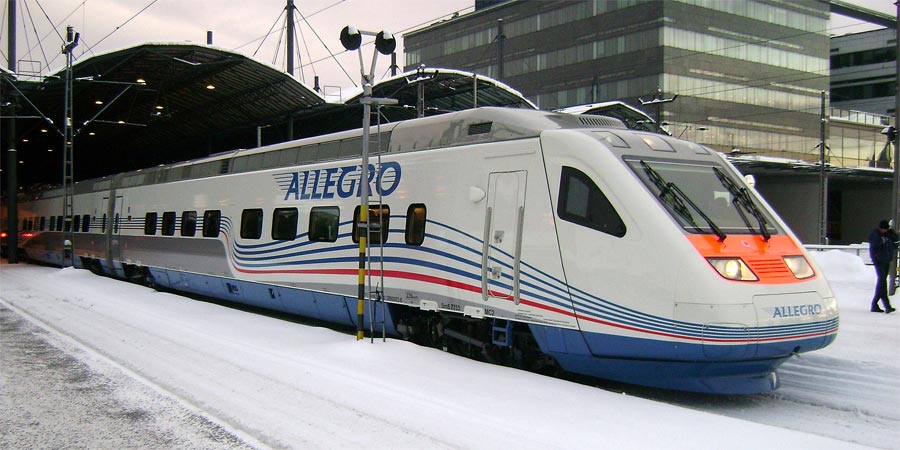 The high-speed Allegro service is provided through a joint venture by Russian and Finnish railways. These electric tilting pendolino trains sprint along the route between the Finnish capital of Helsinki and majestic St Petersburg in just three and a half hours, offering passengers a comfortable and quick journey between the two cities. There is a restaurant car on board.
Eurostar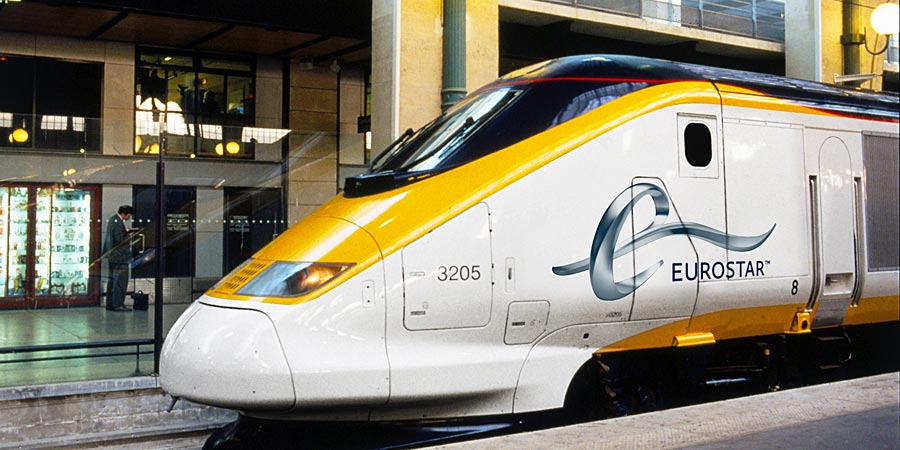 The high speed Eurostar trains link St Pancras International in London with Paris and Lille in France as well as Brussels in Belgium.
Eurostar's Standard Class coaches feature two seats on either side of the central aisle, most of which is arranged in an 'airline' seating configuration with drop down tray tables. There are two tables for four per carriage. Passengers travelling in Eurostar Standard Class coaches can take advantage of the Bar-Buffet which sells a range of snacks, meals, hot and cold drinks - including Champagne!
The highest class of Eurostar travel available for leisure customers is Standard Premier Class. In your dedicated Standard Premier carriage you'll find a less dense seat configuration, meaning the seats are larger and you have ample space to relax and stretch out. As part of the service you'll enjoy complimentary drinks and refreshments, served at your seat by friendly, helpful waiting staff.
For the class of travel used on your chosen tour, please refer to the 'What's Included' section of the tour page.
Hotels
Maritim Hotel, Bremen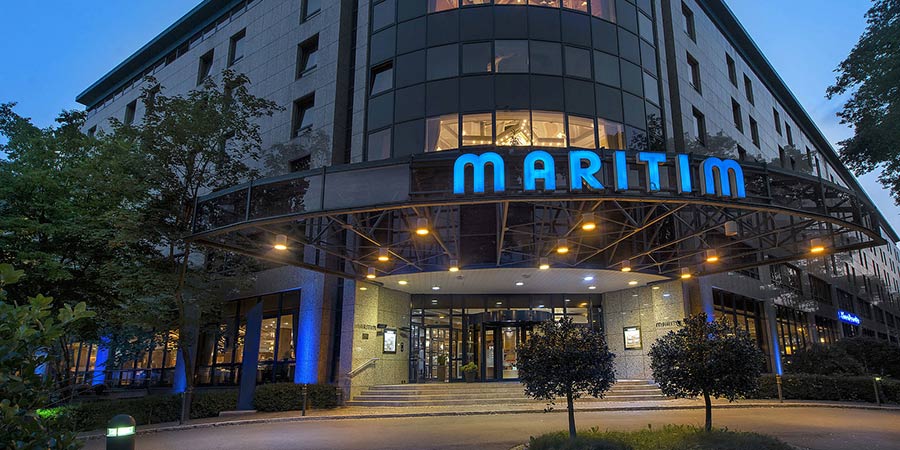 The 4-Star Maritim Hotel is located in the heart of Bremen, close to the railway station and the tranquil Bürger Park. The hotel has two restaurants and a bar. Leisure facilities include a pool, Finnish sauna, Roman steam bath and a gym. A selection of massages and beauty treatments are available on request (pay locally). Rooms are air conditioned and feature a telephone, television, mini-bar, safe and a hairdryer.
Imperial Hotel, Copenhagen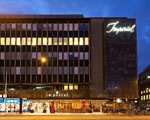 The elegant 4-Star Imperial Hotel in Copenhagen enjoys a central location, close to the station and the Town Hall Square. The hotel boasts two restaurants, the Imperial Grill Room and the Brasserie, along with a lounge and bar. Room facilities include air conditioning, television, minibar, hairdryer and tea and coffee making facilities.
Scandic Copenhagen, Copenhagen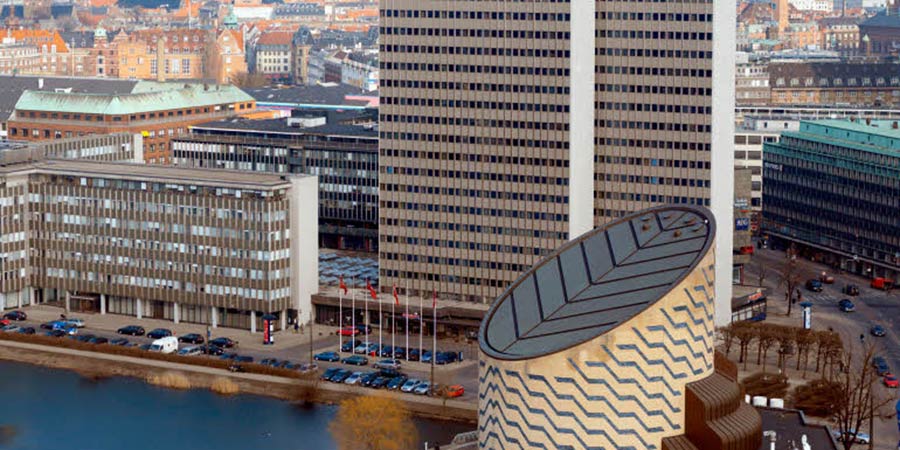 The elegant 4-Star Scandic Hotel in Copenhagen enjoys a central location, close to Copenhagen's Central Station and Tivoli Gardens, and with impressive views over the Copenhagen skyline. Guest rooms are bright and modern, and feature a flat-screen television, hairdryer, desk, complimentary Wi-Fi and city or lake views.
The Scandic Copenhagen also boasts a chic lobby bar, perfect for enjoying a relaxing drink on an evening, and a contemporary grill restaurant.
Scandic Park, Helsinki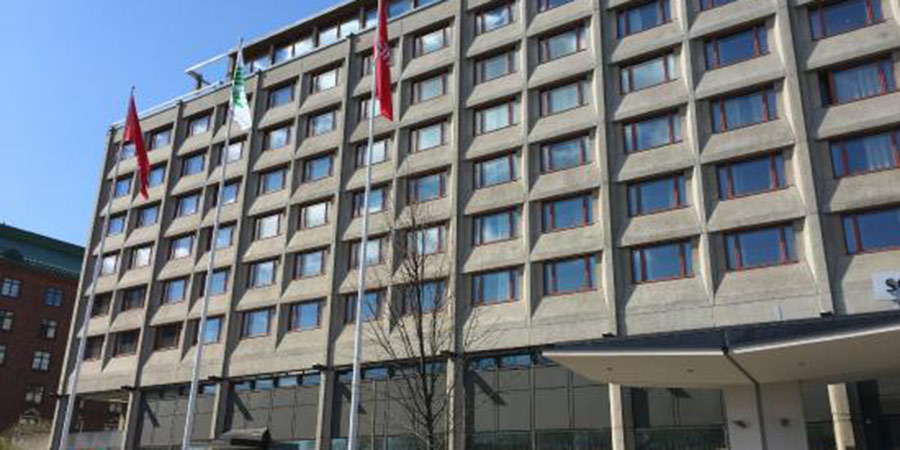 The 4-Star Scandic Park hotel is well located in the centre of Helsinki, within easy reach of the main landmarks. The hotel boasts superb interior spaces, with a modern, lounge- style lobby and comfortable guest rooms, which feature a television, air conditioning, a minibar and complimentary Wi-Fi. On-site facilities include a restaurant, coffee shop, gym, sauna and swimming pool.
Radisson Blu Daugava Hotel, Riga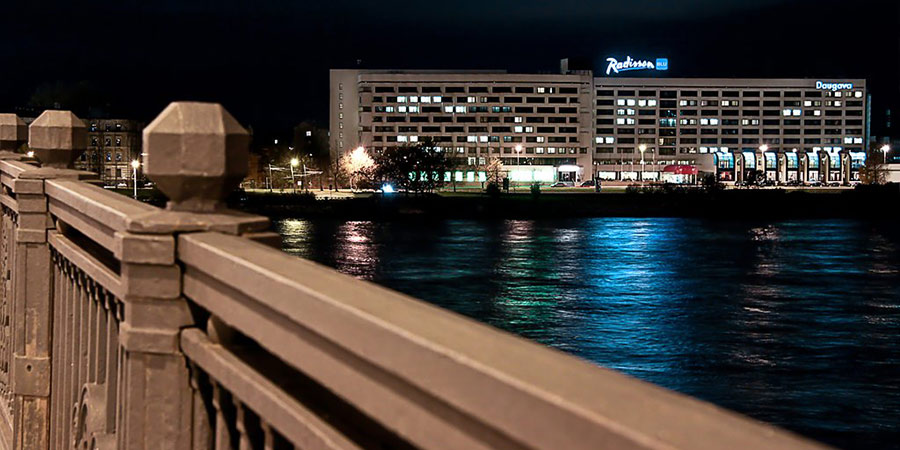 The 4-Star Radisson Blu Daugava Hotel in Riga is situated on the banks of the Daugava River, overlooking the Old Town and within walking distance of historic sights such as the Dome cathedral and the Blackheads House. The hotel's amenities include a restaurant, a bar serving light snacks, a casino and a health and fitness centre, which has a swimming pool and a sauna. There is also a hair and beauty salon and a Spa Salon (pay locally for both), which offer a range of treatments. Guest rooms feature air conditioning, a telephone, television, minibar and a hairdryer.
Angleterre Hotel, St Petersburg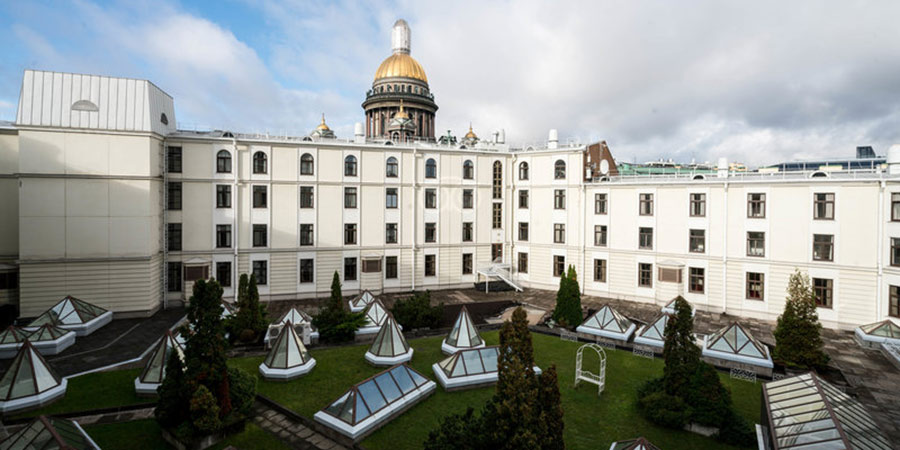 The 4-star Angleterre Hotel in St Petersburg is set in a charming location overlooking St Isaac's Cathedral. It benefits from a restaurant and bar, as well as a spa and gym - offering an indoor swimming pool, sauna and beauty studio. The air-conditioned rooms include a telephone, television, safe and minibar.
Hotel Ambassador, St Petersburg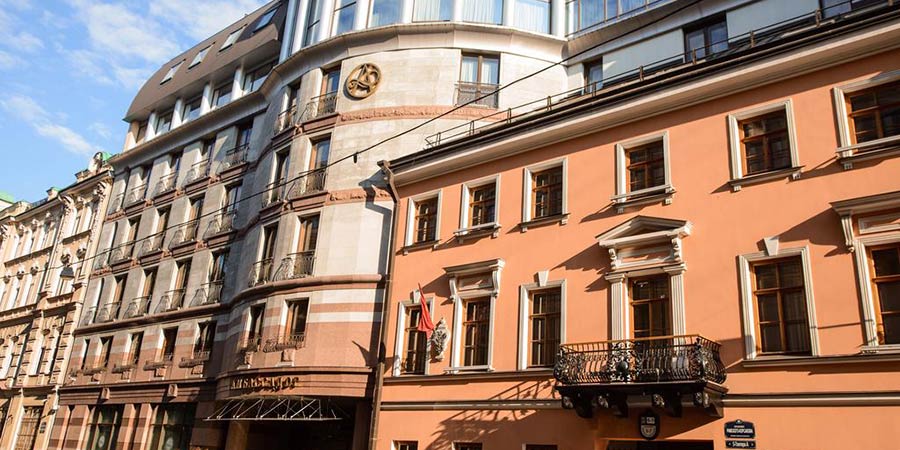 The impressive 4-Star Hotel Ambassador at the heart of beautiful St Petersburg offers class and elegance across its rooms and restaurants. The illustrious attractions of this Russian metropolis are just a short walk away from the Ambassador, and from the roof terrace, visitors can enjoy stunning views across the rooftops and spires of St Petersburg. Amenities include a health and beauty centre with a swimming pool, various restaurants and bars and their own pastry chef. Rooms include a television, a hairdryer and a safe.
Scandic Continental Hotel, Stockholm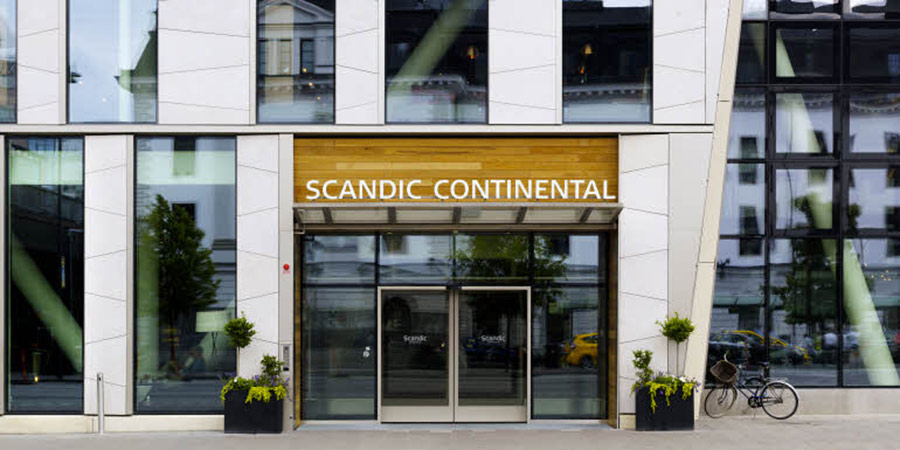 In Stockholm, we stay at the 4-Star Scandic Continental Hotel located near the city centre.
Nordic Forum C Hotel, Tallinn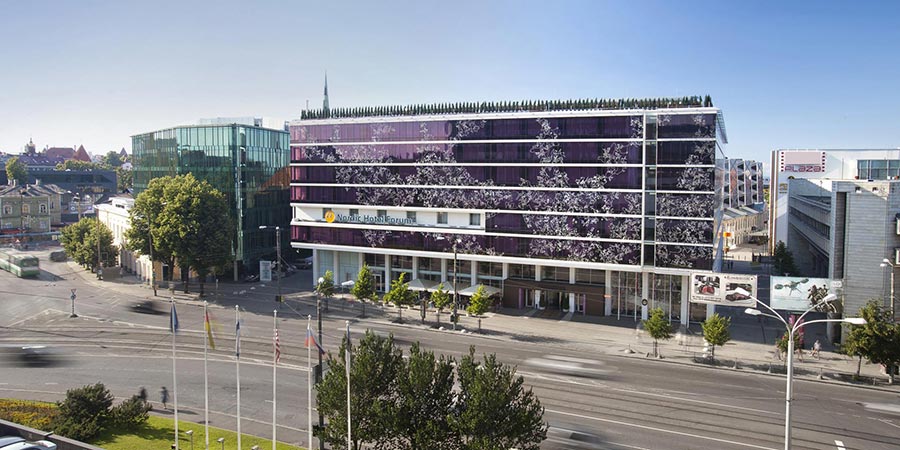 This 4* hotel is located in the heart of Tallinn's Old Town. Facilities at the Nordic Hotel Forum include a pool, Jacuzzi, steam room and sauna, fitness centre, restaurant and bar where you can unwind after a fascinating day. Each of the rooms features air conditioning, free Wi-Fi, television and a minibar. The en suite bathrooms also include a hairdryer and complimentary toiletries.
Radisson Blu Sky Hotel, Tallinn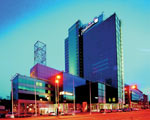 In Tallinn we stay at the Radisson Blu Sky Hotel close to the shops, entertainment and the cobbled streets of the Old Town. The hotel boasts two restaurants, a lobby bar, a rooftop bar with an open air terrace and a health centre with a sauna and gym. Rooms are equipped with air conditioning, telephone, television, radio, safe, tea and coffee making facilities and a hairdryer.

Upgrades

We offer a selection of upgrades and 'add-ons' designed to help you make the most of your holiday - and make it even easier!

This page was printed from

www.greatrail.com/ca/tours/baltic-explorer-rail-tour/#BEG20

on 3 August 2020.

Call

01904 521 936

to discuss your holiday

© Copyright 2020. Great Rail Journeys