01904 521 936
Open 7 Days a Week
Harz Mountains & Rhine Gorge
Germany's Mountains and heritage railways
Discover two of Germany's most picturesque regions on this fantastic two-centre holiday. We explore the halftimbered villages and stunning peaks of the Harz Mountains by heritage railway before visiting the stunning Rhine Gorge, where the legendary Lorelei Rock still casts its spell.
The itinerary for your journey
Tour highlights
Wernigerode
Quedlinburg
The Brocken Railway
Selketal narrow-gauge railway
Boppard
Rhine cruise
Day 1 - Eurostar and First Class rail to Germany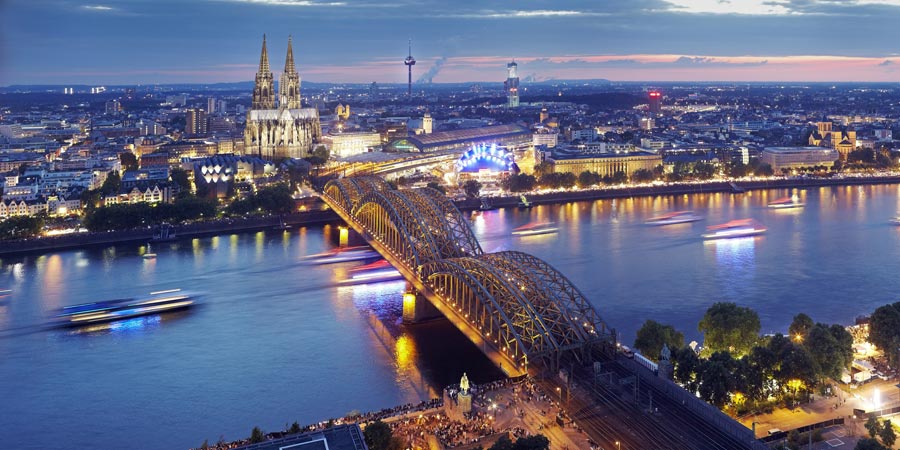 Our journey to Germany begins at our dedicated Departure Office in St Pancras, where we board the Eurostar to Brussels. Sit back in your comfortable Standard Premier Class seat and enjoy a light meal and drinks before our arrival in the Belgian capital. Our journey continues by high-speed rail in First Class to Cologne for an overnight stay.
Day 2 - The Harz Mountains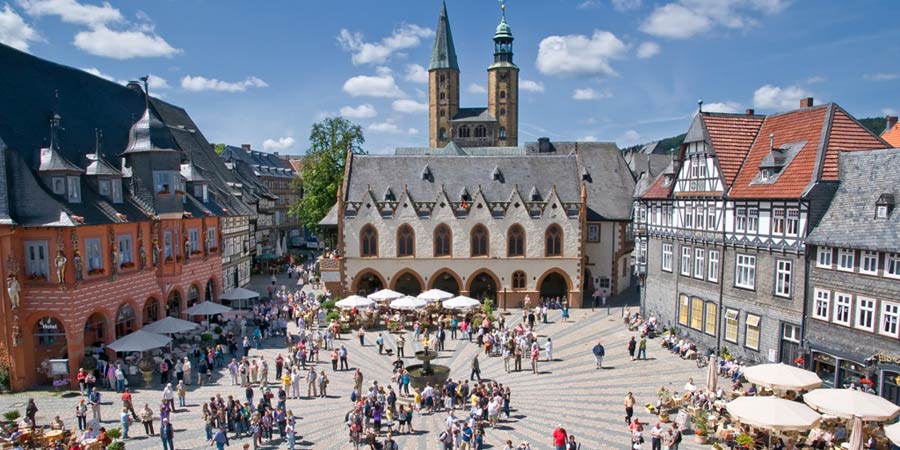 Today we continue across Germany by high-speed rail, travelling in First Class to Hanover. Here, we meet our coach which takes us on a journey through the brooding Harz Mountains. The low-lying mountains surround a rivercarved landscape, where rushing streams wind through the rich green forests, and rugged rocky outcrops rise up towards the towering mountain peaks above.
We stop in the foothills of the mountains to visit the scenic town of Goslar, a UNESCO World Heritage destination where intricate carvings adorn the front of picturesque timbered houses. Leaving Goslar, we continue to Wernigerode, a similarly attractive town which sits nicely within the dark green scenery of the picturesque Harz region.
Wernigerode was formerly the capital of the medieval County of Wernigerode, following the Napoleonic Wars it became part of Saxony. We spend four nights at the HKK Hotel Wernigerode.
Day 3 - Brocken Railway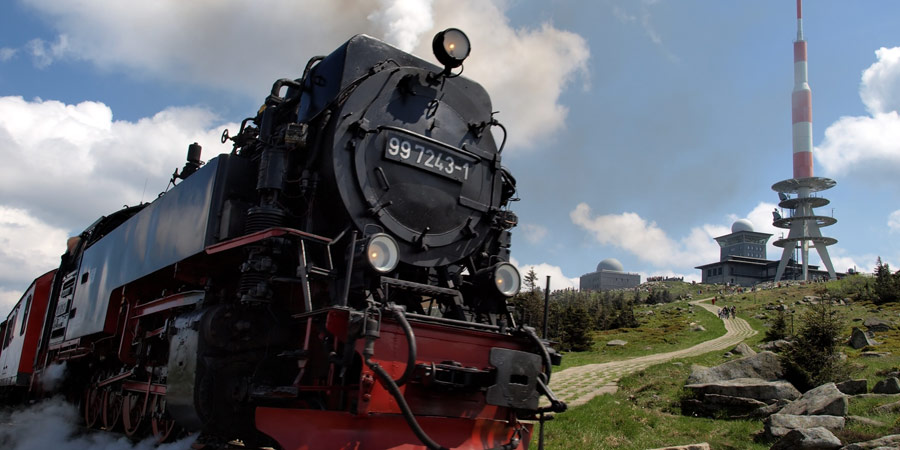 This morning we begin a full-day excursion on the narrow forests and crystal-clear lakes of the Harz Mountain region creating a terrain ideally suited to narrow-gauge railways. The terrific Brocken Railway connects the small towns and villages of the Harz region. Today's journey takes us through the vast pine forests in the foothills of the mountains, steam from the train evaporating into the tree tops. We climb steep inclines, the mighty engine straining to tackle the gradient, as we make our way to Brocken, the highest mountain in the Harz region at over 3,700 feet (1,128 metres). After some free time for lunch and to enjoy the views, we return by train to Wernigerode.
Day 4 - Quedlinburg and the Selketal Railway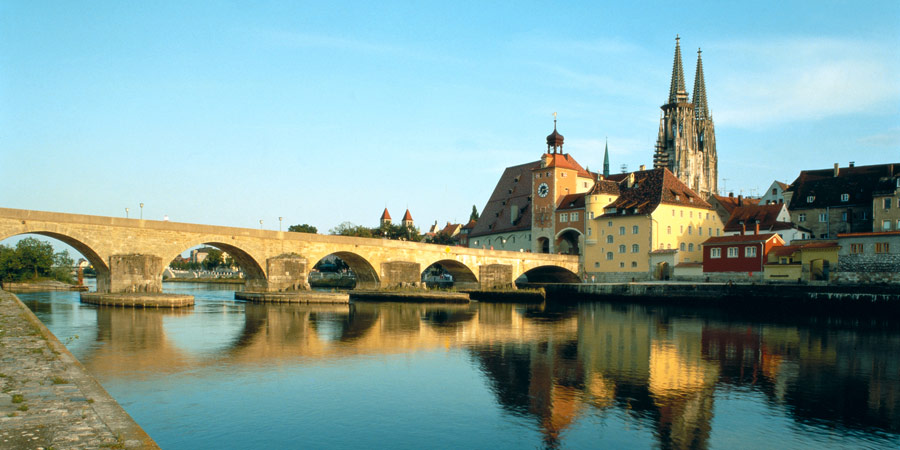 Today we travel by coach to Alexisbad in order to board the excellent Selketal Railway to Gernrode. This charming train makes its way through the dense forests and past the gentle streams, granting special views of mysterious fairytale landscapes.
On arrival into Gernrode, we continue by coach to beautiful Quedlinburg, a gorgeous town with a delightful, peaceful Romanesque church and incredibly well preserved red-roofed houses that give the town the feel of a model village, as if it were created from children's toy bricks.
Burgberg - 'castle mountain' - is a 10th century stronghold that looms imposingly over the town. Quedlinburg's rambling, haphazard street plan leads you through charming streets lined with more than 1,600 timber-framed buildings. On one street, Wordgasse, there is a building reputed to be the oldest timber-framed house in Germany.
Day 5 - At leisure in Wernigerode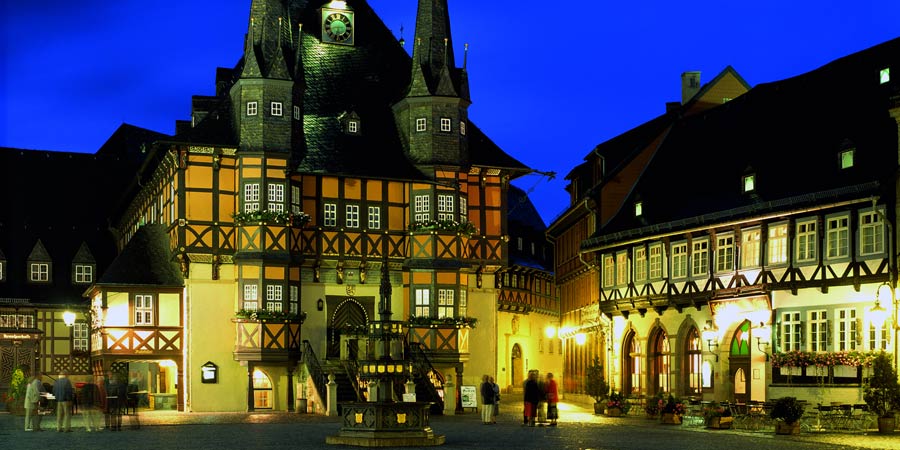 Explore Wernigerode at leisure. With elaborate halftimbered buildings, simply strolling through the steep narrow streets of the town provides a feast for the eyes, not to mention the impressive Wernigerode Castle and the charming medieval Town Hall.
Day 6 - Wernigerode to Boppard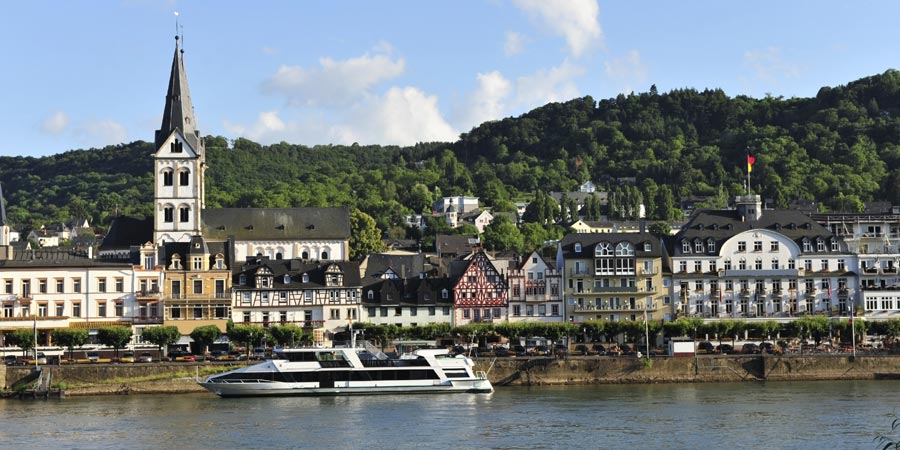 Bidding farewell to the peaceful Harz mountains, we make a short coach transfer to Hildesheim where we join the train to Boppard, via Frankfurt (Standard Class), a romantic German village near the picturesque Rhine. We spend four nights at the Hotel Bellevue, situated in the centre of this typical Rhineland village.
Days 7-8 - Romantic Rhine Gorge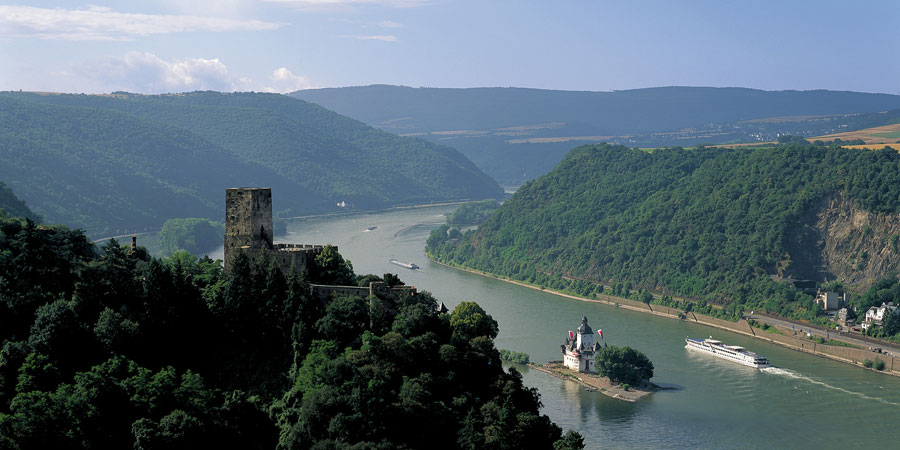 Today we enjoy a short walk to the riverside and board a boat for the journey along the River Rhine, through the prettiest and most celebrated section of the Rhine Gorge. Ancient castles peer from the top of the green banks, as we pass below. We arrive in the attractive riverside resort of St Goar We enjoy free time here and a chance to sample the fantastic local wines and enjoy a stroll through the charming town centre. We then rejoin the cruise back upstream to Boppard.
Day 8 is free for you to explore Boppard at your leisure. Situated on the beautifully scenic Rhine Gorge, the village is surrounded by a backdrop of vineyards, in which some of Germany's most popular wines are produced. The village boasts a remarkably well-preserved centre, crammed with timber-framed houses and crooked narrow streets - ensuring Boppard retains a reputation as a fantastic tourist attraction.
Day 9 - Excursion to Heidelberg
A coach excursion takes us to one of Germany's best loved cities, charming and historic Heidelberg. The town lies below its protective castle on the River Neckar and is home to the oldest university in Germany, founded in 1385. The backdrop to Sigmund Romberg's operetta, 'The Student Prince', Heidelberg was the capital of the Palatinate region for many centuries.
We enjoy a guided tour and some leisure time before returning to our hotel. Perhaps you'd like to discover Heidelberg's enchanting Altstadt or Old Town. Characterised by attractive squares where you can sit outside and people watch and a collection of different architecture, the Old Town is a joy to discover.
Alternatively you could visit Heidelberg Castle, sitting imposingly over the city the castle is an important landmark which dates back as far as 1214. Extraordinarily a lightning bolt destroyed the upper castle in 1537 and it has since been rebuilt. Tonight we enjoy a farewell dinner in Boppard.
Day 10 - Boppard to London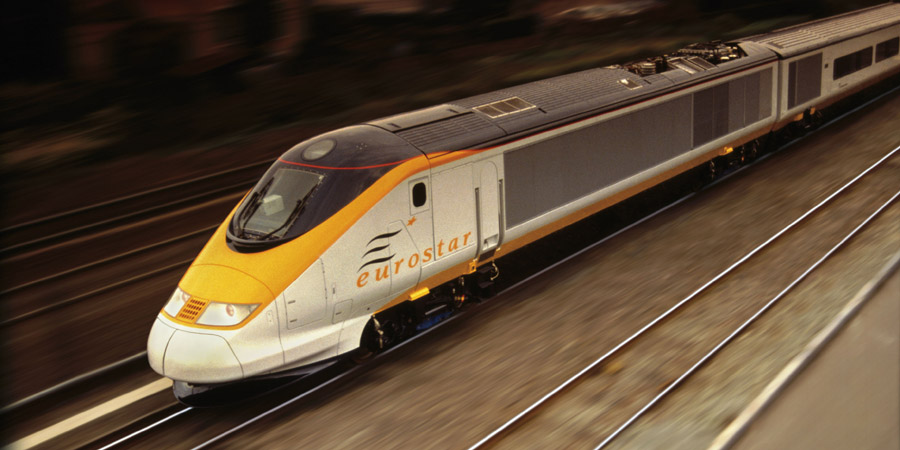 We travel by coach through the Rhine Valley to Cologne. Here, we board the high speed train to Brussels, then connecting with the Eurostar service to St Pancras International.
Please note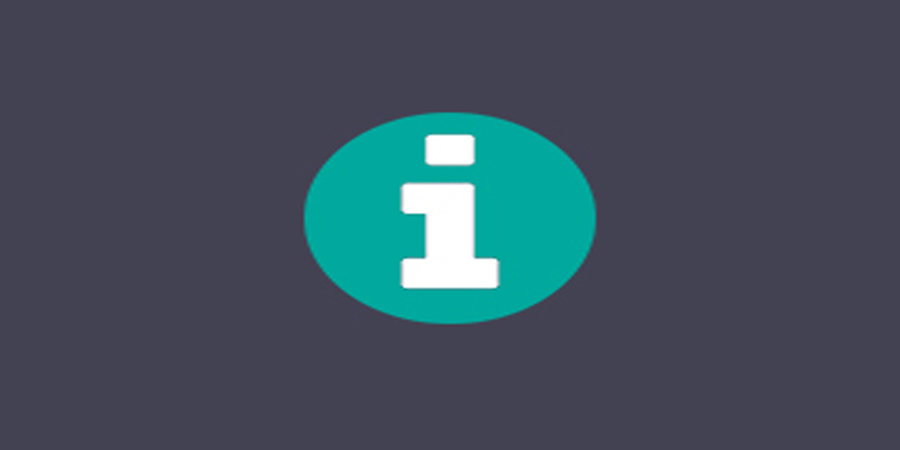 The following departures are guaranteed to operate:
- Travel Options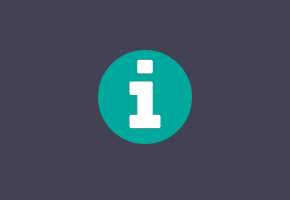 We offer a Standard Class and First Class rail options for departures on this tour. You can find out which class each departure is by clicking on the information button in the pricing grid.
Recommended airports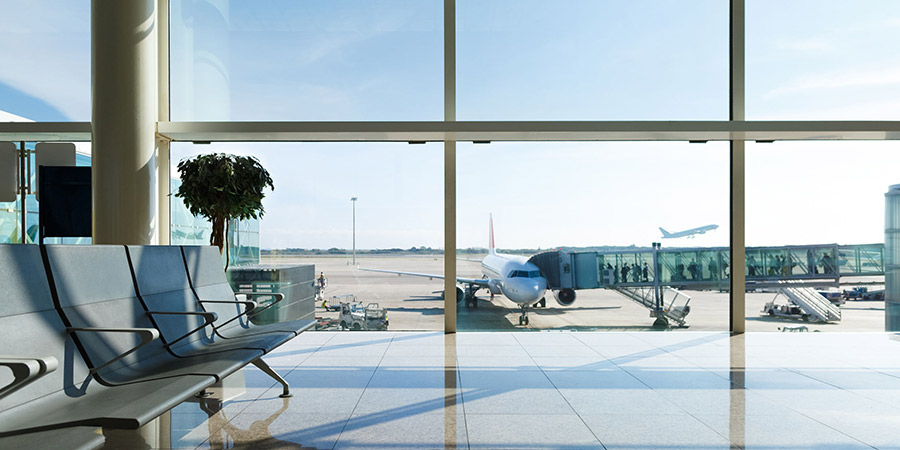 For this tour, we recommend arriving to, and departing from, London Gatwick or London Heathrow airport (LGW or LHR). London Gatwick is approximately 30 miles from your start and end point, and London Heathrow is approximately 19 miles from your start and end point.
Visa Requirements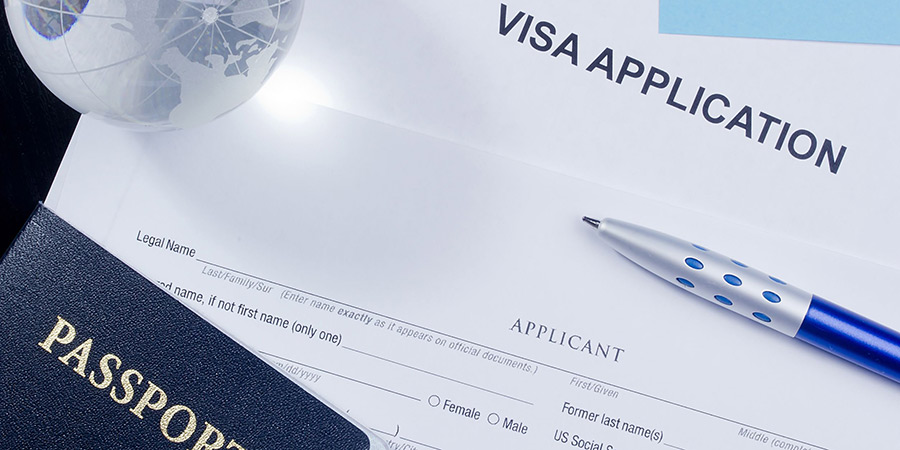 It is your responsibility to check and fulfil the passport, visa, health and immigration requirements applicable to your itinerary. We do not accept any responsibility if you cannot travel, or incur any other loss because you have not complied with any passport, visa, immigration requirements or health formalities. You agree to reimburse us in relation to any fines or other losses which we incur as a result of your failure to comply with any passport, visa, immigration requirements or health formalities.
Departure Dates
All prices are per person and assume full occupancy of the room.
Please always refer to the website for up-to-date prices and availability.
Trains
Brocken Railway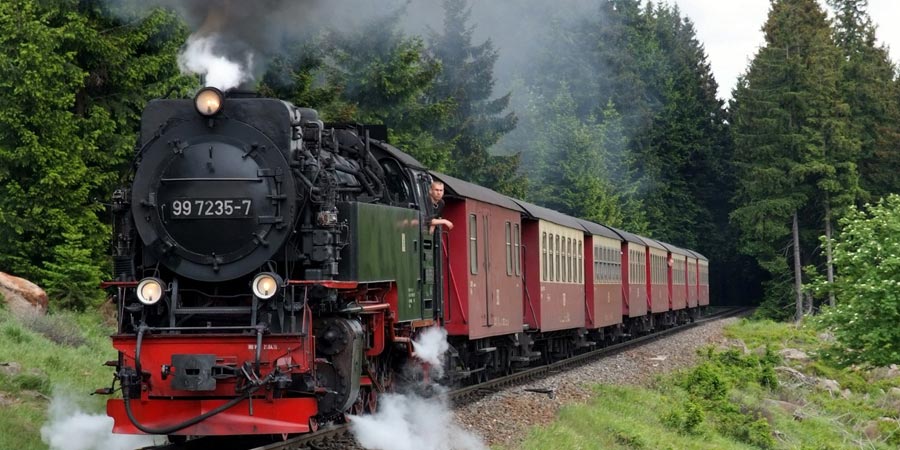 The Brocken is the highest peak in the Harz Mountain range located in central Germany. A branch railway line connecting the Brocken to the Harz Mountains' existing narrow-gauge railway was proposed in 1869, but it was not until 1899 that the eighty-kilometre track was declared operational.
Damaged as a result of bombing and mortar fire in the Second World War, the Brocken Railway was reopened following repair in 1949, but during the subsequent division of Germany into East and West the Brocken became a military base, its railway used only for the transportation of supplies.
It was only after the historic reunification of Germany in 1990 that the train was returned to public use, and since 1992 passengers have once again able to make the spectacular rail journey, hauled by steam locomotive, to the summit of Brocken where they are rewarded with breath-taking panoramic views of the Harz Mountains National Park before them.
Eurostar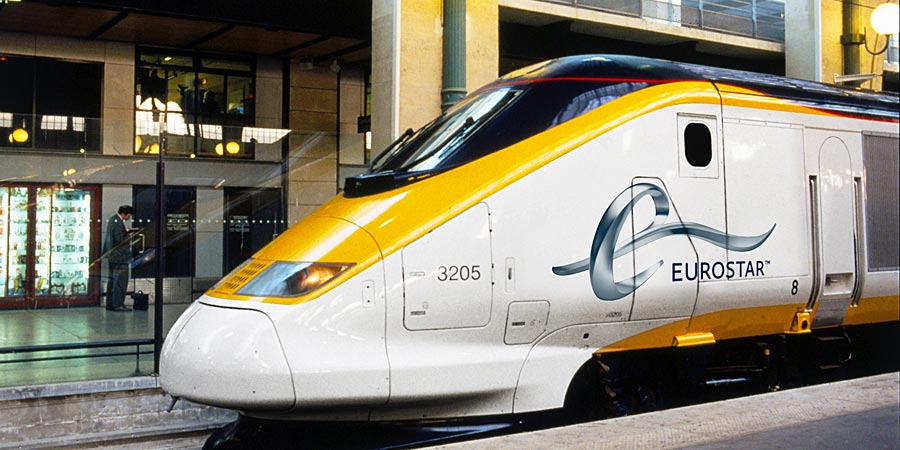 The high speed Eurostar trains link St Pancras International in London with Paris and Lille in France as well as Brussels in Belgium.
Eurostar's Standard Class coaches feature two seats on either side of the central aisle, most of which is arranged in an 'airline' seating configuration with drop down tray tables. There are two tables for four per carriage. Passengers travelling in Eurostar Standard Class coaches can take advantage of the Bar-Buffet which sells a range of snacks, meals, hot and cold drinks - including Champagne!
The highest class of Eurostar travel available for leisure customers is Standard Premier Class. In your dedicated Standard Premier carriage you'll find a less dense seat configuration, meaning the seats are larger and you have ample space to relax and stretch out. As part of the service you'll enjoy complimentary drinks and refreshments, served at your seat by friendly, helpful waiting staff.
For the class of travel used on your chosen tour, please refer to the 'What's Included' section of the tour page.
ICE Train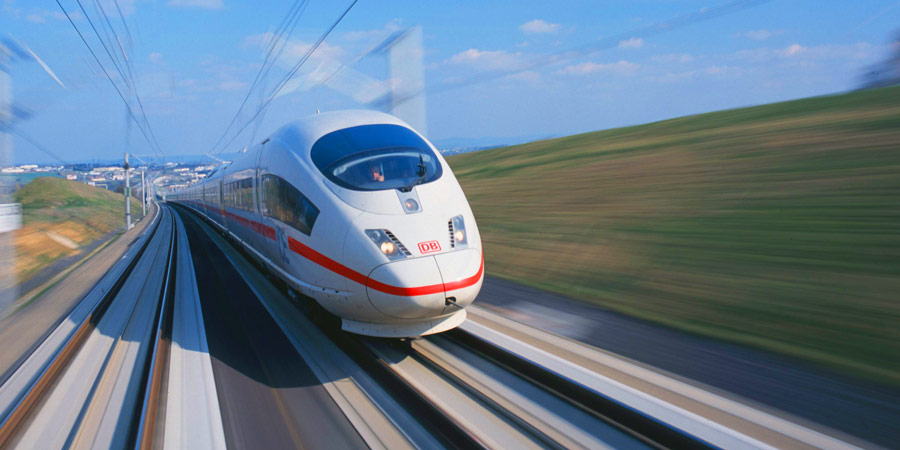 Probably one of Europe's finest high speed trains, the jewel in German Rail's crown is the InterCityExpress or ICE.
Linking all Germany's major cities and selected destinations outside Germany, the ICE trains offer some of the most comfortable and well-designed accommodation around, so you can really get the most out of your journey.
InterCity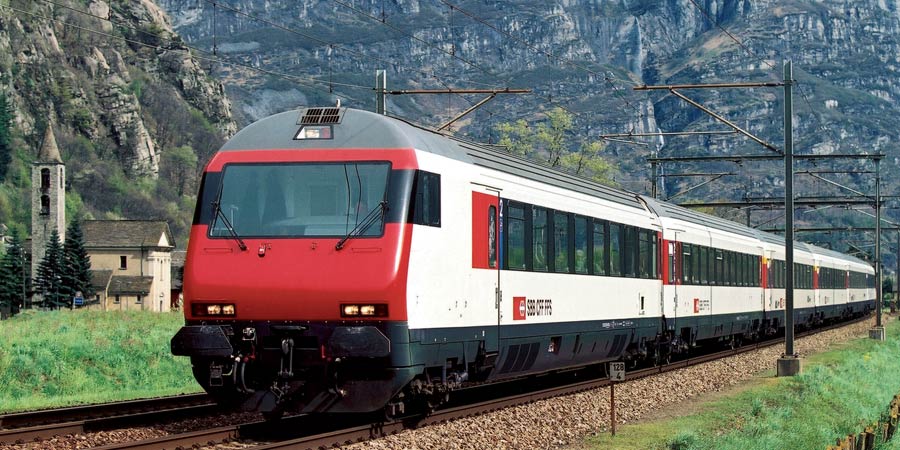 Named after the famous British express service, InterCity trains are long-distance services operating in a variety of different countries, such as Germany, Switzerland and Austria. InterCity trains are distinct from Inter City Express (ICE) and EuroCity services in that they operate on domestic routes within country borders.
Selke Valley Railway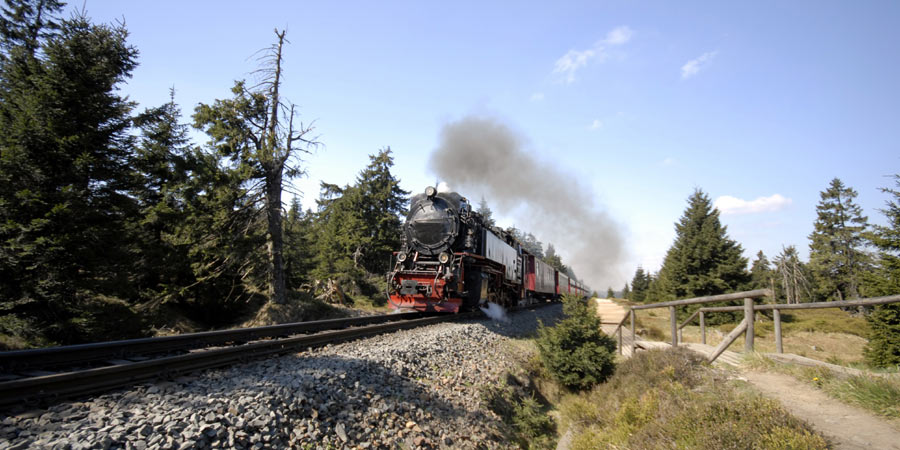 This quaint railway is arguably the region's best-kept secret. The route ascends into the Harz Mountains through a varied landscape. This metre-gauge railway was dismantled by the Soviets at the end of World War II, but was then subsequently rebuilt as far as Gernrode in the post-war years. With reunification the Selke Valley Railway, or Selketalbahn, was acquired by the Harz Mountain Railways and the line finally extended to Quedlinburg, allowing greater tourist access to this nostalgic journey through dense forests and mountains.
Thalys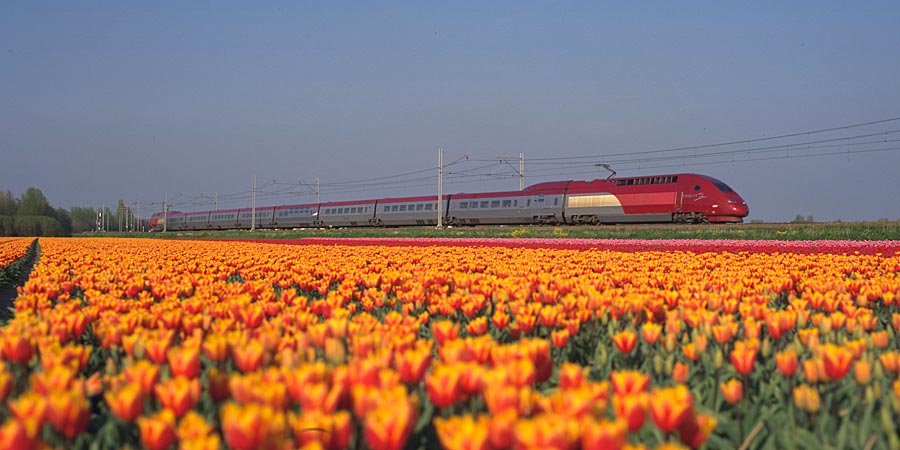 Thalys is a brand run by two companies, Thalys International, whose shareholders are French, Belgian and German rail companies, with Dutch Railways (NS) as a privileged partner, and also The Railway Company THI Factory, 60% of whose capital is held by SNCF, and 40% by SNCB.
It runs rail services linking Paris and Brussels with Amsterdam or Cologne. The trains are similar in design to French TGVs and can reach up to 190mph (305km/h) when travelling on dedicated high speed lines.
Comfort 1 (First Class) passengers benefit from spacious seating and are usually served complimentary light refreshments once underway. Both Comfort 1 and Comfort 2 (Standard Class) passengers have access to the Thalys Bar, which serves a selection of snacks, meals and hot and cold drinks during most journeys.
Hotels
Rheinhotel Bellevue, Boppard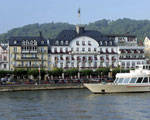 The 4-Star Superior Rheinhotel Bellevue in Boppard enjoys a fantastic location alongside the Rhine. The hotel benefits from a restaurant and bar, whilst leisure facilities include a sauna, fitness centre, games room, spa and wellness centre - including an indoor swimming pool.
HKK Hotel Wernigerode, Wernigerode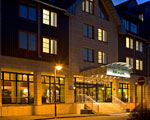 In Wernigerode we stay at the 4-Star HKK Hotel Wernigerode, located close to the railway station and within walking distance of the quaint Old Town and marketplace. From here the narrow-gauge railway network, Harzer Schmalspurbahnen is just a short walk away. The hotel's facilities include a restaurant, bistro, three bars, sauna, steam room, whirlpool and fitness equipment. The modern rooms feature a telephone, television, radio and a hairdryer.
The HKK Hotel Wernigerode is very popular with Great Rail Journeys' customers and won awards for Food in 2010 and 2012, and our Gold Award for its outstanding customer service in 2011, as well as a Bronze Award for overall best hotel in Germany in 2013.
Typical meal arrangements when dining at the hotel:
Breakfast: buffet-style continental breakfast with hot items
Dinner: buffet-style dinner
What's included
An escorted experience and travel during your tour
The services of a professional Tour Manager from start to finish
Exclusive meeting point at our dedicated Departure Office in St Pancras
First and Standard Class rail options available (Standard Premier Class on Eurostar journeys with a light meal and drinks)
All coach transfers
Comfortable accommodation in your destination
9 nights' hotel accommodation including 1 outbound overnight stay in Cologne, 4 nights at the 4-Star HKK Hotel Wernigerode in Wernigerode and 4 nights at the 4-Star Bellevue Rheinhotel Hotel in Boppard
Delicious meals included
16 meals, including 9 breakfasts and 7 dinners including a farewell dinner in Boppard
Exciting excursions and free time to explore
Rhine Gorge cruise to Boppard
Guided tour of Heidelberg
Scenic rail excursion on the Brocken Railway
Journey on the Selketal Railway
At leisure in Boppard
Free time in Wernigerode
Not Included
Flights and Airport transfers
Upgrades

We offer a selection of upgrades and 'add-ons' designed to help you make the most of your holiday - and make it even easier!

This page was printed from

www.greatrail.com/ca/tours/harz-mountains-and-rhine-gorge/#HRJ19

on 6 December 2019.

Call

01904 521 936

to discuss your holiday

© Copyright 2019. Great Rail Journeys