01904 734 001
Open 7 Days a Week
Grand Imperial Cities
Four 'must-see' cities on one rail tour
Fascinating grand imperial cities and high-speed intercity train journeys showcase the turbulent history of Central Europe. Discover what turned these former Habsburg and Prussian cities into four of Europe's greatest destinations.
The itinerary for your journey
Tour highlights
Vienna, including a city tour
Schönbrunn Palace
Budapest including a city tour
The Children's Railway
Apfelstrudel and coffee in Vienna
Dinner cruise on the Danube
Prague including a guided tour
Berlin including a city tour
Free time in Vienna, Budapest, Prague and Berlin
Day 1 - To Cologne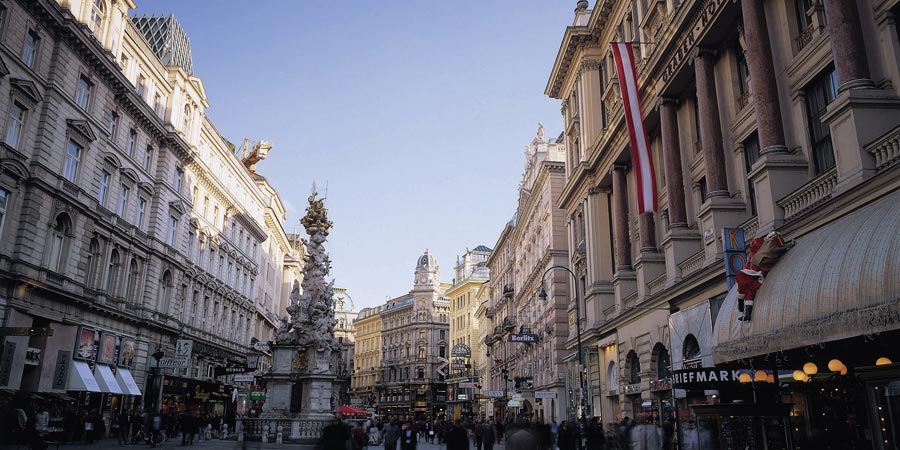 Meet your group and Tour Manager at our dedicated departure office where we begin our voyage towards Central Europe on the Eurostar from St Pancras International to Brussels. We continue from Brussels in First Class to the beautiful city of Cologne, where we spend the night.
Please Note: For departure HUC1801f you will be staying at the Intercity Bonn Hotel.
Day 2 - On to Austria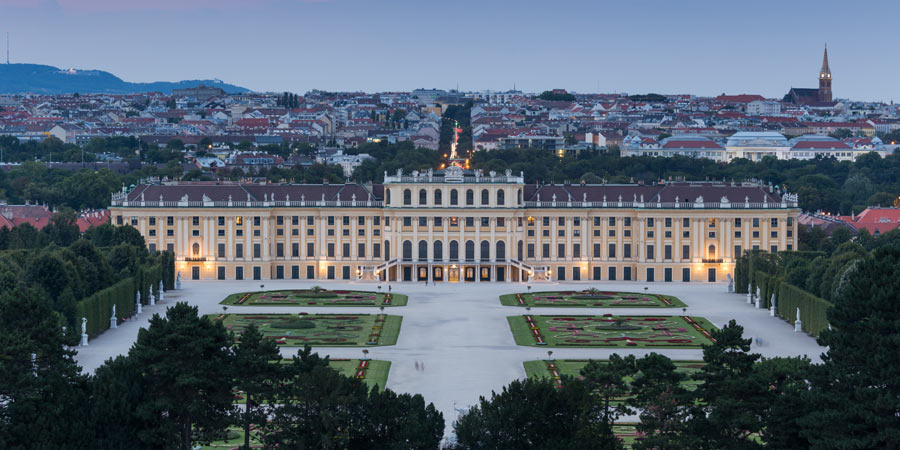 We continue travelling south through Germany, passing through some of the country's magnificent cities, including Bonn, Frankfurt and Nuremberg as we make our way south towards the Austrian border. Our journey takes us to Vienna, the magnificent city of Mozart, where we spend the next three nights at the Marriott Imperial Riding School Renaissance Hotel.
Day 3 - Vienna
This morning we enjoy a city tour of Vienna, taking in the city's Imperial architecture on the famous Ringstrasse - a wide avenue that encircles the Old City of Vienna. Our tour takes us past many of Vienna's finest ornate buildings including the impressive Hofburg Palace, a vast complex of buildings that demonstrates the awesome power and wealth commanded by the Habsburgs, who used the palace as their ruling headquarters for six centuries. We pass the impressive Opera House, one of the leading opera venues in the world, as well as the grand Parliament Building. Later today we visit spectacular Schönbrunn Palace, the summer residence of the Imperial family, situated beautifully landscaped parkland. We enjoy a slice of the famous Apfelstudel and coffee in an elegant Viennese cafe before a guided tour of the palace, followed by time to stroll through its elaborate gardens.
Day 4 - At leisure in Vienna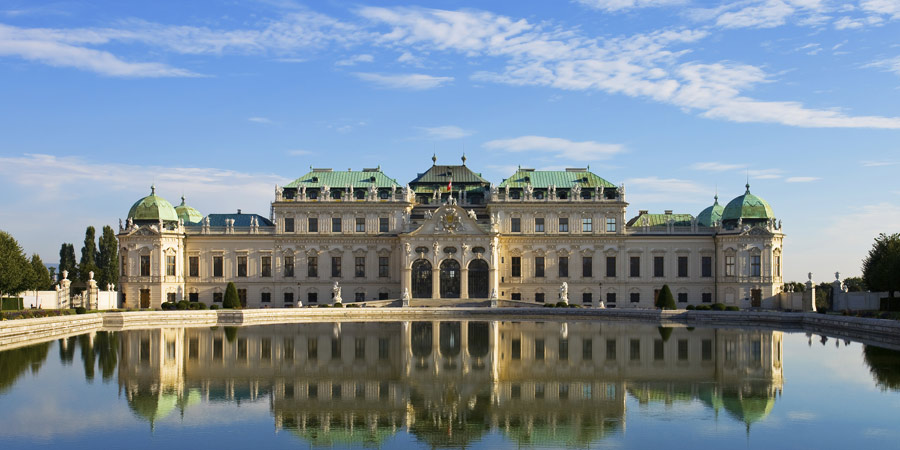 Today you are free to explore at your own pace. Vienna's glorious Gothic cathedral, the Stephansdom, is located at the very centre of the city. By climbing the 553 steps to the top of the cathedral you will be rewarded with one of the best views of the city. Alternatively, a ride on the giant Ferris wheel in Prater Gardens offers a more laid back way to achieve a superb view across the city.
Day 5 - Scenic rail journey to Budapest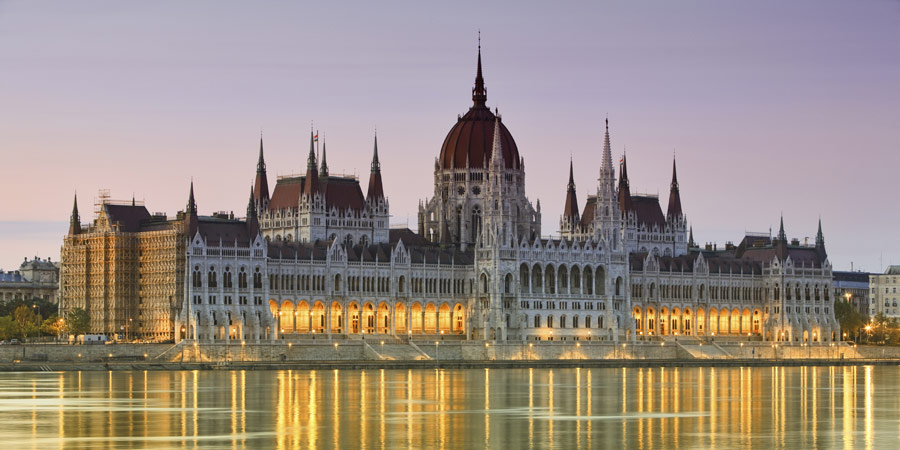 We leave Vienna, travelling by rail across the border into Hungary. Our destination is Budapest, a city of two halves divided by the mighty River Danube and sewn together by a collection of beautiful, elegant bridges including the famous Szechenyi Chain Bridge, the first permanent crossing to link the two halves of the city. The flatter, lively region of Pest looks across the water to its older, historical neighbour, the hilly Buda which rises up away from the banks of the river. Budapest was once the joint capital of the Austro-Hungarian Habsburg Empire. The city and its buildings have been restored to their very best in what is now one of Europe's finest, grandest and most picturesque cities. We spend the next three nights here at the Hotel Continental. You have some time this afternoon to begin exploring Budapest at leisure before we dine together in a local restaurant where we receive a Tokaj wine reception on arrival.
Day 6 - Budapest and the Children's Railway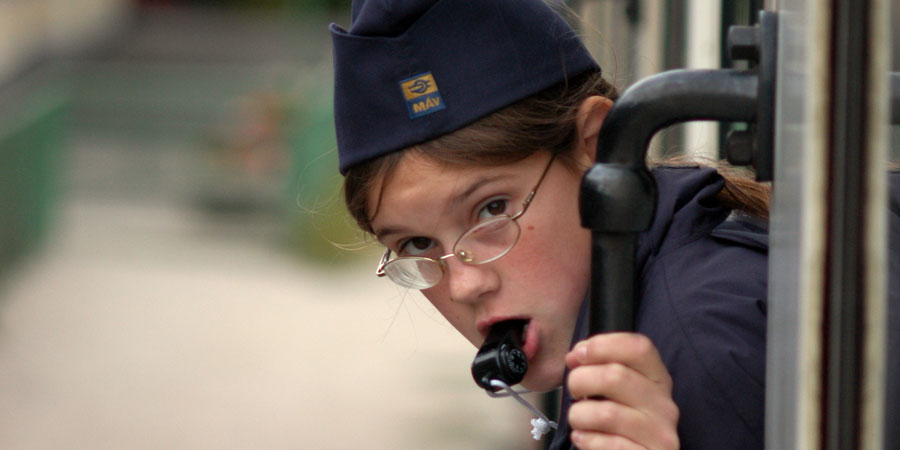 This morning we enjoy a guided coach tour, introducing us to Budapest's main sights. We pass impressive buildings and monuments on both sides of the Danube, including the neo-Gothic Parliament building that was designed to resemble the Palace of Westminster, the magnificent State Opera House and St Stephen's Basilica, Budapest Castle, Matthias Church and Fishermen's Bastion. Later we enjoy a ride on the Children's Railway, a service operated by Hungarian school children who consider it a great honour to be chosen to help run it. The line runs through beautiful woodland in the hills above Buda and presents wonderful views of the city.
Day 7 - Evening on the Danube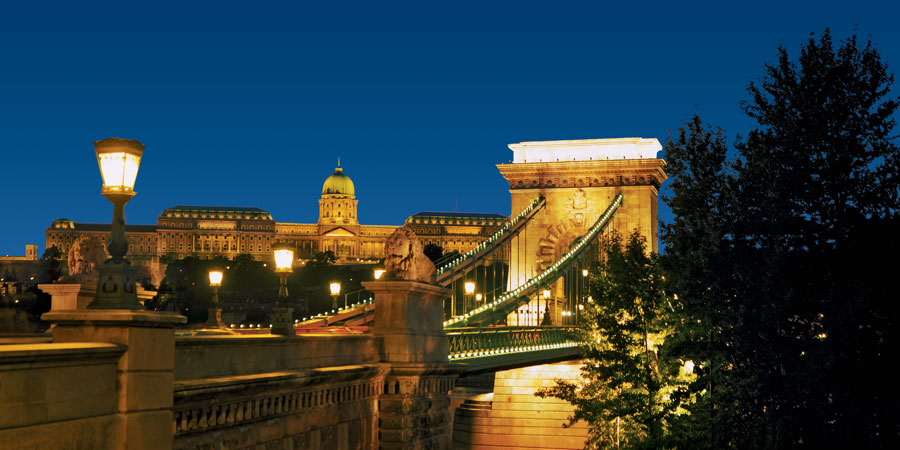 Today is free for you to explore Budapest at leisure; take the opportunity to view some of the city's main sights or simply stroll through historic streets, admiring the magnificent architecture and old world grandeur. Tonight we experience the city from a different perspective with a dinner cruise on the Danube and an evening coach tour of the illuminated city sights, including the Chain Bridge and spectacular view from Gellert Hill.
Day 8 - To Prague by rail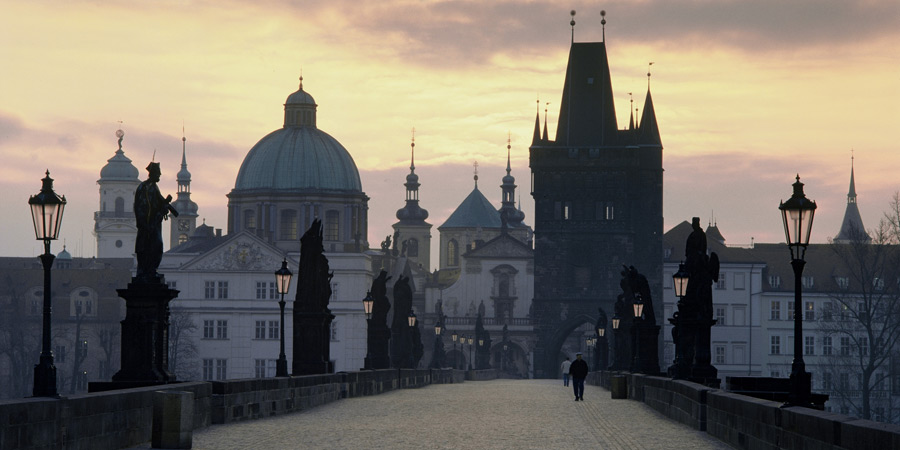 We depart Budapest by train, travelling through Slovakia and the city of Bratislava to the Czech Republic. We arrive in Prague and spend three nights at the Courtyard by Marriott Flora. In 'the city of a hundred spires', where copper-domed churches line the banks of the River Vltava and where architectural styles from across Europe blend together to create one of the continent's most beautiful cities.
Days 9-10 - Sightseeing in Prague
During a guided tour through the narrow streets of the Old Town, we discover some of Prague's most famous sights.
We begin at Hradcany Castle, the largest medieval complex in Europe. We also walk across the 14th century Charles Bridge, which has 75 statues along its walls, and pass the Gothic spires of St Vitus' Cathedral. This afternoon, and Day 10, is spent at leisure to continue exploring the stunning city of Prague.
Days 11-12 - To Berlin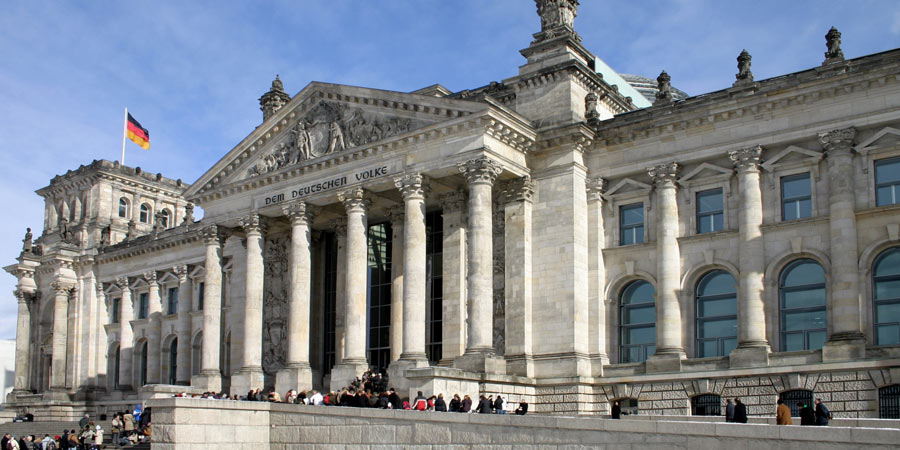 This morning we leave Prague, heading northwards through the Bohemian countryside into Germany, tracing the winding route of the River Elbe through a region known as Saxon Switzerland on our way to Berlin. Here we stay for two nights at the Maritim Hotel Berlin.
On the morning of Day 12, embark on a fascinating sightseeing tour of this once divided city. We soak in the main sights of Berlin, including the incredible Brandenburg Gate, a section of the Berlin Wall which once divided East and West Berlin, as well as the Reichstag, the meeting place of the current German parliament. Tonight, we enjoy a farewell meal at our hotel.
Day 13 - Berlin to London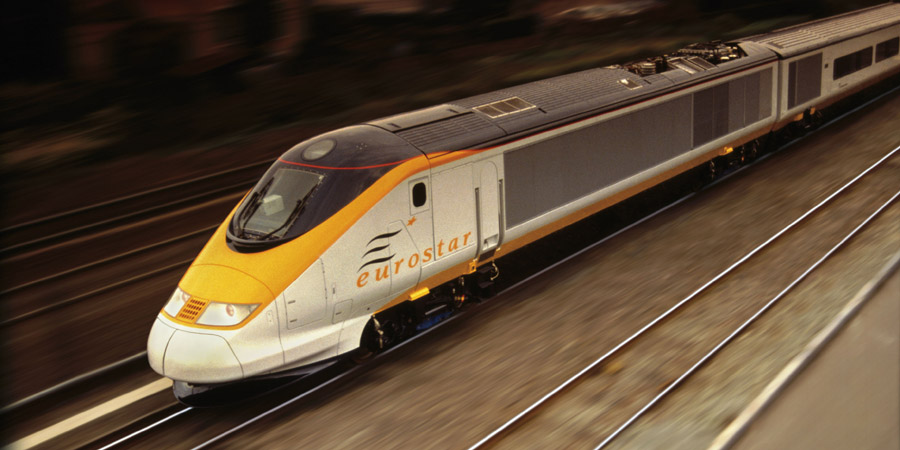 Bidding farewell to mainland Europe, we travel high-speed to Brussels, via Cologne, where we join the Eurostar service to St Pancras International. On arrival in London, your tour concludes.
Recommended airports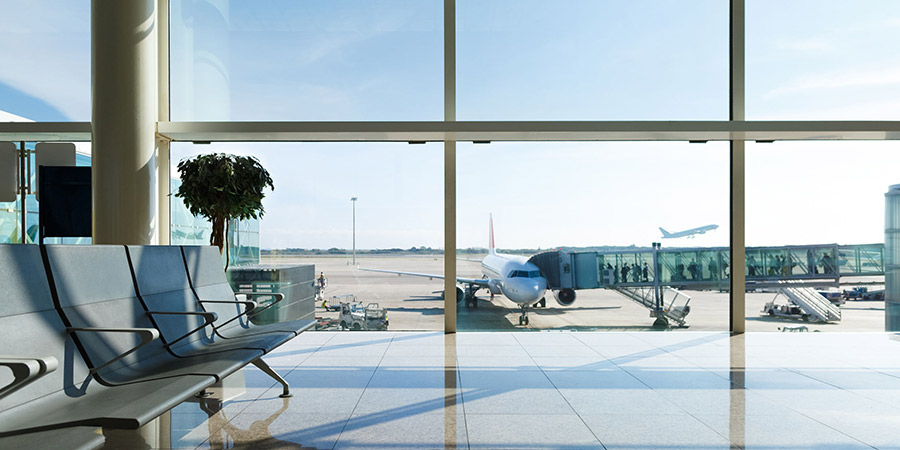 For this tour, we recommend arriving to, and departing from, London Gatwick or London Heathrow airport (LGW or LHR). London Gatwick is approximately 30 miles from your start and end point, and London Heathrow is approximately 19 miles from your start and end point.
Visa Requirements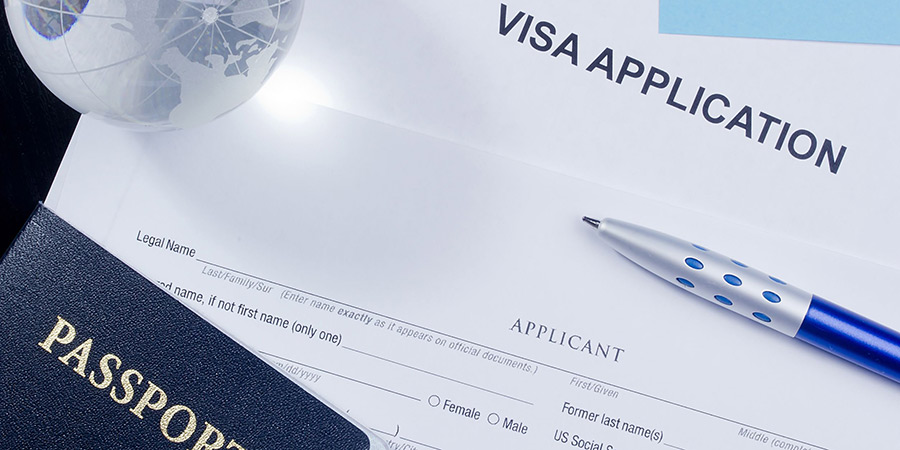 It is your responsibility to check and fulfil the passport, visa, health and immigration requirements applicable to your itinerary. We do not accept any responsibility if you cannot travel, or incur any other loss because you have not complied with any passport, visa, immigration requirements or health formalities. You agree to reimburse us in relation to any fines or other losses which we incur as a result of your failure to comply with any passport, visa, immigration requirements or health formalities.
Departure Dates
29 March 2018
From

$4,520

12 April 2018
From

$5,465

26 April 2018
From

$4,430

3 May 2018
From

$5,460

10 May 2018
From

$4,830

14 June 2018
Please call
21 June 2018
From

$5,505

5 July 2018
From

$4,435

9 August 2018
From

$5,550

30 August 2018
Please call
6 September 2018
From

$4,430

13 September 2018
Please call
27 September 2018
From

$3,995

11 October 2018
Please call
All prices are per person and assume full occupancy of the room.
Please always refer to the website for up-to-date prices and availability.
Trains
The Children's Railway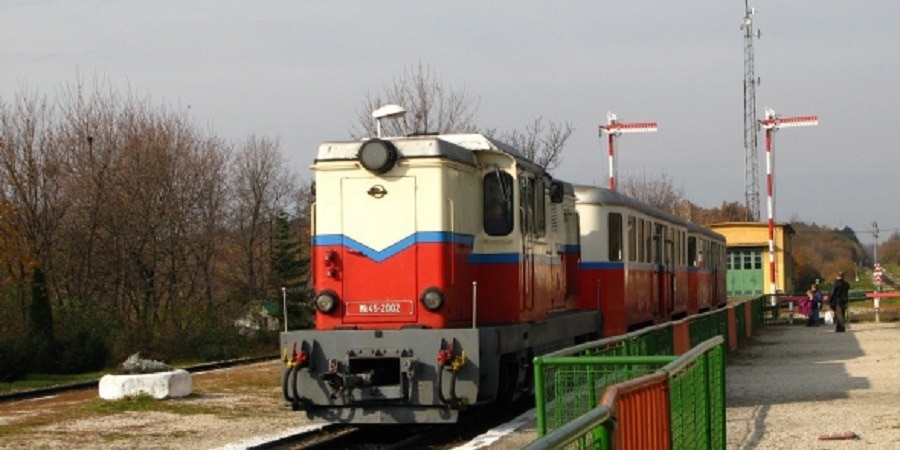 Discover the wonderful Children's Railway in Budapest on this excellent tour. Known as the 'Gyermekvasút', this beautifully scenic line opened in 1948, and is run by Hungarian schoolchildren between the ages of 10 and 14, who consider working on the line to be a great honour. This line takes us through some beautiful areas of woodland in the hills above Buda, and presents some magnificent views of the city.
Hotels
Maritim Hotel Berlin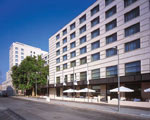 The 4-Star Maritim Hotel Berlin is situated close to Potzdamer Platz and not far from all the main sights of central Berlin, such as the Brandenburg Gate and the Reichstag. Designed in the style of the 'golden 20's' the hotel marries classic ambience with modern comforts. Facilities include a restaurant, bar, swimming pool, saunas, solarium and fitness room. The rooms come with individual climate control, a telephone, television, minibar and a hairdryer.
The Maritim Hotel Berlin won Great Rail Journeys' Gold Award for 'Best Customer Service' in 2013, as well as Silver in the same category in 2011. The hotel also received a Silver Award in the 'Best German Hotel' category in 2010 and 2012.
Continental Hotel, Budapest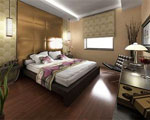 The 4-Star Continental Hotel in Budapest is located in the downtown area of the city. The hotel has a restaurant, bar, indoor and outdoor pool, jacuzzi and spa. Rooms are decorated in an art deco style and feature individually controlled air conditioning, a telephone, television, minibar, safe and hairdryer.
The Continental Hotel was awarded Great Rail Journeys' Gold Award in the category of 'Best Hotel in Poland, Hungary, Russia and the Czech Republic' in 2011, and the Silver Award for Best Overall Hotel in Scandinavia and Eastern Europe in 2013.
Courtyard by Marriott Flora, Prague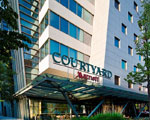 The 4-Star Courtyard by Marriott Flora is located in the upmarket Vinohrady area of Prague. The hotel is located 400 metres from Flora Metro station from where Wenceslas Square is a 5 minute journey away. There is also a tram stop 300 metres from the hotel from where direct trams leave to the city centre.
The hotel has two restaurants, a bar as well as a gym. The guest rooms are fitted with air-con, tea & coffee making facilities, minibar, flatscreen TV and safe.
Imperial Riding School Renaissance Hotel, Vienna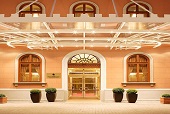 Situated a stone's throw away from beautiful Schloss Belvedere and close to many public transport links, the 4-Star Imperial Riding School Renaissance Vienna Hotel is our base whilst in Vienna. The hotel offers some excellent amenities, including a swimming pool, a sauna, a solarium, and a fitness centre. There are also a selection of fine restaurants and bars, serving anything a fine selection of traditional Austrian cuisine. There is also a seasonal restaurant, the City Garden, which offers delicious barbeque. The rooms are pleasantly decorated in neutral colours, and come well equipped with air-conditioning, an en-suite bathroom, an in-room safe, a hair dryer, a television, and complimentary Wi-Fi.
What's included
An escorted experience and travel during your tour
The services of a professional UK Tour Manager from start to finish
Exclusive meeting point at our dedicated Departure Office in St. Pancras
First and Standard Class rail options available (Standard Premier Class on Eurostar journeys with a light meal and drinks)
Comfortable accommodation in your destination
12 nights' hotel accommodation including 1 outbound stay in Cologne, 3 nights at the 4-Star Marriott Imperial Riding School Renaissance in Vienna, 3 nights at the 4-Star Continental Hotel in Budapest, 3 nights at the 4-Star Courtyard by Marriott Flora in Prague and 2 nights at the 4-Star Maritim Hotel in Berlin
Delicious meals included
20 meals including 12 breakfasts and 8 dinners, including 1 farewell meal in Berlin
Exciting excursions and free time to explore
Evening dinner cruise on the Danube and an evening coach tour of Budapest's illuminated city sights
City tours of Vienna, including apfelstrudel and coffee, Prague and Berlin
A guided tour of Schönbrunn Palace
A city tour of Budapest with a journey on the Children's Railway
Not Included
Flights and Airport transfers
Upgrades

We offer a selection of upgrades and 'add-ons' designed to help you make the most of your holiday - and make it even easier!

This page was printed from

www.greatrail.com/ca/tours/grand-imperial-cities/#HUC18

on 25 February 2018.

Call

01904 734 001

to discuss your holiday

© Copyright 2018. Great Rail Journeys