01904 521 936
Open 7 Days a Week
A Grand Tour of Italy
Experience the unmissable sights and hidden gems of Italy
We immerse ourselves in the hidden gems of Italy as we head off the beaten track in Rome, discover the rich culture of Renaissance Florence, and visit iconic Pisa with its Leaning Tower. In the romantic city of Venice, we end our holiday with a truly memorable dinner at a Venetian Palace.
The itinerary for your journey
Tour highlights
Uncover Rome with a tour of its best-kept secrets, including lunch in Trastevere.
Discover Renaissance Florence, see the Leaning Tower in Pisa, and visit the walled city of Lucca.
Stay on Murano island in Venice, a city of enchanting culture, which we discover on a guided tour.
Enjoy dinner at the Palazetto Pisani, a Venetian Palace overlooking the grand canal, on our final night in Venice.
Day 1 - London to Lyon
We meet at London St Pancras and board the Eurostar to Paris. Here, we change trains and continue to the French city of Lyon. Sat on the Rhône and Saône rivers, Lyon boasts centuries of history within its handsome city centre, and we spend the night here in a local hotel.
Day 2 - Rome
Leaving Lyon, we travel to Milan in Italy. Here, we board the train to Rome, a world-class city and treasure trove of historic and cultural delights. Also known as the 'Eternal City', Rome is a place that offers its visitors seemingly eternal moments of discovery. From the remains of the ancient Roman Empire, including the world-famous Colosseum, to its striking Baroque fountains and enticing side streets lined with quaint cafes, there's a whole host of enticing things to discover here. We check into our hotel for three nights.
Day 3 - Rome
We're introduced to the cultural highlights of Rome on a guided tour that takes us to its most iconic landmarks. We see the incredible Colosseum, one of the most familiar symbols of Ancient Rome and an awesome sight to behold up close. We also see the Roman Forum, the centre of Roman public life for centuries, and the Trevi Fountain, a Baroque masterpiece that's arguably one of Rome's most beautiful sights. We pause en-route at Giolitti, the oldest gelateria in the city. Here we enjoy a taste of the ice cream that's said to be a favourite of Pope John Paul II, in the charming surrounds of the same parlour that Audrey Hepburn and Gregory Peck visited in the 1953 film 'Roman Holiday'.
Day 4 - Rome
Today's guided tour takes us to some of Rome's lesser-known gems. We visit the Quartiere Coppedè district, where a blend of Baroque, ancient Greek, Art Nouveau, and medieval structures give the area a whimsical quality. We continue to the Basilica of Santo Stefano Rotondo. This is one of Rome's most unique churches; dramatic frescoes line the circular walls inside, each depicting the death of a martyr. Finally, we visit bohemian Trastevere, known as Rome's 'foodie' neighbourhood, where we enjoy lunch at a local restaurant. This afternoon is free. Perhaps visit Vatican City and see the peaceful Sistine Chapel, taking in its breathtaking frescoes painted by artists including Michelangelo and Botticelli.
Day 5 - Florence
We travel by rail to Florence, the Renaissance capital of the world, where we spend three nights. This afternoon, we enjoy a guided tour of the city's treasures. We visit the Duomo, with its iconic red-tiled dome that dominates the city skyline. Built between 1296 and 1436, it's found in the appropriately named 'Piazza del Duomo', where alongside the Baptistery and Giotto's Campanile - a free-standing bell tower - it boasts UNESCO World Heritage status. We also visit the beautiful Ponte Vecchio, a famous 14th- century bridge that's home to 43 jewellers' shops.
Day 6 - Florence
You're free to discover Florence, the 'jewel of the Renaissance', at your own pace. Picturesque, narrow streets and handsome squares, including the Piazza della Signoria - the people-watching centre of Florence - are only part of the city's charm. Much of the beauty of the city is found indoors, with one fifth of the world's Renaissance art kept and displayed in Florence's museums, galleries, churches, monasteries and palaces. You could visit the famous Uffizi Gallery to admire the 1,700 masterpieces housed here. Or, you could visit Boboli Gardens. Designed for the Medici family, the gardens opened in 1766 and feature splendid fountains and statues.
Day 7 - Pisa and Lucca
We travel by rail across rural Tuscany, where rolling hillsides and olive groves line our route. We arrive in Pisa, a city famous for its leaning tower. On a guided tour here, we discover the Field of Miracles, seeing the Leaning Tower and the white marble Duomo, with its sublime Moorish mosaics. We continue to Lucca, a wonderful, historic city filled with beauty. The heart of the city is filled with charming piazzas, small churches and fabulous art galleries, linked by narrow, cobbled streets and intricate passageways, and you have free time here to explore.
Day 8 - Venice
We travel by rail to the 'Floating City' of Venice. An intricate network of lagoons and canals makes Venice one of the most unique cities in the world, and its renowned for its incredible art and architecture. On arrival, we transfer to our hotel on the island of Murano, where we stay for three nights, before heading to a local restaurant for dinner.
Day 9 - Venice
We get to the heart of Venice today on an insightful guided city tour. We head to St Mark's Square, the heart and soul of the city for centuries with its blend of intriguing architecture. The bustling square is surrounded by landmark buildings, including the Basilica di San Marco, a true symbol of Venetian glory, covered in spectacular mosaic marble carvings. We also see the Doge's Palace, overlooking the square and the lagoon beyond. The palace is a historic political powerhouse and served as the residence of the Doge of Venice. Today, it's preserved as a fascinating museum. This afternoon you're free to continue exploring Venice at your own pace.
Day 10 - Venice
Enjoy a day free to soak up the atmosphere of the romantic city of Venice. For a bird's eye view, climb the Campanile di San Marco, which offers incredible vistas over the centre and shimmering lagoons further out. Otherwise, Venice lends itself perfectly to idle wandering. Possibly the best way to enjoy its captivating charms is to let yourself get lost in the myriad of winding alleys and twisting lanes that make up the city centre. This evening, we head into the heart of Venice for a farewell meal in an elegant Venetian palace - a truly remarkable end to our adventures in Italy.
Day 11 - Turin
Bidding a fond farewell to Venice, we take the train to Turin. Turin boasts a fantastic architectural heritage and is rich in beautiful green parks, spacious boulevards and airy squares lined with grand buildings. We check into a local hotel here where we spend the night.
Day 12 - Turin and London 
Leaving Turin, we continue by rail to Paris. Once in the French capital, we change trains and join the Eurostar service to London St Pancras.
- Travel Options
We offer a Standard Class and First Class rail options for departures on this tour. You can find out which class each departure is by clicking on the information button in the pricing grid.
Departure Dates
15 May 2022
From

£2,795

5 June 2022
From

£2,795

4 September 2022
From

£2,995

18 September 2022
From

£2,895

2 October 2022
From

£2,895
All prices are per person and assume full occupancy of the room.
Please always refer to the website for up-to-date prices and availability.
Trains
Eurostar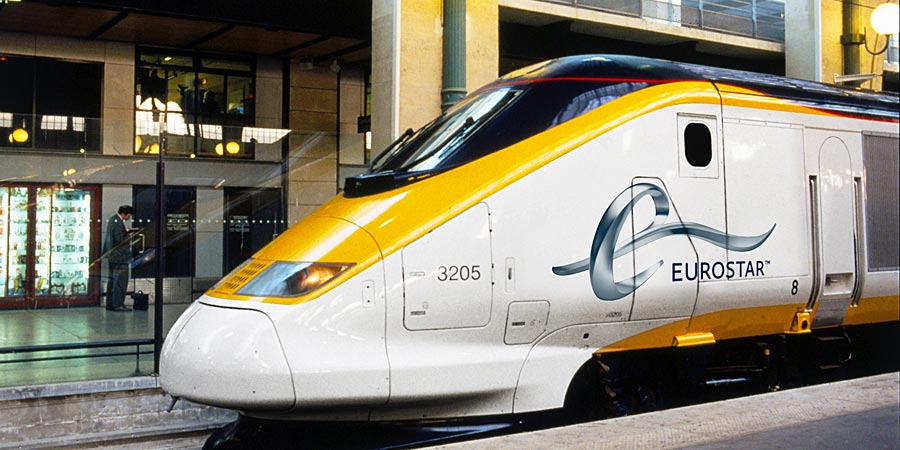 The high speed Eurostar trains link St Pancras International in London with Paris and Lille in France as well as Brussels in Belgium.
Eurostar's Standard Class coaches feature two seats on either side of the central aisle, most of which is arranged in an 'airline' seating configuration with drop down tray tables. There are two tables for four per carriage. Passengers travelling in Eurostar Standard Class coaches can take advantage of the Bar-Buffet which sells a range of snacks, meals, hot and cold drinks - including Champagne!
The highest class of Eurostar travel available for leisure customers is Standard Premier Class. In your dedicated Standard Premier carriage you'll find a less dense seat configuration, meaning the seats are larger and you have ample space to relax and stretch out. As part of the service you'll enjoy complimentary drinks and refreshments, served at your seat by friendly, helpful waiting staff.
For the class of travel used on your chosen tour, please refer to the 'What's Included' section of the tour page.
Frecciargento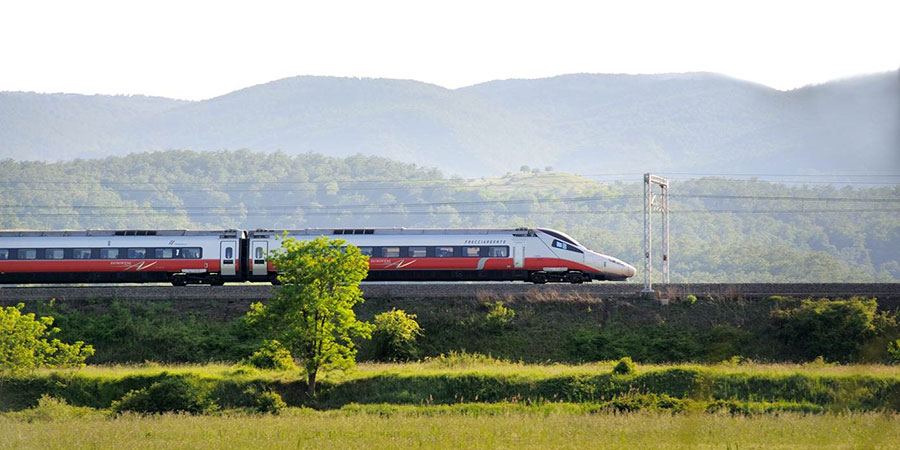 With a smart and futuristic appearance, and sleek interiors, the Frecciargento can zip you across the magnificent colours and landscapes of Italy in a matter of hours. In English, it's title means Silver Arrow and this fine locomotive can travel up to speeds of around 160 mph on certain routes.
Originally known as the Italian Eurostar, the Frecciargento forms up part of Le Frecce, a series of high speed trains operating up and down the country. These trains are operated by the Ternitalia company, and were originally introduced in 1997 as the Eurostar. By 2012, the Italian Eurostar trains were changed into different categories, with Frecciarossa being the fastest and Frecciargento being the second fastest. Each Frecciargento train offers First and Standard Class along with a restaurant for comfortable dining.
Frecciarossa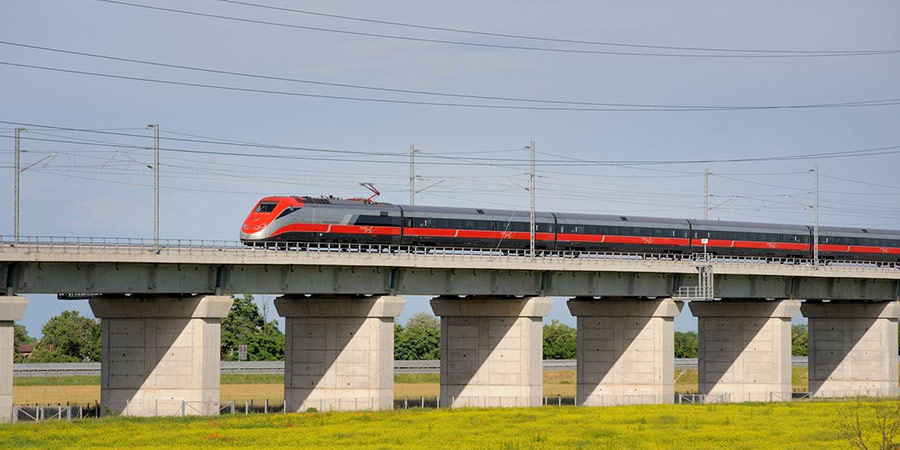 Italy's fastest train, the Frecciarossa runs up to a magnificent top speed of 190mph and offers a slick and punctual service up and down Italy. Translating to the Red Arrow in English, the Frecciarossa is Trenitalia premier rail service, offering four different class with each one providing comfortable seats, capable air-conditioning and superb staff who are helpful and professional.
Originally known as the Italian Eurostar, the Frecciarossa forms up part of Le Frecce, a series of high speed trains operating up and down the country. These trains are operated by the Ternitalia company, and were originally introduce in 1997 as the Eurostar. By 2012, the Italian Eurostar trains were changed into different categories, with Frecciarossa being the fastest and Frecciargento being the second fastest, and the Frecciablanco being the least fast. The Frecciarossa offers Executive, Business, Premium and Standard Class as well as a well-stocked restaurant car.
TGV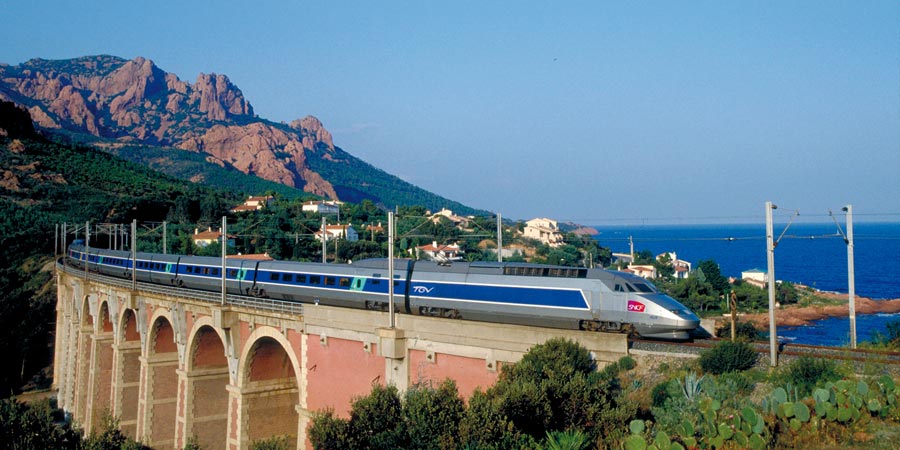 Introduced in 1981, France's TGV (Train à Grande Vitesse) was the original European high-speed train. Linking Paris with Lyon, the new service revolutionised train travel and meant that travelling by air over medium and short distances was no longer seen as the best option, even for business travel.
The network has expanded rapidly and today these sleek, stylish trains offer links to over 60 destinations throughout France. Operated by SNCF, the French national rail operator, TGV trains travel over specially-constructed high speed lines. The trains can achieve speeds of up to 186mph (300km/h) on most long distance routes and 200mph (320km/h) on the new TGV Est line, which links Paris with Strasbourg, Luxembourg and Basel. With the exception of shorter journeys, TGVs almost always have an on-board buffet car, serving a selection of drinks and light refreshments.
Trenitalia
Connecting the romantic splendour of Italy, crisscrossing its way through Renaissance cities, along golden coastline and around ancient volcanoes, Trenitalia is Italy's superb rail network. Featuring an excellent fleet of well-maintained and modern trains, this rail company is owned by Ferrovie dello Stato Italiane, which is run by the Italian government. Operating regional and national services, Trenitalia prides itself on its punctuality and the huge range of services provided by the operator, several of these which include railways such as the Frecciarossia, the Frecciargento and the Frecciblanco services.

Italy by rail is simply stunning. From the flowing green hills and elegant cities of the north, to the Mediterranean climes and the enchanting beaches of the south, an Italian rail journey is not only one of the easiest ways to travel, but is also one of the most panoramic and beautiful. Circumnavigating the magnificent Mt Etna, gliding down the Amalfi Coast, entering the stunning Milan railway station, these are all experiences which are hugely enhanced from the comfort of an air-conditioned Trenitalia carriage.
Hotels
Hotel Massimo D'Azeglio, Rome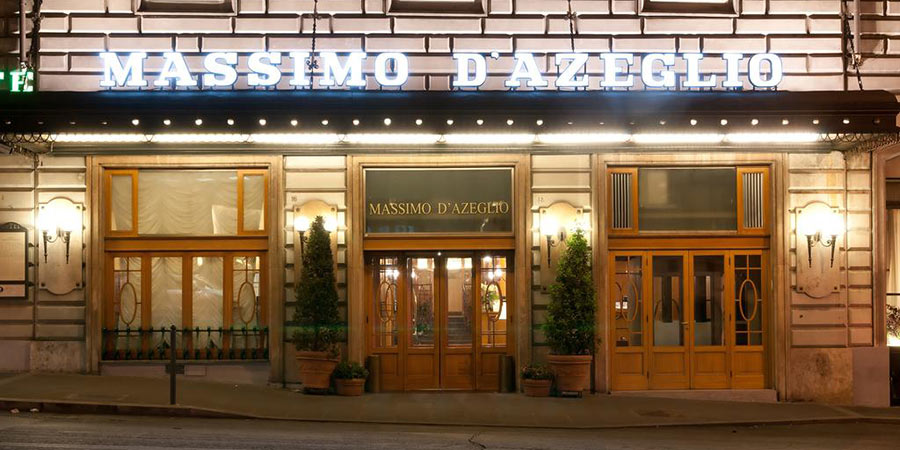 The 4-Star Hotel Massimo D'Azeglio in Rome enjoys a fantastic location close to the Termini railway station and within walking distance of many of the city's main sights, including the Trevi Fountain, the Roman Forum and the Colosseum. Dating back to 1875, the hotel embodies late-century style and architecture. The lobby, bar and restaurant display an important collection of paintings and prints which reflect the hotel's history. The traditionally-furnished rooms are decorated in an Italian Baroque style and come with individually controlled air conditioning, a telephone, television, minibar, hairdryer, Wi-Fi and a safe.
Hyatt Centric Murano Venice, Murano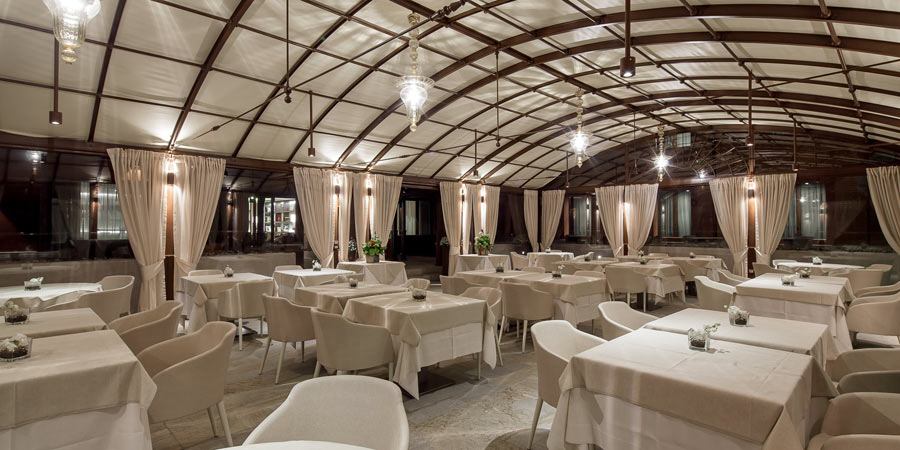 This 4-Star hotel is set within a former glass factory and is contemporary in design. The reception areas feature individually designed glass pieces from the famous glassmaker Venini, whilst the bedrooms are spacious, comfortable and are elegantly decorated in calming shades of cream and beige. Rooms feature air conditioning, ensuite, minibar, radio, Sky television and complimentary Wi-Fi.
NH Collection Palazzo Gaddi, Florence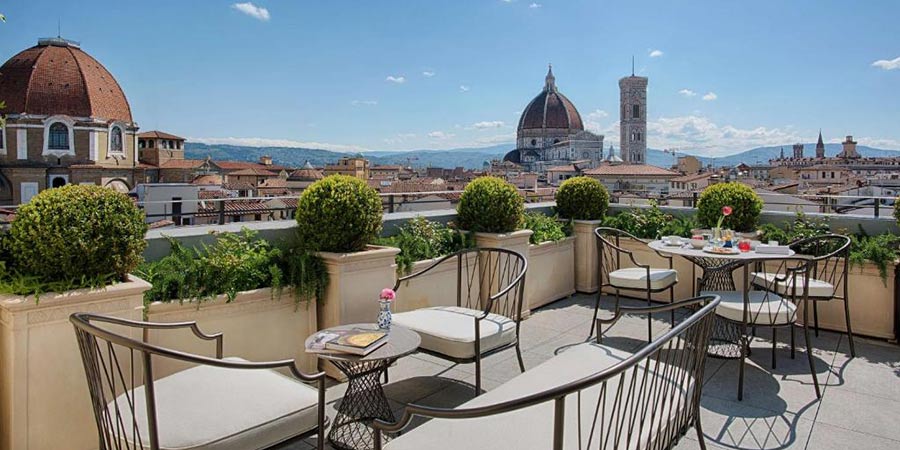 The 4-Star NH Collection Palazzo Gaddi hotel in the heart of elegant Florence is soaked in history. Housed in the stunning Renaissance Palazzo Gaddi, a palace that dates back to 1596 and boasts stunning Baroque interiors, a stay here immerses you in the beauty of the Italian Renaissance. Guest rooms boast a blend of original and contemporary décor, staying true to the character of the hotel while ensuring you can relax in comfort, with modern facilities including air-conditioning, a coffee machine and large flat-screen television. On-site at the hotel, you'll find a café and bar, a rooftop terrace with spectacular city views and free Wi-Fi throughout.
Upgrades
We offer a selection of upgrades and 'add-ons' designed to help you make the most of your holiday - and make it even easier!
Inclusive Luggage Upgrade
To arrange for a second suitcase to travel door to door, just let us know when you book. Prices start from £65 per bag (size and weight allowances may vary depending on airline polices), Please call for more details.
Extending your European holiday in Paris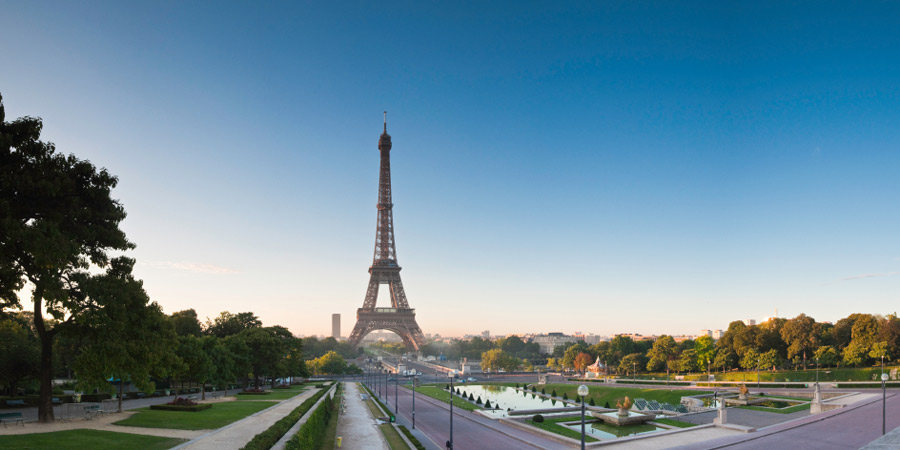 Many of our holidays include a final stopover in Paris en route to London. Why not extend your holiday by enjoying an extra night or two in the French capital, returning to London in your own time?
London Hotels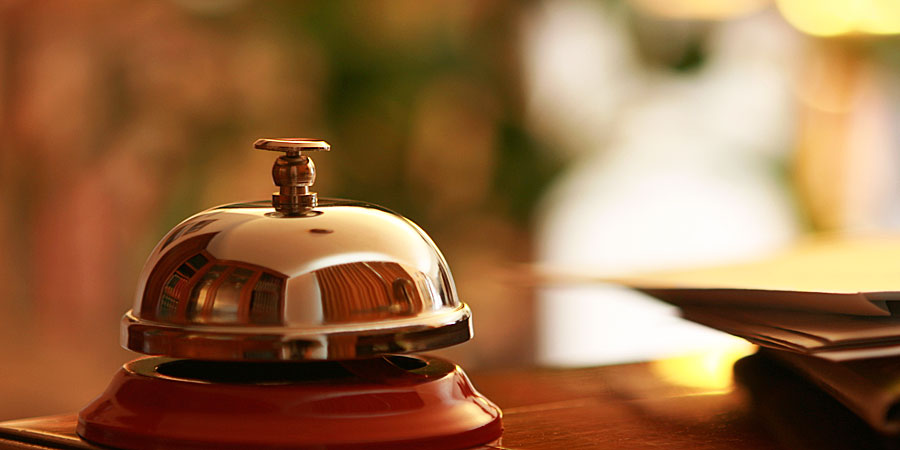 Spending a night in London before your tour can make such a difference to the first day of your holiday - you can arrive in the capital in good time, relaxed and ready to join your Tour Manager the next morning. You may even want to take in a show on the West End, or dine in one of London's famous restaurants. Perhaps on your return to London, you would like to break your journey with an overnight stay before continuing home.

We are able to book a wide range of hotels in central London or, for our holidays beginning with a flight, at Heathrow, Gatwick or Manchester Airport for the night before or after your holiday. The hotels listed below are some of the more popular hotels our customers book in Central London, others are available on request.
| | |
| --- | --- |
| Hotel | Room Rate From Price |
| The Ambassador Hotel | From £65 per person |
Above prices are approximate, subject to availability, and per room per night based on two people sharing. If you require a quote for single occupancy at any of the hotels please contact us on 01904 734 805.
UK rail connections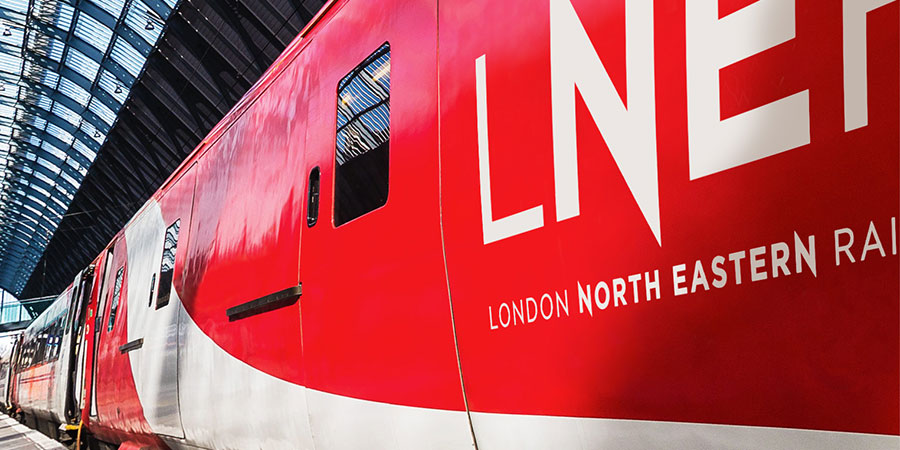 Buying tickets for UK train services can be a tricky business - there are so many fares to choose from, each with different rules and restrictions. As you are connecting with an international departure, we strongly recommend that you book a fully flexible ticket to ensure that should the departure times for your holiday change, your rail ticket can allow for these changes.

We can book fully-flexible UK rail tickets from your local station to join your holiday whether this be a European holiday from St Pancras or a UK holiday. The prices are competitive and tickets are not restricted to a particular train or time of day, and in most cases offer you a free choice of routes.

For an up to date quote from your local station, please ask one of our Tour Advisors.

This page was printed from

www.greatrail.com/tours/grand-tour-italy/#IEG22

on 27 May 2022.

Call

01904 521 936

to discuss your holiday

© Copyright 2022. Great Rail Journeys