01904 521 936
Open 7 Days a Week
Magnificent Morocco & Moorish Spain
Discover the charms of these two nations
Embark on a magnificent extravaganza uncovering the path of the ancient Moors, from the shores of seductive Spain to the magic of Morocco in north Africa. Discover the charms of these two nations, and the majesty of their cultures and histories.
The itinerary for your journey
Tour highlights
Barcelona
Seville
Casablanca
Rabat
Marrakech
The Atlas Mountains
A Moroccan folklore performance in Marrakech
A traditional show and dinner in Fez
Days 1-2 - To Barcelona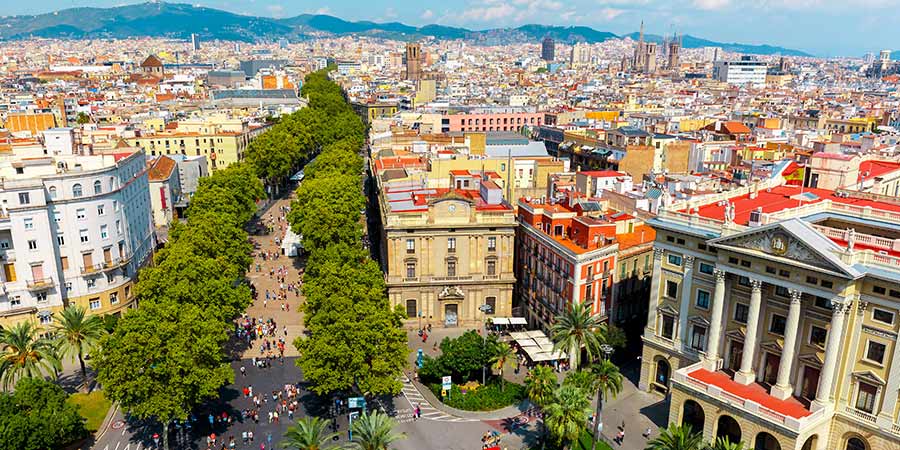 We meet at London St Pancras International, and from here we board the Eurostar service to Paris. On arrival, we change trains for Barcelona and here we check into our hotel for the next two nights. The following day, we enjoy a guided tour of Barcelona, seeing the fantastic Sagrada Familia, Antoni Gaudí's unfinished masterpiece, before enjoying a city tour which takes us past many of the main sights and along bustling Las Ramblas.
Days 3-4 - Southbound to Seville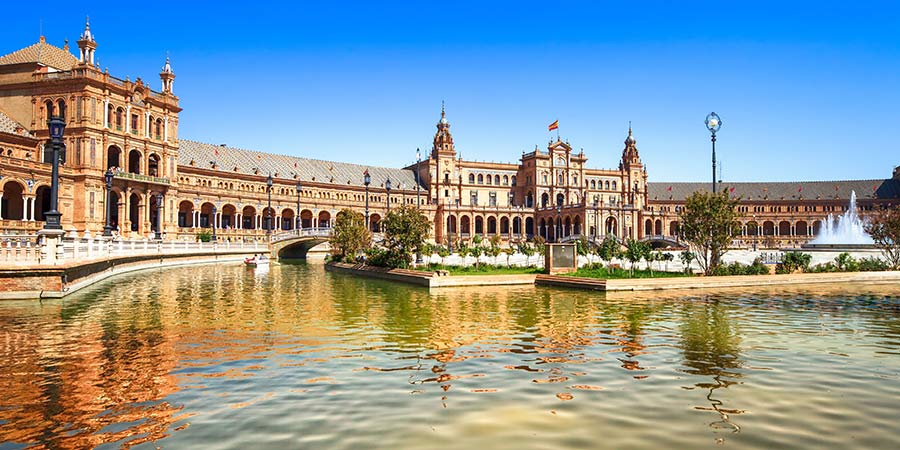 We leave Barcelona and Catalonia today as we travel south on the highspeed AVE network. Arriving shortly after midday into Seville, your time in the afternoon is your own. The following day, we embark on a city tour. We see the spectacular Alcázar Palace, a beautiful landmark built by the city's Christian rulers in the 14th century. It is a classic example of intricate Mudéjar architecture, inspired by the Moorish occupiers of the past. It is still used as a palace today by the Spanish royal family and has been designated a UNESCO World Heritage site. We also see the magnificent Gothic cathedral here, as well as the Renaissance-style Giralda bell tower. The cathedral was originally a mosque, build by the Moorish rulers and the famous Giralda was in fact a minaret, repurposed after the city came under Christian rule.
Day 5 - From Spain to Morocco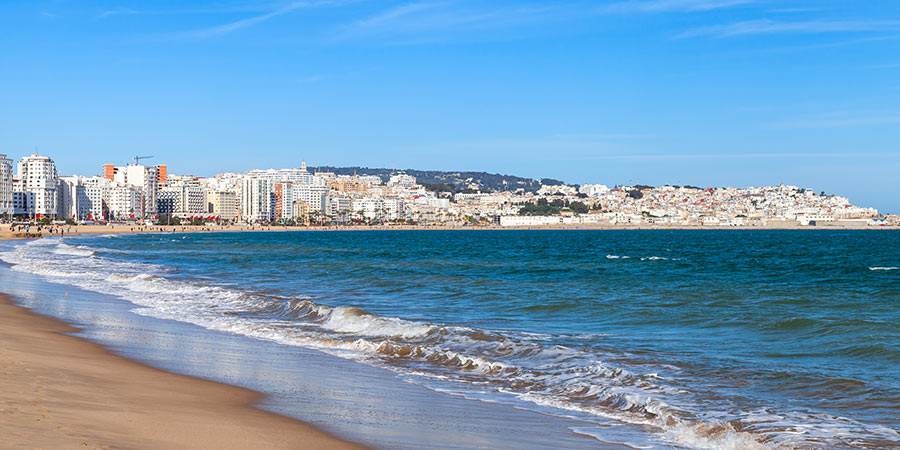 Bidding farewell to Spain and Seville today, we head to the seafront town of Tarifa. We arrive in the late morning, and board a ferry here to take us across the Strait of Gibraltar. The short crossing offers us the rather unique prospect of being caught between the landmasses of two enormous continents. On the other side of the Strait, we land in Moroccan Tangiers and head to a beachside restaurant for lunch. After eating, we board the brand new high-speed TGV train service to Casablanca. This is Morocco's first ever high-speed train, and it whisks us away in comfort and style to the iconic city of Casablanca.
Day 6 - Casablanca and Rabat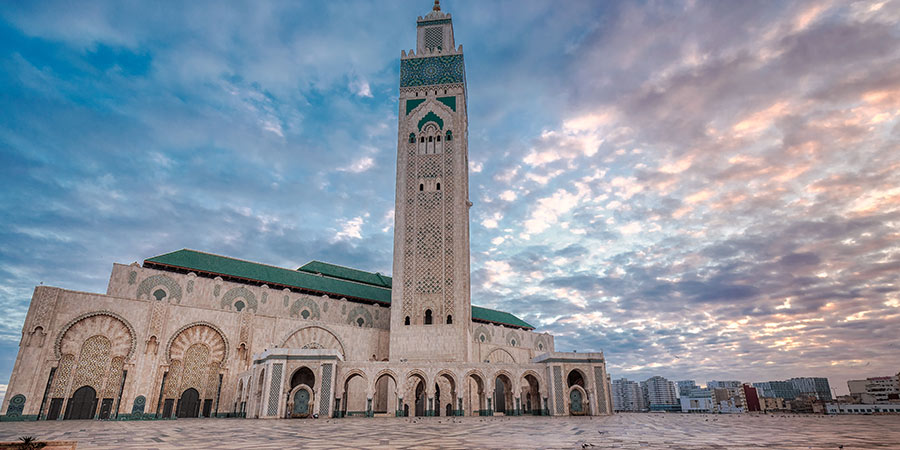 This morning, we are taken on a city tour of Casablanca. This famous city is known primarily as the setting for the film of the same name, but also serves as a mesmerising introduction to the magic of North Africa. Casablanca is quite different to the other places we visit, revealing the modern face of Morocco, a glittering mass of pale towers which stretch out across the 'White City'. Our tour here takes us through some of the highlights including the resplendent Hassan II Mosque and the striking Place Mohamed V.
After the tour, we leave Casablanca and continue alongside the ocean by coach to the bustling metropolis of Rabat. On a guided tour, we discover the open beauty of this remarkable city, patterned by shimmering white boulevards and seafront walks and shaded by palm trees. The Medina offers a glimpse of the past full of atmospheric sights, tastes and smells, seeping between the reverent religious buildings. Later, we travel by rail to Fez.
Days 7-8 - Fez
Fez is a fantastic city and a true example of Moroccan charm and splendour, with its thriving Medina and ancient city walls. As the light filters down, through the skyline of mosques and ancient madrassas, the covered streets yield a thriving sight of bustling market stalls and mint tea cafés. A dazzling array of wares are on display, including intricate jewellery, to silk djellabas and clay tagines. One of the oldest cities in Morocco, founded in around 809AD, Fez is a historic treasure trove, offering a superb opportunity to dive deep into past of this storied nation. We take a guided tour that includes the Great Gateway of the Royal Palace, the fascinating Kasbah des Chrardas fortifications and the wonderful smells and colours of the spice market. This evening, dinner is served at Le Palais Medina restaurant alongside a performance from local dancers.
The following day sees us pay a visit to the nearby city of Meknes, one of Morocco's four Imperial cities. The high city walls hide an intricate tapestry of striking architecture which takes its cues both from Islamic traditions and European fashions, and our tour reveals many fine examples of both such as the Palace of Moulay Ismael and the Bab El Mansour gateway. After lunch, we visit the ruins of Volubilis. Originally a Berber city which was taken over by Roman invaders, Volubilis swiftly grew under their rule to become one of Morocco's proto-capitals before being abandoned for new city of Fez. These days the spectacle of ancient Roman arches, ionic columns and swirling mosaics stand as an almost haunting spectacle against the dusty plains.
Day 9-11 - Marrakech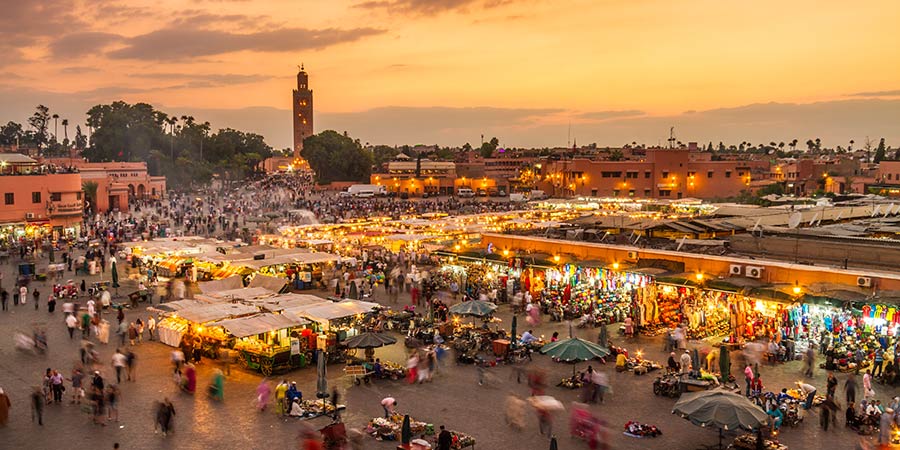 We leave Fez today, travelling through the ancient Atlas mountains by train to the famous capital of Marrakech. No visit to Morocco is complete without a visit to this beautiful, fascinating and entirely compelling metropolis which teems with life, from the sonorous call to prayer in the morning to the fiery sunrise over the minarets by sunset. Known as the Ochre City, stepping out into the labyrinthine streets of Marrakech reveals a city drenched in colour, whether its the pale peach of the townhouses or the reds, golds, blues and greens of the spice stalls. The enchanting sounds of city life constantly hover above the rooftops, seeping down into the enormous market squares. These squares are particularly evocative by night, as they light up against the darkness, casting a glow on the performers, merchants and citizens who earn their livings here.
On Day 10, the intricate beauty of Marrakech is revealed to us on a city tour. We see the commanding presence of the Koutoubia Minaret gazing down over verdant gardens, the 19th century Bahia Palace and the magnificent Djemaa el-Fnaa market place, which so effectively captures the relentless spirit of Marrakech. On the way, experience a flood of the senses, from the hubbub of the souks to the smells of streets food. You can explore more of these characterful markets on your day at leisure on Day 11.
Please note: For Departures MAG1901 & MAG1902 you'll stay at the Es Saadi Marrakech Resort Hotel.
Day 12 - The Atlas Mountains
We embark on one of the highlights of our tour today as we head on an excursion into the awe-inspiring Atlas Mountains. This is the longest and highest mountain range in Africa, an astonishing collection of peaks which run across Morocco and Algeria. Perhaps one of the most interesting things about the Atlas range are the people who call this corner of the world home. This is a Berber region, still occupied by those tribes who have lived here for thousands of years. Old stone and mud houses still populate the valleys, and high above, the caps of the Atlas mountains are dusted with snow. Our excursion takes us to the marvellous Gorge of Oued Ourika, along the Atlas' rivers and into a traditional Berber home for some mint tea. We return to our hotel later for a farewell meal.
Day 13 - Return home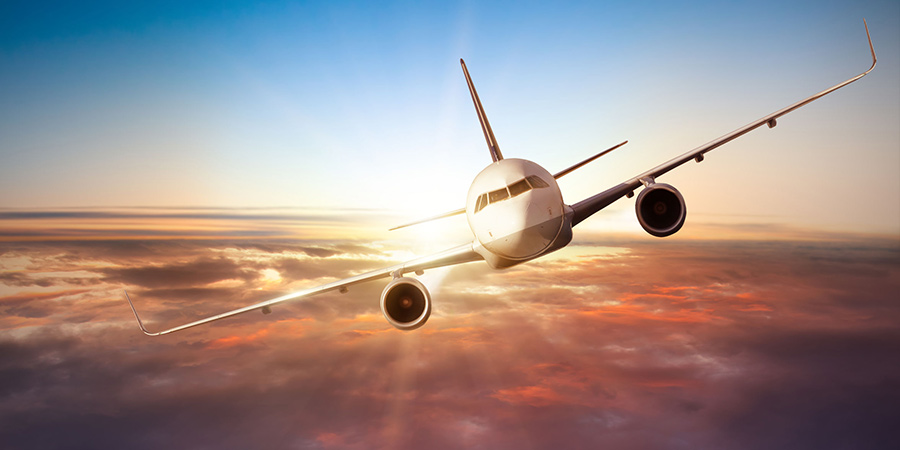 You are at leisure this morning before our flight to London this afternoon.
Departure Dates
All prices are per person and assume full occupancy of the room.
Please always refer to the website for up-to-date prices and availability.
Trains
AVE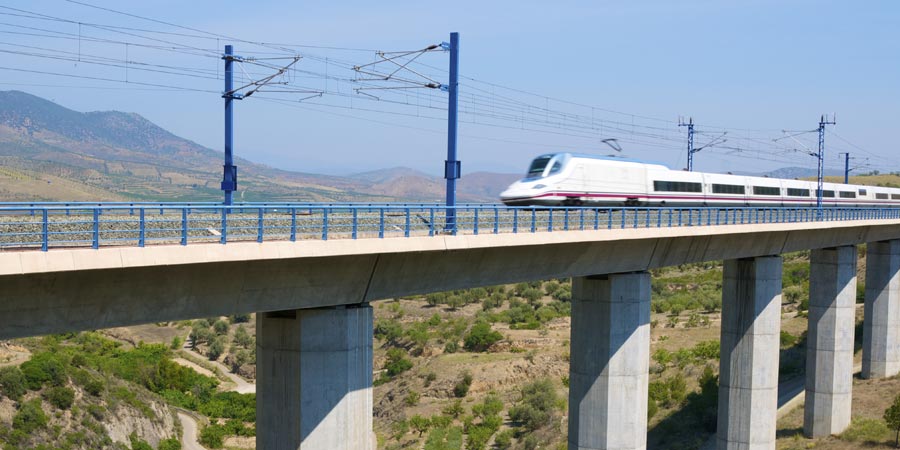 AVE is Spain's flagship high-speed service, connecting Madrid, Cordoba and Seville across dedicated high-speed tracks. AVE trains are based on the French TGV and Thalys, and the speed and comfort offered are similar. However, the level of service for passengers in First Class ("Preferente") is much higher, with a complimentary drink and light snack included. A café-bar serving drinks and snacks is also available on board. AVE is so reliable that the Spanish railway company, RENFE, promise a full refund if the train is more than five minutes late - so far they have only had to honour that promise in 0.16% of cases!
Eurostar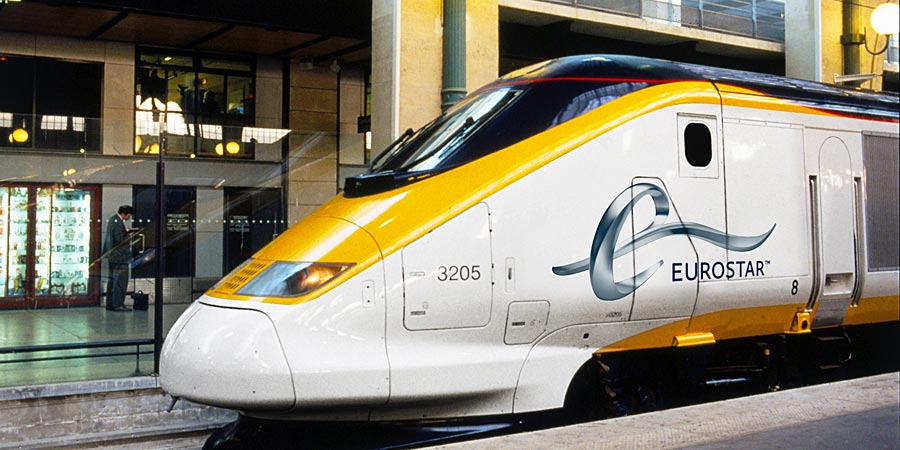 The high speed Eurostar trains link St Pancras International in London with Paris and Lille in France as well as Brussels in Belgium.
Eurostar's Standard Class coaches feature two seats on either side of the central aisle, most of which is arranged in an 'airline' seating configuration with drop down tray tables. There are two tables for four per carriage. Passengers travelling in Eurostar Standard Class coaches can take advantage of the Bar-Buffet which sells a range of snacks, meals, hot and cold drinks - including Champagne!
The highest class of Eurostar travel available for leisure customers is Standard Premier Class. In your dedicated Standard Premier carriage you'll find a less dense seat configuration, meaning the seats are larger and you have ample space to relax and stretch out. As part of the service you'll enjoy complimentary drinks and refreshments, served at your seat by friendly, helpful waiting staff.
For the class of travel used on your chosen tour, please refer to the 'What's Included' section of the tour page.
TGV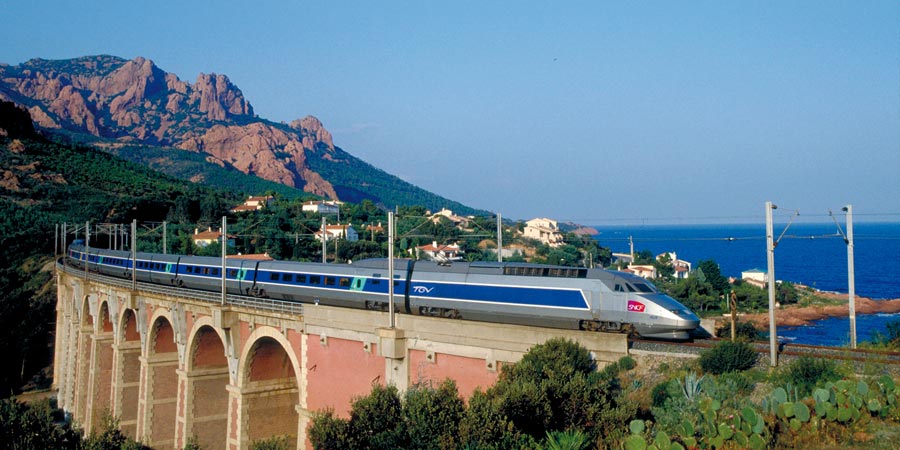 Introduced in 1981, France's TGV (Train à Grande Vitesse) was the original European high-speed train. Linking Paris with Lyon, the new service revolutionised train travel and meant that travelling by air over medium and short distances was no longer seen as the best option, even for business travel.
The network has expanded rapidly and today these sleek, stylish trains offer links to over 60 destinations throughout France. Operated by SNCF, the French national rail operator, TGV trains travel over specially-constructed high speed lines. The trains can achieve speeds of up to 186mph (300km/h) on most long distance routes and 200mph (320km/h) on the new TGV Est line, which links Paris with Strasbourg, Luxembourg and Basel. With the exception of shorter journeys, TGVs almost always have an on-board buffet car, serving a selection of drinks and light refreshments.
TGV (Morocco)
Heralding major developments for the rail industry in Morocco and Africa, Morocco's new high-speed TGV train begun its first journeys in 2018, operating on a line between Casablanca and Tangier. Reaching speeds up to 200mph, this modern train is now the fastest in all of Africa, dramatically cutting the travel time between the iconic cities and offering its passengers comfortable and trendy carriages from which to enjoy the spectacles, landscape and scenery on offer.
Hotels
Barcelo Sants Hotel, Barcelona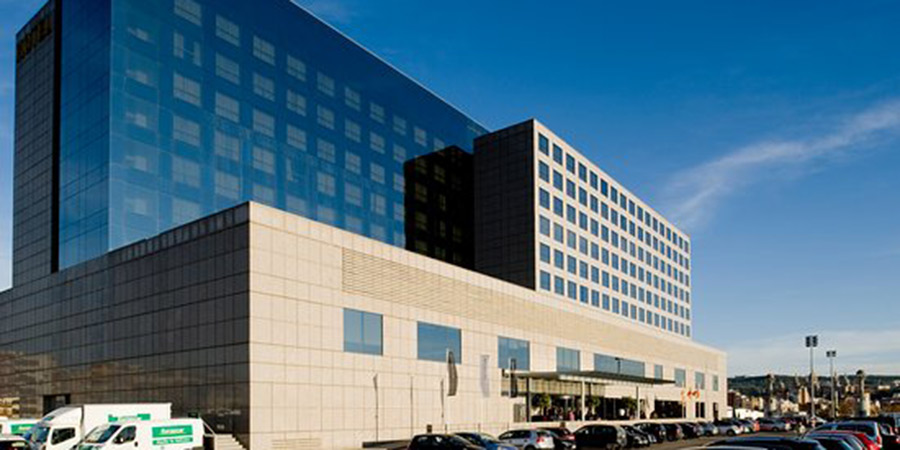 Our hotel in Barcelona, the contemporary 4-Star Barcelo Sants Hotel, is located a stone's throw away from the international railway centre and many excellent transport links to take you around this fascinating city. Amenities on offer at the hotel include a fitness centre, a sauna, and a restaurant. The rooms are decorated in a wonderfully modern style, with large windows, and come complete with a television, en-suite bathrooms, and a minibar.
Movenpick Hotel Casablanca, Casablanca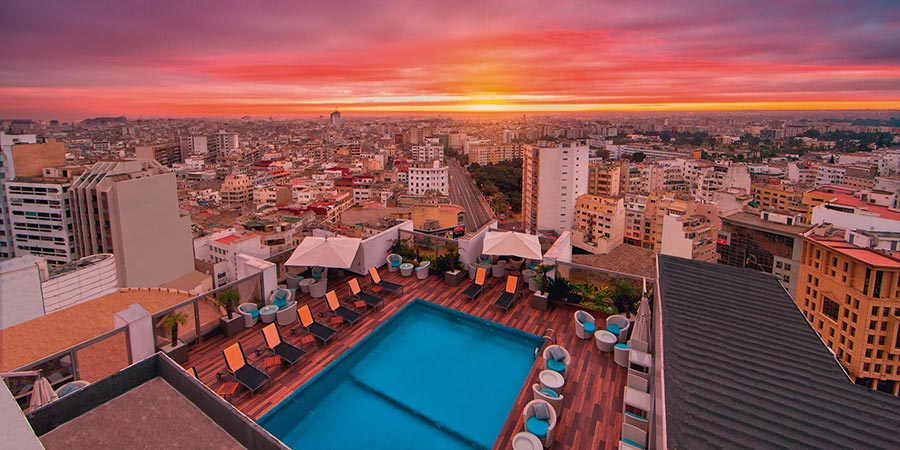 Situated near the centre of this iconic Moroccan city, the 5-Star Mövenpick Hotel Casablanca is our hotel whilst here. A gorgeous modern hotel, this offers some truly fantastic amenities, including a wonderful spa, and a rooftop swimming pool. There is also a restaurant serving traditional Moroccan food, and you can look over the skyline of Casablanca in the rooftop bar. All of the rooms include complementary water, complementary Wi-Fi, a television, and a minibar.
Radisson Blu Hotel, Marrakech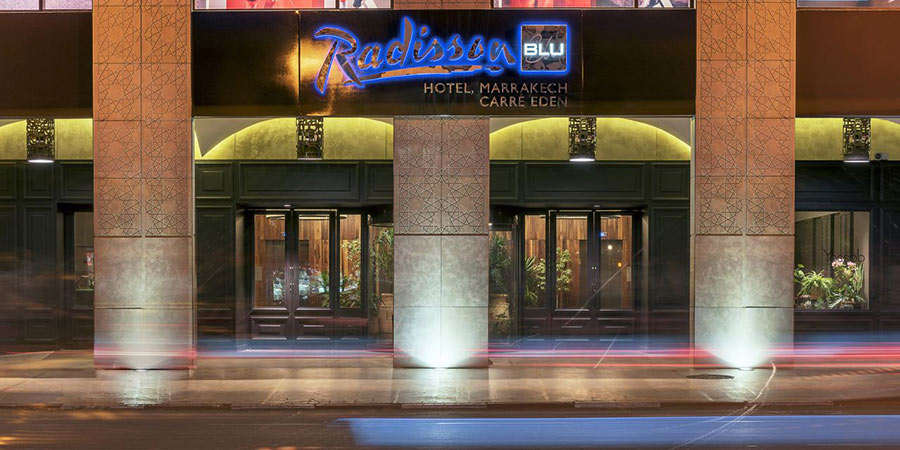 Boasting of an enviable location near the centre of Marrakech, and close to numerous public transport links, the 5-Star Radisson Blu Hotel, Marrakech Carre Eden is our base whilst in Marrakech. The rooms in this hotel are a delightful blend of modern and traditional, with a neutral colour scheme blending seamlessly with the intricate patterns of Morocco. The rooms are en-suite throughout, and come with complimentary Wi-Fi, air-conditioning, a television, and an in-room safe. The hotel also offers a bar, a restaurant, and a fitness centre.
Casa Romana Hotel Boutique, Seville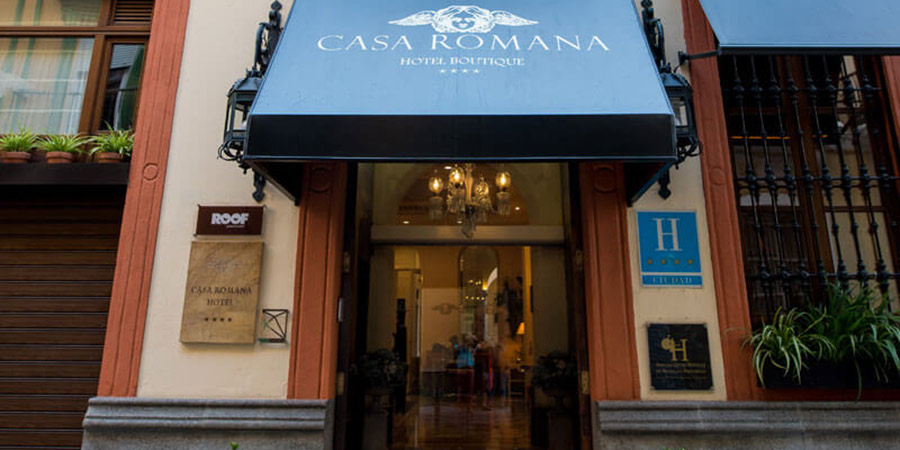 The 4-Star Casa Romama Hotel Boutique is our hotel in Seville. This hotel boasts of a fantastic location in the Regina area of the city, close to the centre and many of Seville's most popular tourist spots. A wonderful little boutique hotel, the rooms are stylishly decorated and come with complimentary Wi-Fi, a television, a minibar, and tea & coffee making facilities. On the roof of the hotel, you can enjoy a wonderful cocktail bar that looks over the skyline of Seville, and there is also a small swimming pool.
Marriott Jnan Palace Hotel, Fez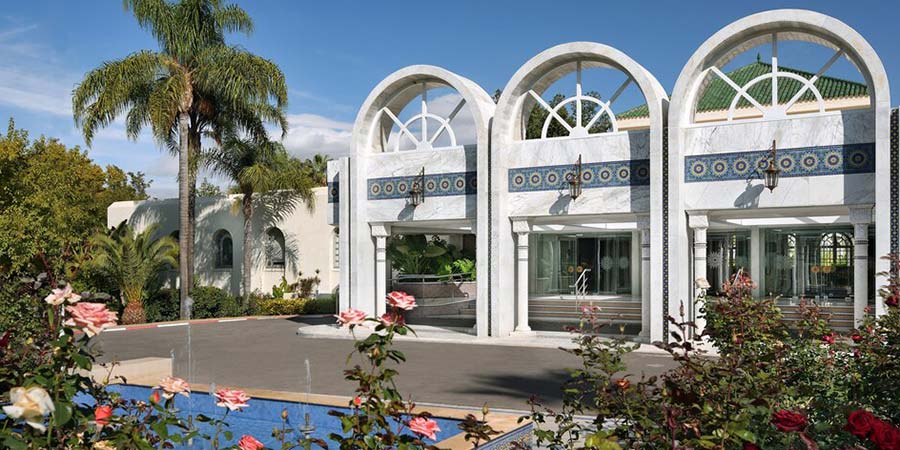 This luxurious 5-Star hotel is situated in the heart of Fes, just 1 mile from the local train station and close to local attractions such as the Royal Palace and Synagogue Ibn Danan. Each room is furnished with comfort in mind and includes a balcony. Amenities include free Wi-Fi, air conditioning, flat-screen televisions, minifridges and tea & coffee-making facilities. There's also an outdoor pool and a fitness centre for guests to use as they wish.
What's included
An escorted experience and all travel arrangements
The services of a professional UK Tour Manager from start to finish
Exclusive meeting point at our dedicated Departure Office in St Pancras
First Class rail travel unless otherwise described (Standard Premier Class on Eurostar journeys with a light meal and drinks)
All coach transfers
Porterage from Tangiers to Casablanca, from Casablanca to Fez, and from Fez to Marrakech
Comfortable accommodation in your destination
12 nights' accommodation including 2 nights at the 4-Star Barcelo Sants Hotel in Barcelona, 2 nights at the 4-Star Hotel Casa Romana in Seville, 1 night at the 4-Star Movenpick Hotel in Casablanca, 3 nights at the Hotel Atlas Palais Media & Spa in Fes and 4 nights at the 4-Star Raddison Blu Hotel Marrakech
Delicious meals included
26 meals including 12 breakfasts, 5 lunches and 9 dinners including a farewell dinner in Marrakech
Exciting excursions and free time to explore
Sightseeing tours of Barcelona and Seville
City tours of Casablanca, Rabat, Fez, Meknes and Marrakech
Atlas Mountains excursions including a drive through the mountains, a visit to the Oued Ourika Gorge and a sample of Moroccan green tea in a traditional Berber clay house
Visit to the ancient Berber and Roman ruins at Volubilis
A Moroccan folklore performance in Marrakech
A traditional show and dinner in Fez
Not Included
Cancellation & Travel Insurance is not included in the price of the tour but can be arranged.
Upgrades
We offer a selection of upgrades and 'add-ons' designed to help you make the most of your holiday - and make it even easier!
Flight upgrades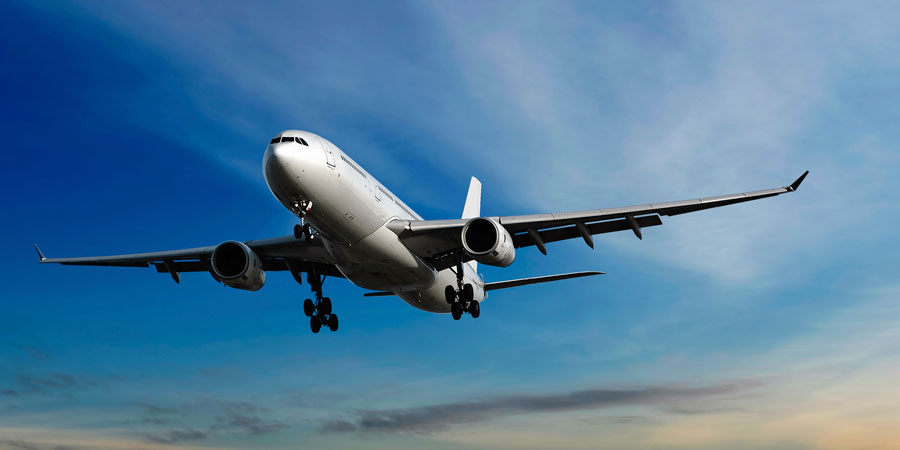 Flight upgrades are available. Please see the information regarding the types of upgrades offered by the various airlines we use in the Add-ons section of 'Things you should know' or call us for details.
London Hotels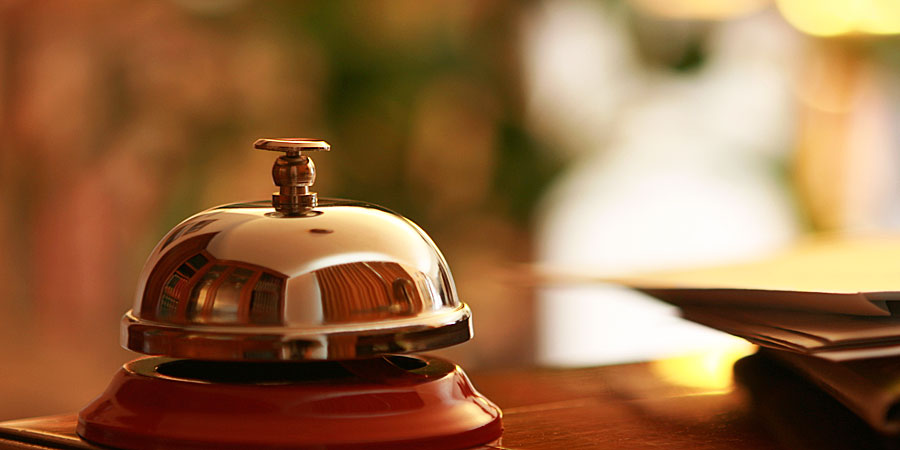 Spending a night in London before your tour can make such a difference to the first day of your holiday - you can arrive in the capital in good time, relaxed and ready to join your Tour Manager the next morning. You may even want to take in a show on the West End, or dine in one of London's famous restaurants. Perhaps on your return to London, you would like to break your journey with an overnight stay before continuing home.

We are able to book a wide range of hotels in central London or, for our holidays beginning with a flight, at Heathrow, Gatwick or Manchester Airport for the night before or after your holiday. The hotels listed below are some of the more popular hotels our customers book in Central London, others are available on request.
| | |
| --- | --- |
| Hotel | Room Rate From Price |
| The Ambassador Hotel | From £65 per person |
| Pullman London St Pancras | From £110 per person |
| Studios2Let, Cartright Gardens | From £55 per person |
Above prices are approximate, subject to availability, and per room per night based on two people sharing. If you require a quote for single occupancy at any of the hotels please contact us on 01904 734 805.

UK rail connections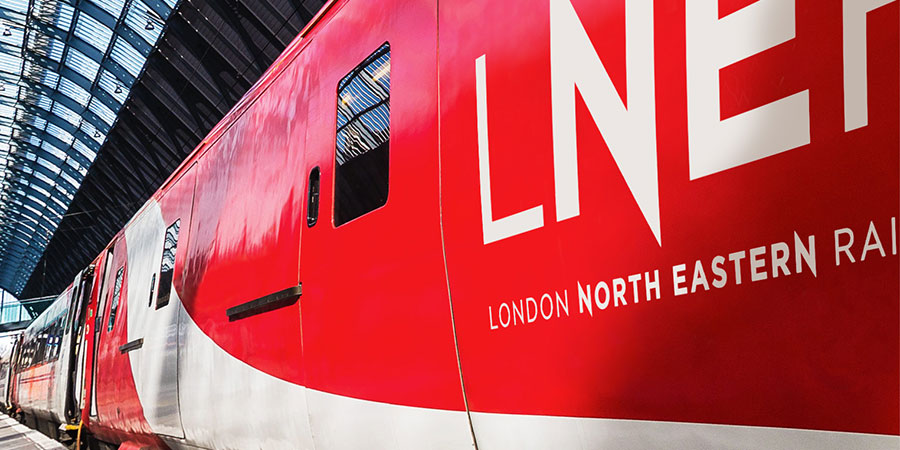 Buying tickets for UK train services can be a tricky business - there are so many fares to choose from, each with different rules and restrictions. As you are connecting with an international departure, we strongly recommend that you book a fully flexible ticket to ensure that should the departure times for your holiday change, your rail ticket can allow for these changes.
We can book fully-flexible UK rail tickets from your local station to join your holiday whether this be a European holiday from St Pancras or a UK holiday. The prices are competitive and tickets are not restricted to a particular train or time of day, and in most cases offer you a free choice of routes.
For an up to date quote from your local station, please ask one of our Tour Advisors.
Door to door luggage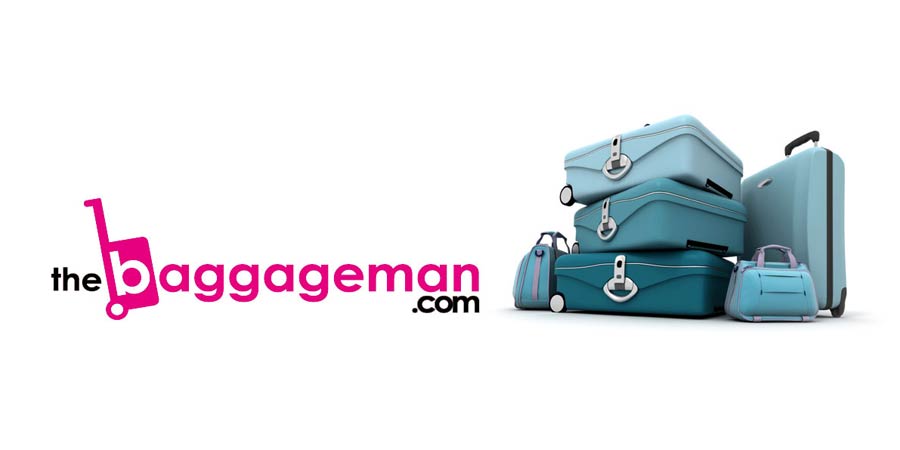 Whether as an added luxury, or essential to your enjoyment of the tour, door-to-door luggage collection and delivery services can really enhance your holiday experience. Travelling across Europe by train is so much more relaxing without the burden of your suitcase, and we can help arrange for your case to be collected from home prior to the holiday and for it to be waiting for you at your first main hotel in Europe.

We are pleased to recommend the services of The Baggageman, who offers competitively priced luggage transfers and excellent service. Details of this service is available on request.

Click here to read our customer reviews of the door-to-door luggage services.

This page was printed from

www.greatrail.com/au/tours/magnificent-morocco-and-moorish-spain/#MAG19

on 19 October 2019.

Call

01904 521 936

to discuss your holiday

© Copyright 2019. Great Rail Journeys