01904 521 936
Open 7 Days a Week
Grand Alpine Explorer
An exciting adventure at the top of Europe
Stretching across much of mainland Europe, the wild and rugged Alps are home to some of the world's most magnificent landscapes. On this marvellous tour we discover the incredible attractions in three of the countries around the towering peaks - from the German city of Munich to the beautiful Austrian Lakes and Switzerland's superb mountain railways.
The itinerary for your journey
Tour highlights
Munich
UNESCO-listed Salzburg
Traunkirchen
Lake Traunsee
Imperial Innsbruck
Achenseebahn Railway
Elegant St Moritz
Bernina Express
Glacier Express & Jungfrau Express
Days 1-3 - To Munich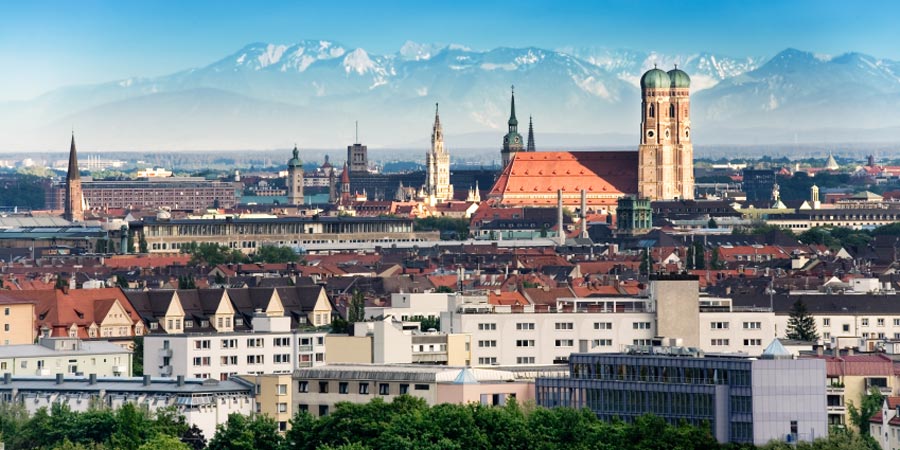 Our adventure begins at St Pancras International, where we meet our group at our dedicated Departure Office, before joining the Eurostar to Brussels. Here we change trains and continue to Cologne, where we overnight.
On Day 2 we travel southwards along the scenic Rhine Gorge and onwards by rail to Munich. Located within sight of the Alps, lively Munich is the capital of Bavaria, as well as one of Germany's best-loved cities. We spend two nights here at the Pullman Munich hotel.
On Day 3 we discover more of Munich. With a rich culture and heritage, the city has a wonderful collection of museums, galleries and architectural treasures. We enjoy a guided tour to introduce the highlights of the city, before time to explore at leisure.
Please note: Departure APG1908 will overnight in Bonn.
Day 4 - To Salzburg and the Austrian Lakes
Leaving Munich behind, today we take the train into Austria. We arrive in Salzburg, a city with a wealth of musical heritage, known the world over as the birthplace of Mozart, and the setting for Rogers & Hammerstein's 'The Sound of Music'. On arrival we enjoy a guided walking tour. Spread out below the grand Hohensalzburg Fortress, the churches, squares and alleyways of Salzburg's beautiful Old Town are incredibly well preserved, dominated by fabulous Baroque spires, and are recognised as a UNESCO World Heritage site. After the tour, you are free to discover more of the city. Later we travel by coach to Lake Traunsee, a spectacular lake which resembles a fjord, for three nights in the lakeside village of Traunkirchen, at the Hotel Post.
Day 5 - At leisure in Traunkirchen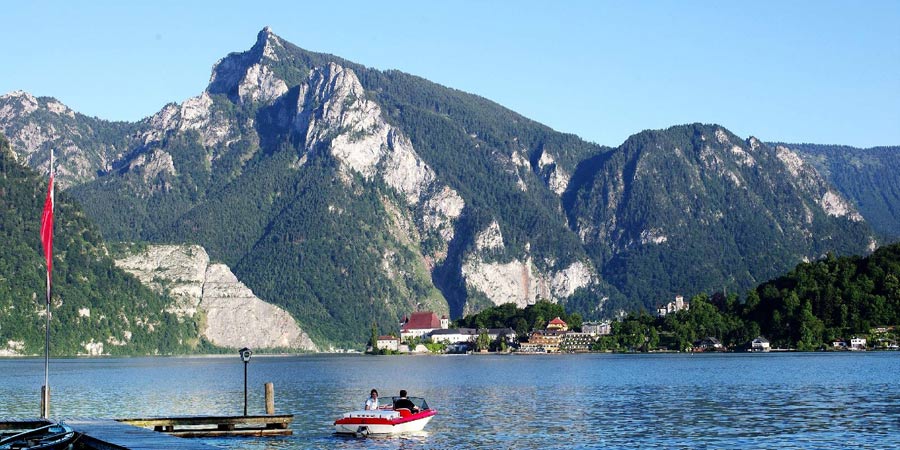 Today is free for you to relax in Traunkirchen. Perhaps take a stroll around the village's twisting cobbled lanes, and admire the authentic fishermen's cottages, or visit nearby Bad Ischl.
Day 6 - Austrian Lakes and the 'Sound of Music'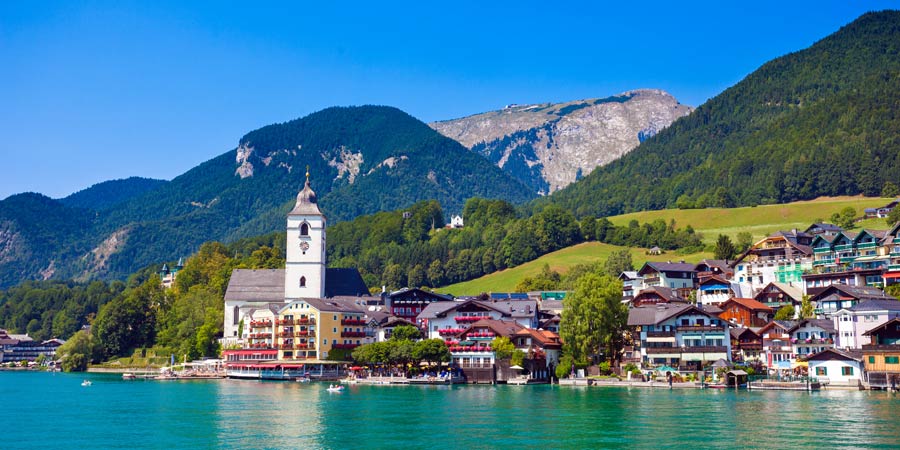 Today we explore the stunning Austrian Lake District. We head first to St Wolfgang, a charming, historic town, before continuing to St Gilgen, full of Baroque and Rococo character and colourful streets lined with pavement cafés. We continue to pretty Mondsee, whose 15th century church featured in the wedding scene of 'The Sound of Music'.
Day 7 - Innsbruck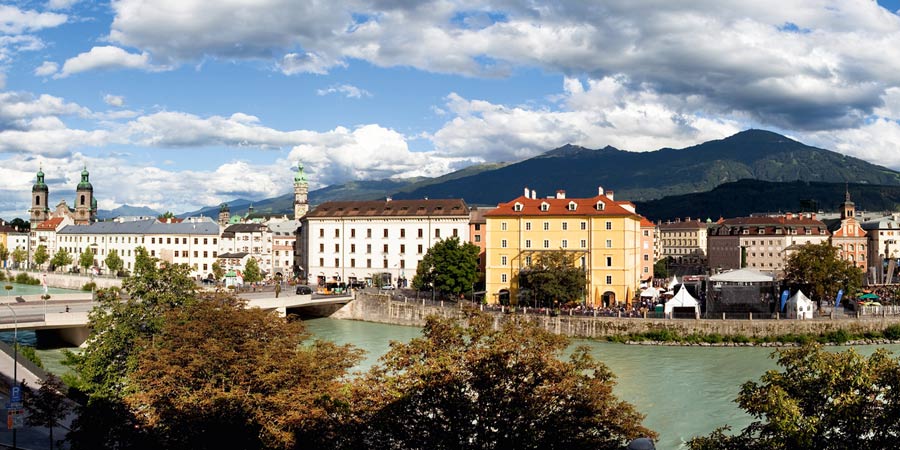 We transfer by coach to Salzburg, where we join the rail service for the journey into the Tyrol. The route takes us past the towering peaks of the rugged Austrian Alps, before arriving in Innsbruck. Our base for two nights is the Hotel Innsbruck.
Day 8 - Achenseebahn Railway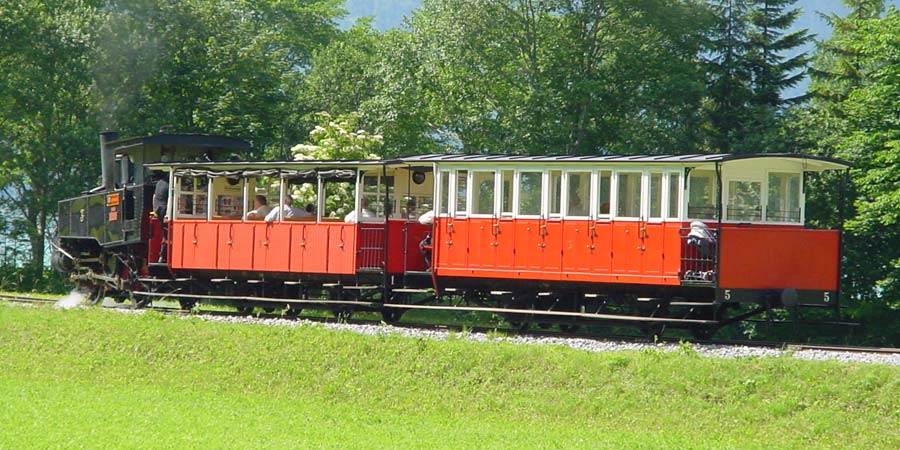 Today we take a trip on the superb Achenseebahn Railway. After journeying to Jenbach by mainline rail (Standard Class), we join the steam powered cogwheel railway for the ascent to Achensee. Here we take a relaxing cruise across the crystal-clear emerald waters of the lake. We later return to Innsbruck.
Day 9 - Through the Alps to Switzerland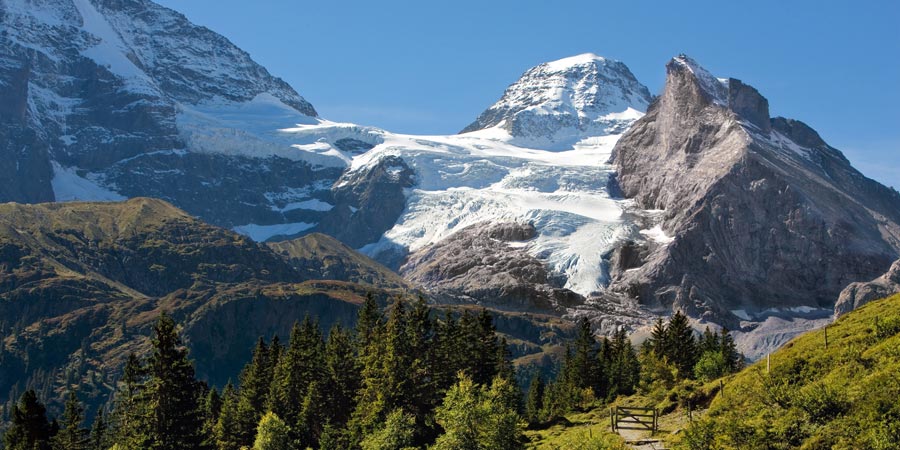 Today's journey takes us into the spellbinding scenery of Switzerland. On leaving Innsbruck, the train cuts through the mighty Alps, which dominate the skyline. The journey continues through attractive Liechtenstein and into the Swiss town of Sargans. Here we change trains and travel alongside the Rhine and its dramatic scenes to Chur. We continue our ascent through the majestic mountain peaks, overlooking the lush meadows running down to the valley floor. The line uses a series of loops, spirals and switchbacks to gain altitude. We then arrive in the elegant lakeside resort of St Moritz for three nights at the Hotel Schweizerhof.
Day 10 - Bernina Express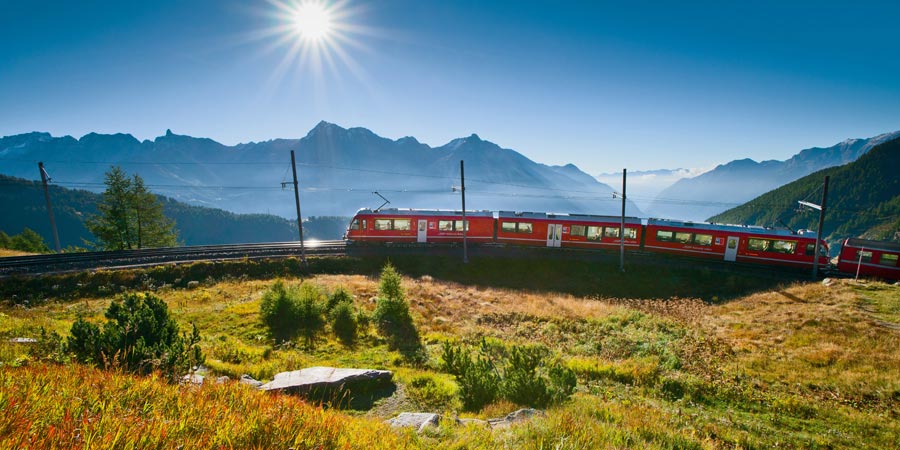 Today we take a journey on the superb Bernina Express, which passes glaciers, rushing mountain streams and flower-filled Alpine meadows. The railway has been rewarded with UNESCO World Heritage status - as a testament to the incredible engineering that was required to create the line, as well as for the scenery through which it passes. During our journey we travel across the spiralling viaduct at Brusio. The track clings to the mountainside as we wind our way above deep ravines and past waterfalls to more than 7,000 ft above sea level. Later we arrive in Tirano in Italy. You have some free time in Tirano before our return journey.
Please note: For Departure APG1908 Days 10 and 11 are swapped.
Day 11 - At leisure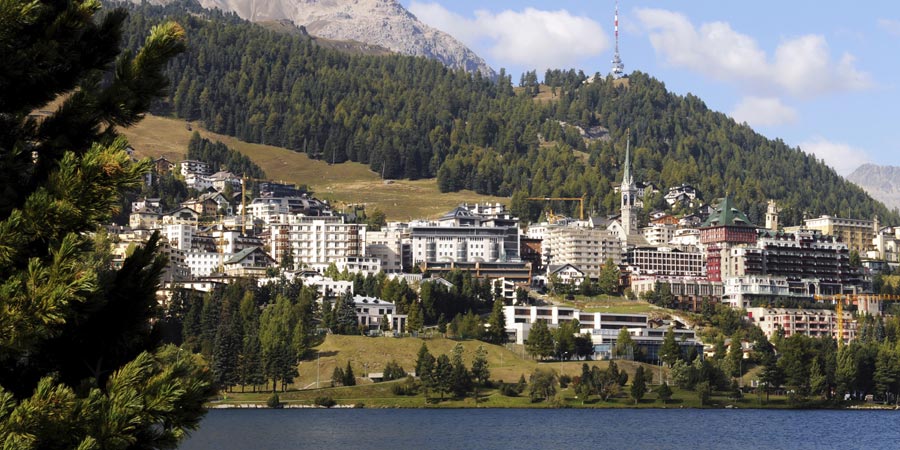 Today you are free to explore St Moritz. You may like to take advantage of your included St Moritz travel card, which allows you free travel on the town's cable cars. Why not ride to the summit of the Diavolezza, which boasts stunning views over the surrounding peaks?
Please note: For Departure APG1908 Days 10 and 11 are swapped.
Day 12 - The Glacier Express and Interlaken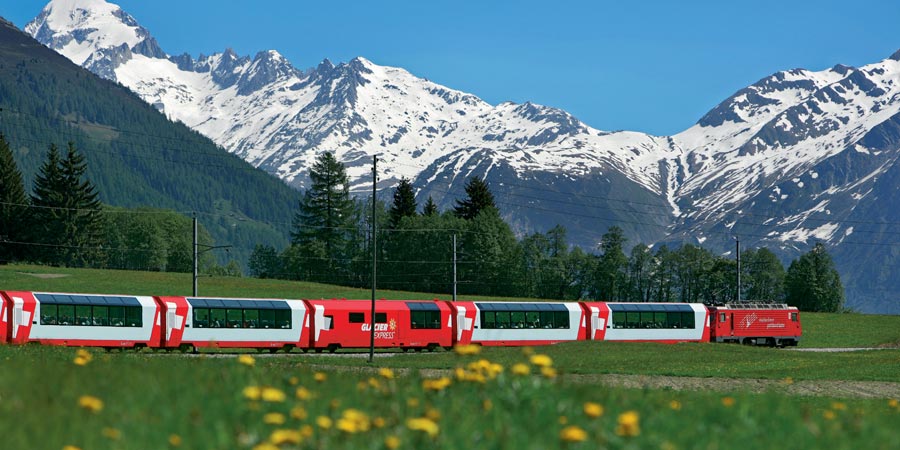 We take the famous Glacier Express along the iconic route from St Moritz to Brig, enjoying the incredible view through the panoramic windows of our First Class carriage. Our journey takes us through Switzerland's classic landscapes; from the jagged mountain peaks to the sprawling vineyards and over the famous Landwasser Viaduct.
The train climbs steadily and steeply up and over the Oberalp Pass, the peak of the route, and spirals down past little villages, before reaching Brig. Here we change trains and travel to Interlaken.
Day 13 - The Jungfrau Railway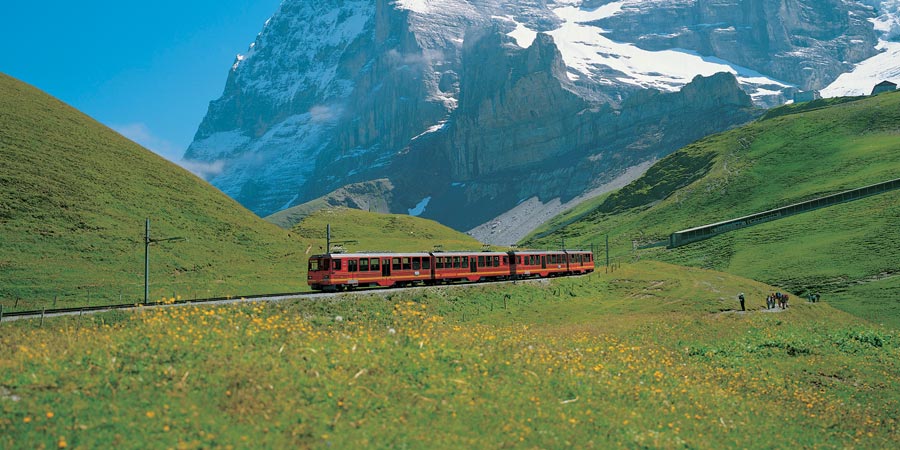 Today we travel to the Jungfraujoch (Standard Class) - Europe's highest railway station. Our ascent takes us through ever changing scenery to Kleine Scheidegg, where we join the Jungfrau Railway for the final leg of the journey.
During the journey the train pauses at two observation stops; windows hewn out of solid Alpine rock between the tunnel and the infamous north face of the Eiger, with spectacular views down the valley. Finally, the train arrives at Jungfraujoch, the 'Top of Europe'. We descend via the charming mountain resort of Grindelwald.
Days 14-15 - Interlaken and return to London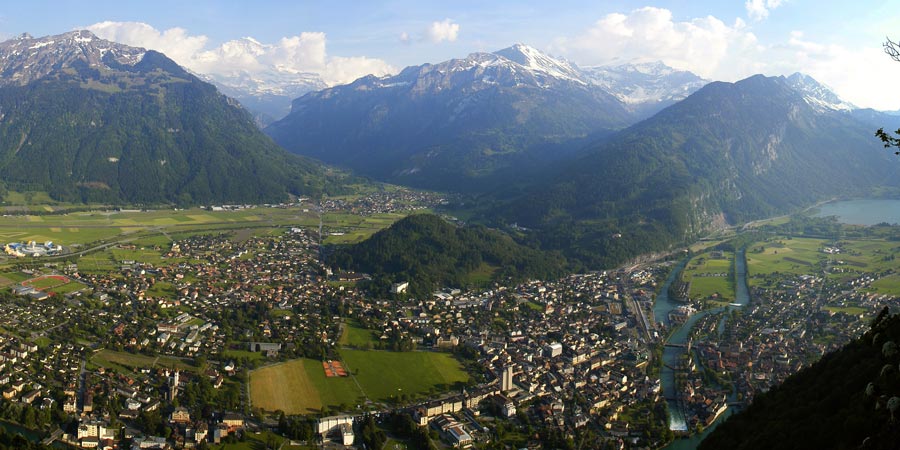 Your day is free to spend at leisure in Interlaken. Tonight we enjoy a farewell dinner here. On Day 15, we take the train to Basel, before continuing by high-speed TGV to Paris, where we connect with the Eurostar to London.
Departure Dates
All prices are per person and assume full occupancy of the room.
Please always refer to the website for up-to-date prices and availability.
Trains
Achenseebahn Railway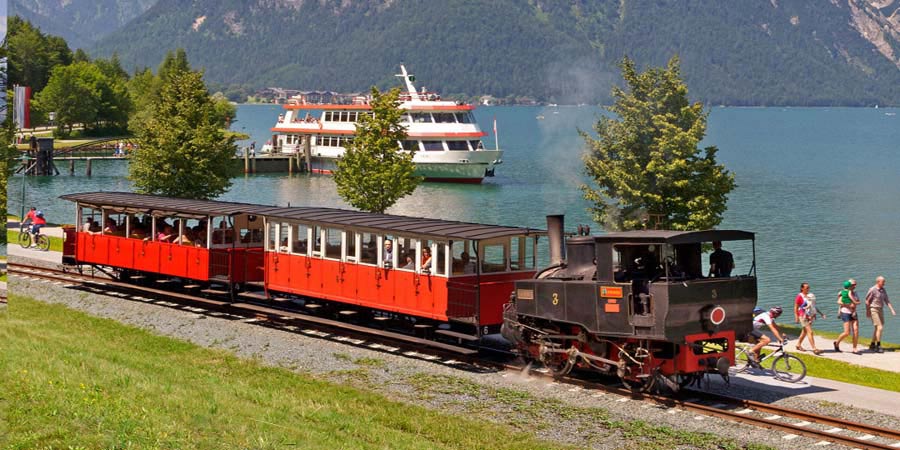 In Austria, we travel on the Achenseebahn, a nearly 130 year old steam train that has been running constantly since its maiden journey in 1889. The train makes its way through the Inntal Valley from Jenbach to Achensee, travelling 4.2 miles and climbing 440 meters. This route passes through areas of unparalleled beauty, including the emerald waters of Achensee, the Tyrol's largest lake. This line is also in Europe's largest nature reserve, the Karwendel Mountains, filled with stunning mountains and wonderful Alpine scenery. This line holds the title of being the oldest cog railway still in operation in Europe, and some of its carriages date back to the early 1900's.
Bernina Express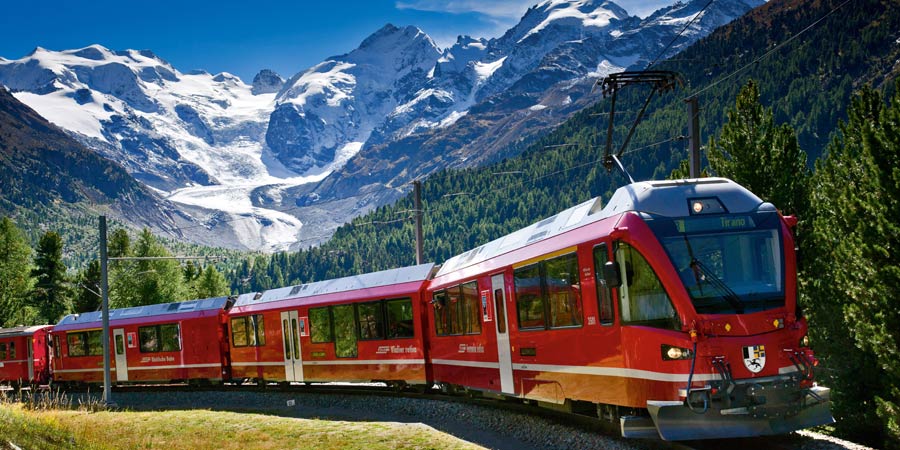 The narrow-gauge Bernina Express connects northern and southern Europe and offers a spectacular means of crossing the Alps. The route runs through the ancient landscape of Switzerland's beautiful Grisons/Graubünden region and provides essential links to the Italian-speaking population in the south.
Eurostar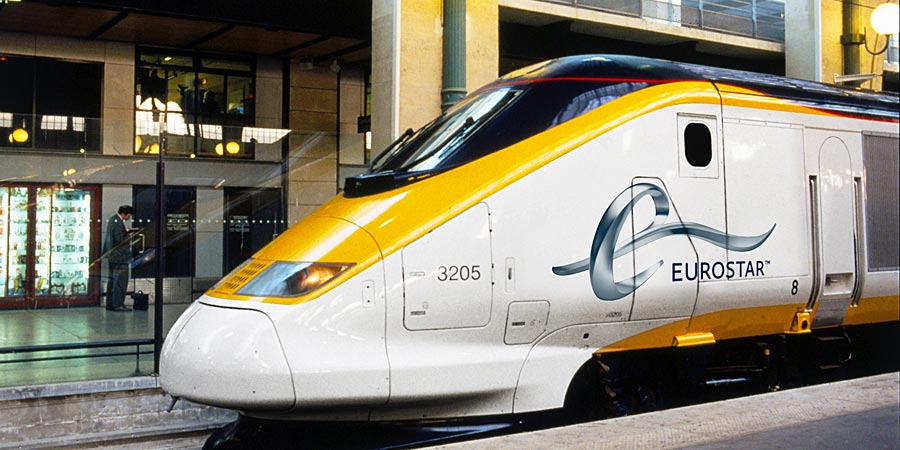 The high speed Eurostar trains link St Pancras International in London with Paris and Lille in France as well as Brussels in Belgium.
Eurostar's Standard Class coaches feature two seats on either side of the central aisle, most of which is arranged in an 'airline' seating configuration with drop down tray tables. There are two tables for four per carriage. Passengers travelling in Eurostar Standard Class coaches can take advantage of the Bar-Buffet which sells a range of snacks, meals, hot and cold drinks - including Champagne!
The highest class of Eurostar travel available for leisure customers is Standard Premier Class. In your dedicated Standard Premier carriage you'll find a less dense seat configuration, meaning the seats are larger and you have ample space to relax and stretch out. As part of the service you'll enjoy complimentary drinks and refreshments, served at your seat by friendly, helpful waiting staff.
For the class of travel used on your chosen tour, please refer to the 'What's Included' section of the tour page.
The Glacier Express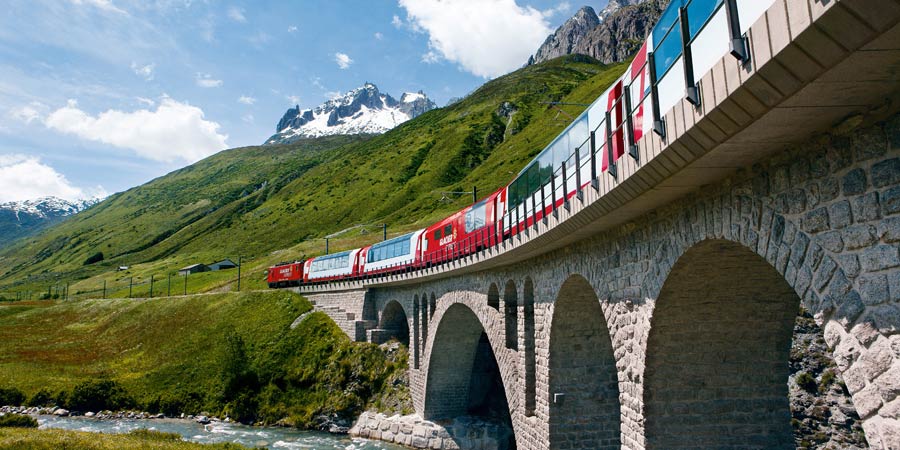 The Glacier Express is undoubtedly Switzerland's best known train. The 181 mile (290km) trip from Zermatt to St Moritz lasts around eight hours winding its way through some of Europe's most dramatic and beautiful scenery.
Beginning in Zermatt, a pretty Alpine resort close to the Matterhorn, the Glacier Express glides northwards from under the shadow of the mighty Matterhorn and follows the Matter Vispa River and the Rhône Valley to Visp. The train then heads east to Brig, before climbing through Betten, Grengiols and Oberwald on its journey to the 9¼ mile (15km) long Furka Base Tunnel.
The train emerges and makes its way to the village of Andermatt, before beginning its ascent towards the Oberalp Pass which at 6,670 feet (2,033m) is the highest point on the line. It then makes the steep descent towards Disentis, where the train is attached to an RHB locomotive. From here we pass the historic town of Ilanz, descending to the stunning Rhine Gorge where we continue on to the attractive cantonal capital of Chur.
Jungfrau Railway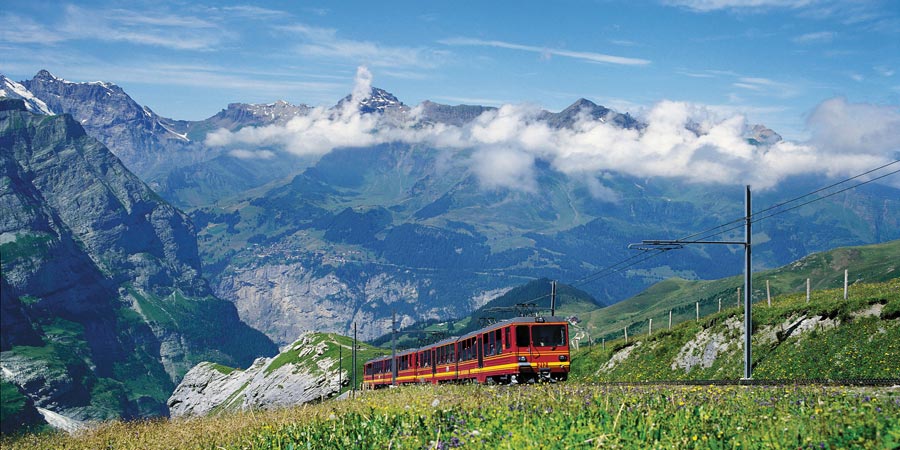 The wonderful train journey up to Jungfraujoch is the highlight of a number of our holidays and includes travel on the Bernese Oberland Railway, the Wengernalpbahn and the Jungfrau Railway. Providing visibility is good, passengers not only enjoy spectacular views from Jungfraujoch, but also throughout the journey itself. The sections that follow describe each stage of this journey in turn.
For customers starting in Meiringen, our journey begins as we travel along the valley to picturesque Lake Brienz, before closely following the lake's northern shore through the village of Brienz to Interlaken.
TGV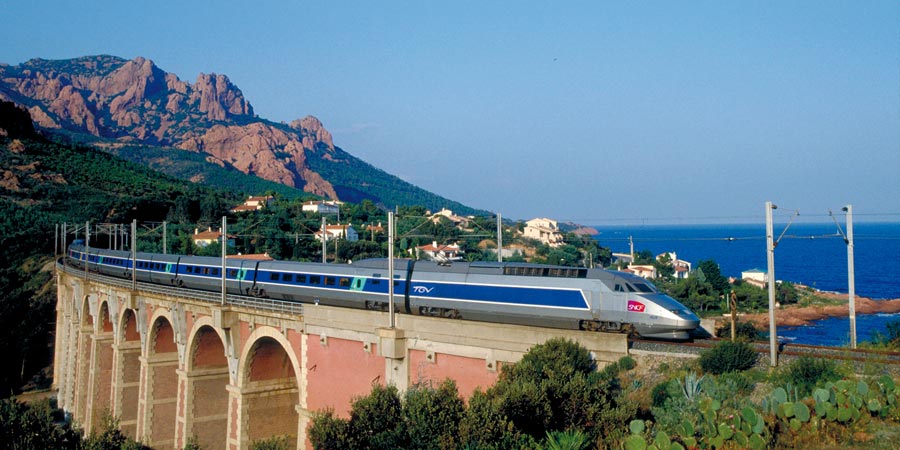 Introduced in 1981, France's TGV (Train à Grande Vitesse) was the original European high-speed train. Linking Paris with Lyon, the new service revolutionised train travel and meant that travelling by air over medium and short distances was no longer seen as the best option, even for business travel.
The network has expanded rapidly and today these sleek, stylish trains offer links to over 60 destinations throughout France. Operated by SNCF, the French national rail operator, TGV trains travel over specially-constructed high speed lines. The trains can achieve speeds of up to 186mph (300km/h) on most long distance routes and 200mph (320km/h) on the new TGV Est line, which links Paris with Strasbourg, Luxembourg and Basel. With the exception of shorter journeys, TGVs almost always have an on-board buffet car, serving a selection of drinks and light refreshments.
Thalys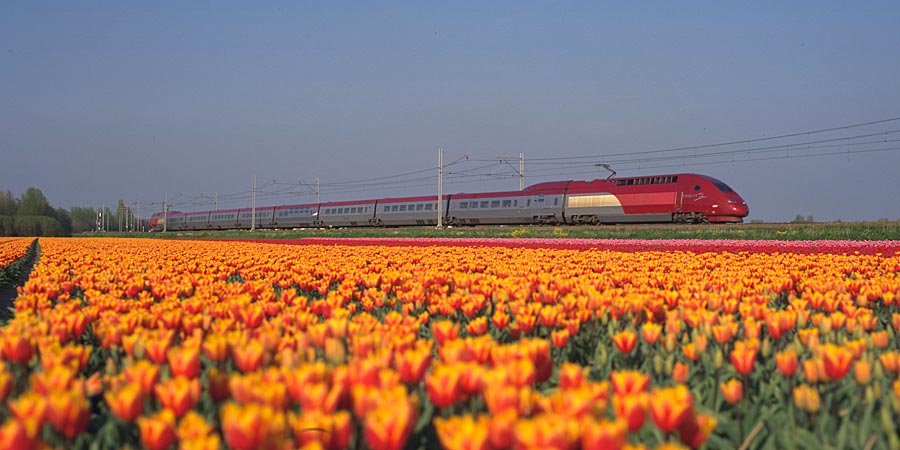 Thalys is a brand run by two companies, Thalys International, whose shareholders are French, Belgian and German rail companies, with Dutch Railways (NS) as a privileged partner, and also The Railway Company THI Factory, 60% of whose capital is held by SNCF, and 40% by SNCB.
It runs rail services linking Paris and Brussels with Amsterdam or Cologne. The trains are similar in design to French TGVs and can reach up to 190mph (305km/h) when travelling on dedicated high speed lines.
Comfort 1 (First Class) passengers benefit from spacious seating and are usually served complimentary light refreshments once underway. Both Comfort 1 and Comfort 2 (Standard Class) passengers have access to the Thalys Bar, which serves a selection of snacks, meals and hot and cold drinks during most journeys.
Hotels
Hotel Innsbruck, Innsbruck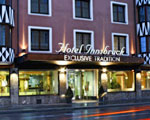 The 4-Star Hotel Innsbruck is situated in the heart of the old town, within walking distance of many of the sights and attractions of Innsbruck. The hotel has a restaurant and a bar as well as a wellness centre with a swimming pool, steam bath and a sauna. Beauty treatments and therapies are available (pay locally). The comfortable, spacious rooms feature a television, a safe and a hairdryer.
Hotel Interlaken, Interlaken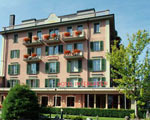 The 4-Star Hotel Interlaken is situated on the city's Höheweg, within walking distance of the centre and Interlaken Ost railway station. The hotel has been welcoming guests for over 600 years, some of the most notable including the 19th century poet, Lord Byron, and composer Felix Mendelssohn. The hotel has a restaurant, bar, lounge, a sun terrace and a Japanese garden. The comfortable rooms feature a telephone, television and a hairdryer.
Pullman Munich Hotel, Munich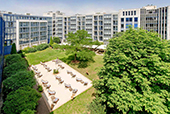 The 4-Star Munich Pullman Hotel, is our base in Munich. Located close to the Englischer Garden, and near some excellent public transport links to easily transport you into the centre of this lively city, this is the perfect hotel for our time here. This hotel offers some wonderful facilities, including a restaurant that offers delicious seasonal food, and a bar, perfect for relaxing in after a full day. The rooms are decorated in a pleasant monochrome style, with amenities such as air-conditioning, a television, tea & coffee-making facilities, an en-suite bathroom, and complimentary Wi-Fi, making your stay that much more comfortable.
Hotel Schweizerhof, St Moritz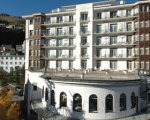 The 4-Star Hotel Schweizerhof is situated in the centre of St Moritz with superb views over the lake from the front of the hotel and within walking distance from the Chantarella funicular station. The original Belle Epoque surroundings and modern comforts include the Acla restaurant famous for its boiled beef, piano bar and spa. Rooms are comfortably furnished with a television, telephone and minibar. All rooms have a queen size bed and rooms with a view of the lake are available at a supplement.
Hotel Post, Traunkirchen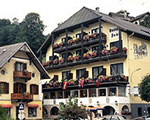 The 4-Star Hotel Post in Traunkirchen is set in a central location close to the shores of Lake Traunsee. The building was originally a tavern and occasional guesthouse for the nearby monastery, and its reputation as a hotel has grown ever since. Family-run for the last three generations, the hotel boasts an a la carte restaurant as well as a sun terrace and a garden. The hotel also offers free bike hire to its guests. Rooms are equipped with a telephone, television, radio, minibar, safe and a hairdryer.
What's included
An escorted experience and all travel arrangements
The services of a professional UK Tour Manager from start to finish
Exclusive meeting point at our dedicated Departure Office in St Pancras
First Class rail travel unless otherwise described (Standard Premier Class on Eurostar journeys with a light meal and drinks)
All coach transfers
Total porterage for tours departing on 20th June and 15th September
Comfortable accommodation in your destination
14 nights' hotel accommodation including 1 outbound overnight stay in Cologne, 2 nights at the 4-Star Pullman Hotel in Munich, 3 nights at the 4-Star Hotel Post in Traunkirchen, 2 nights at the 4-Star Hotel Innsbruck in Innsbruck, 3 nights at the 4-Star Hotel Schweizerhof in St Moritz and 3 nights at the 4-Star Hotel Interlaken in Interlaken/li>
Delicious meals included
24 meals including 14 breakfasts, 1 lunch and 9 dinners including a farewell dinner in Interlaken
Exciting excursions and free time to explore
Guided tours of Munich, Salzburg and Innsbruck
Journey on the Achenseebahn Railway
Cruise on Lake Achensee
Journey on the scenic line through the Alps from Austria to Switzerland
Journey on the Bernina Express to Tirano
Journey on the Glacier Express in panoramic carriages
Excursion on the Jungfrau Railway
Swiss Travel Card, permitting 50% discounted fares on free days for rail, boat and most mountain railway journeys
Not Included
Cancellation & Travel Insurance is not included in the price of the tour but can be arranged.
Upgrades
We offer a selection of upgrades and 'add-ons' designed to help you make the most of your holiday - and make it even easier!
London Hotels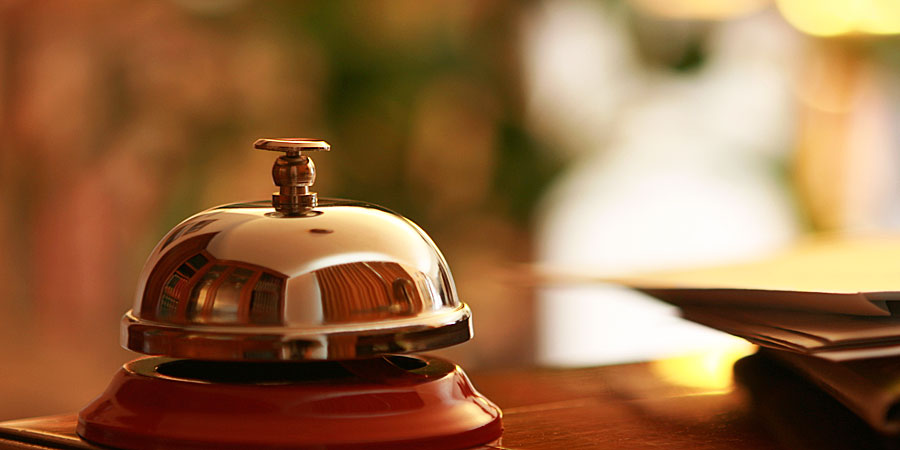 Spending a night in London before your tour can make such a difference to the first day of your holiday - you can arrive in the capital in good time, relaxed and ready to join your Tour Manager the next morning. You may even want to take in a show on the West End, or dine in one of London's famous restaurants. Perhaps on your return to London, you would like to break your journey with an overnight stay before continuing home.

We are able to book a wide range of hotels in central London or, for our holidays beginning with a flight, at Heathrow, Gatwick or Manchester Airport for the night before or after your holiday. The hotels listed below are some of the more popular hotels our customers book in Central London, others are available on request.
| | |
| --- | --- |
| Hotel | Room Rate From Price |
| The Ambassador Hotel | From £65 per person |
| Pullman London St Pancras | From £110 per person |
| Studios2Let, Cartright Gardens | From £55 per person |
Above prices are approximate, subject to availability, and per room per night based on two people sharing. If you require a quote for single occupancy at any of the hotels please contact us on 01904 734 805.

UK rail connections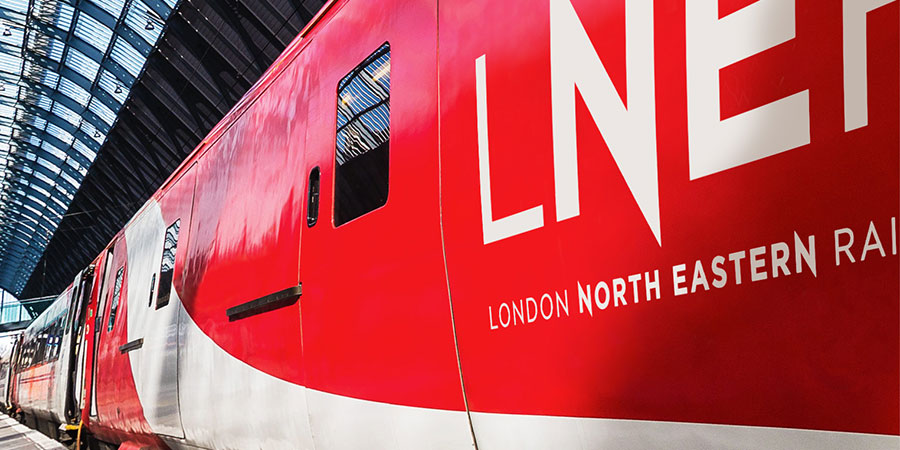 Buying tickets for UK train services can be a tricky business - there are so many fares to choose from, each with different rules and restrictions. As you are connecting with an international departure, we strongly recommend that you book a fully flexible ticket to ensure that should the departure times for your holiday change, your rail ticket can allow for these changes.
We can book fully-flexible UK rail tickets from your local station to join your holiday whether this be a European holiday from St Pancras or a UK holiday. The prices are competitive and tickets are not restricted to a particular train or time of day, and in most cases offer you a free choice of routes.
For an up to date quote from your local station, please ask one of our Tour Advisors.
Door to door luggage from £100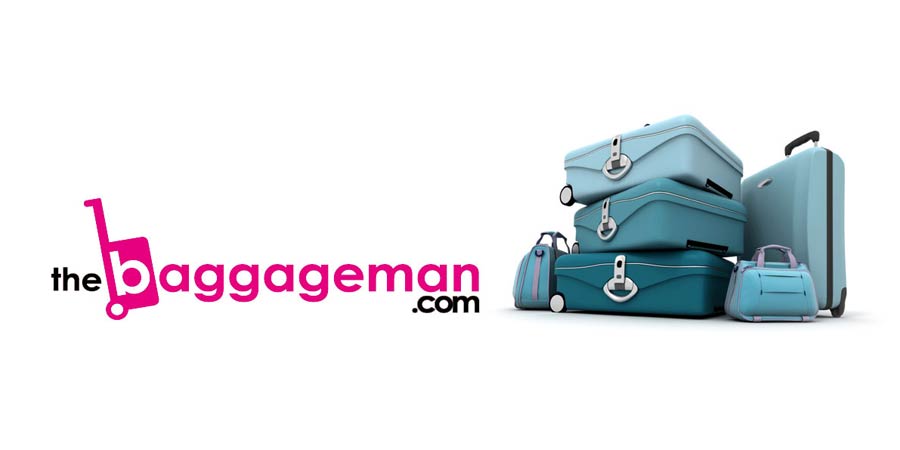 Whether as an added luxury, or essential to your enjoyment of the tour, door-to-door luggage collection and delivery services can really enhance your holiday experience. Travelling across Europe by train is so much more relaxing without the burden of your suitcase, and we can help arrange for your case to be collected from home prior to the holiday and for it to be waiting for you at your first main hotel in Europe.

We are pleased to provide the services of the GRJ Luggage Concierge Service - supported by our partner The Baggage Man, offering luggage transport from as little as £100 for one suitcase and £200 for two suitcases.

Please contact us for details of this service.

This page was printed from

www.greatrail.com/au/tours/grand-alpine-explorer/#APG19

on 7 December 2019.

Call

01904 521 936

to discuss your holiday

© Copyright 2019. Great Rail Journeys