The Escorted Experience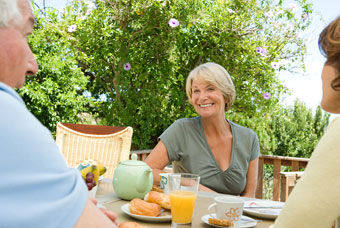 UK based Tour Managers are with you from start to finish.
The advantage of an escorted holiday with Great Rail Journeys is that you are, in fact, travelling with a holiday expert who knows all the ins and outs which go in to creating your perfect holiday on the ground.
THE REASSURANCE OF A PROFESSIONAL TOUR MANAGER THROUGHOUT
On every Great Rail Journeys holiday you have a professional and dedicated UK-based Tour Manager. He or she is there to ensure that you enjoy the holiday you want, without stress, problems or hitches. They are experts at managing the complex logistical arrangements and at making everyone feel at ease and relaxed - and, because they travel with you throughout, you have the reassurance of having someone always on hand who 'knows the ropes'. We select all the Tour Managers for their intelligence, knowledge and impeccable people skills. They come from a variety of backgrounds and professions (some have been Great Rail customers themselves) but all have one thing in common - they love travel, they love people, but at the same time, they know how to fade inconspicuously into the background when they are not required. Before they qualify to work with us, they undergo rigorous training and this is repeated each year. So if you have any questions, require information about how to spend your free time, or in the unlikely event that something doesn't quite meet your expectations, your Tour Manager will always be there to help.
EXPERTS IN THEIR FIELD
In the competitive world of tour management, our Tour Managers face a tough selection process and go through rigorous training every year, ensuring that they are the best of the best - experts in their field. So relax on your holiday, and take comfort knowing that all the arrangements are being taken care of - you're in capable hands.
View profiles of some of our Tour Managers.
WE NEVER FORGET THAT IT'S YOUR HOLIDAY
We know that our customers are often experienced travellers who value their freedom and independence and don't always want to be part of a group. That's why we build into our itineraries free time so that you can go off and explore at your own pace or, alternatively, decide to relax and take it easy. We are always aware that it's your holiday and will try to ensure that it's as enjoyable and memorable as you expect.

LOCAL GUIDES ADD A DIFFERENT DIMENSION
There's simply no substitute for local knowledge. That's why, on many of our sightseeing tours and excursions, you'll be joined by expert local guides who have a unique knowledge of, and passion for, the area. Together with your Tour Manager, they'll give you a special insight that you would miss if you were travelling alone.
WE'LL MEET YOU AT ST PANCRAS
To ensure that your holiday gets off to the perfect start, we have our own dedicated Departure Office at St Pancras International. Your Tour Manager will be there waiting to greet you, introduce you to your fellow travellers, and generally make sure that your holiday gets off on the right foot.