Golden Eagle Trans-Siberian Express
An luxurious rail journey across Russia and Siberia
By popular consensus, travelling the legendary Trans-Siberian Railway is both a once-in-a-lifetime experience and the greatest rail journey in the world. The route, from Moscow to Vladivostok, spans 9,288 kilometres and typically takes at least eight days to complete. It makes sense to undertake such an epic journey in comfort and style, and there is no better way than by travelling aboard the opulent and highly luxurious Golden Eagle Trans-Siberian Express.
Furnished and decorated in classical style to the highest standards, no expense has been spared to equip this striking and elegant train with every modern facility for passengers' comfort and convenience. This ensures that time spent aboard the Golden Eagle becomes, in itself, one of the memorable highlights of travelling the Trans-Siberian Railway.
There are 4 holidays in this category
Premium Trans-Siberian Express
Step on board the Golden Eagle and be transported back to the romantic age of travel as we wend our way across Russia, Mongolia and Siberia in unprecedented luxury. This rail adventure takes you on a journey of over 8,000 miles; a true odyssey to the other side of the world.
Departs in August 2017 and from May 2018 to August 2018.
Late departures available
SPECIAL OFFER
View Details
Arctic Explorer
Take in the beautiful cities of St Petersburg and Moscow, graced by festive decorations and nature's own wintry adornments, before exploring deep into the Russian and Norwegian Arctic Circle in pursuit of the magnificent Aurora Borealis (Northern Lights).
Departs in December 2017.
Persian Odyssey
As rail tours go, our Persian Odyssey itinerary on board the Golden Eagle is truly stunning. Travelling along the Silk Road onto the ancient land of Persia, this unique journey between Moscow and Tehran takes in destinations that are rarely experienced by the Western visitor which makes it all the more special.
Departs in March 2018.
Premium Trans-Siberian Express in Winter
Witness the true splendour of Dr Zhivago landscapes from the warmth of your luxurious carriage, enjoying sleigh rides and choirs, saunas and yurts en-route to Vladivostok. Travel on the Golden Eagle Trans-Siberian Express train for an unforgettable 8,000-mile winter adventure.
Departs in February 2018.
SPECIAL OFFER
View Details
Journey on the Golden Eagle Trans-Siberian Express
For many guests, a journey along the Trans-Siberian Railway is a personal and life-enriching odyssey, and the route is packed with unique and unforgettable sights, destinations and experiences.
The Golden Eagle Trans-Siberian Express visits many special places including Irkutsk, an historic city as famed for its distinctive wooden architecture as it is for the rich cultural and artistic heritage which has earned Irkutsk the nickname 'the Paris of Siberia'.
Whilst the route is noted for its diverse, ever-changing and often spectacular landscapes, the scenery of Lake Baikal, the largest freshwater lake in the world, is sublime.
In contrast to the vast empty beauty of the Mongolian Steppes, the country's capital city, Ulaanbaatar, is a thriving modern metropolis that rewards exploration with a host of fascinating museums, serene monasteries and vibrant public squares.
Whilst time aboard the train can be spent at your leisure, opportunities to take Russian language classes, hear the fascinating story of the Trans-Siberian Railway or learn more about Russian and Soviet history and culture are all available to guests.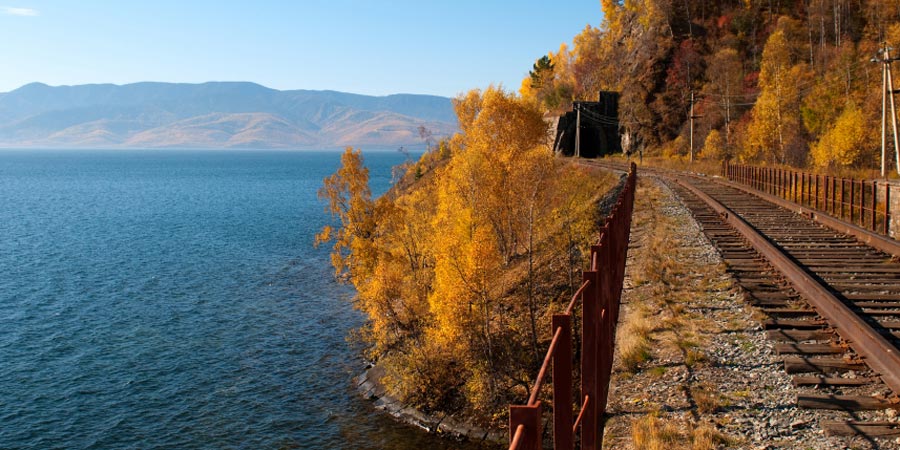 Luxury at Every Level
By its own admission, the Golden Eagle Trans-Siberian Express is effectively a luxury hotel on rails. Every class of cabin on board is lavishly furnished and features a private en-suite wet room or bathroom with complimentary toiletries, daily turn-down service and its own cabin attendant who is on hand to assist twenty-four hours a day.
Silver Class Cabins
Offering 60 square feet of space (5.5 square metres) Silver Class cabins sleep two people via a small double lower bed and a single upper bed. The en-suite wet room has a washbasin, toilet and shower. Besides personal climate control, a DVD/CD player, LCD screen, and safe are provided along with generous wardrobe space and a large picture window. Tea, coffee, soft drinks and mineral water are available at all times.
Gold Class Cabins
The more spacious Gold Class cabins (providing 77 square feet/7 square metres) offer all of the amenities of Silver Class but the en-suite bathroom additionally benefits from a separate power shower cubicle and underfloor heating. The Gold Class fare includes complimentary drinks from the Standard Bar List in the Golden Eagle's Bar Lounge Car.
Imperial Suites
Measuring 120 square feet (11.1 square metres), the Golden Eagle's Imperial Suites are the largest of any train in Russia and epitomise luxury rail travel. In addition to the benefits offered by Gold Class cabins, travellers who indulge in an Imperial Suite are welcomed aboard with a complimentary bottle of Dom Perignon Champagne, can relax in King Size bed, have an additional seating area and a personal minibar. In-room dining is available, drinks from both the standard and premium bar list in the Bar Lounge Car are included in the fare, and guests may take advantage of a private car and guide for exclusive excursions along the route.